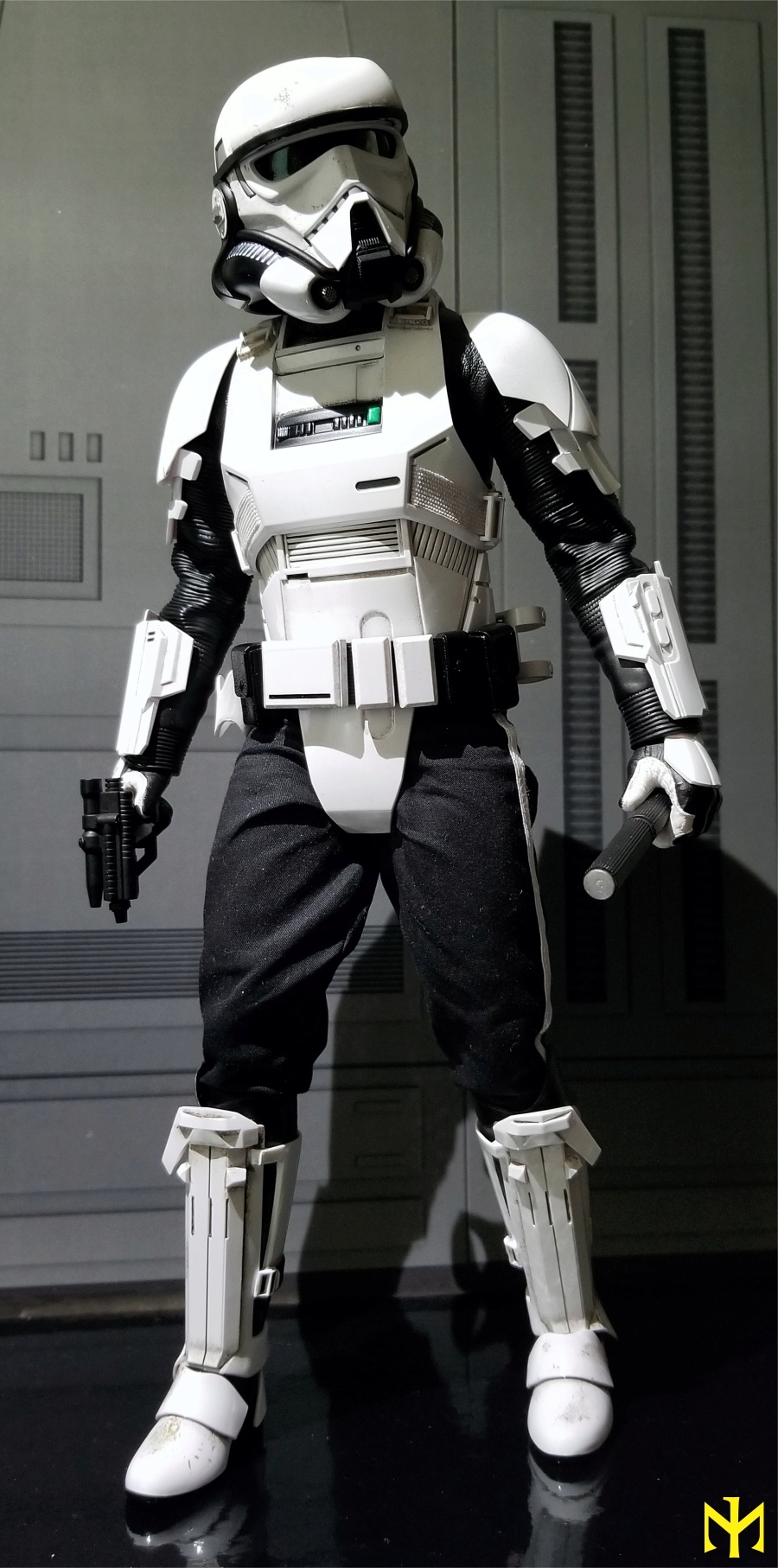 Introduction
There was precious little I liked about the Star Wars stand-alone film
Solo
, but despite the inherent silliness and redundancy, there was just something that made me love the look of the new Patrol Trooper (I cannot say the same about the Biker-Scouts-on-steroids or the "Mimban Stormtroopers," both of which I found completely redundant, although the so-called "Mud Troopers" appear to be a good enough try at generic
imperial
infantry -- think "AT-ST drivers" -- in combat gear). The Patrol Trooper's design is at once new and familiar; in fact it is as if a stormtrooper, scout trooper, and shore trooper came together in some unholy and magical union and produced the patrol trooper. Although I had some concerns about the size of the helmet in the promotional images, I eventually bit the bullet and preordered it. It is not a decision I regret.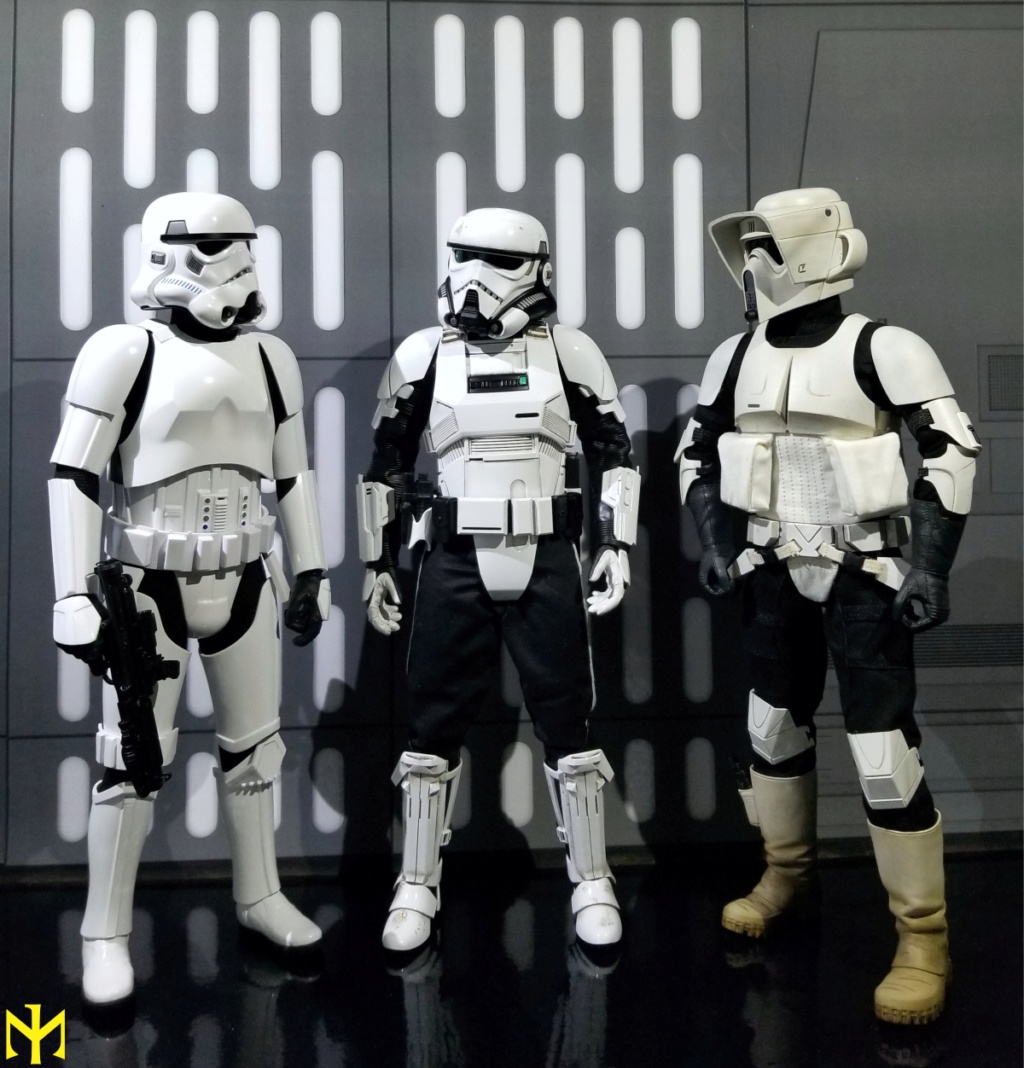 Packaging: 4/4 stars
There is nothing really new or exciting about Hot Toys' traditional Star War packaging, apart from the colorful cigar box band attached to the bottom of the container, which showcases the product and its name in the same way we have seen with figures from
Rogue One
. When you open the lid, you find the now traditional card bearing a nice image of the action figure in action -- a nice but completely unnecessary luxury that is probably somehow intended to help justify the price. The box mercifully contains only a single plastic trey (with its cover) -- something that I have to point out as a blessing, having recently re-boxed my Hot Toys classic Superman (that thing had a positively heinous number of often unnecessary treys and covers). Of course that also means that the number of items and accessories is fairly limited. Everything is safe and collector-friendly.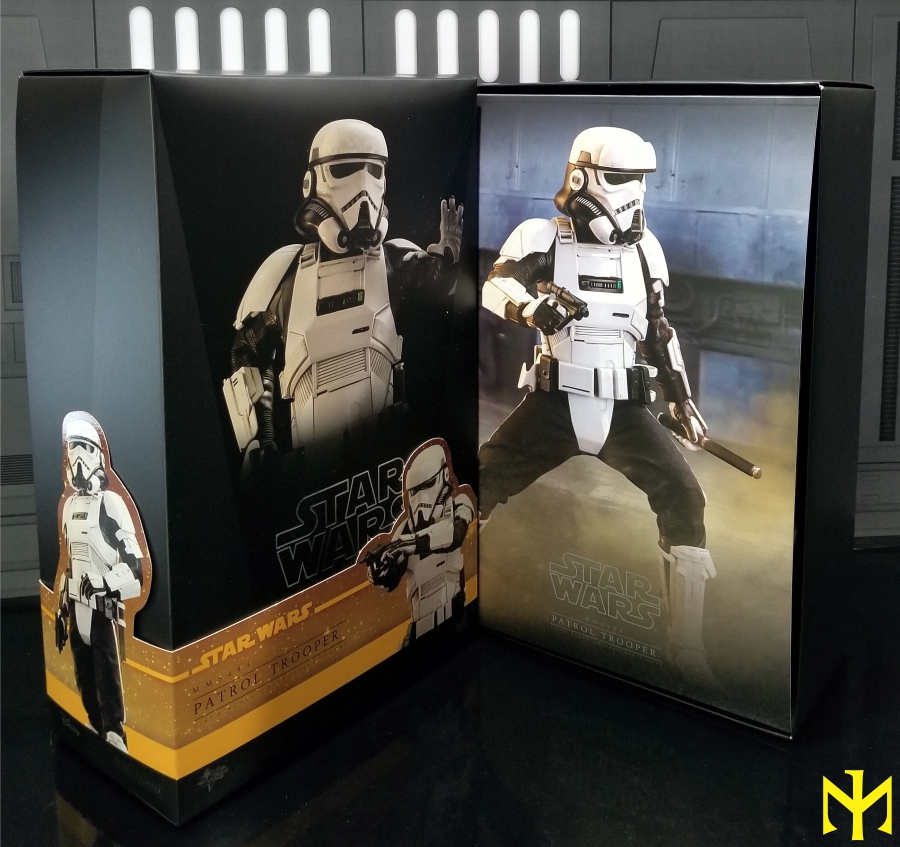 Sculpting: 4/4 stars
I suppose not having a human likeness to get right helps, but the excellence of the sculpt seems impeccable. The detail is sharp and precise, both on larger and simpler surfaces, and in places that are densely crammed with it (like the recessed panel on the back of the armor). The same carries over to the weapons and hands. I no longer think the helmet is too oversized, although it does have the tendency to appear so in photographs (it looks fine in hand). The Patrol Trooper stands about 30 cm (12 inches) tall.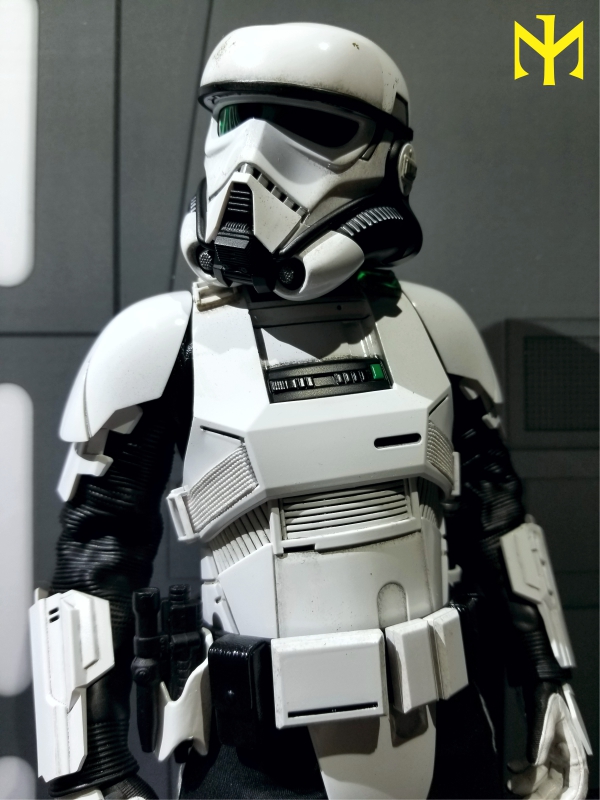 Paint: 4/4 stars
The basic paint job is simply black and white, with very little exception or nuance (like the green button on the chest armor and a few grey areas on the helmet and thermal detonator). However, Hot Toys gave the figure ample weathering (although this does not extend to the weapons). This is very well done (although I admit I prefer my troopers clean), pretty well balanced in terms of both intensity and distribution all over the figure's white armored elements. It is most pronounced on the boots, the helmet, and the inside parts of the gloved hands. The helmet's lenses are translucent green, even more noticeably so than usually. The white armor elements and the lens on the pistol are appropriately glossier than the rest of the surfaces.
Articulation: 3/4 stars
The underlying Hot Toys action figure body presumably has all the articulation you could possibly desire, and it appears that at least some of the joints are now lightly ratcheted (the elbows), presumably so as to hold poses better. The armor and outfit partly restrict this articulation, and some of this might have been possible to address. For example, if Hot Toys had not put the same movement-inhibiting heavy padded garment under the visible layers as it usually does these days, it might have given the hips much better and almost unrestricted articulation. As it is, sliding the utility belt upwards does help, but only to a point. There is a partial problem with the wrists -- here the rubbery armored sleeves press down gently on the hands and make them pop off a little too easily. The worst impact is on the waist, where there is virtually no possibility for lateral or crunch movement. Other than that, the figure's articulation is surprisingly good and it can stand well on its own thanks to the two-part design of the boots and the resulting good ankle articulation.
(Want to know the story behind this photo? Check out the photo story
HERE
.)
Accessories: 3/4 stars
The accessories that come with the Patrol Trooper are very limited, although admittedly not unreasonably so. We get an action figure stand and some spare parts, as well as an instruction leaflet, which is not likely to tell you anything you could not figure out on your own. The figure comes wearing relaxed hands, which can be exchanged with the included pair of fist hands, pair of grip hands, and single left hand with outstretched "halt!" fingers (I wonder why we couldn't we get its right counterpart); this makes a total of seven hands. Then there are the two real accessories: the pistol and baton ("nightstick"). Neither of them features any articulation, but they are well sculpted and painted (in the gun's case, the lens is glossy; the baton has several silverish metallic elements); but there isn't much in the way of weathering on either weapon. The pistol looks like a slightly revised version of the Scout Trooper pistol from
The Return of the Jedi
. Now while this limited selection is appropriate for what we see on the screen, it is just not something to be really excited about. Perhaps a standard
imperial
blaster rifle would have been a nice thing to include; I am not naive enough to argue that they should have added his ride, which would probably have doubled or tripled the price. So I am possibly a little hard on this category, which might deserve another half star.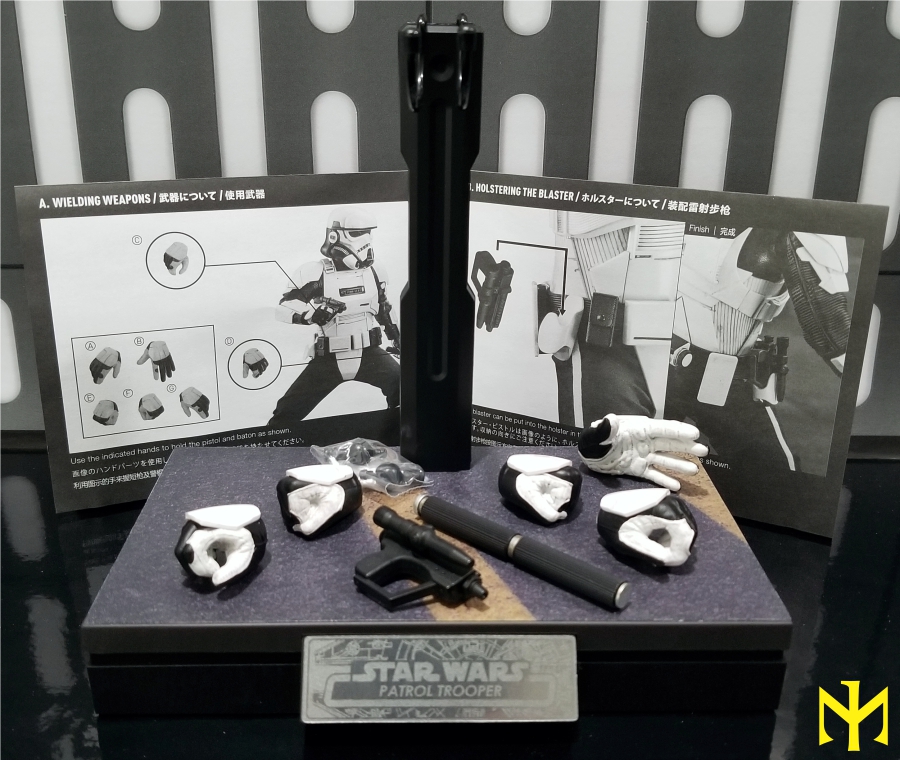 Light Feature: n/a
While there is no light feature included, light helps accentuate the green-tinted lenses of the Patrol Trooper's helmet. In some light you can actually tell they are green rather than black, and since there is no actual face under the helmet, in some poses the light would shine through, revealing both the color and transparency of the lenses. While this is not realistic in itself, it is very cool. Here is an exaggerated demonstration of this color and transparency.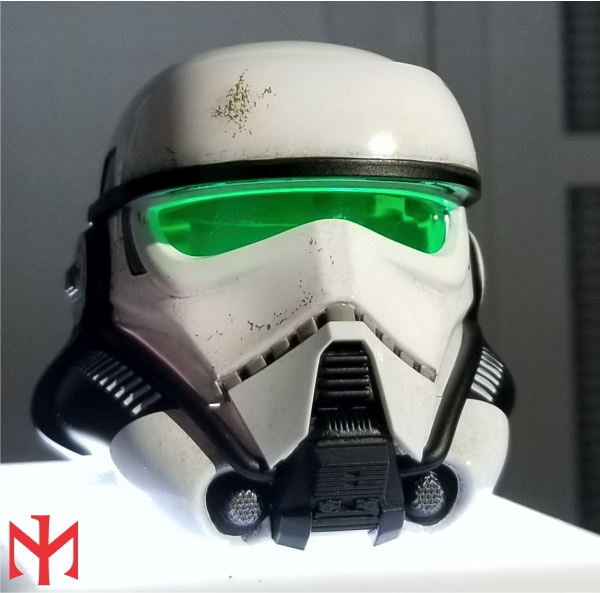 Outfit: 3/4 stars
The sculpted armor has been commented upon in the sculpting and paint categories above. The rest of the outfit is made of soft(er) goods. This is slightly more complex than usual with such figures and consists of the following: real fabric straps seemingly holding together parts of the chest plate; black trousers with a white stripe on the outer side; armored sleeves (i.e., sleeves with attached armor plates); and leather-like top; all of this is worn atop an underlying padded suit. This last part was Hot Toy's effort to make sure the outer, visible clothing fills out, but as usual causes annoying partial restrictions in the articulation. The leather-like top looks great with its realistic, pitted texture. The armored sleeves are made of a ribbed rubbery material that in principle looks great, but folds in somewhat unsightly ways when you bend the arms at the elbows; more importantly, some have expressed concern that this part of the outfit would develop cracks after repeated bending and drying out. I am not too concerned, but it is possible, and I would have preferred the use of some ribbed fabric anyway.
Fun Factor: 4/4 stars
Despite his very limited screen time, the Patrol Trooper is a cool-looking character that lends himself to inclusion into a variety of custom Star Wars scenes and situations. With his good articulation, he should be a fun addition to any scene or collection. And I write this without any intention of combining him with any other
Solo
characters (even if I intend to pick up a "Mud Trooper").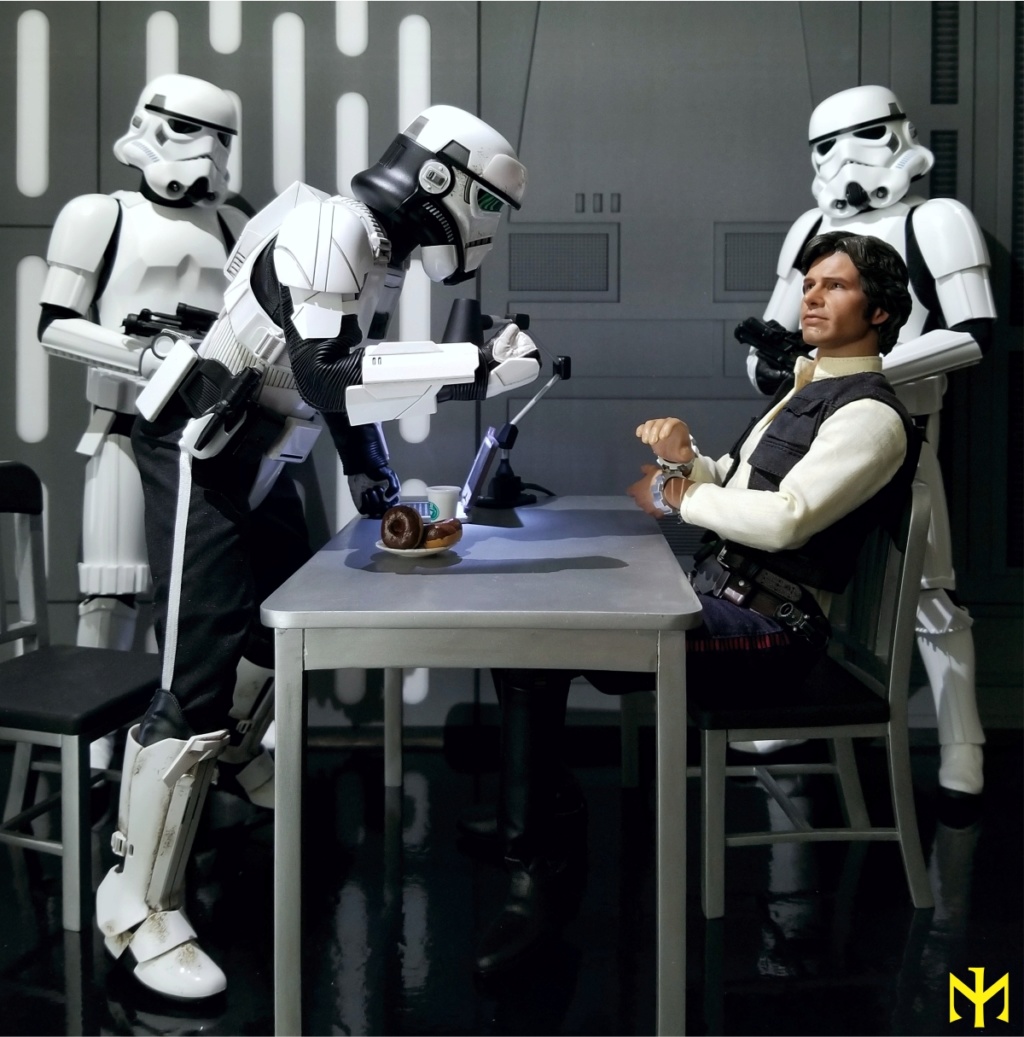 Value: 3/4 stars
I am divided on this category. I pre-ordered this product for $210 (USD), but the common retail price now seems to be $220, and that does not include shipping. I thought the lower pre-order price comparatively decent, in line with other army-builder non-protagonists already produced by Hot Toys in the Star Wars franchise -- where $205-210 seems to be Hot Toy's rather twisted idea of a bargain. Seeing the new retail price makes me think twice about that conclusion (which was only relative anyway) and perhaps this category ought to lose another half star. But the figure itself is a great, if limited product, and the price is far lower than some of the egregious prices Hot Toys is asking for other, especially protagonist figures.
Things to watch out for
Not much. As mentioned, the hands tend to pop off a little too easily, so you might want to keep an eye on them in case something disappears. The baton slides into its holder with some difficulty, and I recommend trying to slide it in from the underside (contrary to instructions). The holder itself can come off the belt, but you can easily re-attach it.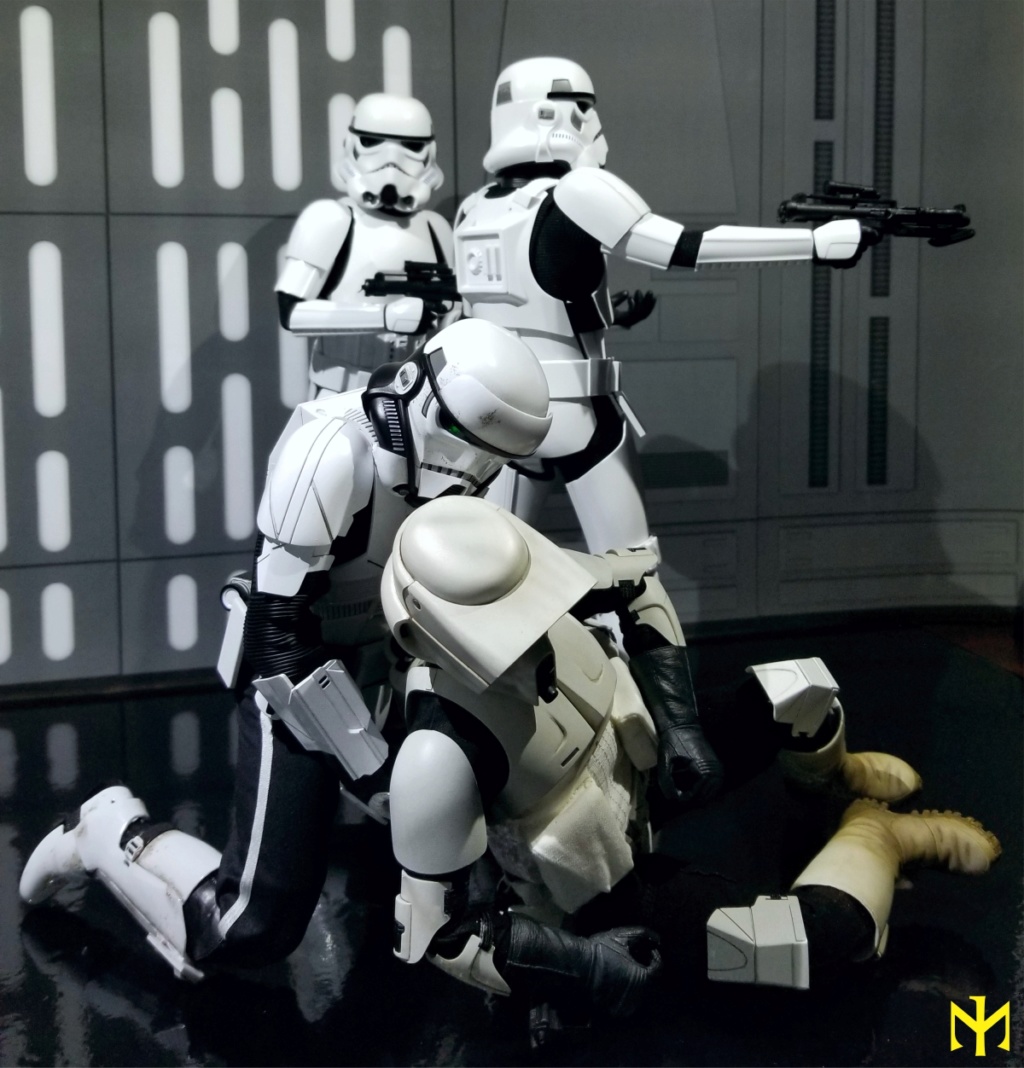 Overall: 3.5/4 stars
I didn't know quite what to expect of this figure and wasn't sure how much I would like it, given how little I liked the film it was in and how much I resent the constant infusion of newer and ever sillier trooper types (at the expense of the established ones we know and love) even in what is supposed to be basically contemporary to the Original Trilogy. But I do like it: both as a design and as an action figure, with which I have very few gripes. The one real disappointment is the price, but that has to be what one expects of this company and license these days. Everything else about this product is passable at worst and great at best. Since these are troopers and they should come in plural (or at least dual) numbers, I was tempted to get one more, but given the (new and higher) price and the fact that we only see one on screen, I have for once managed to restrain myself.
Where to Buy
Apart from eBay, I can suggest these:
Big Bad Toy Store
for $220
Cotswold Collectibles
for $220
Timewalker Toys
for $220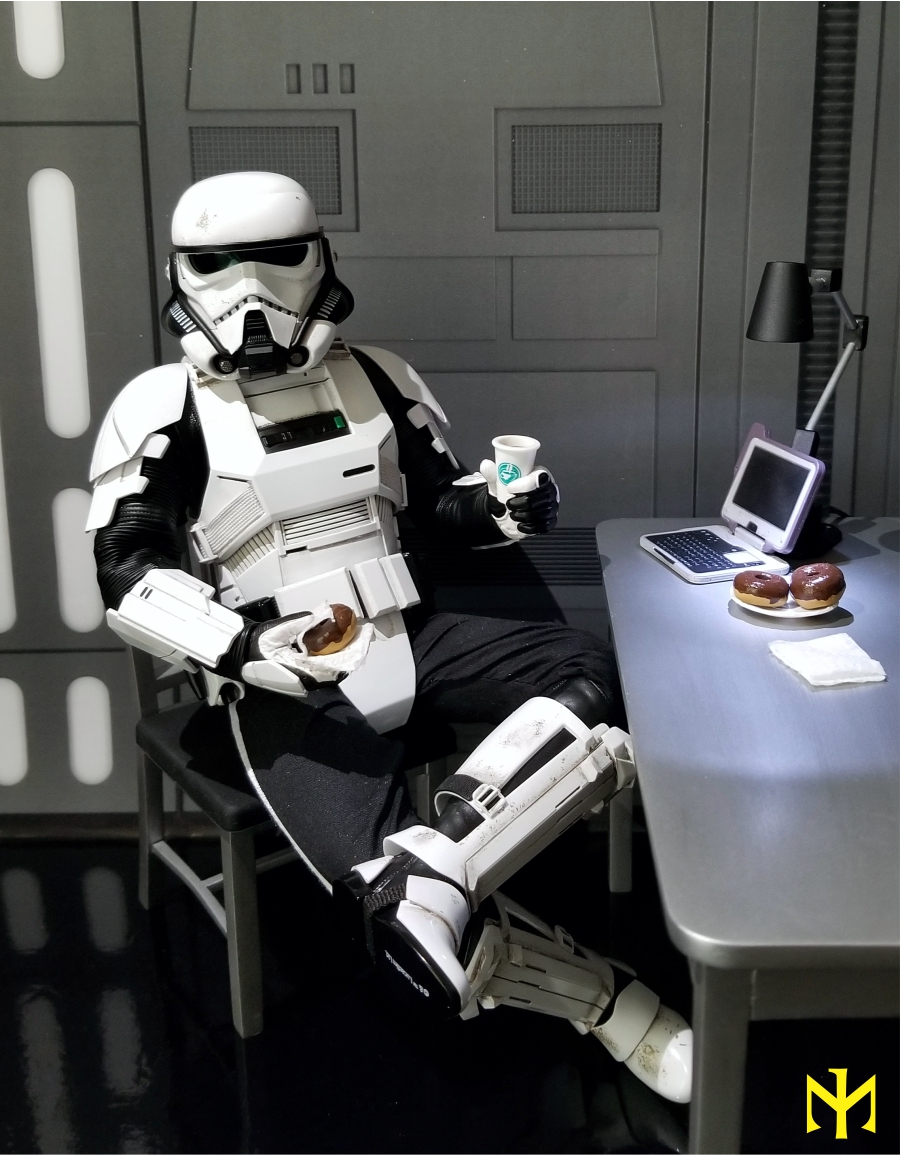 Shooting the photos for this review resulted in an impromptu photo story (the third this week!), which you can check out
HERE
.
Hope this was useful. What do you think?
#starwars
#solo
#hottoys
#patroltrooper
#galacticempire
#imperial
#military
#fiction
#scifi
#male