I don't buy a lot of diorama elements these days, but ended up going for this when I considered several of the parted-out pieces. This review is dedicated in loving memory to one of our Founding Fathers who has since left us, but who would have loved this (and is surely loving it).
VS (Vicky Secret) Toys have produced a bathroom set that just became available Stateside. The set features a bathtub with a shower with hand-held adjustable hose, a toilet, a toilet paper holder, a bathrobe, a large towel, a smaller towel, and reversible printed tile floor and wall surfaces. There is even a little color graphic labeled "bathtub," but its purpose is somewhat indeterminate. The whole set comes packed into a white box (with various bathroom-related graphics on top) with a two-part foam trey, and an additional foam sheet to protect the wall surfaces.
If you have been looking for additional "modern civilian" diorama pieces, these might be right up your alley; or if you want to put your favorite superheroes in humorous bathroom situations. Overall, the set is quite nice, while not quite perfect. Read on for the specifics, interspersed with another nine photos.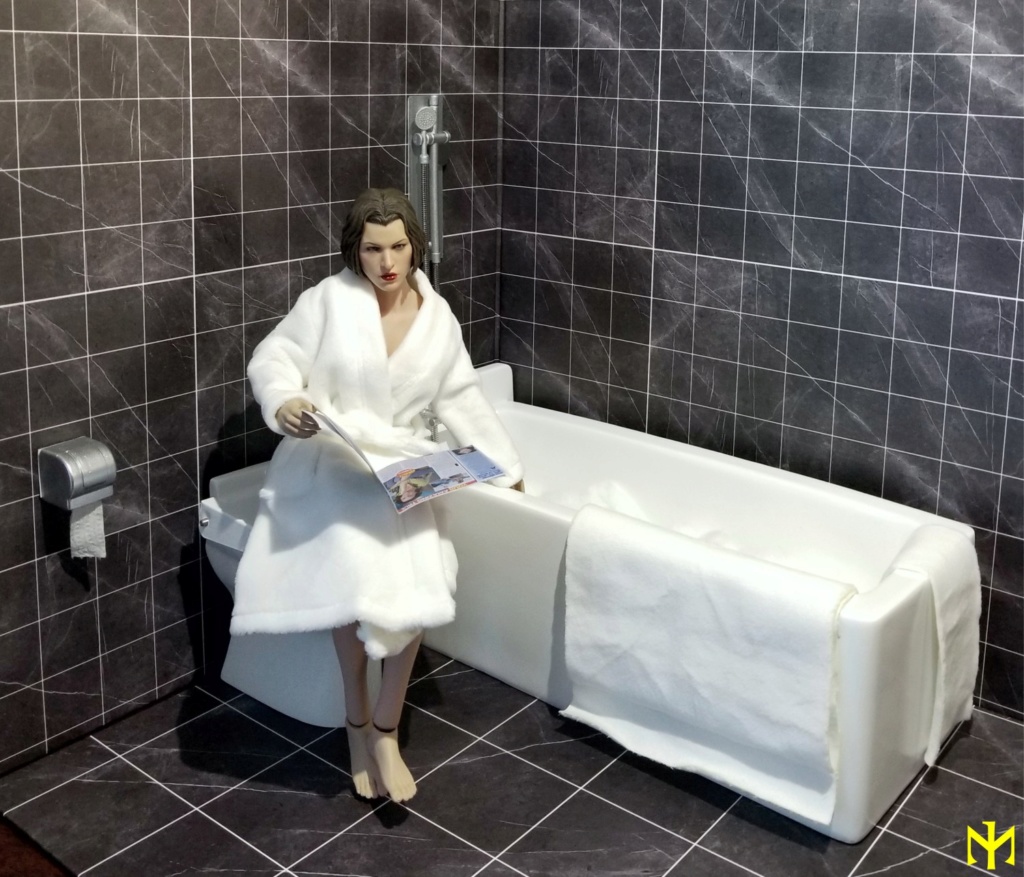 The floor and wall surfaces are both reversible, giving you a choice between dark granite or light sandstone tiles (or something like that). The floor surface measures about 12 x 13.75 inches (30.5 x 35 cm). The wall surface folds into three consecutive segments, each 13.75 inches (35 cm) tall; two of the pieces are 12 inches (30.5 cm) wide, while one of the end pieces is 5.5 inches (14 cm) wide. You can place the floor and wall pieces in various configurations. A minor flaw is that the dark granite tile surfaces exhibit perfectly continuous lines and strands in the stone, which would not be the case with actual tile work. There are no other problems with these pieces, although I worry that with enough folding back and forth the printed surfaces would crack or at lest crease at the fold lines.
The bathtub is made of resin and is the heaviest piece in the set. It measures about 10.5 x 5 x 4.25 inches (25.5 x 12.5 x 11 cm) at the extremes. It is done nicely enough, although it has some slight imperfections (which might give it a slightly more realistic, lived-in look). The level of detail is not quite superb, with the most annoying (even if rarely visible) problem being the lack of a sculpted (never mind functional) drain at the bottom. Moreover, only on the faucet side is the tub designed to fit flush against a wall; generally the same should have been true for one of the long sides, but I suppose this way you can place the bathtub in whatever direction you choose. Your sixth-scale figures should have no problem fitting inside the tub, which was a pleasant surprise for me, as I half expected it to be undersized.
The toilet paper holder is made of plastic and is intended to be attached to the wall with double-sided tape (provided and already attached to its back). I would have much preferred it to be done with magnets, so that you can choose which side of the wall surface background to place it on, and where exactly to do so, from scene to scene. Perhaps I am commitment-phobic, but I believe most people would see the advantage in that over getting stuck with a single permanent look or risk possibly damaging the wall surface when changing your set up. At any rate, I improvised and placed one magnet on the inside of the unexposed double-sided tape (it is concealed by the outer structure of the toilet paper holder) and another on the other side of the wall surface. The holder itself is a slightly more elaborate version of the simpler classic look, but this allows you to supply what
does not
come with it -- an actual toilet paper roll. I improvised one of these too, cutting a narrow strip of actual toilet paper and rolling it around a foamie that I jammed inside the holder, leaving a portion of the strip to hang out as it would in real life.
The diorama area is big enough for at least two figures.
And so is the tub, even if it is a somewhat tight fit. And unlike real full-sized humans, these don't seem to take issue with the faucet pushing against their backs.
Like the toilet paper holder, the shower component is designed to be attached to the wall with double-sided tape (provided and already attached to its back). Again, I would have much preferred this to be done with magnets, and in fact used magnets for my photos (placing one on top of the shower component and the other on the other side of the wall background). The hand-held shower head can be attached to or detached from the component, and the adjustable hose attached to them is made of a fine metal chain that works and looks great.
The toilet bowl itself is made of resin, but it is not nearly as heavy as the larger and more solid bathtub. The toilet seat and lid are made of plastic, and are both articulated. Unlike the bathtub, the toilet has a sculpted (non-functioning) drain. Believe it or not, the size of sixth-scale toilets has been a concern, and this one seems about right, measuring about 4.5 x 3.5 x 3 inches (11.5 x 9 x 7.5 cm) at the extremes. The design does leave something to be desired: it is not clear (to me, anyway) where the water tank is, and the part that seems intended to fit flush against the wall is prevented from doing so by the portion below it jutting out in the same direction. Perhaps these are the tankless toilets of the future. I suppose leaving the lid up helps hide these potential visual flaws.
In terms of soft goods, the set includes the bath robe, the larger towel, and the smaller towel. All three are in white. (Contrary to some of the promotional materials, no underpants are provided.) The towels are a fairly basic affair, and feel somewhat like the real thing only on the "face" side. The larger towel can be wrapped around a male figure's waist, or around a female figure's entire torso. The smaller towel can probably be bunched up into a turban, but I haven't tried.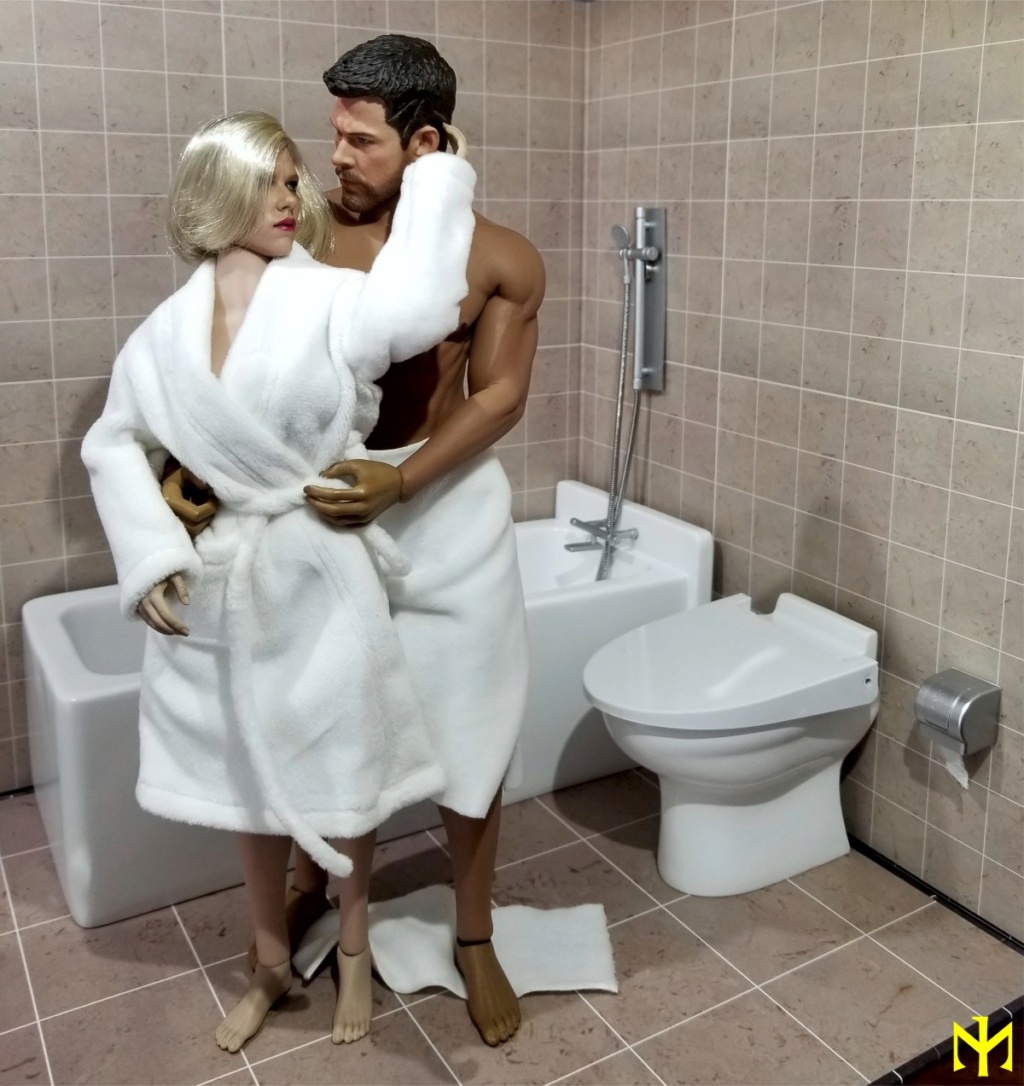 The bath robe is made of a soft cotton-like material (perhaps actual cotton) that feels much like the real thing, and comes complete with pockets and a belt. It fits comfortably on female figures, and well enough on male ones (if you don't mind shortish sleeves and a tight fit on the upper arms).
Overall, this is a pretty decent and versatile set. Each of the pieces in it (except perhaps for the soft goods) could have been even better, but on the whole it gets the job done and covers most of the basic things you will find in one of the rooms of a modern home. It also works and looks very well with figures in its scale. Moreover, there really isn't much in the way of alternatives except for Barbie (and possibly other doll) accessories. With some customizing, these, too, can be made realistic -- for an example, see the first post in the Barbie deBarbiefied thread
HERE
. But here I only improvised the magnetic attachment of the shower component and toilet paper holder (because I did not want to tape them in place), and made the little toilet paper roll. Of course, you'd need a few more things to make up a complete bathroom (like a sink and mirror), but it's a decent place to start.
Where to buy? Try eBay or, in the US:
Big Bad Toy Store $110
Cotswold Collectibles $106
Monkey Depot (sold out, some parted-out pieces available)
Timewalker Toys $106
Toy Anxiety (some parted-out pieces available)
Hope this was helpful and let me know what you think.
#productreview
#review
#vstoys
#vickysecret
#diorama
#bathroom
#superhero
#modern
#bathroom