Well, after about a year of gathering parts, and being inspired by ReverendSpooky, I finally managed to get my wife to help me put this figure together. My first attempt at a very "fantasy/exploitation"
Post
-Apocalyptic Female.
The parts are so numerous -- and there's plenty that I didn't use -- that I can't even tell you where most of them came from (ie, what figures or box sets).
The ones I do remember:
ACE Playgirl Series: Vietnam "Play Company": head sculpt & helmet
ThreeZero Michonne: boots and wool socks
Etsy: custom-made Teddy Bear (my nod to my favorite ReverendSpooky character Marrow)
Hot Toys: Luke Skywalker Episode IV binoculars
TBLeague: Painkiller Jane Bikini Top & Diorama Base
TBLeague body: S12D
Over/Ow/Watches: futuristic rifle -- some video game I believe -- all metal and VERY heavy
Hot Toys: Rey, the Force Awakens backpack
Panties & skirt -- Unbranded, eBay sellers
Wrist bands - "Leather Craft Lace" from Michael's
She's standing precariously on the base (and using the lower backpack to lean against the barrel), because the boots are wobbly as heck and she cannot stand without support.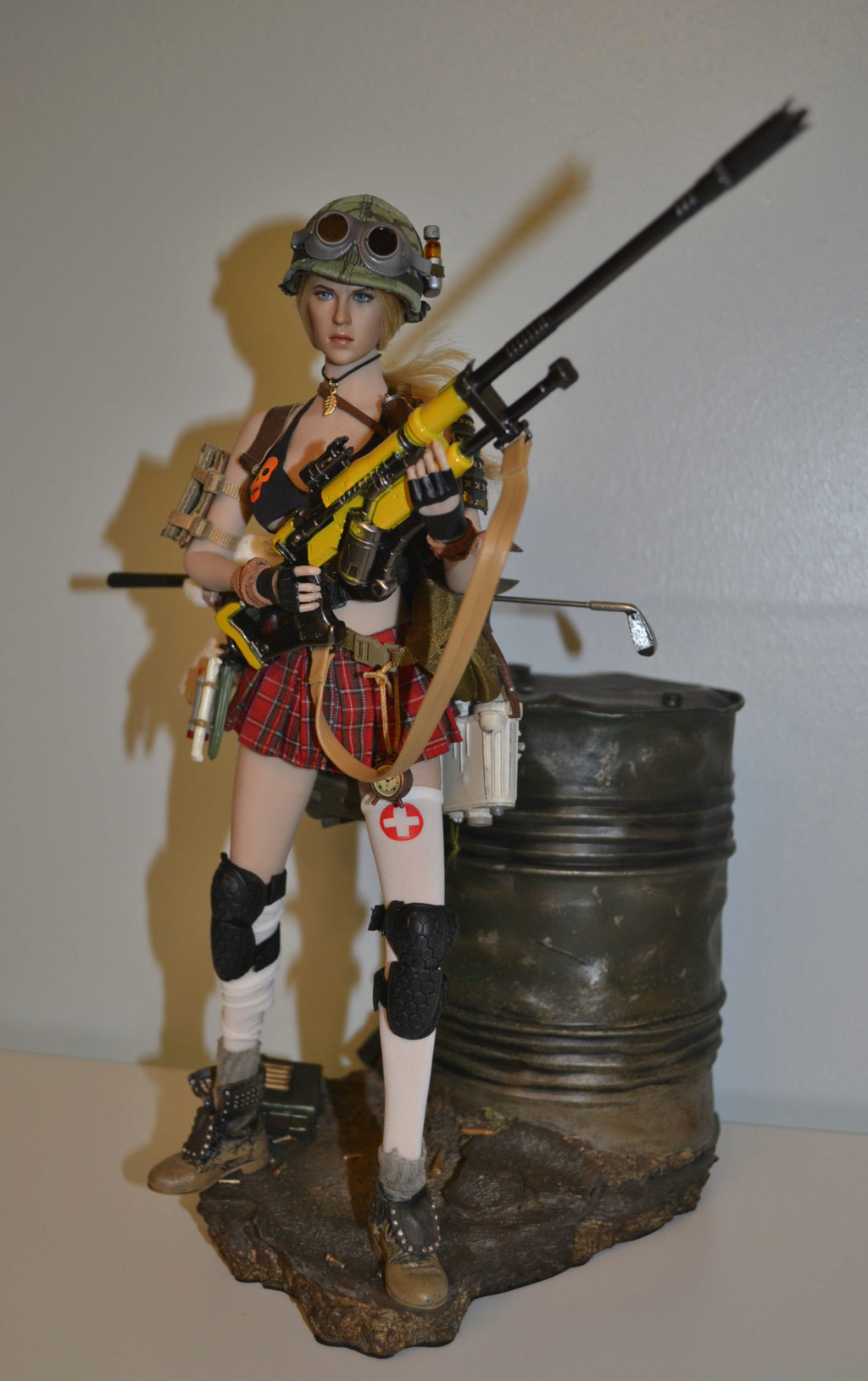 Here's a couple detailed pics: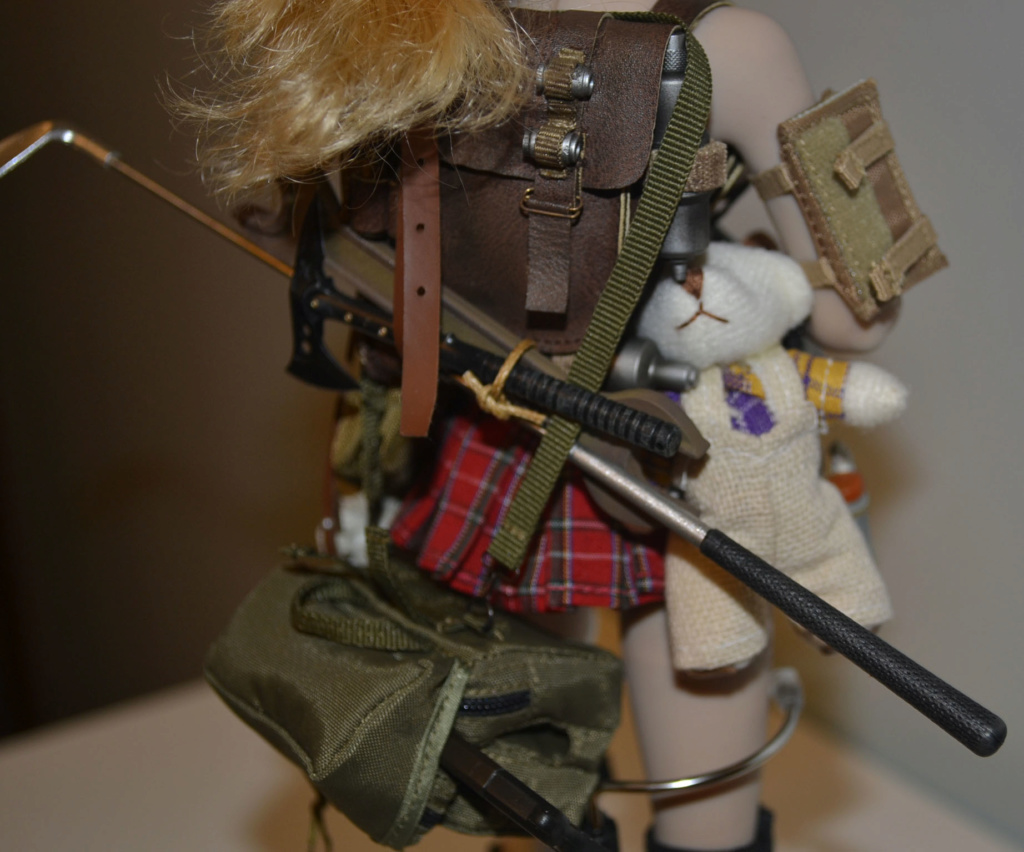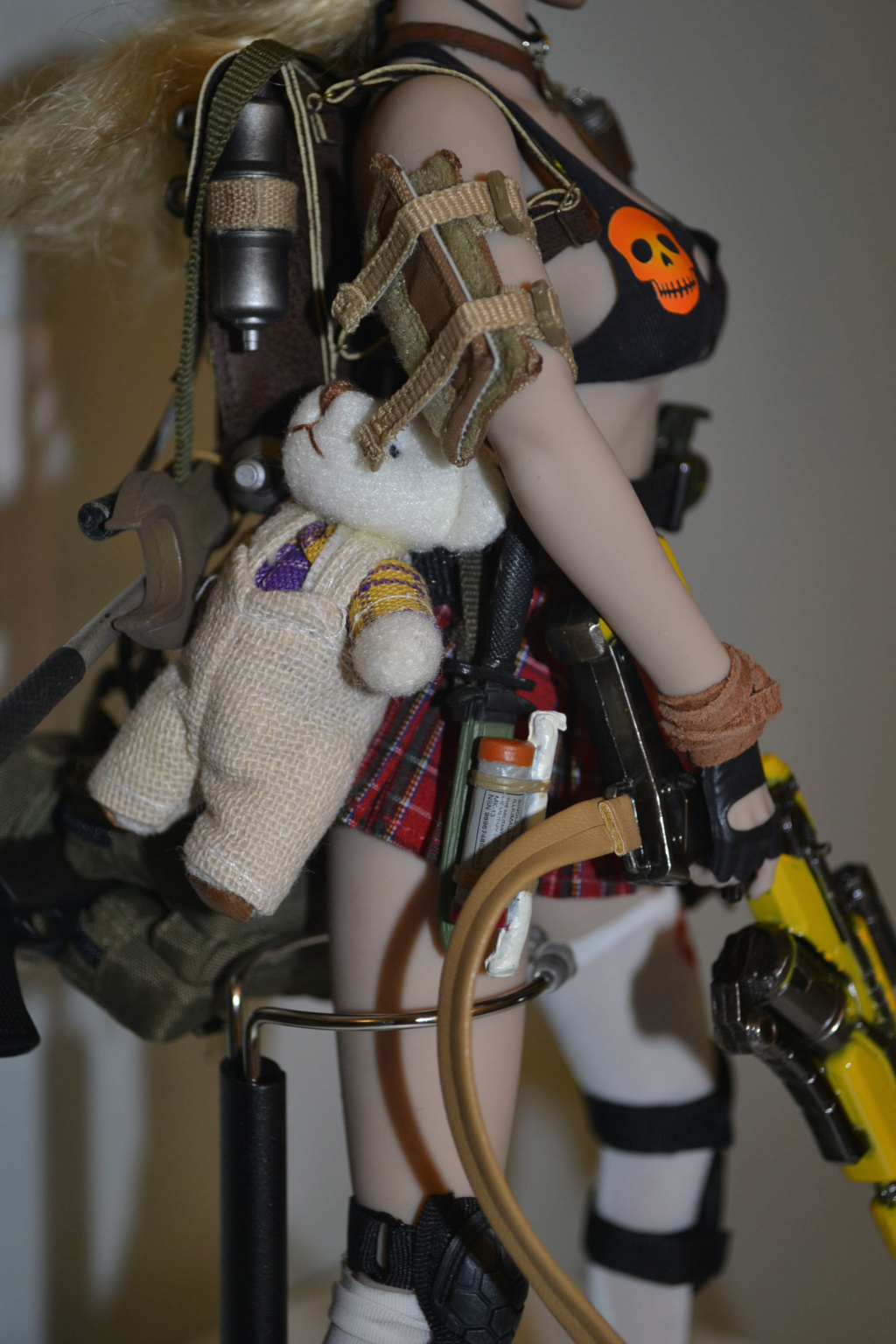 I haven't gotten around to "weathering" (my wife wasn't willing to help me with that), but I think she has everything she needs for a scavenging expedition. And, as you can see, she takes anything she finds either interesting, edible (it's assumed, aside from clothes, there is food in her packs, and medical supplies), liquid containers, and, of course anything she thinks she can use for a weapon (like a wrench and a golf glub). She also has a little "pick-me-up" -- something everyone would probably need (it's one of the things that all the Survivalists/Preppers agree would be one of the first things to go, and would be great for bartering -- alcohol).
Comments & criticism welcome.