Vice City Series Doll Background:


The first chapter of "Vice City": Detective "W"

Vice City:
Under the shadow of the haze, this is a city full of vice.
Peeping snipers, fierce mobs, swindlers, black-hearted businessmen, corrupt bureaucrats, all kinds of characters appear one by one.
In the whirlpool of desires for fame and fortune, every hypocritical human body contains a beast of beasts, and only a seductive opportunity will reveal the ferocious nature.
Unscrupulously killing each other, revealing their dirty and ugly soul.
This is a city full of vice, a bloody Colosseum. I am in it, I am a detective W.
"w":
Don't misunderstand, I am not a messenger of justice, not
even
the salvation of these fallen souls. Like them, I am a beast.
I am bloodthirsty, and I have no mercy on the weak. In this world of weak meat, they are as tasteless as vegetables.
I am a carnivore. Those who are more and more cruel and more greedy and perverted are my food.
In a case I admired the means of retreading, and on the bloody body I smelled the temper, anger and excitement of their murder.
There has never been a case in my dictionary, only the local law. Yes, I will take them away after the pleasure.
event:
The dark red bloodstained beach was stained with a large piece, and the pattered rain washed the cracks along the slate into the gutter.
The body was torn apart and scattered around the street lamp. There was no bone in the flesh and blood. Only the head was placed in the center, staring at the darkness in horror and despair.
Here is the first scene. The woman was dismantled for a long time under the dim streetlights of the remote streets. She must cry for help but no one can lend a helping hand.
Robbery and murder are happening every day. People have long been accustomed to it, no one will take risks for others, and they only care about the self-interested abacus in the corner.
The surrounding police officers looked ugly and nausea, but I smelled the big meal.
The body seems to be a pattern, I still recognize it in such a rainy night.
There is only one place related to this pattern. The deceased looks in the direction of the past few streets, where the night neon plaques are drunk.
I ordered a cigarette.
"This thing must be related to it, it is doomed to be dying." I thought about the corner of my mouth but could not help but rise. The claws are screaming and the teeth are itchy.
Indeed, I am already hungry and thirsty.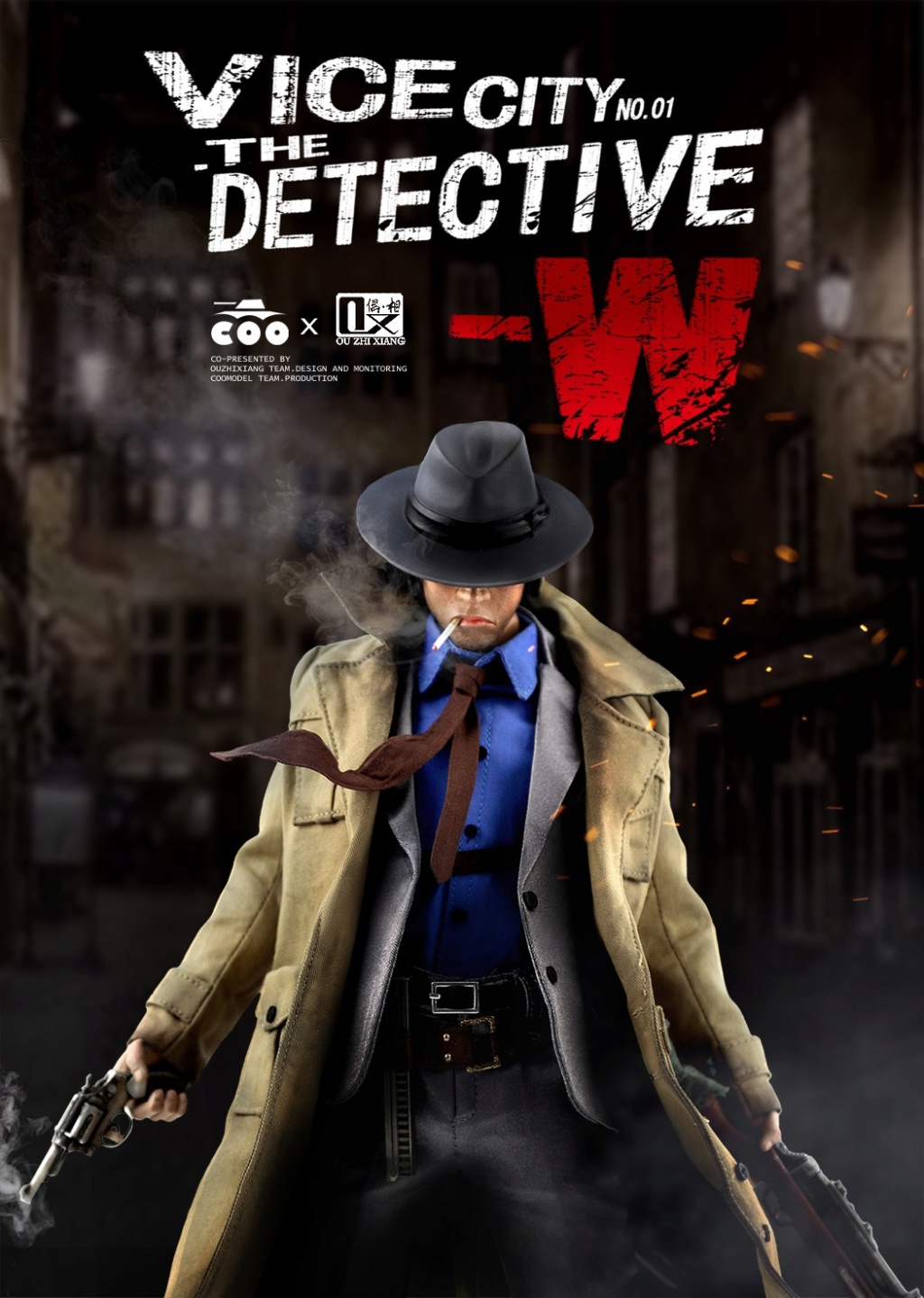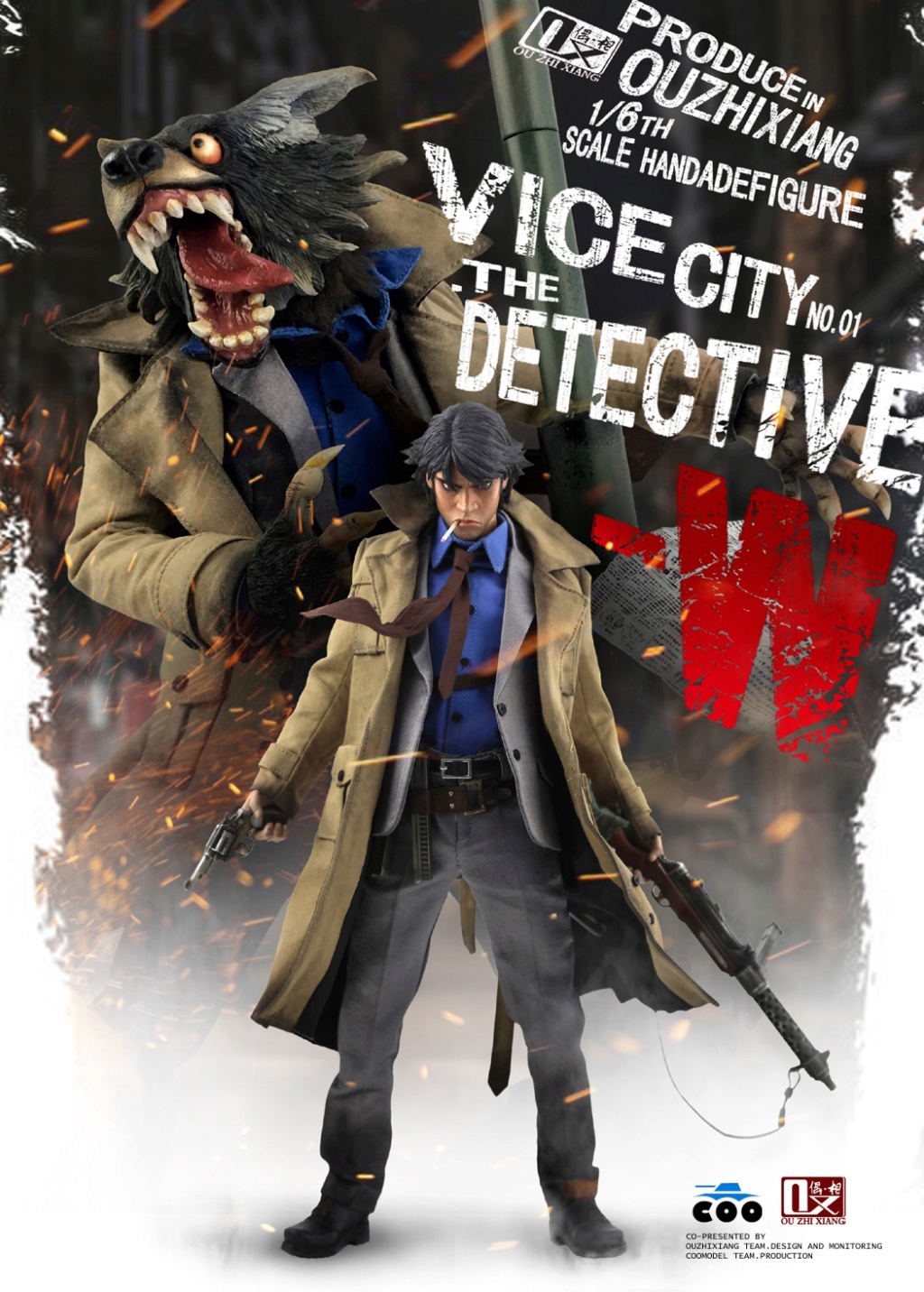 COOMODEL X
Even
Phase NO.VC001 1/6 Vice City - Detective W (Standard Edition)
Barcode: 6971124120679
configuration list:
- Humanoid 叼 cigarette carving
- Humanoid skull carving
- Wolf-shaped closed head carving
- Wolf-shaped open mouth carving
- Movable body
- Replaceable humanoid hand 8
- Replaceable wolf claw hand type 3
Clothing category:
- Dark grey top hat
- blue shirt
- brown tie
- Light grey blazer
- Khaki windbreaker
- Dark grey suit pants
- black belt
- Black leather shoes
Weapon accessories:
- MP28 machine gun
- Revolver
- 4 machine gun clips
- Clip storage belt
- Detective Notepad
- lit cigarette
- Smoke special effects cigarette
Platform:
- Black round bottom bracket
COOMODEL X OUZHIXIANG NO.VC001 1/6 VICE CITY - THE DETECTIVE W (STANDARD EDITION)
BAR CODE 6971242120679
The 1/6 scale Detective W (Standard Edition) specially features:
- One (1) smoking head of human form
- One (1) grim head of human form
- One (1) normal head of wolf form
- One (1) roaring head of wolf form
- One (1) body
- Eight (
pieces of interchangeable human palms
- Three (3) pieces of interchangeable wolf claws
Costumes:
- One (1) dark gray hat
- One (1) blue shirt
- One (1) brown tie
- One (1) light gray suit jacket
- One (1) khkai wind coat
- One (1) pair of dark gray suit pants
- One (1) black leather belt
- One (1) pair of black shoes
Weapons & Accessories:
- One (1) MP28 machine gun
- One (1) revolving pistol
- Four (4) cartridge clips
- One (1) clip-holding belt
- One (1) notebook
- One (1) burning cigarette
- One (1) burning cigarette with smoke
Figure Stand:
- One (1) black figure stand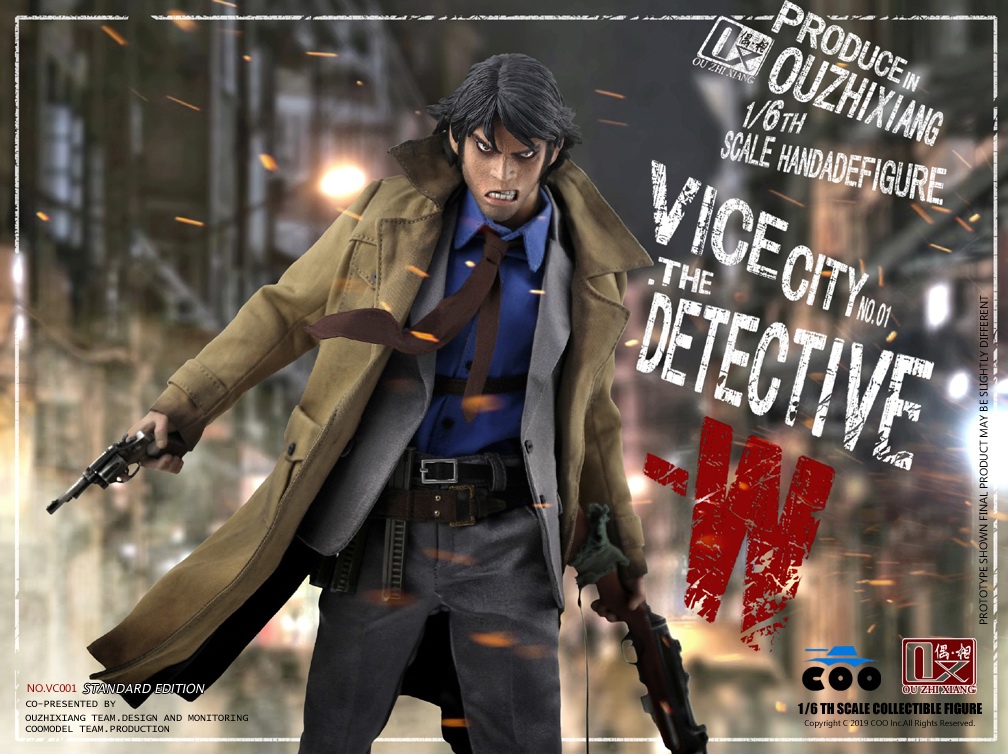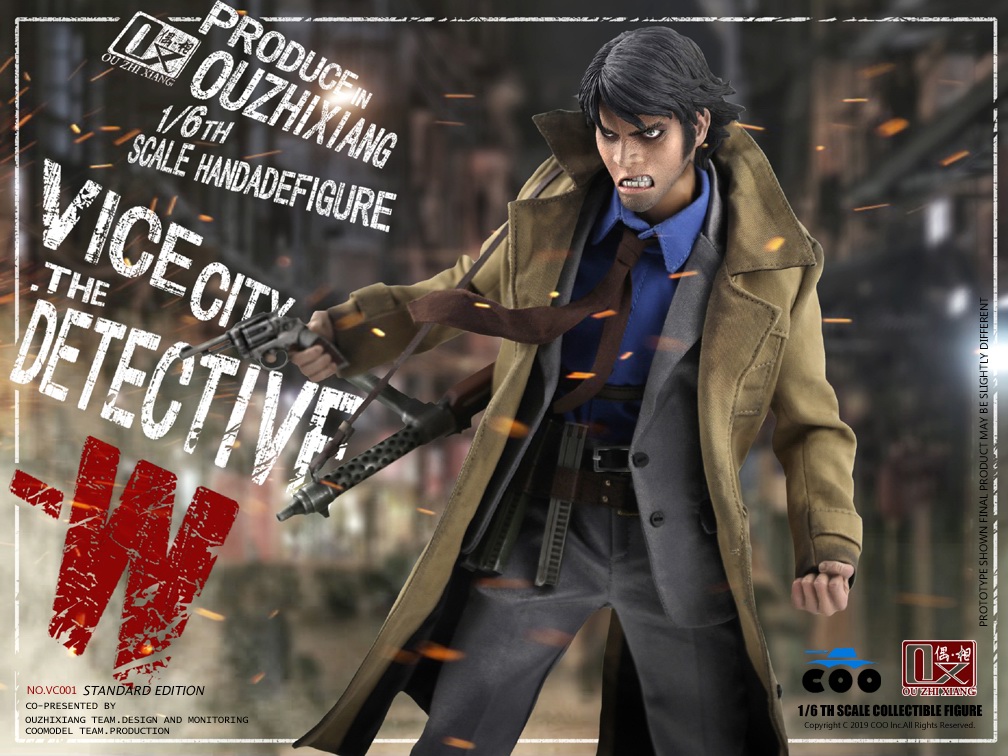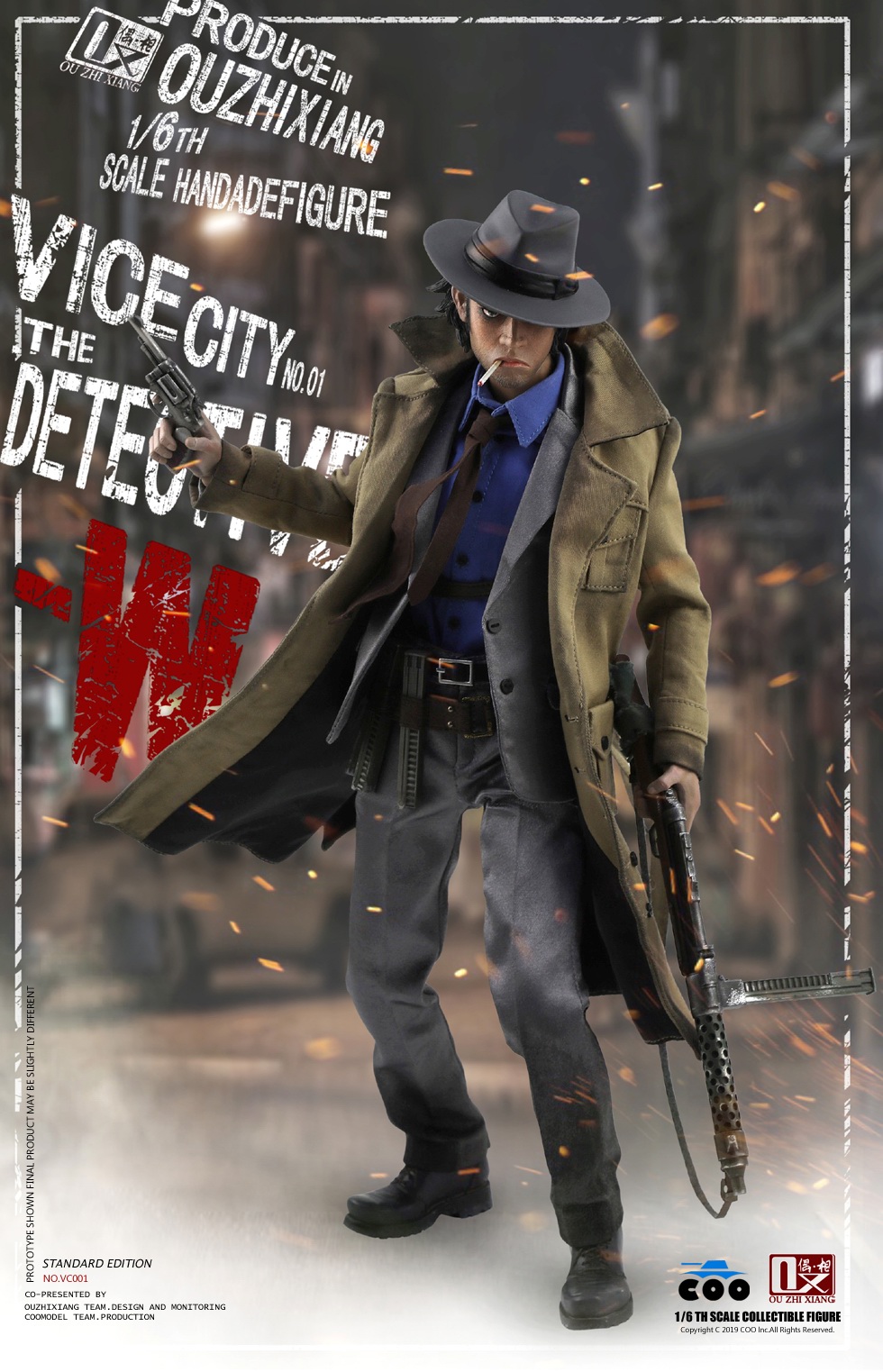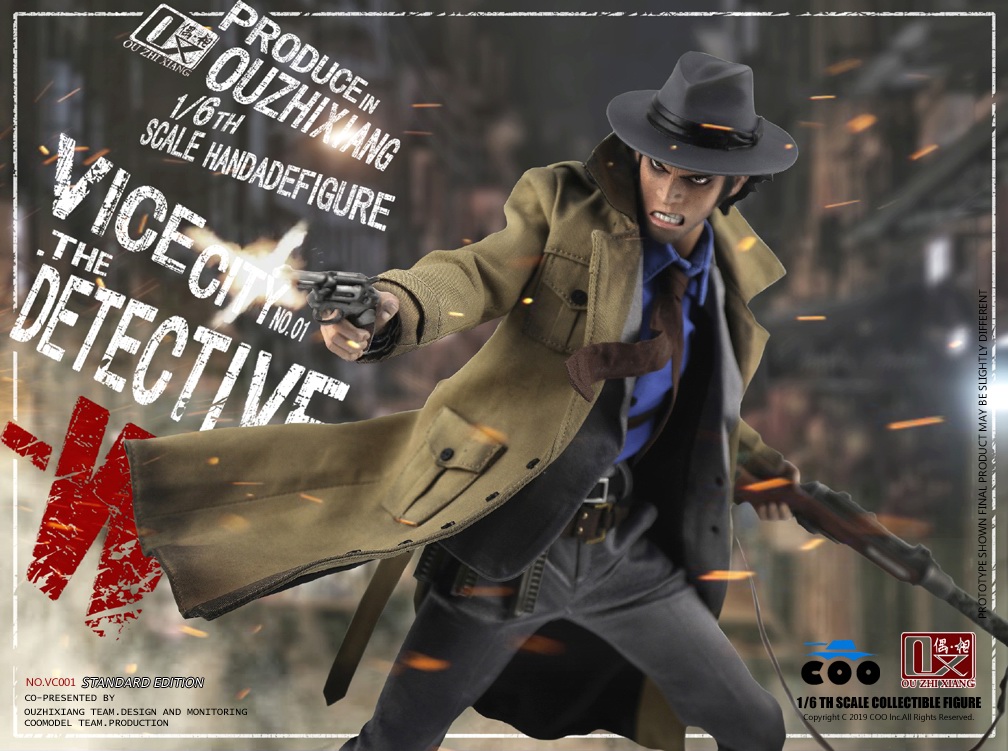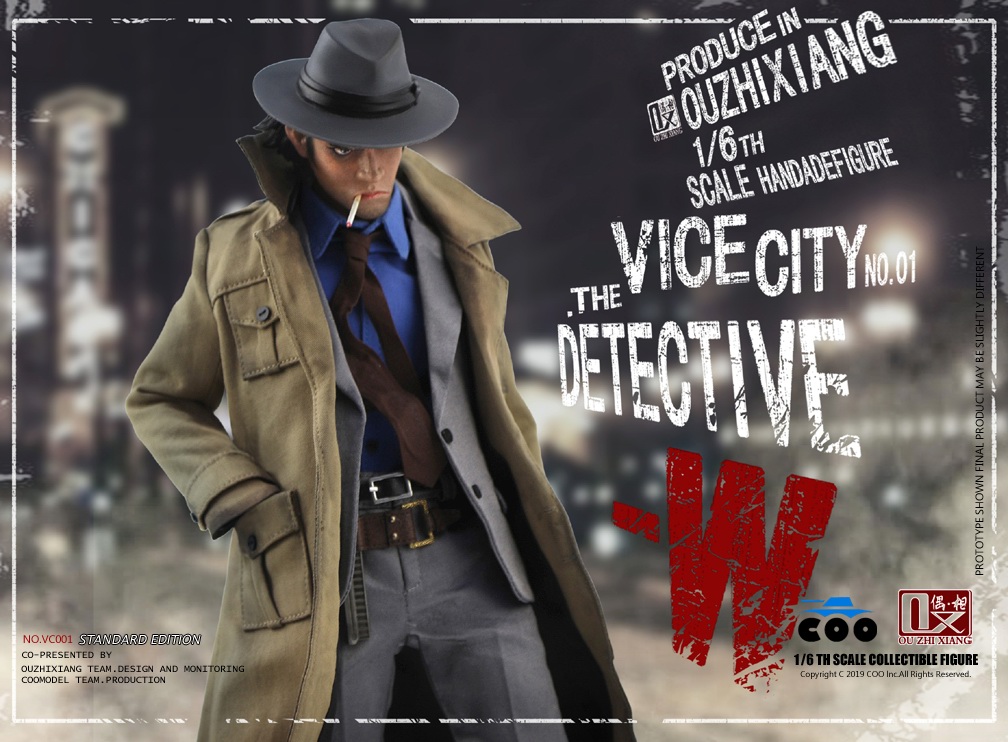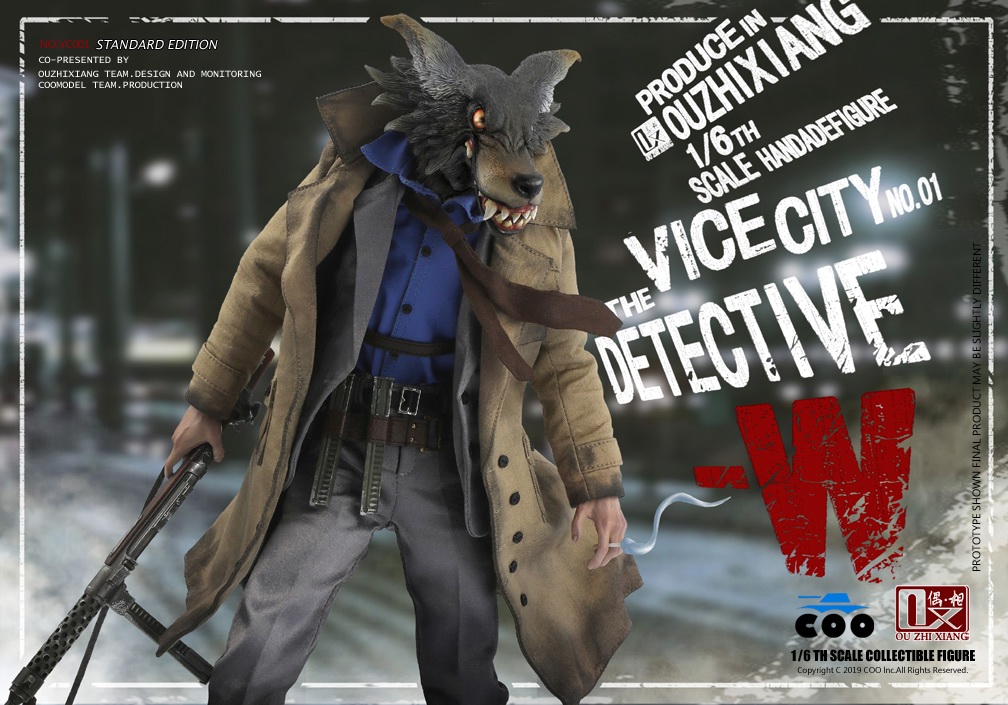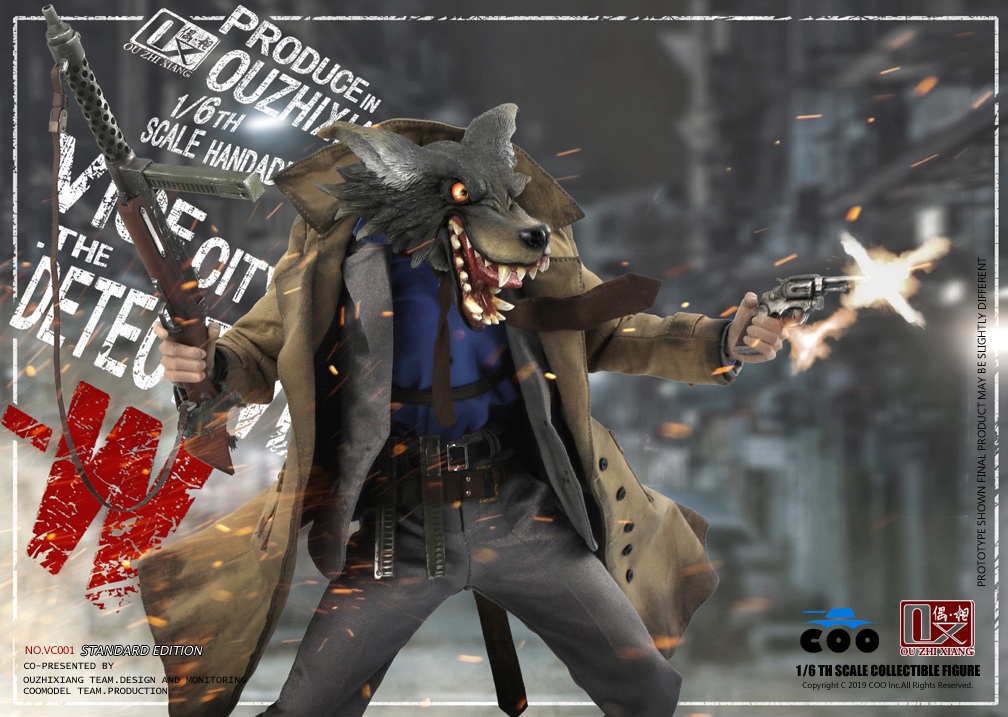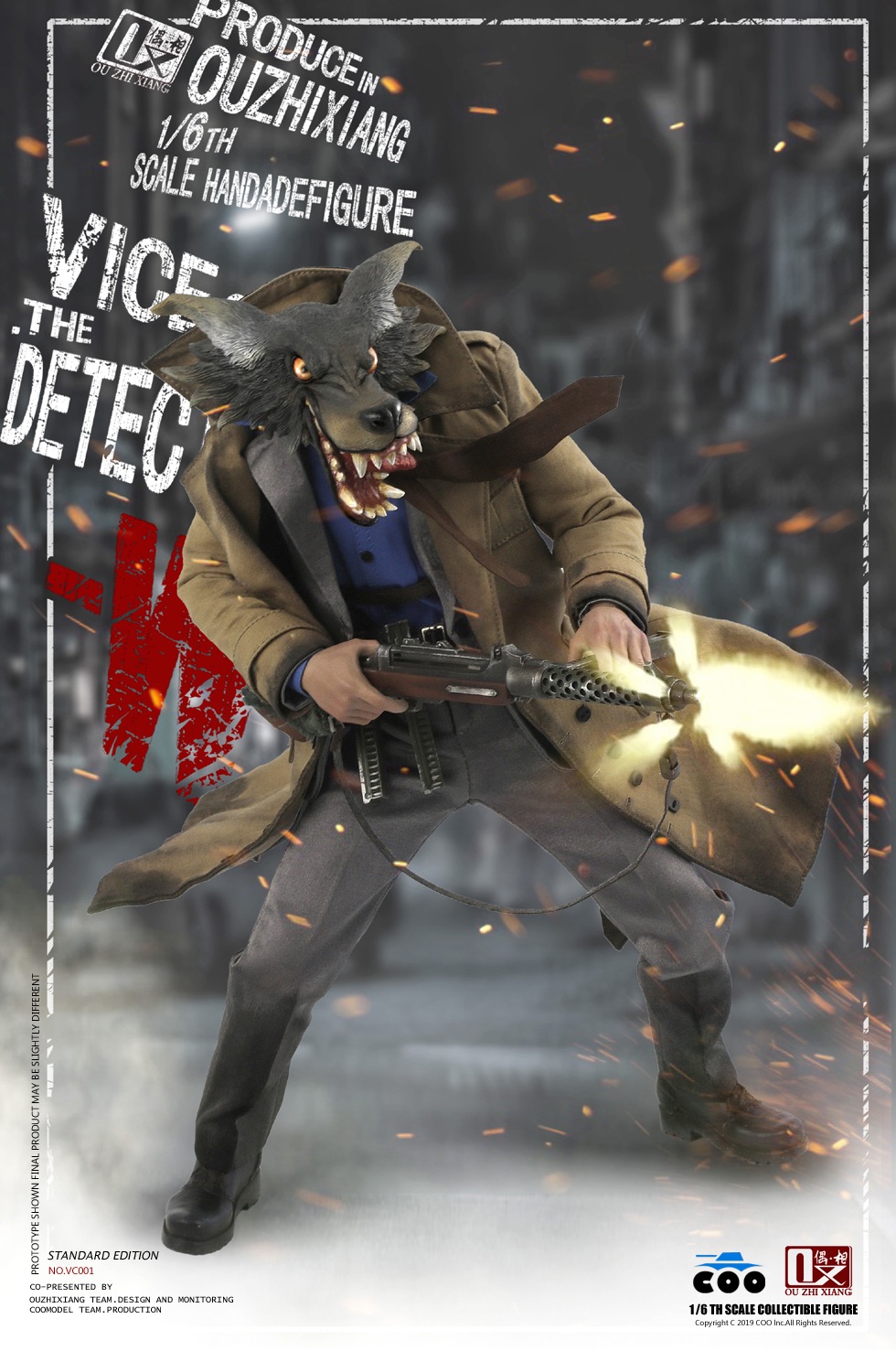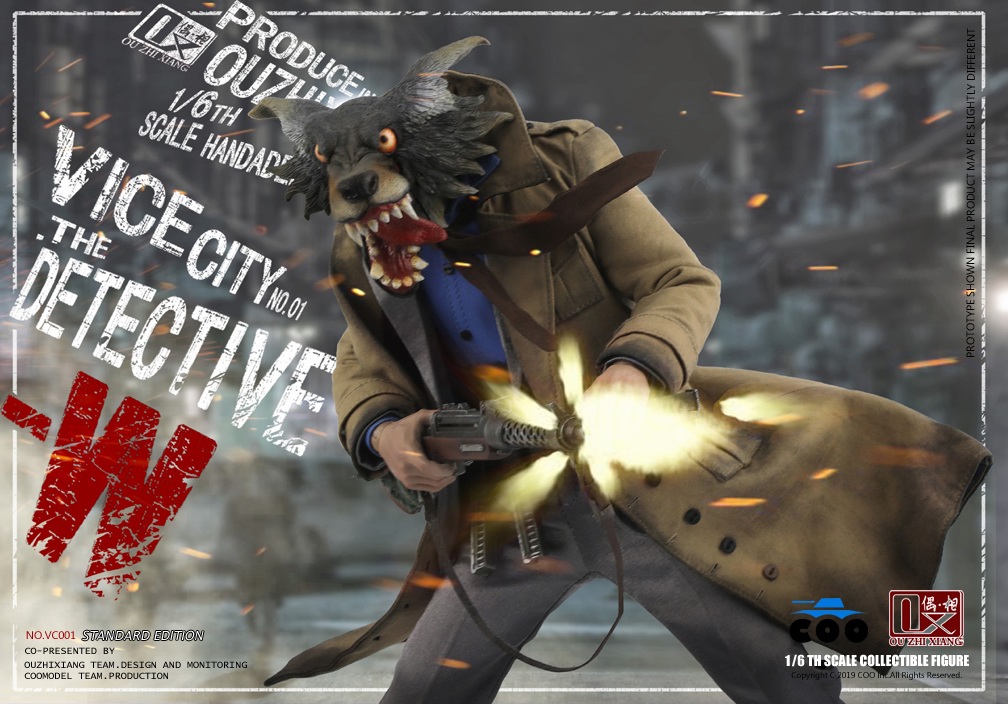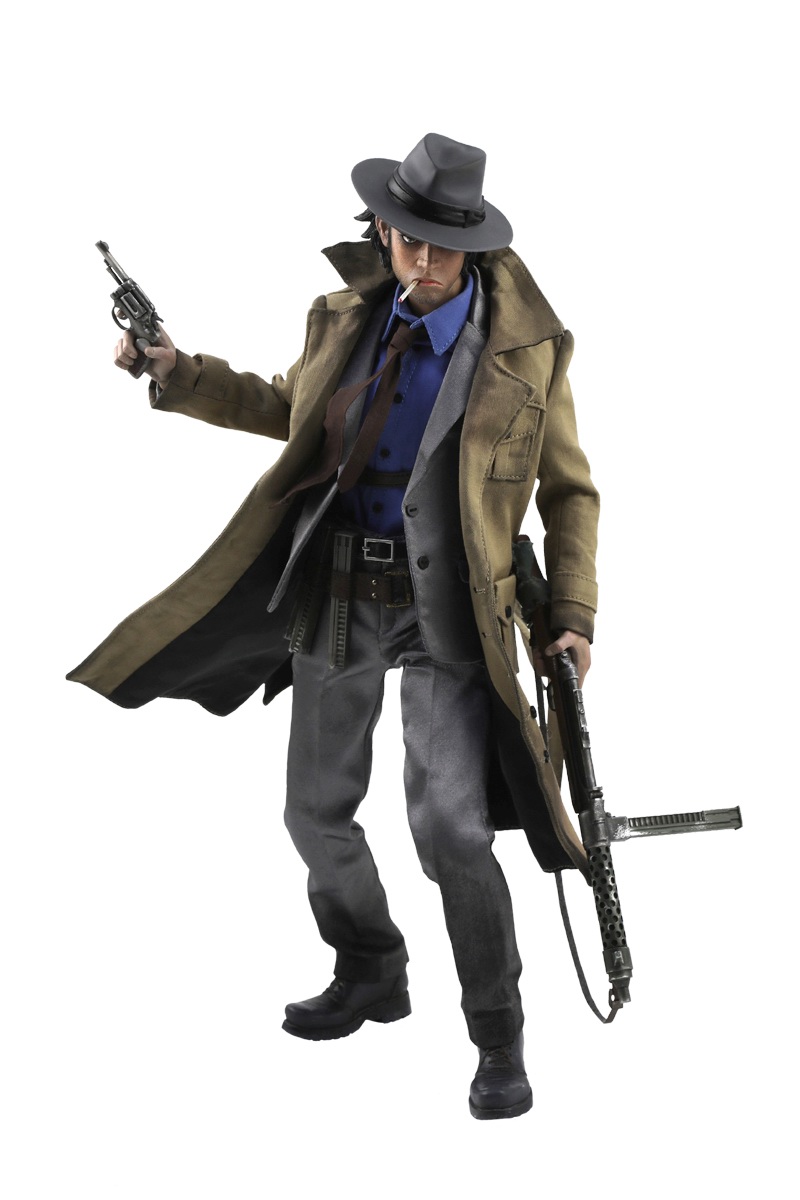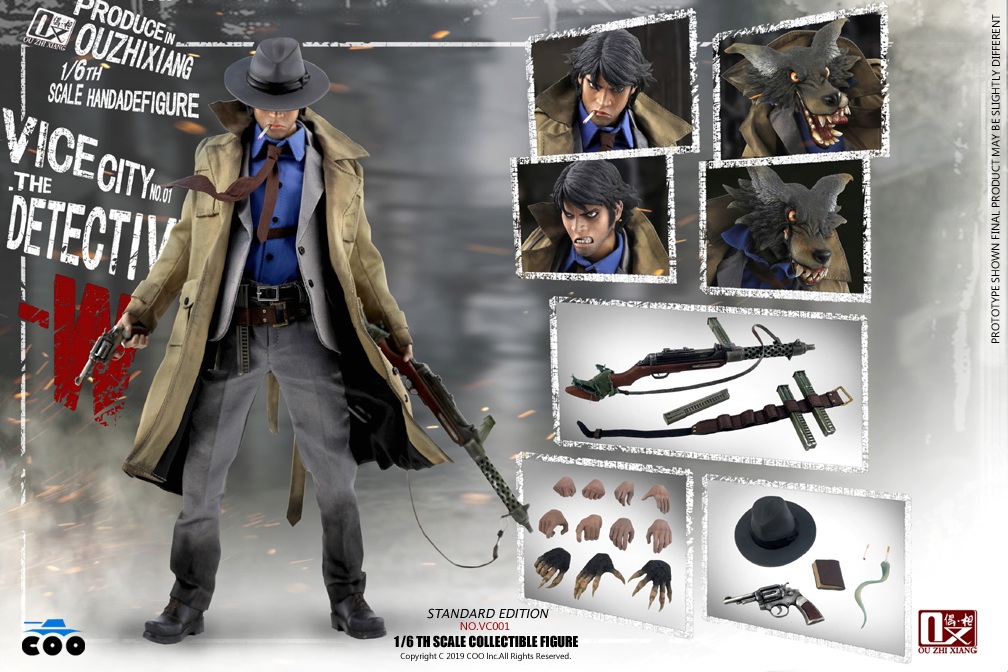 COOMODEL X OUZHIXIANG NO.VC002 1/6 VICE CITY - THE DETECTIVE W (EXCLUSIVE EDITION)
BAR CODE 6971242120686
The 1/6 scale Detective W (Exclusive Edition) specially features:
- One (1) smoking head of human form
- One (1) grim head of human form
- One (1) normal head of wolf form
- One (1) roaring head of wolf form
- One (1) body
- Eight (
pieces of interchangeable human palms
- Three (3) pieces of interchangeable wolf claws
Costumes:
- One (1) dark gray hat
- One (1) blue shirt
- One (1) brown tie
- One (1) light gray suit jacket
- One (1) khkai wind coat
- One (1) pair of dark gray suit pants
- One (1) black leather belt
- One (1) pair of black shoes
Weapons & Accessories:
- One (1) MP28 machine gun
- One (1) revolving pistol
- Four (4) cartridge clips
- One (1) clip-holding belt
- One (1) notebook
- One (1) burning cigarette
- One (1) burning cigarette with smoke
Figure Stand:
- One (1) luminous figure stand of road lamp in the wind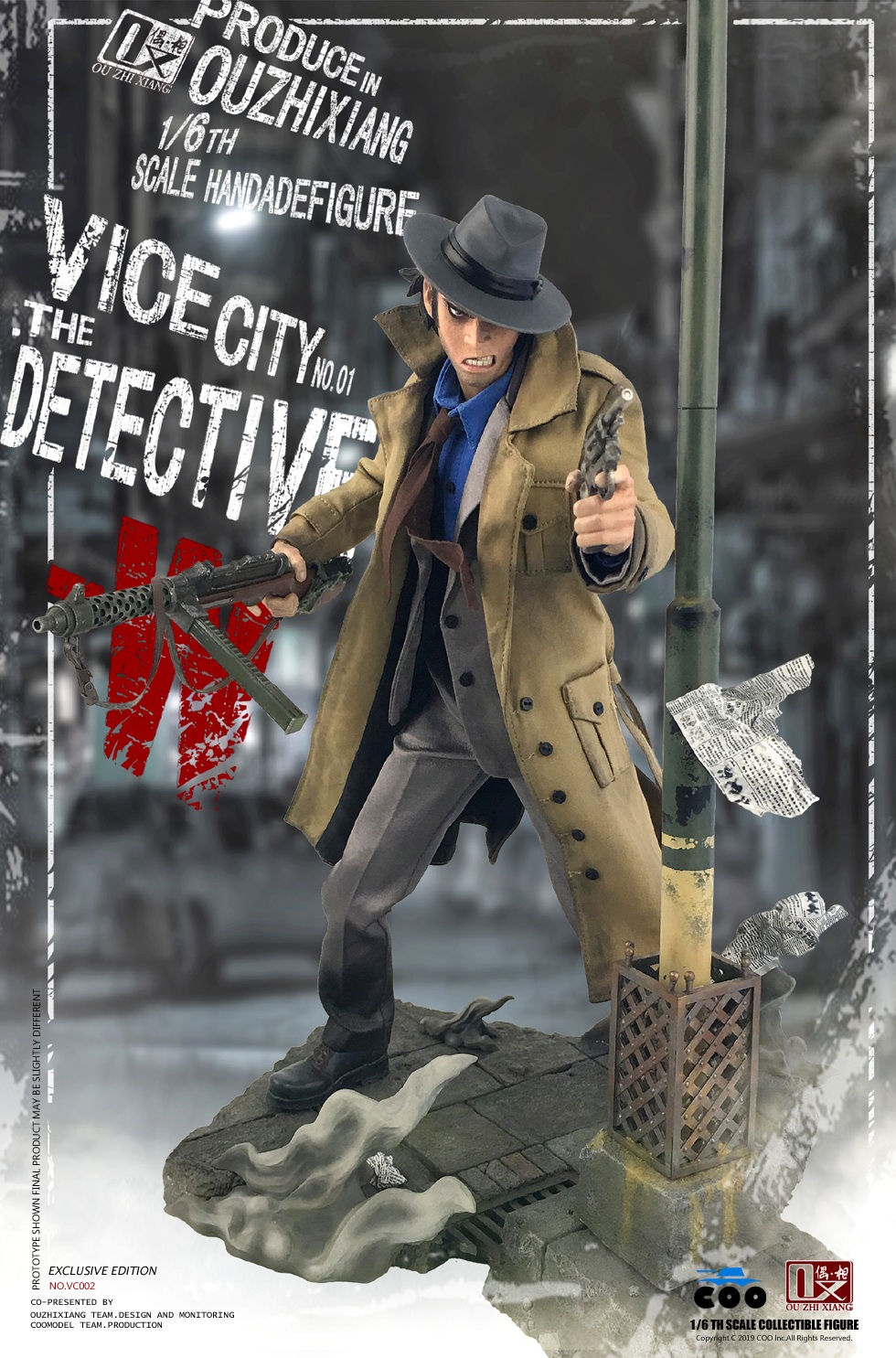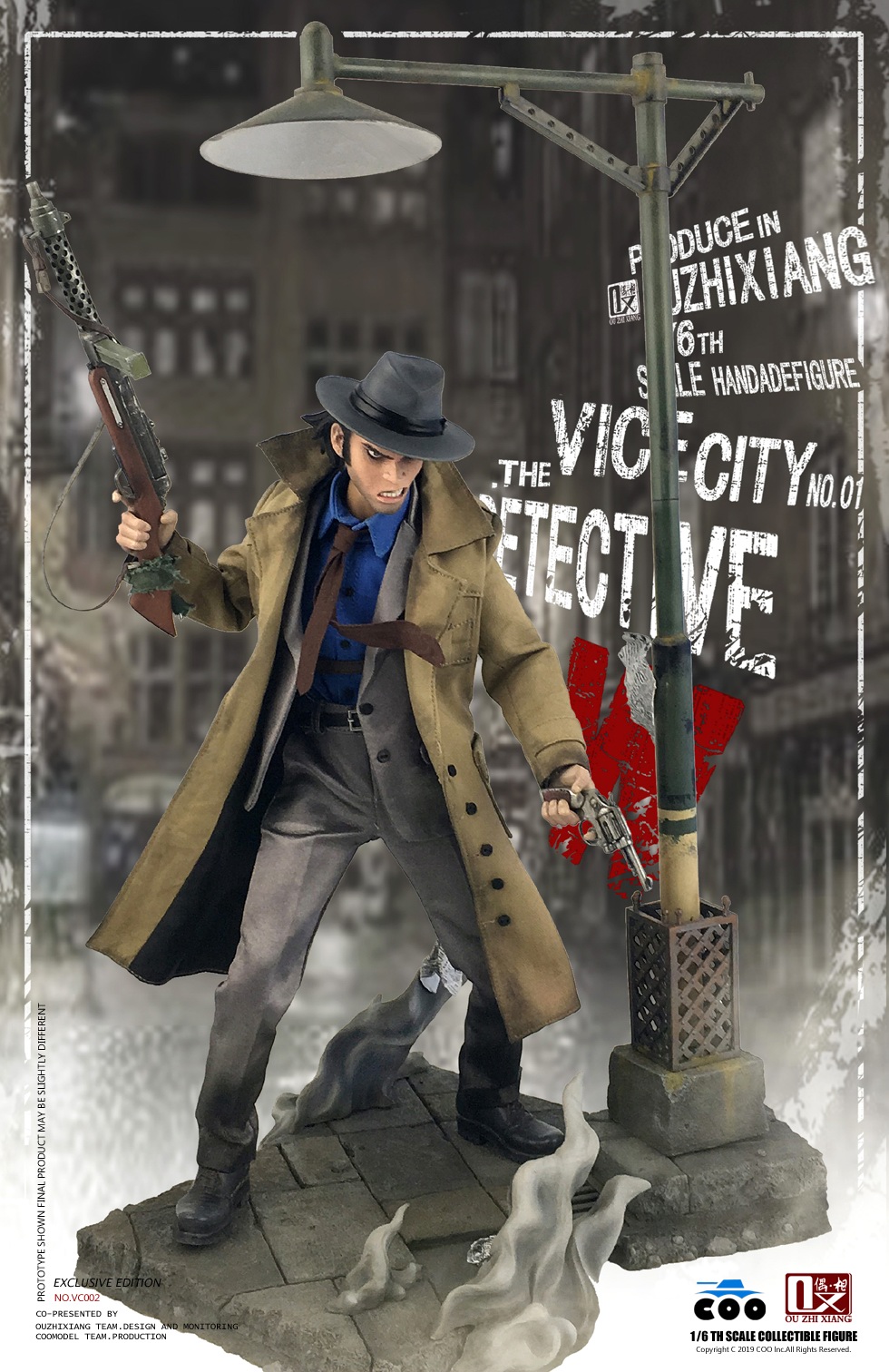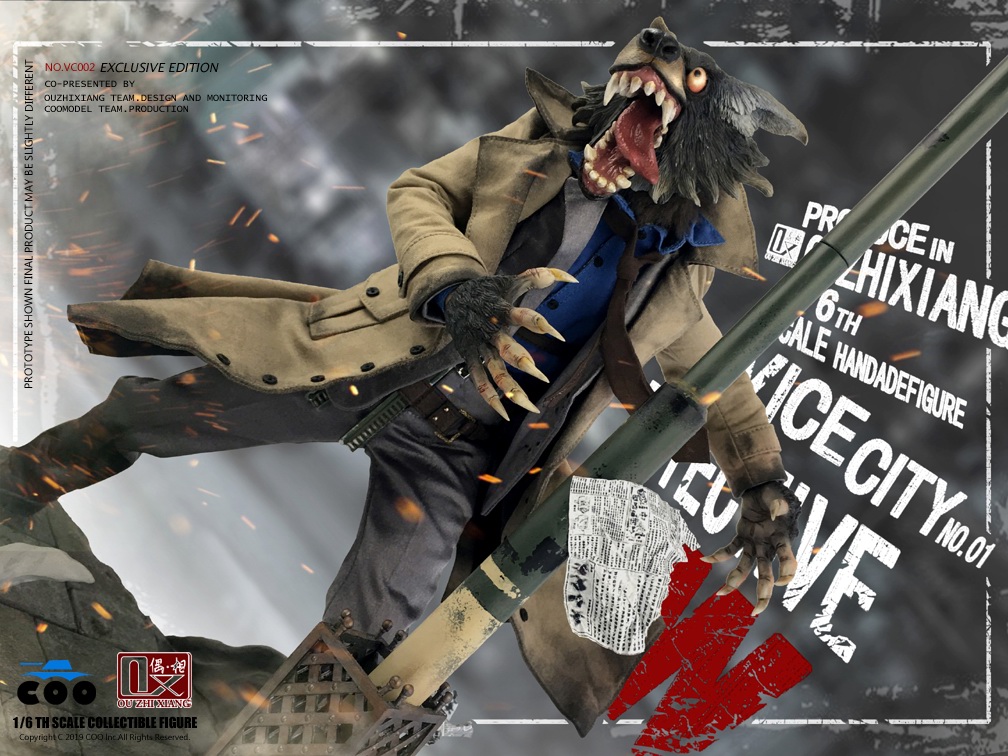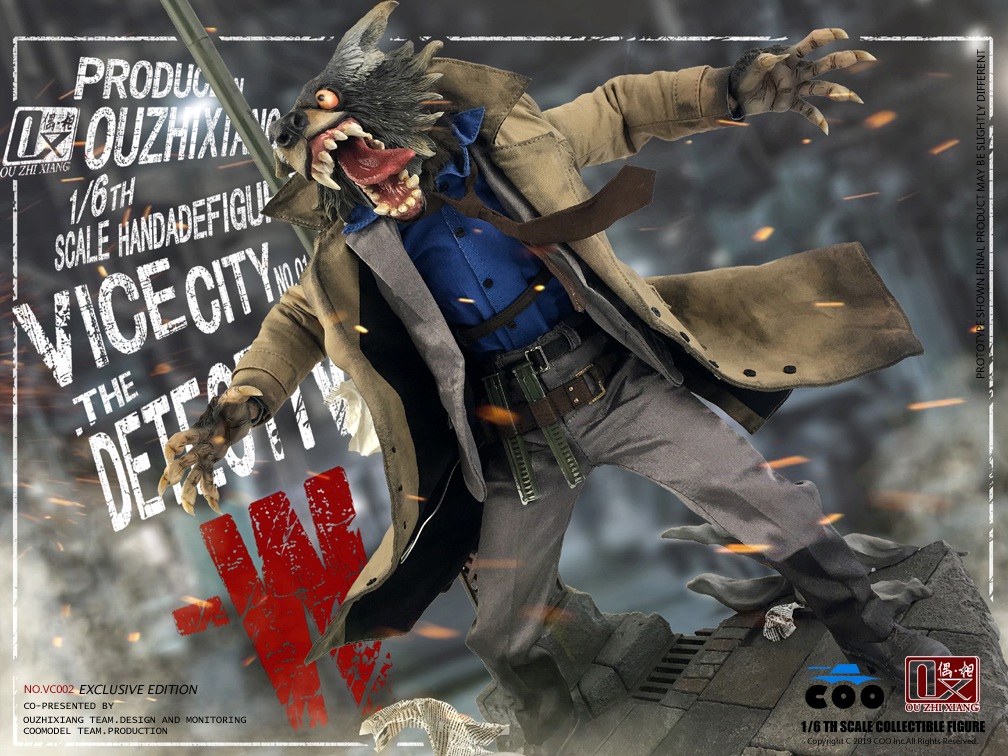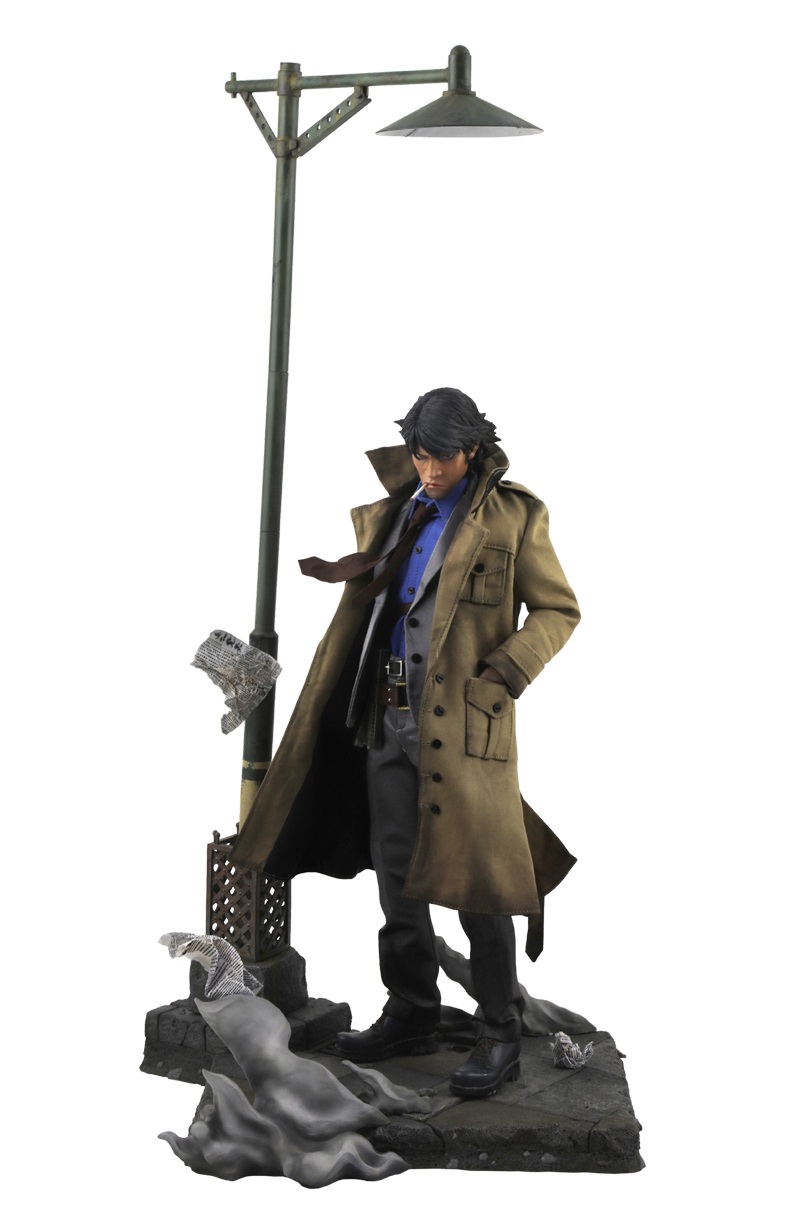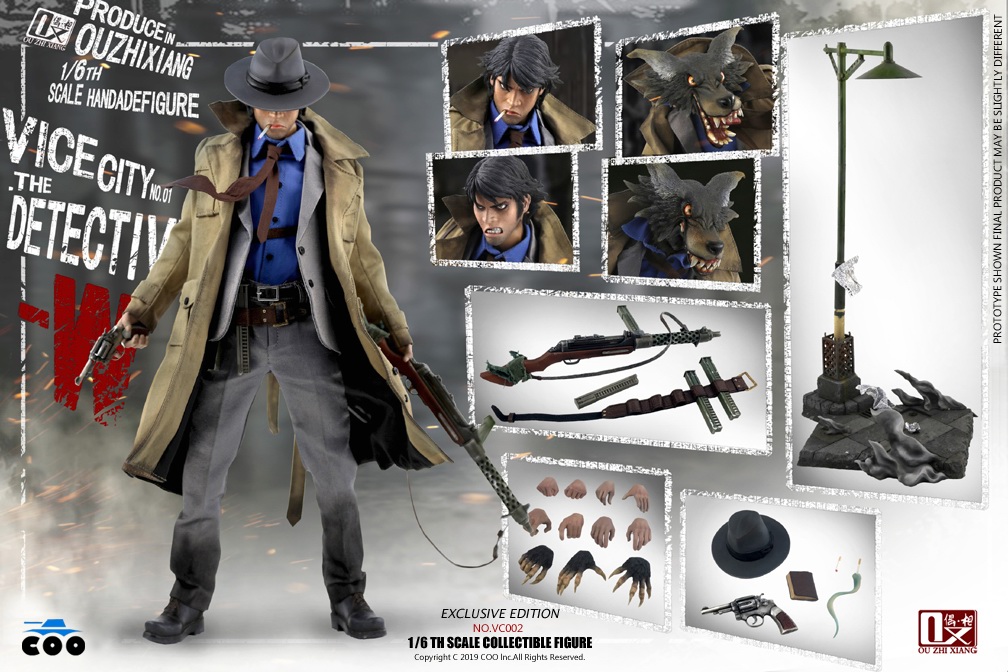 #newproduct
#CooModel
#Even
#ViceCity
#DetectiveW
#stylized
#male
#Werewolf
#monster