ASMUS TOYS THE CROWN SERIES : GANDLAF THE GREY

(Product ID: CRW001)The Crown series Gandalf the Grey Sixth Scale Figure features:
· Asmus ADAM body
· Approximately 30 cm tall
· Over 36 points of articulation
Features :
· Super detailed head sculpt accurately to the movie actor, with hand glued real wool beard and hair.
· Rotatable eyeballs
· One pair palm opened aged man hand
· One pair relax gesture aged man hand
· One pair of weapon holding gesture aged man hand
· One finger pointing gesture aged man left hand
· One reading gesture aged man left hand
Special features on Clothing:
· One handmade fabric made wizard hat
· One dark grey robe
· One dark grey cape
· One soil grey inner shirt
· One pair of dark blue pants
.One blue leather belt with pattern printing
· One pair of handmade fabric boots
Special features in weapons:
· Glamdring (with elvish printing)
· Two wizard staff
. One Gandalf's pipe
Accessories:
· One Asmus Toys Crown series display base with Hobbiton diorama
Special features:
. The diary of Moria
$350.00 USD (includes shipping -- $20.00 deposit)
ESTIMATE SHIPPING DATE: Q4, 2019 ~ Q1, 2020
This is already up for PO on their website -- going to be limited and MAY be exclusive to their site -- due to cost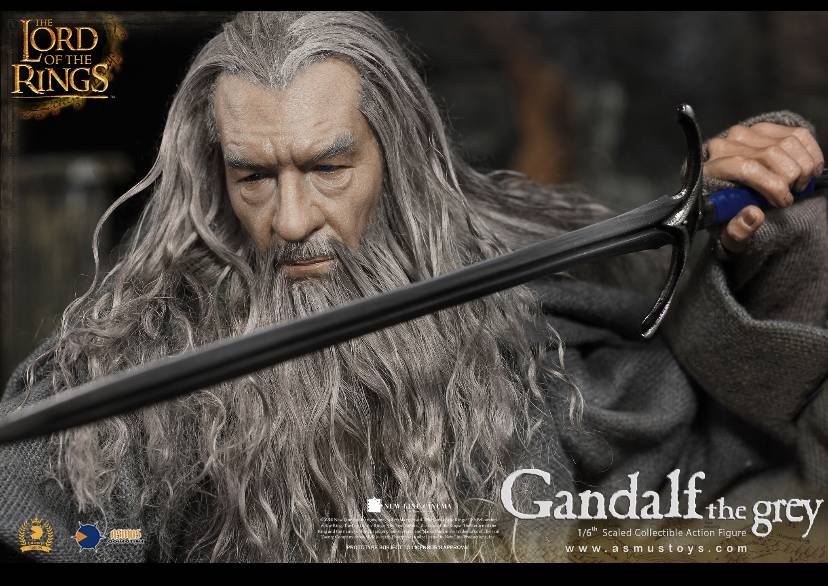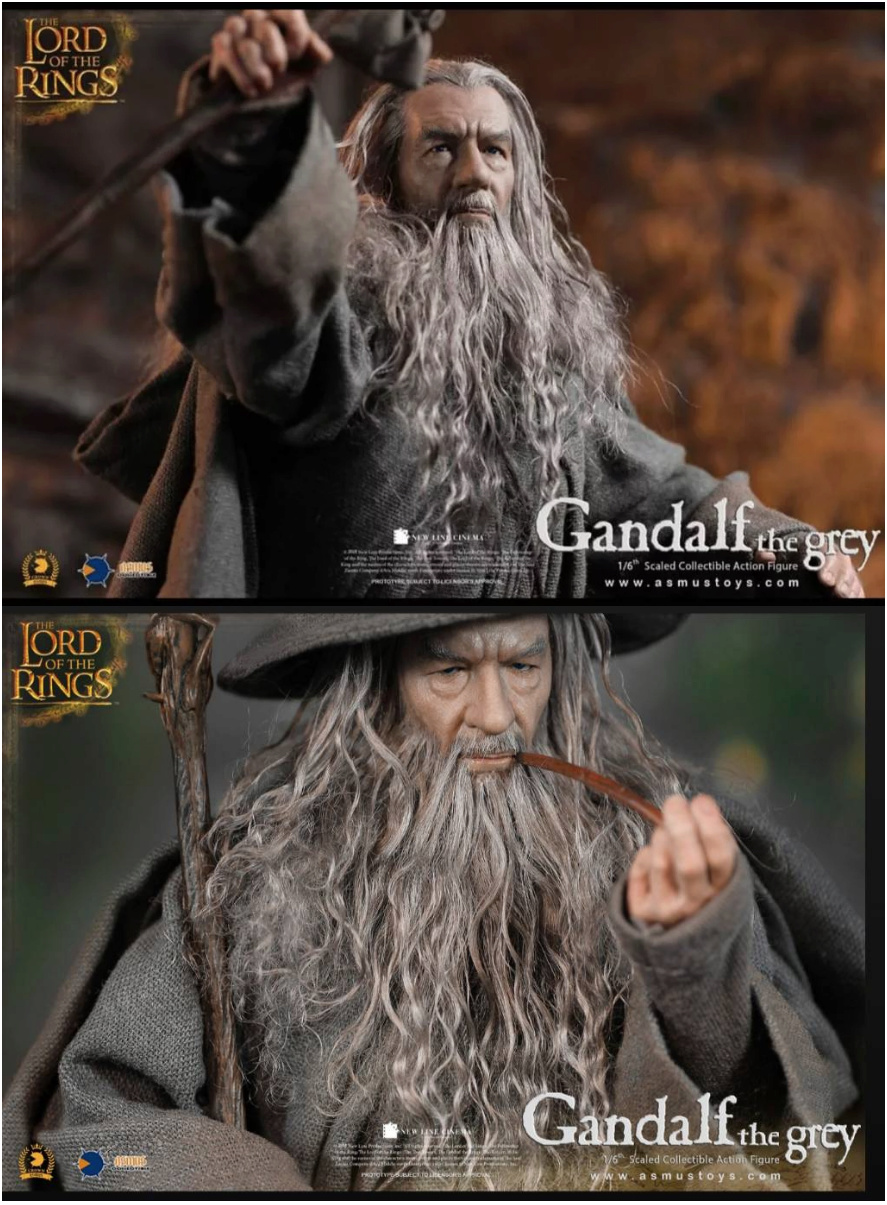 This was posted by the sculptor of this project: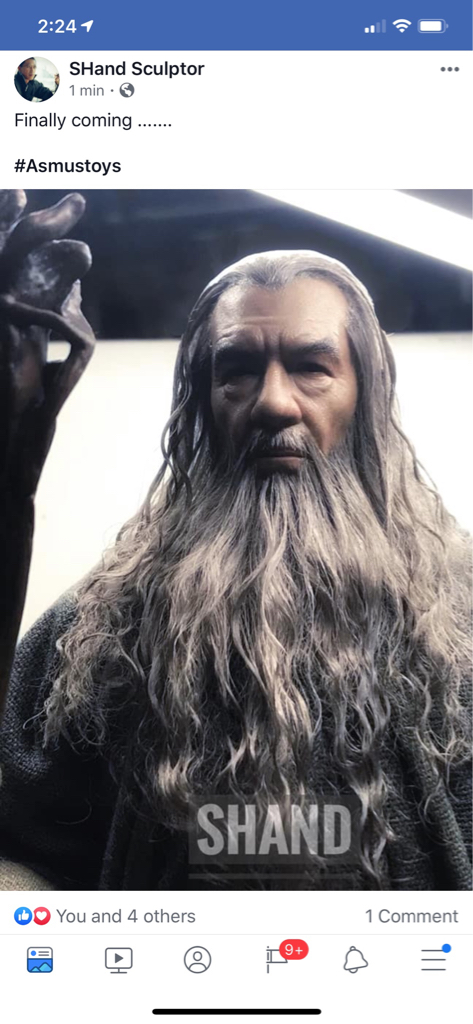 The full details were just posted today, but they're still working out certain details. They will offer a separate upgraded head sculpt for those that already purchased the first version of Gandalf the Grey (I'm one of those people). Don't know if that expansion pack will come with any of the other new accessories like the Moria Diary, the new hands, or the new base.
Here's some posts by the Asmus rep to give some further details:
"Please also understand this is going to be a long fight, we will need to take a much longer production time to make, we will set up an exclusive production line focusing only on glue the beard and hair.
this is going to be a very tough challenge for sure.
So, please bear with us on the price
(already set at $350 USD)
and production time.
We will have a plan for those in this forum
(ie Sideshow Freaks -- where they respond to Q&A)
(will be a majority) who owns a previous Gandalf to purchase a new head,
we will try to keep it under $50 USD(?),
however, the complexity of bring such a difficult technique to the production is very difficult to calculate at this point, so the price is NOT sure yet."
Asked whether this would be offered at other retailers besides themselves:
"We have yet decided, but it is likely to be very limited at this point."
And for anyone who may have forgotten what he originally received for Gandalf the Grey (he looked more like Sir Ian in The Hobbit movies than he did in TLOTR):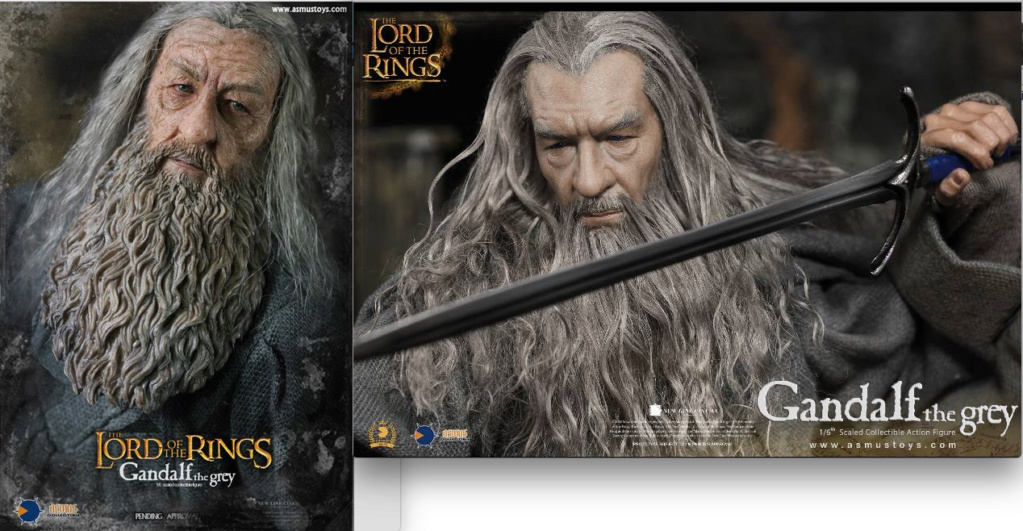 Here's the link to the Asmus store:
https://store.asmustoys.com/product-Gandalf-the-Grey-CRW001.htm
#newproduct
#AsmusToys
#CrownSeries
#GandalftheGrey
#LordoftheRings
#male
#movie