These were advertised
awhile back
, and have now become available on the market. Mine came in along with so much other stuff over the last week. I got the brown version (there are also black and red ones). The chair comes in a cardboard box with a transparent plastic window, and is protected by two facing transparent plastic treys.
The chair represents a more luxurious version of an office desk chair, with seat, support, and arm rests of padded leather and a streamlined classical look. The brown version comes with reddish brown leather elements cast in softer plastic (it has some give, especially on the seat and back support), black metal pillar and functional wheels cast in harder plastic, and the reddish brown wooden elements (arm rests, radiating legs, etc) also in harder plastic. These last have fine wood grain detail (probably not really discernible in my photos) that adds a bit more realism to the piece. As mentioned, the wheels are functional; the chair swivels around its axis, and the column contains a spring that allows the chair to lower under the weight of whatever is placed in the seat. This helps figures look right when sitting down in it. Unoccupied, the chair is about 20 cm (7.6 inches) tall at the top of the back support, and about 8 cm (3.25 inches) tall at the top of the seat.
The chair looks and performs very well, with the "leather" appropriately more matte than the overly shiny promotional photos, and the sculpted "stitching" reasonably fine. It would make a fine seat for a boss (as the name suggests), a chairman, or even a former queen who does not want to give herself airs.
Take a seat and try it out for comfort. I doubt you will be disappointed.
Make yourself at home and spin around, enjoying that swivel action.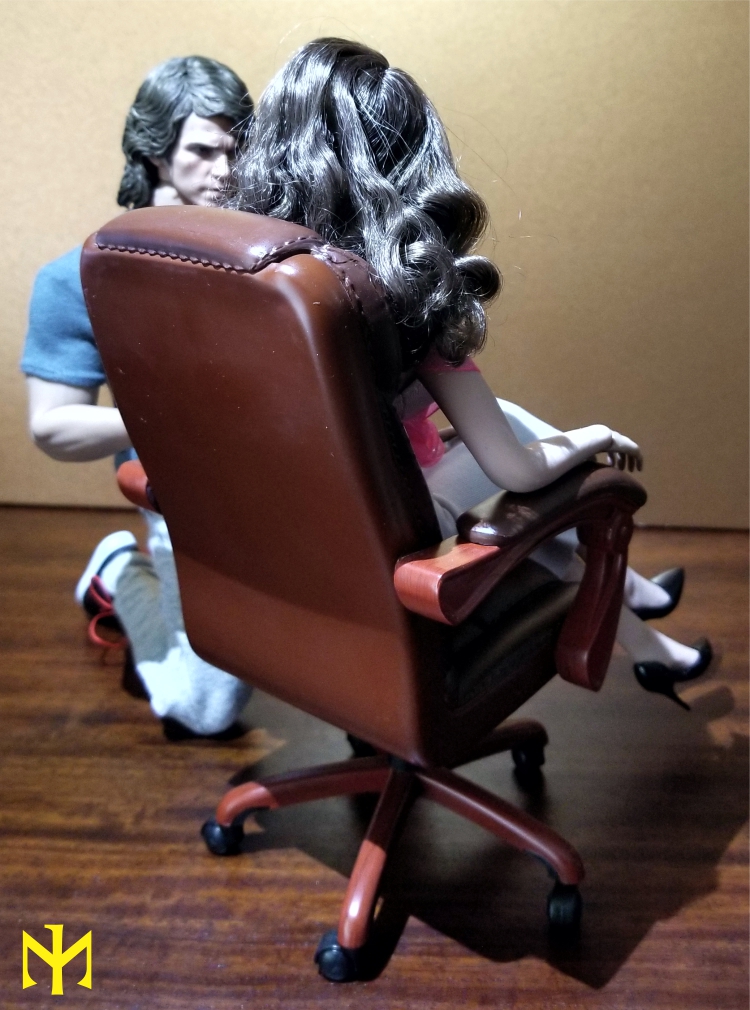 Have hubby give it a try, to see what you mean by so comfy you could cry.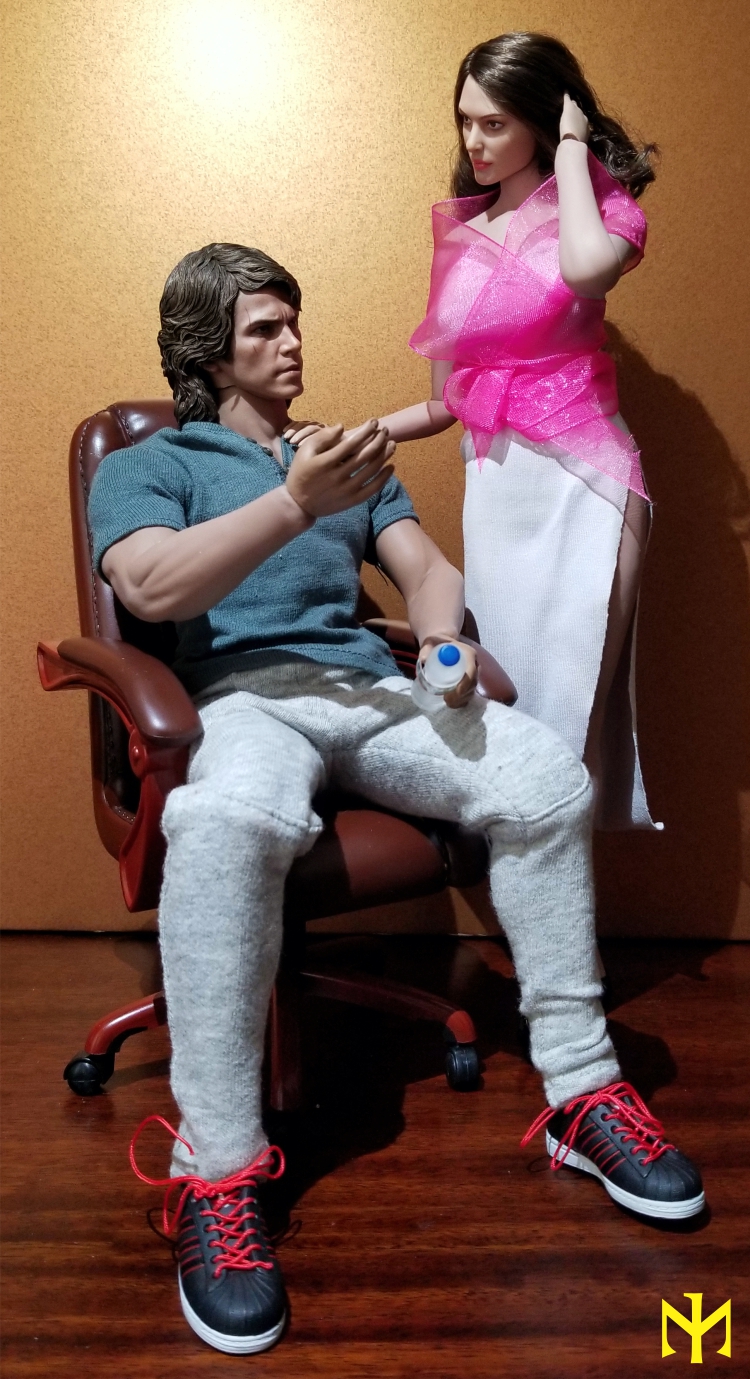 And make sure he gets rested before you tell him there will be 4 more hours of shopping ahead.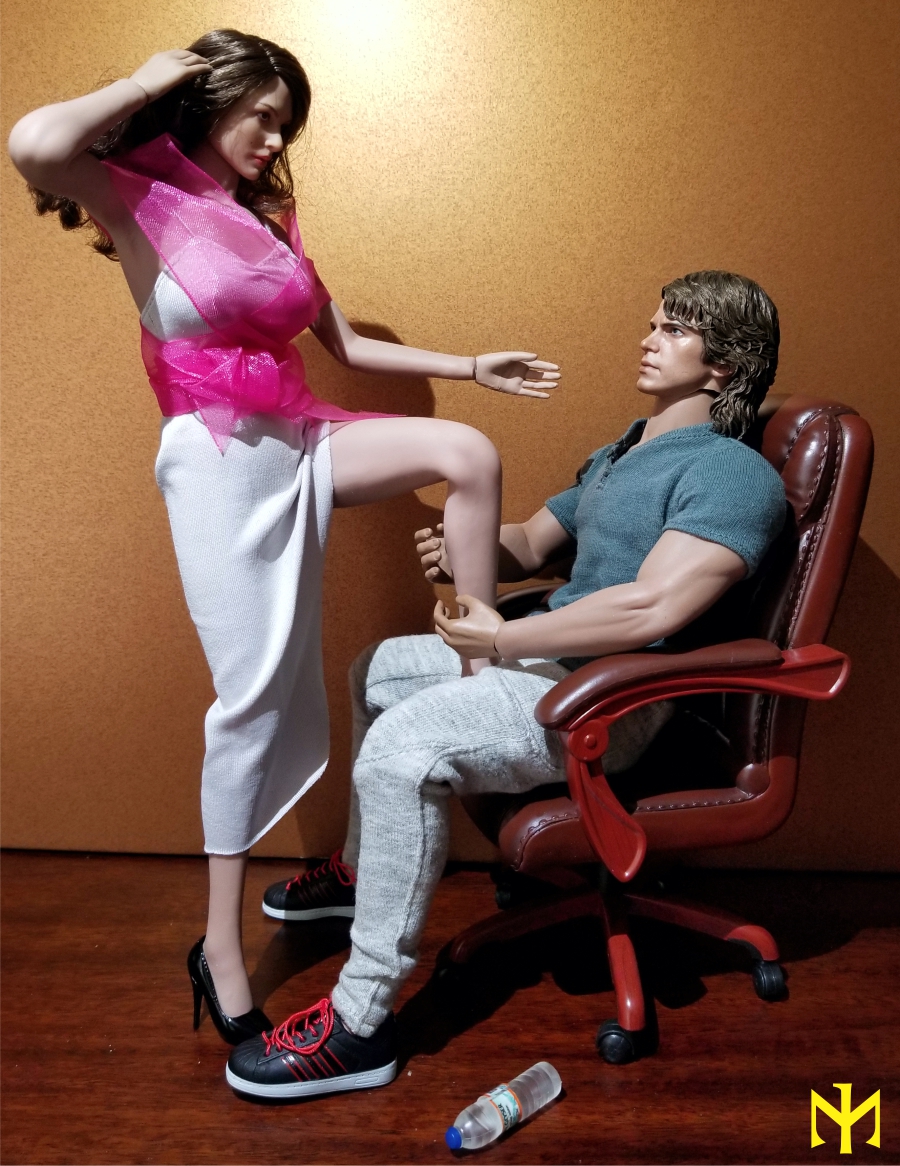 Just try not to get him overly excited as you try to sweeten the deal. This is a place of business after all...
All in all, a functional, good looking chair for any suitable sixth-scale diorama. An not unreasonably expensive, retailing at around $25 (USD).
Where to Buy?
You can find it at various online retailers and of course eBay. Here are some suggestions, including the one where I got mine.
Big Bad Toy Store for $27 (pre-order)
Cotswold Collectibles for $25 (pre-order)
Monkey Depot for $25
Timewalker ToysT for $25
I hope this was useful. What do you think? Was I wrong to use TBLeague bodies for the figures when reviewing a Jiaou product (I swear it was not intentional -- they were just the only ones within easy reach!)?
#furniture
#chair
#jiaoudoll
#diorama