The dawn goddess, English dawn, also known as the goddess of dawn, the lover of death, is a character created by the artist Joseph Michael Linsner in December 1989. She is the goddess of birth and rebirth. She is generally shown as a red-haired woman, her left eye There were three drops of tears, and sometimes a drop in her right eye. She had a rose on one wrist and a chain on the other. The rose represents hell, because its beauty will sting you and hurt you, and the chain represents heaven, because it means restraint, which binds her to be the guardian of all witches on earth, and the witches pray to her and call her Gaia, Aurora, Or Mother Earth. She is one of the few gods who can freely go to heaven, earth and hell.
Item Name: Dawn 1/6th Scale Action Figure
Item No: PL2019-151
Bar Code: 6 14614 98890 8
Joseph Michael Linsner's DAWN is an elemental force of nature; a Goddess dancing between worlds and into the arms of her lover DEATH, The Horned God. She is the driving force in an epic fantasy of death and resurrection set in the streets of a post-apocalyptic NEW YORK ~~
When the Archangel Lucifer was cast out of Heaven. Lucifer took his halo with him, but now Heaven wants it back. Too proud to descend to Hell himself, Ahura Mazda, the Lord of Heaven, asks the Goddess Dawn to retrieve it for him. She gets it, but doesn't return it to Heaven — instead she brings it to the ashes of New York. As war between Heaven and Hell breaks out, angels and demons clash over who gets to lay claim to Lucifer's Halo.
The dream project of writer/artist Joseph Michael Linsner, Dawn's story is told through a series of graphic novels published by Image Comics. He is currently working on her fourth book, Always Darkest.
2019 celebrated Dawn's 30th anniversary in print.
DAWN was created and designed by Joseph Michael Linsner
(C)& 2020 Joseph Michael Linsner
Packing List:
1 x head sculpt
1 x TBLeague 1/6 female seamless body with metal skeleton
3 pairs x interchangeable hands
1 pair x feet with shoes
1 x upper bodysuit with skull prints
1 x one-piece outfit (long coat and a pair of trousers)
1 x choker
1 x waist armor
1 pair x armlets
1 pair x forearm armors
1 pair x ankle armors
1 x LUCIFER'S HALO
1 x spear
1 x sword
3 x guideboards for the base
2 x wings for the base
1 x base and holder
Packaging:
1 product/individual box
GW: 2.21 kg
Measurements: 24.2cm * 14.2cm * 38.0cm
4 products/master carton
GW: 9.72 kg
Measurements: 61cm * 25.7cm * 40.5cm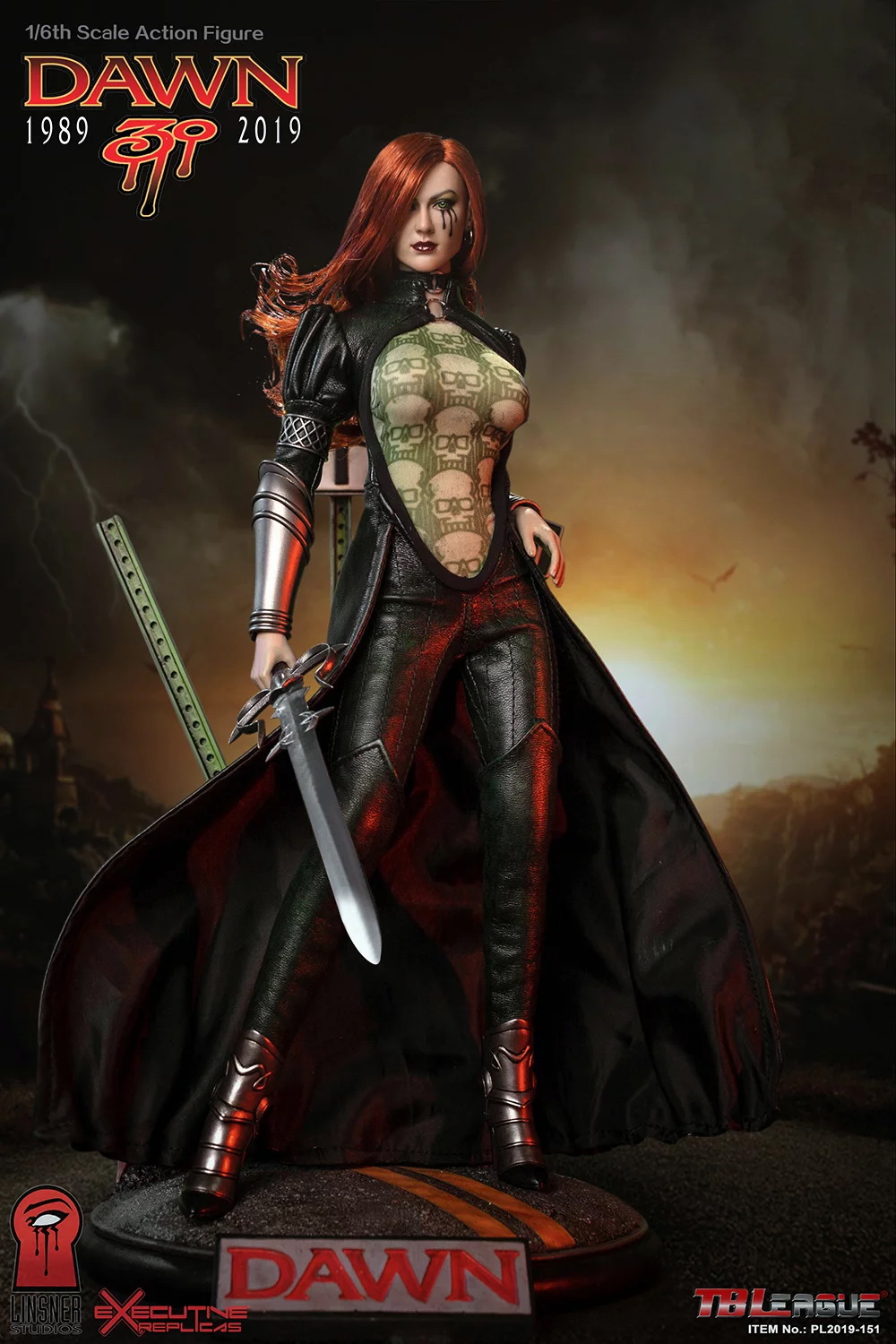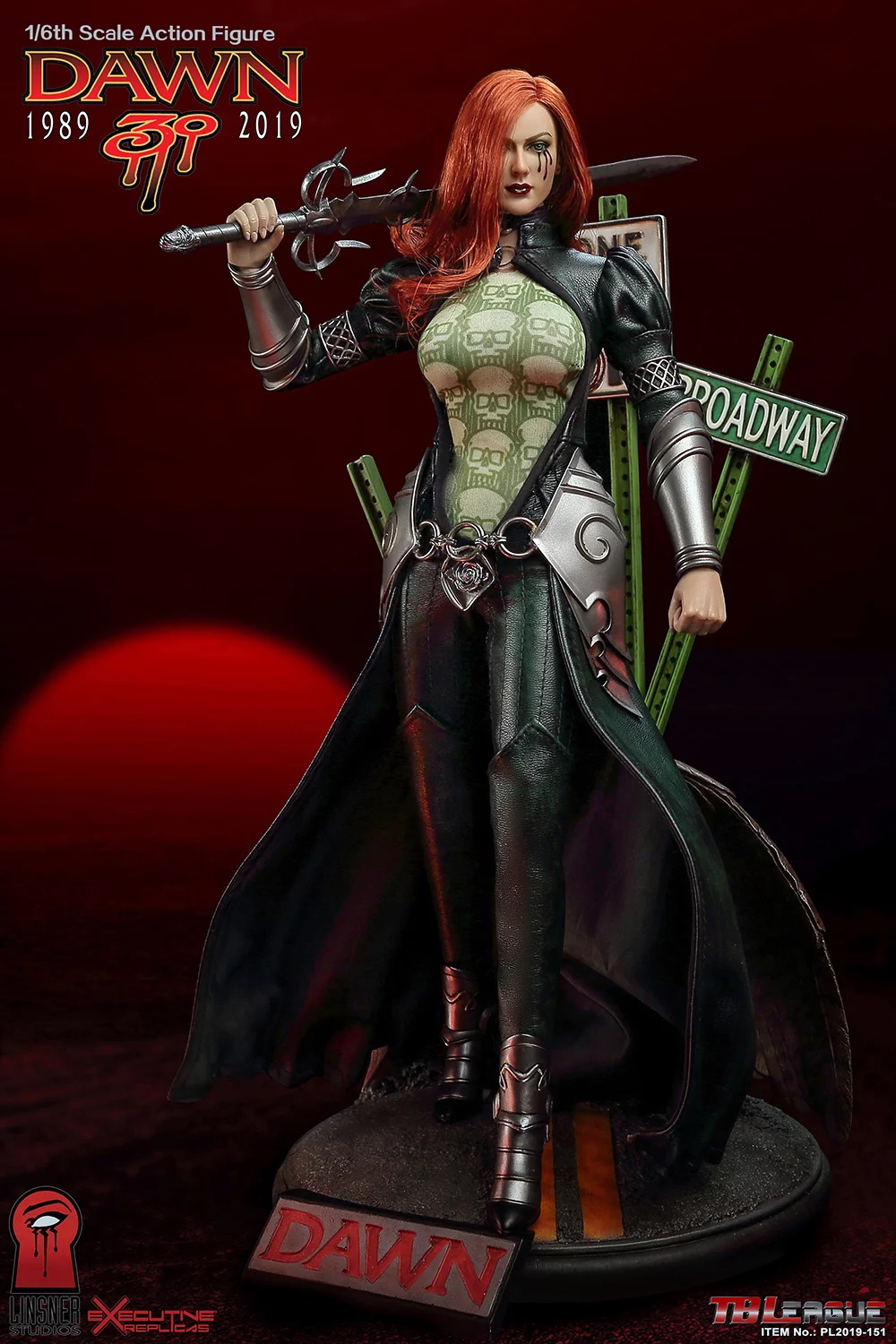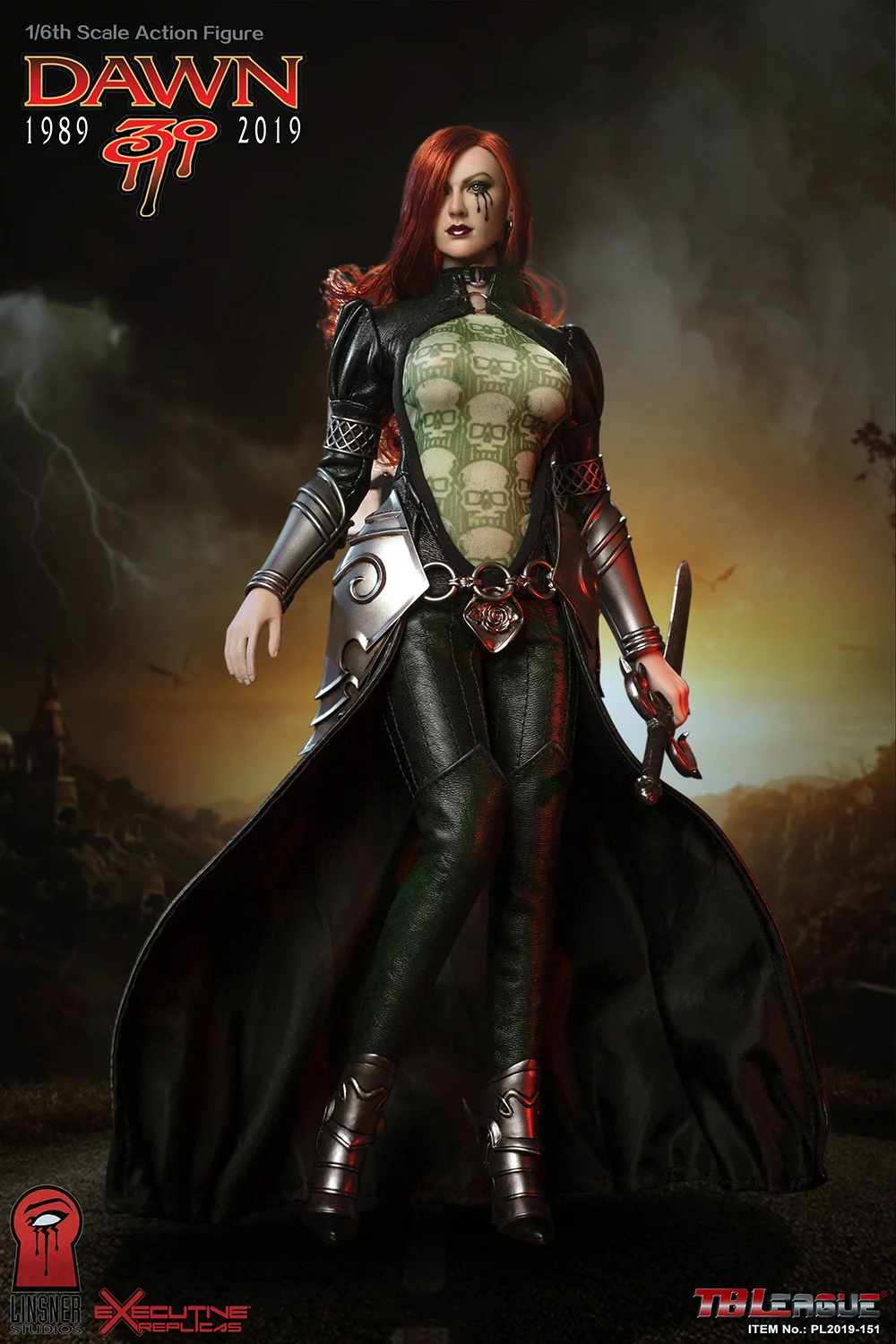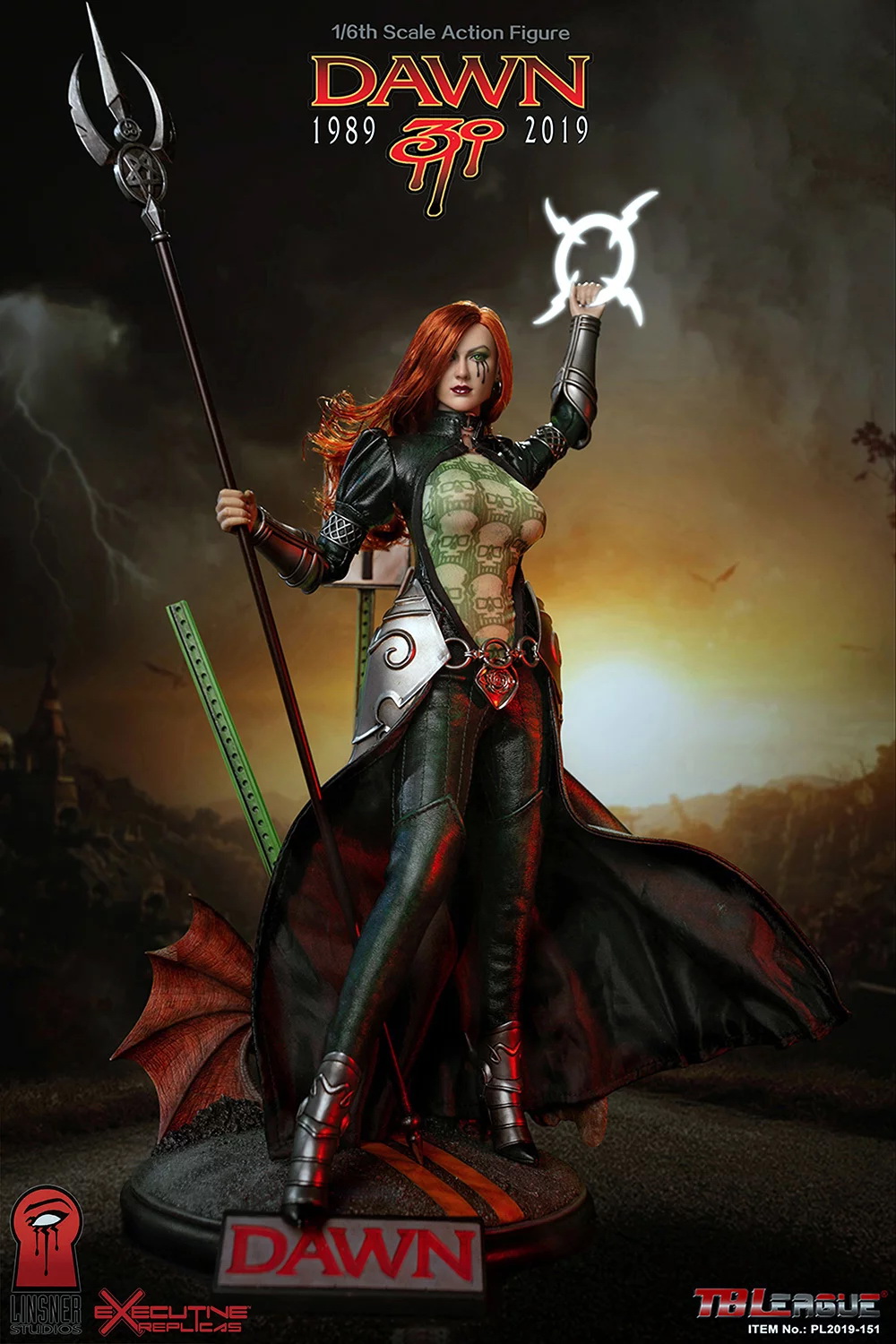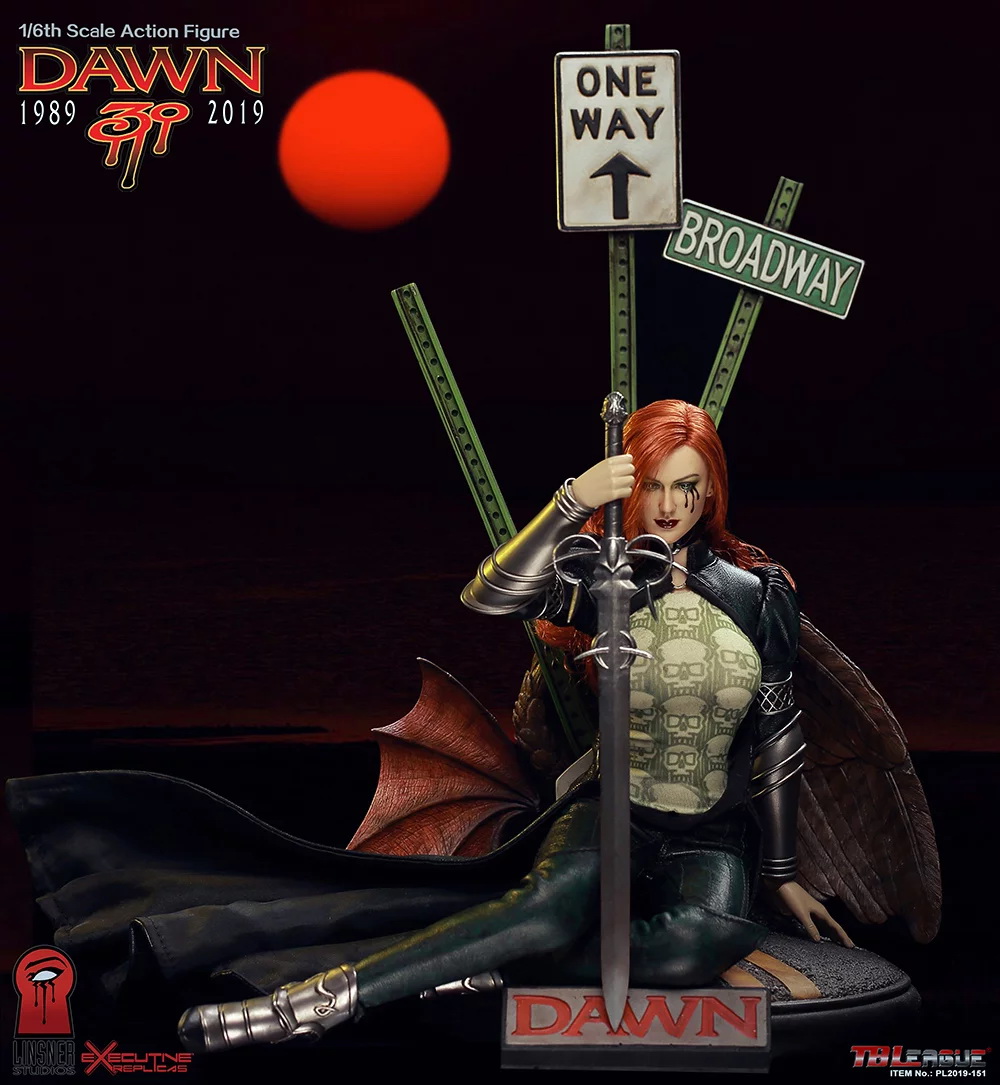 #newproduct
#ExecutiveReplicas
#TBLeague
#Dawn
#JosephMichaelLinsner
#female
#comicbook