Hasbro
has a near monopoly on the more affordable lines of Star Wars action figure collectibles, and it has a variety of lines and sublines of related products. For a while they brought us some high quality "super articulated" (14 points of articulation) action figures in the "classic" scale (3.75"), which they later abandoned for nicely sculpted and painted but underarticulated (5 points) figures; lately, they have brought back some of the "super articulated" figures with the nostalgic classical packaging; unfortunately (from my perspective), these have tended to be from the sequel trilogy rather than the original one (which remains my main interest). The
Hasbro
"Black Series" also includes a line of "super articulated" 6" figures, which have been quite good on the whole -- certainly in terms of articulations, and in many (if not all) cases in terms of quality of sculpt and paint.
Then there are their larger figures. But whether these are 1/4 (?) scale or 1/6 scale, and whether they are just regular figures or have electronic/sound features,
these
have been disappointingly underarticulated. I generally ignore them completely, except for the
Rogue One
stormtroopers, who have yielded up their nicely sculpted and proportional helmets for the use of my nicely-articulated Bandai models. But with the new Star Wars movie
Solo
coming up, we see products related to that film crop up in all
Hasbro
lines. I don't know how much of this will be translated into high-end sixth-scale collectables (besides, of course, the protagonists), so I did look at it. Especially the imperial troopers. In the tradition of Star Wars films, we are served with additional and increasingly dubious trooper types: the dirty and slightly modified Mimban Stormtrooper, the Ranger Trooper, the Mud Trooper, and the Patrol Trooper. Why regular stormtroopers and scout troopers could not have made do (besides the occasion for additional toy designs) remains (and will surely remain) a mystery. I suppose not everyone is like me, willing to shell out more money for already-existing trooper types. To add to the annoyance, so far they seem to be scattered among different lines: the Mud Trooper is 1/4 (?) scale, the Ranger Trooper is 6" (1/12 scale), the Mimban Stormtrooper is 3.75" (there might be a different scale version too), and the Patrol Trooper is 12" (1/6 scale). Perhaps eventually we'll get more of them in the same scale -- these products have a notably poor consistency of distribution, as Michael Crawford has pointed out.
I picked up
Hasbro
's basic 12" Han Solo and Patrol Trooper. At first sight I was impressed with the former's head sculpt, and I thought the Patrol Trooper might come in handy for kitbashing later on. The figures appear to be slightly under scale, closer to the 11.5" mark. As I expected, the articulation is atrocious: we are back to the old Kenner 3.75" five-point articulation, except that the hands can also rotate around the axis of the wrists. The paint application is also pretty poor: this is more visible on the Patrol Trooper where we need clean lines (ironically, it seems to be worst on the helmet, where it should be best), but also on some spots of Han, too (for example, the hair around and especially behind the ears). A repaint might help both. The sculpts are very good overall, especially considering that these were being sold for $8. In both cases the belts are (or were) a separate, softer-plastic piece affixed into place. The Patrol Trooper's lenses and Han's buckle are given appropriately glossy or shiny paint finishes; Han's eyes feature the dreaded paint dot. The Patrol Trooper design looks like a Stormtrooper, Scarif/Beach Trooper, and a Scout Trooper had some unholy union and somehow produced a bouncing baby boy featuring aspects of each type, vaguely reminiscent of things we end up seeing in the sequel trilogy; that said it is marginally cool-looking, or it would be, if it were not so transparently derivative and unnecessary. I suspect the same could be said for the other new trooper types.
Anyway, here are a couple of shots of the figures: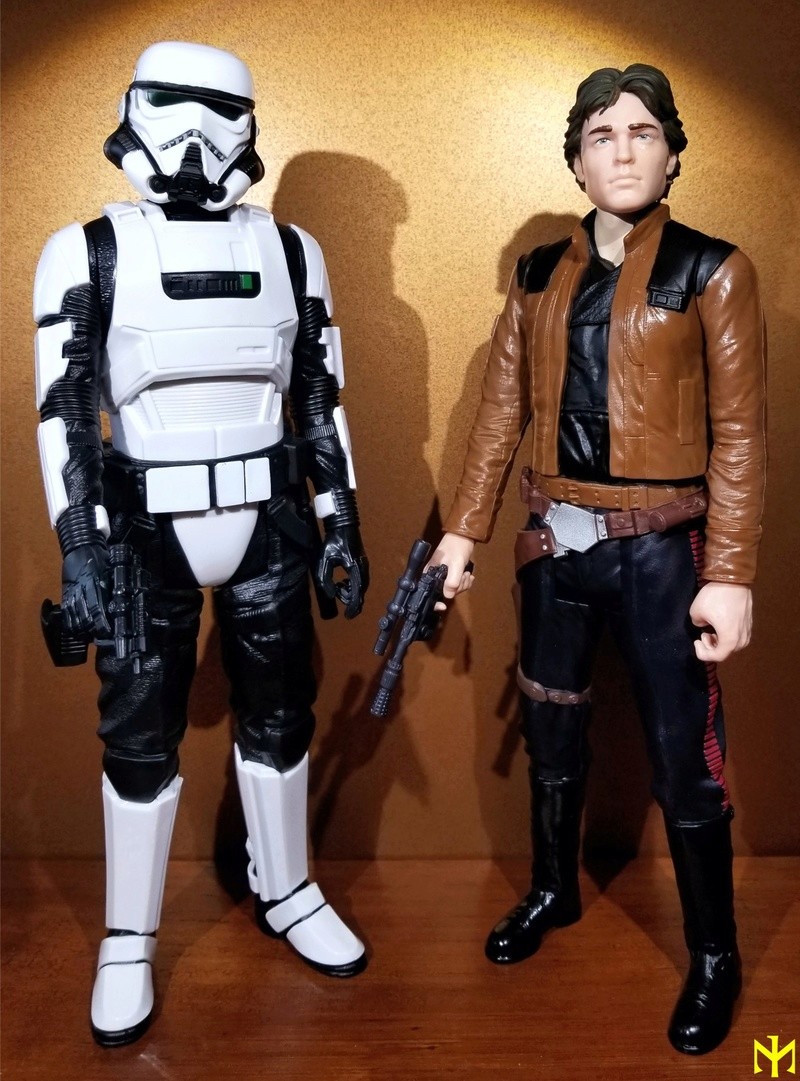 #starwars
#solo
#stormtrooper
#male
#fiction
#hasbro
#disney