I saw on someone's instagram (https://www.instagram.com/p/Bop2Jz2BT8P/?hl=en) that you can dye Phicen bodies using Rit Synthetic Dye, so I thought I would give it a try and document all my results here in this thread. The figures have all been powdered down in the following photos, so any white stuff you see lingering around it the cornstarch powder and not a result of the dye.
I used a tall 16 qt stainless steel pot and nearly filled it all the way up with water. I heated the water up to near boiling- I could see vapor coming off the top of the water, but it wasn't bubbling. At first I poured about 5 bottle cap-fulls of dye into the water. I would dunk the entire body into the pot and leave it there for about 30 seconds, then take it out for a bit, and then put the body back in.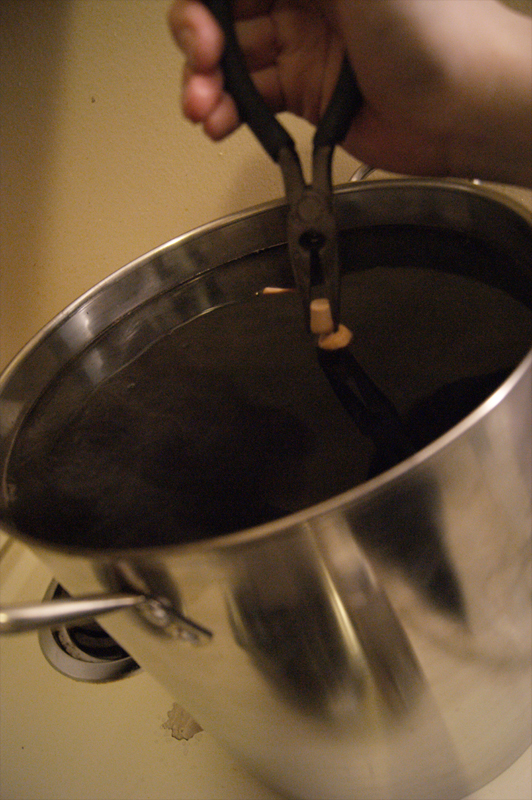 You have to use Rit Synthetic Dye on the Phicen bodies, the regular dye won't work.
For the first attempt I used a S12 body. It already had some tears and scuffs on it prior to dyeing, so I decided to try this process out on that body first. I dunked it in and out of the pot a bunch of times and eventually got something that looked like this-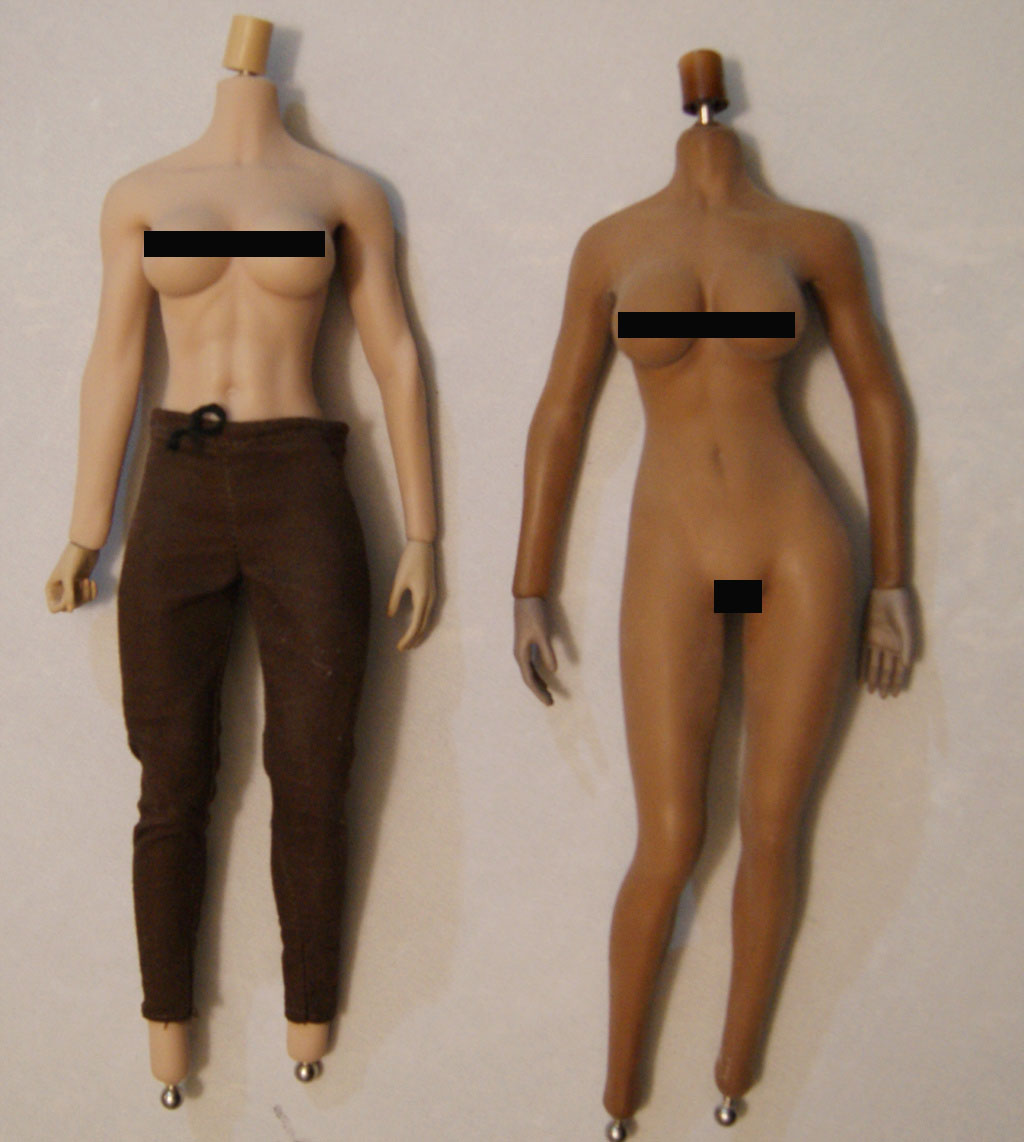 This is the darker S12 body next to a 23b. Both bodies are "wheat" skinned, so you can see how the dye darkened the body compared to what it looked like before dyeing.
You can even dye the plastic hands and feet too, although the dye doesn't color the plastic the same way it does the body so the hands won't match up. It's probably better just to paint the hands yourself than dye them.
As you can see even though they're dyed they don't match the body, so I'll have to paint them regardless.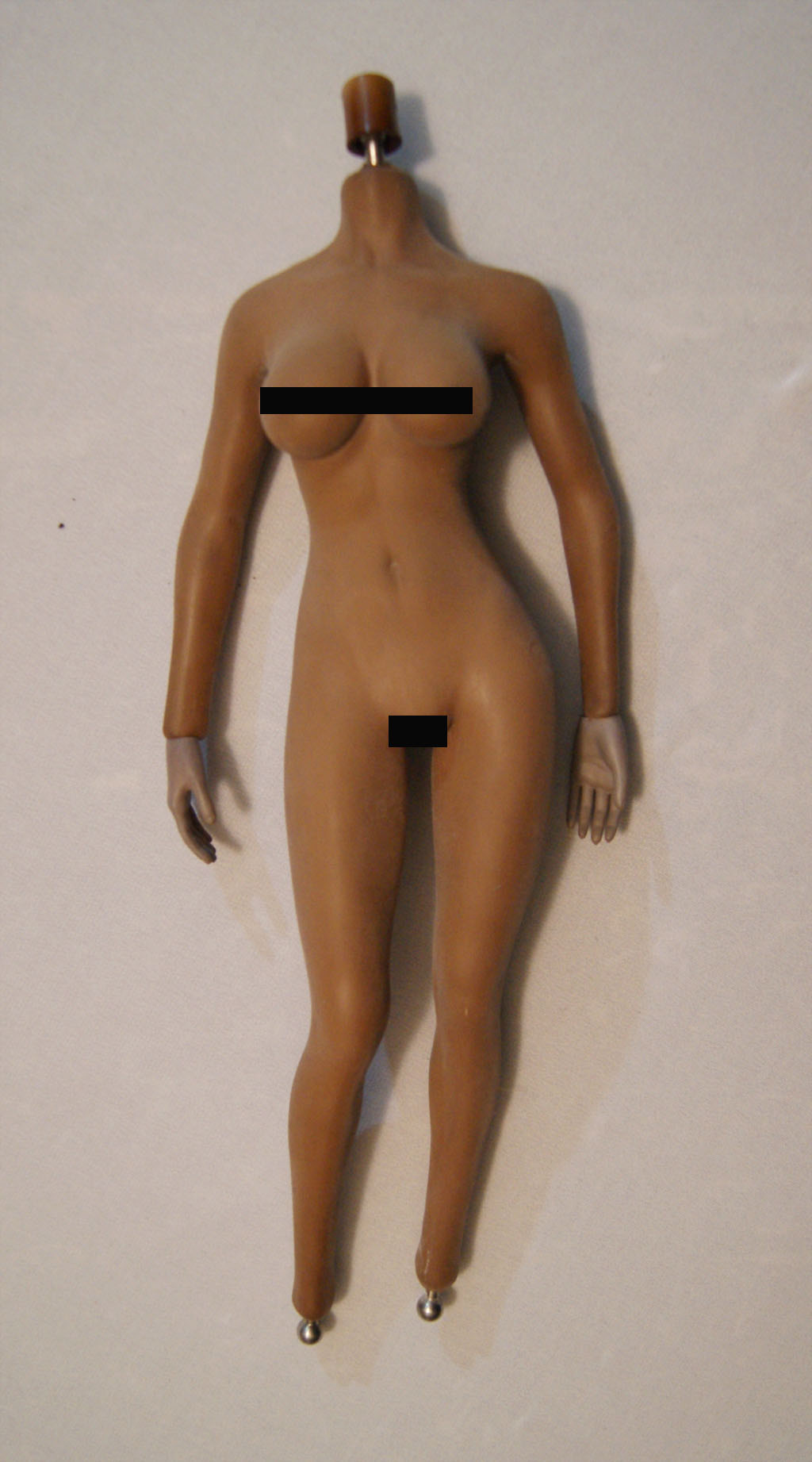 I've read about some of the other methods of dyeing the bodies, like with oil pastels, but never saw anything about it on here. I think this method, when it works, results in a very even coat throughout the body, like in this picture here-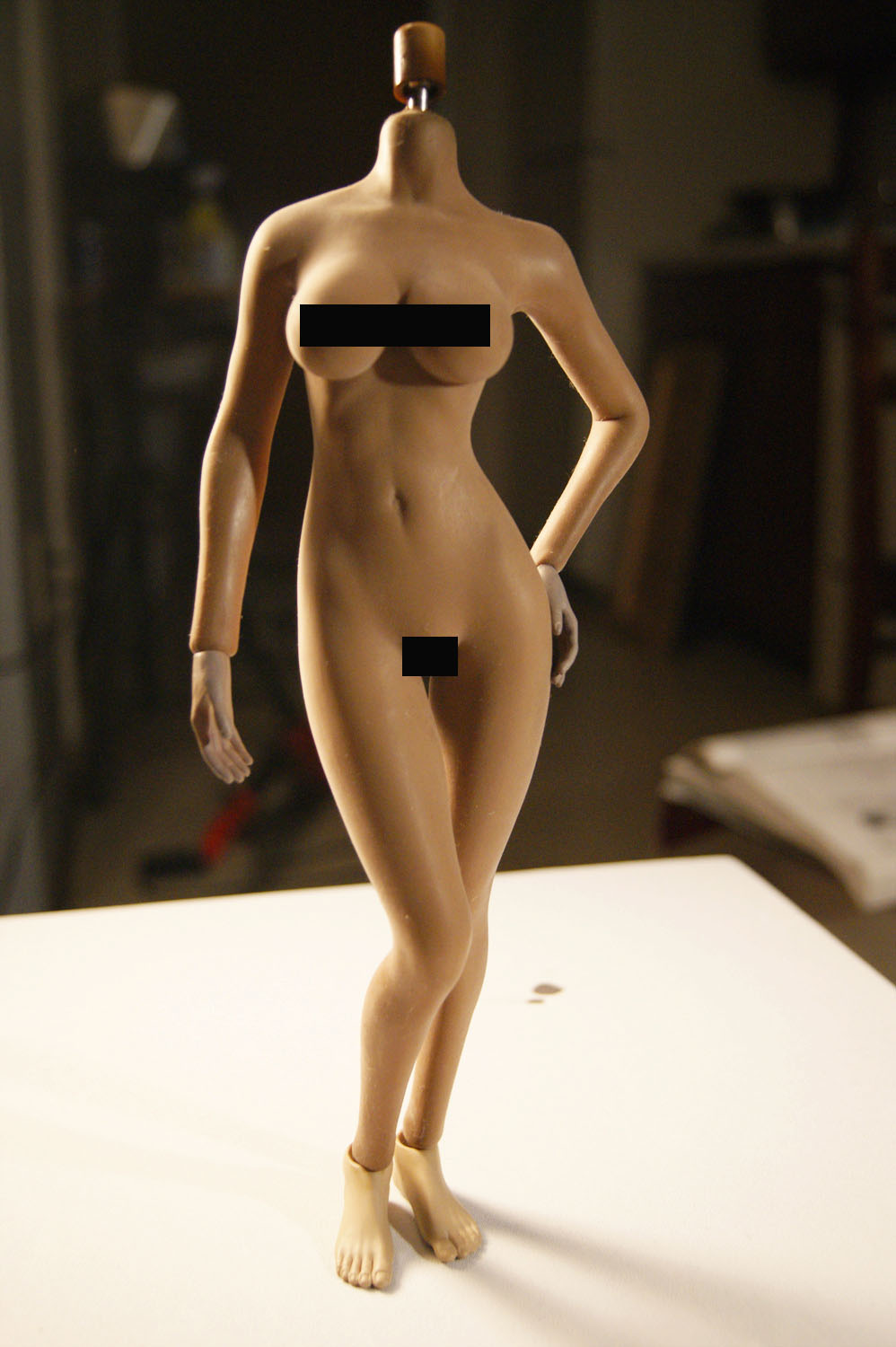 There's a little bit of speckling on the body, but I actually like it since I think it looks more realistic this way-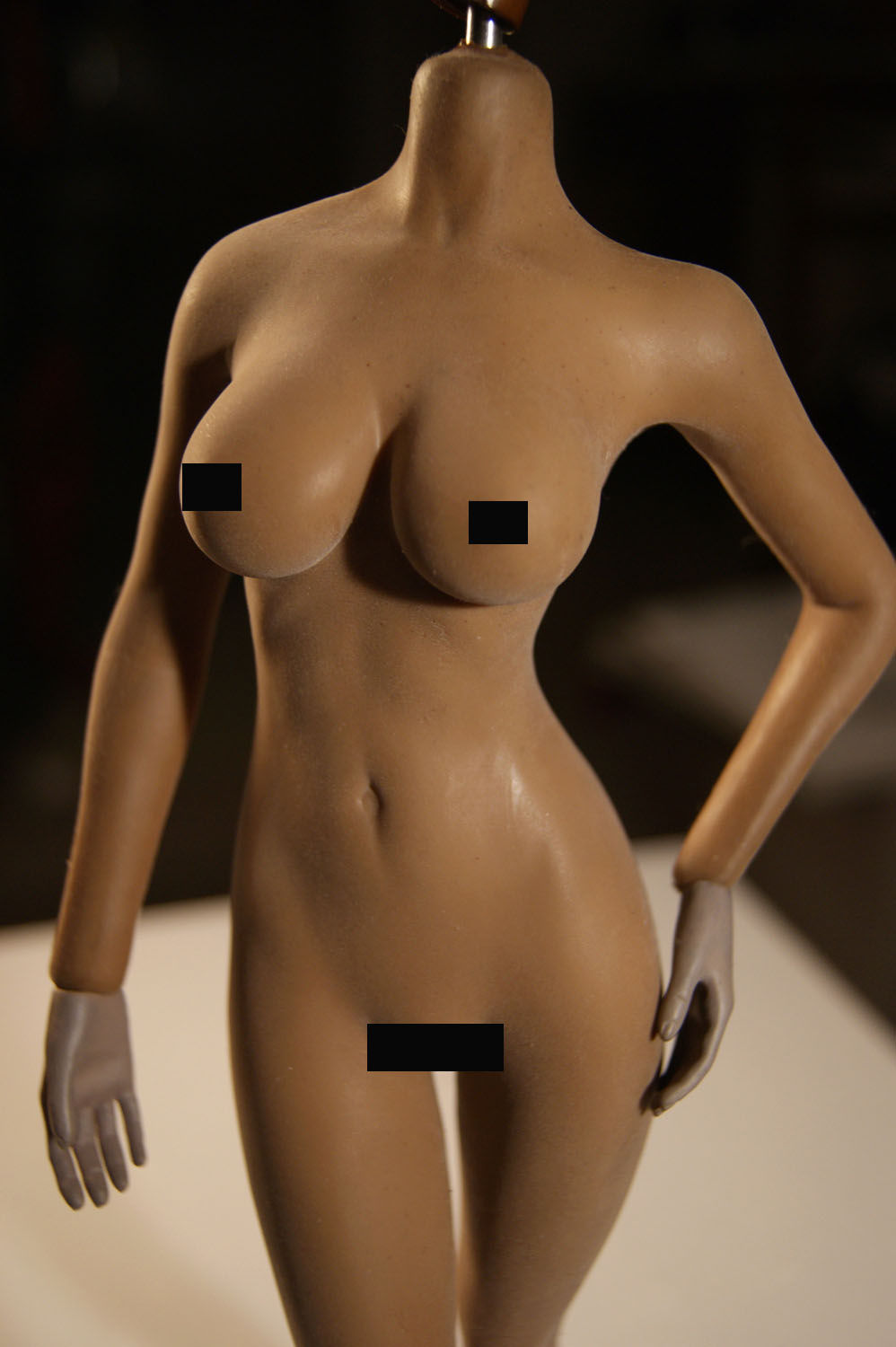 I could have kept dyeing the body more, but I decided to stop here and begin dyeing my s28, which is what I really wanted to do. Unfortunately I got a bit impatient and I think I screwed it up...
For the s28 attempt I decided to add more dye to the pot to speed things up. I went from about 5 bottle caps of dye to around 15 or so, in the hopes that it would dye more quickly. In retrospect I wonder if this caused some of the problems we will see here.
Here's the s28 (a pale body, not a wheat one) next to another unmodified s28-
Things did not go well with this body, and I'm not totally sure why. I think to start with I didn't clean the body enough before hand. I should have scrubbed the body with soap and water more, and also cleaned off excess dye from my own hands/fingers before beginning. This figure ended up with splotchy and streaky parts, completely unlike the s12. Re-using the same water might have been a problem as well. I'm wondering however if the biggest issue is me going from 5 caps to 15 caps of dye. Perhaps the process works better when you darken the figure slowly with many layers, rather than fewer but more potent dips. If someone else has tried this before I'd like to know.
Here are some more pictures of the s28-
You can see the dye did not go as evenly on this figure as it did with the s12. Here are some close ups of splotchy spots-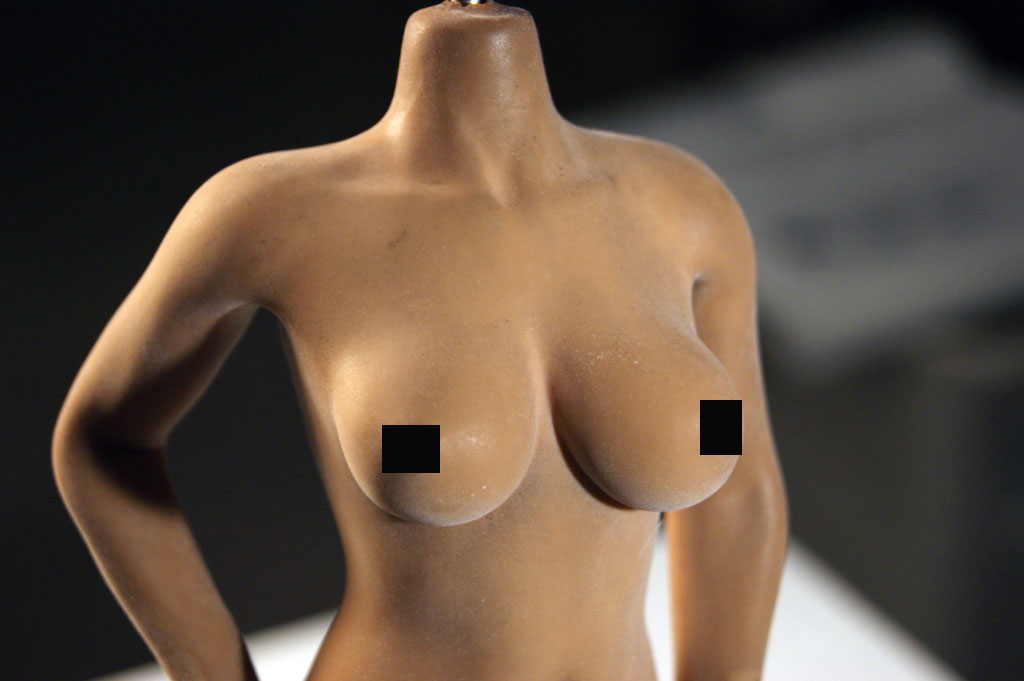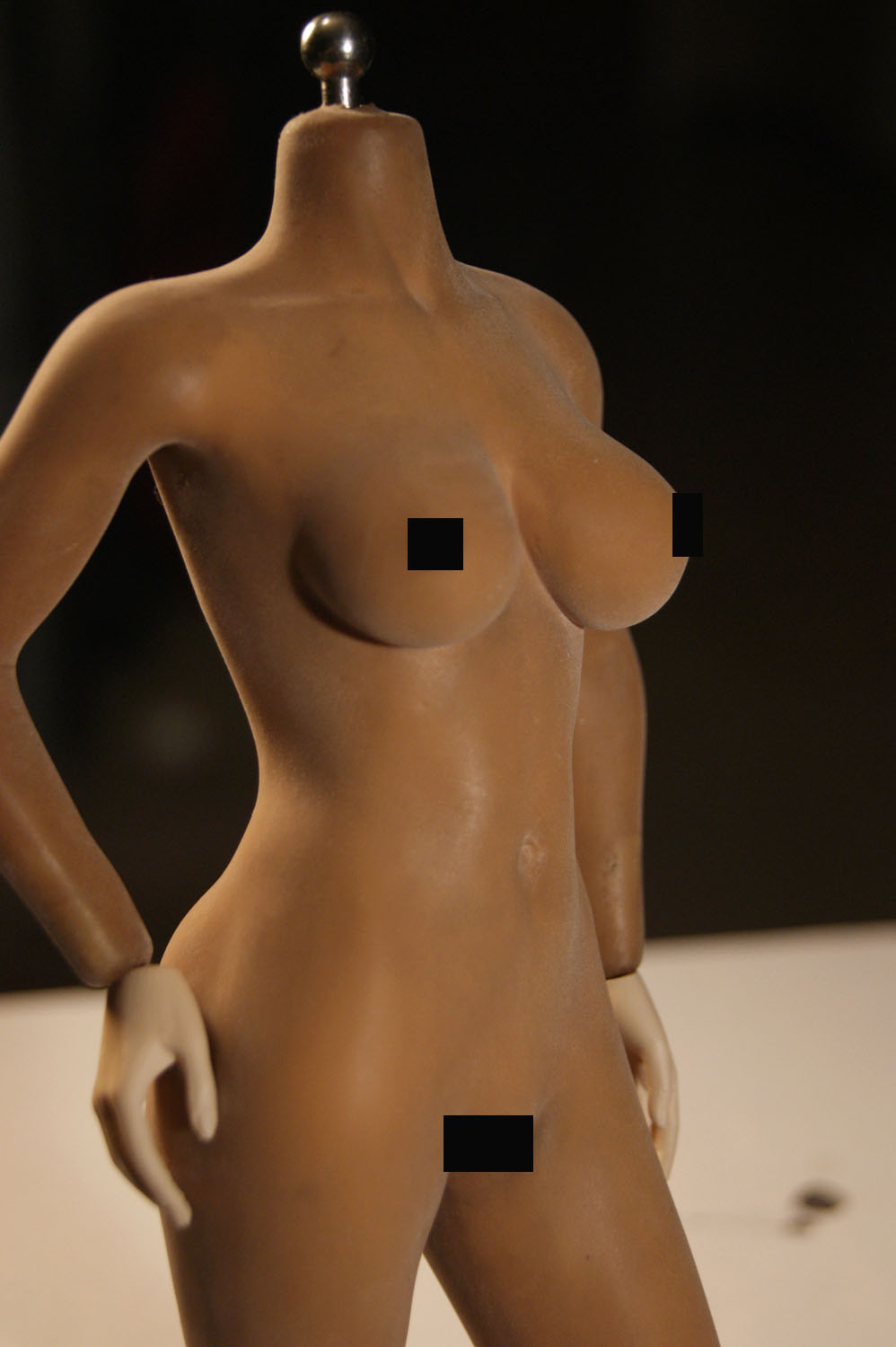 You can see there's a fair amount of unevenness above the breasts. There's also some dark spots on the buttocks and elbow, although these are probably my fault since I lost my grip on the doll and it fell onto its back at the bottom of the pot, with the silicone touching the hot metal. Normally I had the figure only touching the pot on its two metal foot pegs, and nowhere else. The inside of the thighs turned out splotchy as well, and I'm not sure why.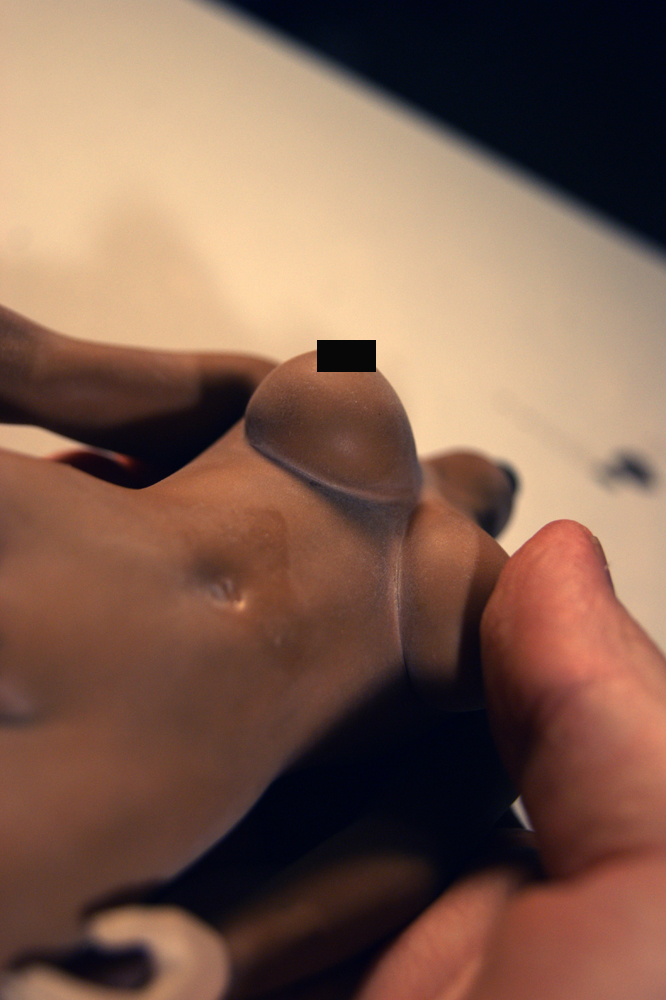 Tan lines under the breasts as well, although there's probably nothing that I can do about this. I think if you're going to dye the body a dark brown color, it might be better off to start with a "wheat" body than a pale one, so these little cracks and lines don't appear as obvious.
I decided to stop dyeing the figure once it became clear to me these splotches weren't going away with additional dips in the pot. I really wanted the s28 to work, since dyeing that body was the ultimate goal here. I'm going to order a new s29 instead and see if the wheat-color responds better, and make sure it's very clean before beginning and go more slowly building up many layers instead of adding lots of dye in the beginning. I'll keep and eye on the s28 and see if the splotches even out over time, as I've had stains magically disappear on their own with these bodies.
As far as I can tell the dyeing here is permanent. Neither body lost any color when I scrubbed it down with soap and water, and it didn't seem to bleed or smear onto any fabrics that I used. Rit Dye also says it's permanent on fabrics, so maybe it will be here as well. Obviously I won't be able to tell how things last over a long period of time just yet, but this technique looks very promising. If I can get more figures to dye like the first one rather than the second, there won't be any need to wait for Phicen to come out with a dark skinned figure. I just need to learn how to paint head sculpts to match the body...