Clothing TBLeague (formerly Phicen) seamless bodies in any scale and of any sex is always a challenge to some extent, but probably nowhere more so than with the twelfth scale male seamless bodies. Whereas there is a greater choice of female clothing and accessories in that scale, high-end twelfth scale male figures and the corresponding clothing and accessories are harder to find. Recently a few companies, most notably Mezco One:12 Collective and DAM Toys have begun to put out such product that can provide some of these parts. But they tend to be few, pricey, and often overly specific; moreover, there are consistency issues in terms of scale between products and brands.
TBLeague has thankfully made a (tiny) first step in the right direction, by reintroducing the most minimal of clothing for their female and male twelfth-scale figures (essentially equivalent to underwear or bathing suits). But unless one is making a twelfth-scale beach or bedroom scene, that is hardly going to be enough. Apart from trying to use pieces from other companies' twelfth-scale sets, there is now another, slightly more ambitious step in the right direction, by Toy Center. Toy Center produced three sets of basic athletic clothing, specifically advertised as fitting the TBLeague twelfth-scale male figures. I picked up two of these sets (which vary only in color choice), CEN-S04B and CEN-S04C. You can find them, for example, HERE.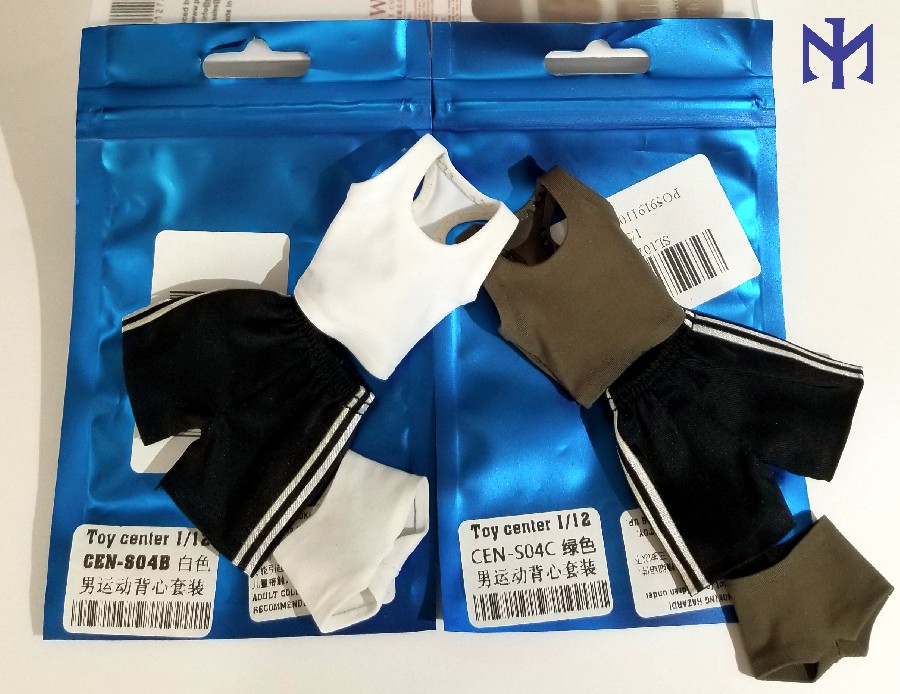 Each set contains three items: underwear, athletic shorts, and a "wife beater" top.
The underwear is perhaps what can be described as boxers or boxer briefs, slightly more covering than the black underwear that was already provided with TBLeague's twelfth-scale male figures. Unless you are looking for that specific look, herein lies the problem... or rather missed opportunity. Since these figures already came with underwear, and since that area was going to be covered by the shorts anyway, the underwear is redundant and basically unnecessary. I think it would have been far more worthwhile to include a set of twelfth-scale athletic shoes instead, to go with the rest of the outfit. I tried looking for some online, unsuccessfully. Nothing wrong with the Toy Center underwear -- though it is as simple as one might expect it to be in this scale, and it can be somewhat difficult to fit especially on the larger TBLeague twelfth-scale body -- it is just not all that useful.
Each set comes with black athletic shorts with white stripes on the sides. These look pretty good, including the elastic waist area. The white stripes are sown only at the top and bottom, but for the most part that is not noticeable.
Finally, the "wife beater" top, which is colored to match the underwear. While it is fairly simple, it works quite well, being elastic enough to fit onto the body and then reveal the underlying musculature. I suppose that's a definite win in the world of athletics and body building.
Given the relatively light and skimpy character of the clothing sets, it should be no surprise that they do not stand in the way of the articulation. But it's still nice that they don't.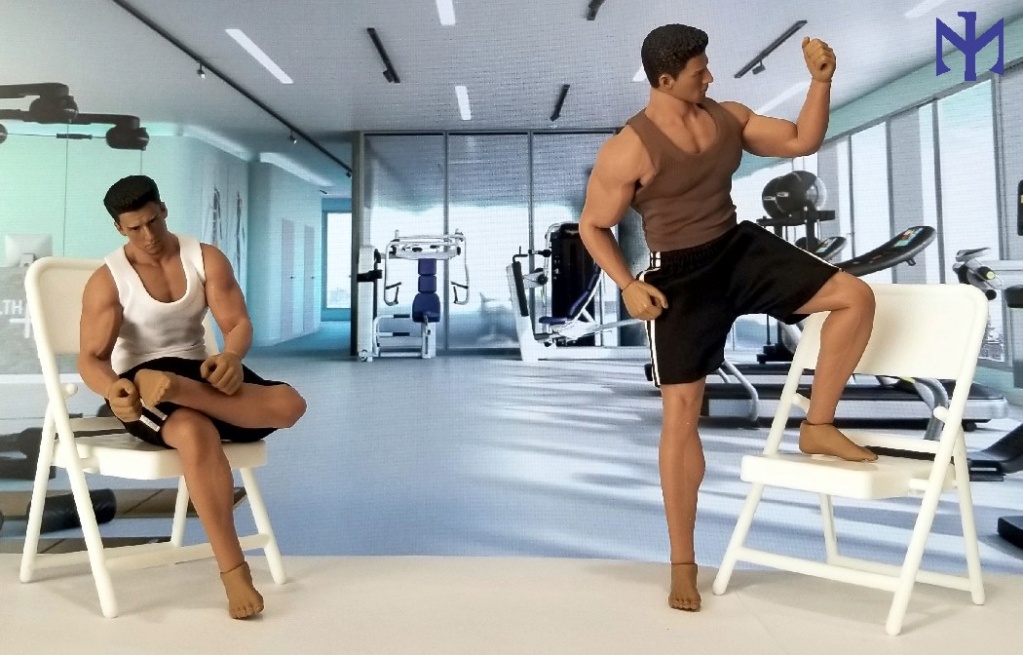 Overall, while I am not necessarily wowed by these sets, I'm pleased that they work as intended, and give us a slightly more dressed look for the TBLeague twelfth-scale males. I am also happy to report that the black shorts did not stain the body, nor did the body or the clothing sustain any damage in the process of putting it on and taking it off. I do wish they had provided shoes (perhaps instead of the redundant underwear). As for more ambitious clothing, that would be great, although I realize that this could be left to more conventional hard-plastic visible-jointed bodies. Nevertheless, there are some good news: Toy Center is coming up with another three sets, this time including jeans and shoes. See for example HERE.
Hope you found this informative, useful, and maybe amusing.
For a review of the TBLeague twelfth-scale bodies, you can check
HERE
and
HERE
.
#toycenter
#clothing
#male
#twelfthscale
#tbleague
#phicen