In less than a month, fans will see the Avengers assemble again in Marvel's
Avengers: Infinity War
. In the film, our heroes are brought face to face with the cunning, intelligent, and fierce warlord,
Thanos
, a ruthless cosmic threat consumed with saving the universe from itself. To stop him, the Avengers must join forces to bring down this villain who will stop at nothing to collect the six Infinity Stones.
Today Hot Toys presents the movie accurate 1/6th scale
Thanos
collectible figure.
The 1/6th scale
Thanos
collectible figure features two interchangeable head sculpts inspired by Thano's serious and angry expressions. It also comes with two styles of LED light-up Infinity Gauntlets, an additional interchangeable non-articulated left arm with great muscle details for
Thanos
' iconic and intimidating clenched fist pose, a newly sculpted and tailored armored costume, and a specially designed figure base and backdrop.
The 1/6th scale Thanos Collectible Figure (MMS479) features:

- One (1) newly developed head sculpt with authentic and detailed likeness of
Thanos
in Avengers: Infinity War
- One (1) newly developed interchangeable head sculpt capturing Thano's angry expression
- Movie-accurate facial expression with detailed wrinkles and skin texture
- Approximately 41.5 cm tall
- Newly sculpted purple-skinned muscular body featuring detailed skin texture with over 20 points of articulations, built-in joints in neck and arms with seamless elbow joints
- One (1) additional interchangeable non-articulated power pose left arm with muscle details
- Three (3) pieces of interchangeable hands including:
- One (1) right fist
- One (1) relaxed right hand
- One (1) gesturing right hand
Costume
:
- One (1) blue-colored armor vest with metallic gold-colored trims and details
- One (1) dark grey-colored pants with texture
- One (1) pair of brown and blue-colored boots with weathering effects and gold-colored trims
Accessories
:
- One (1) interchangeable LED-lighted metallic gold-colored Infinity Gauntlet with individually articulated fingers, weathering effect, and mounted with six Infinity Stones (6 LED lights, battery operated)
- One (1) interchangeable LED-lighted non-articulated metallic gold-colored Infinity Gauntlet with clenched fist, weathering effect. and mounted with six Infinity Stones (6 LED lights, battery operated)
- A specially designed movie-themed figure base with movie logo and backdrop
Artists
:
- Head Sculpted by Yong Kyum Kim
- Angry Head Sculpted by Kojun
- Head Painted by JC. Hong
- Head Art Directed by JC. Hong
- Armor Painted by Lok Ho
Release date:
Approximately Q1 – Q2, 2019
**Prototype shown, final product may be slightly different
**Batteries included for collectible figure, button cells are required
**Product details could be subjected to change without further notice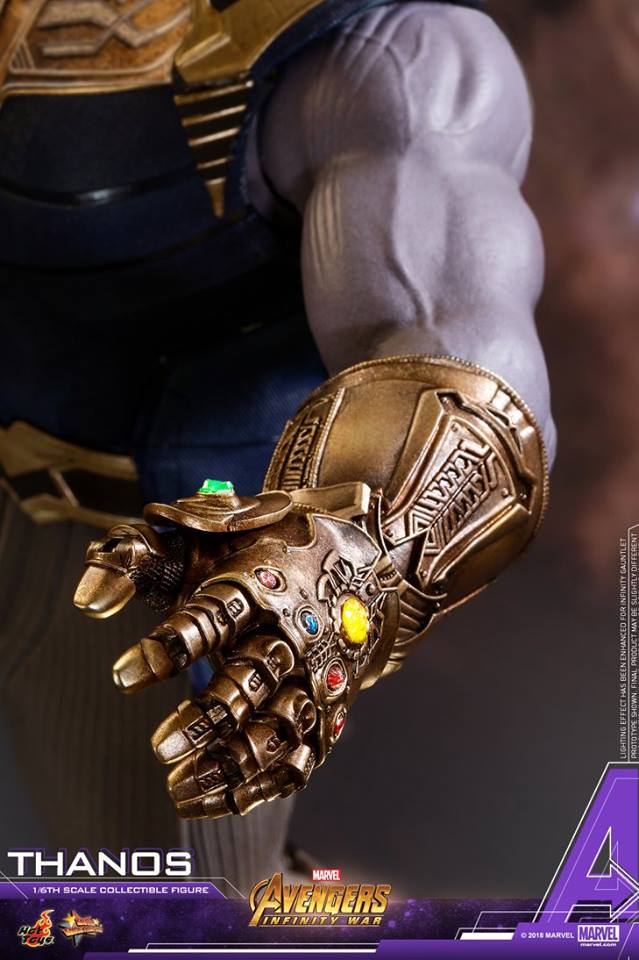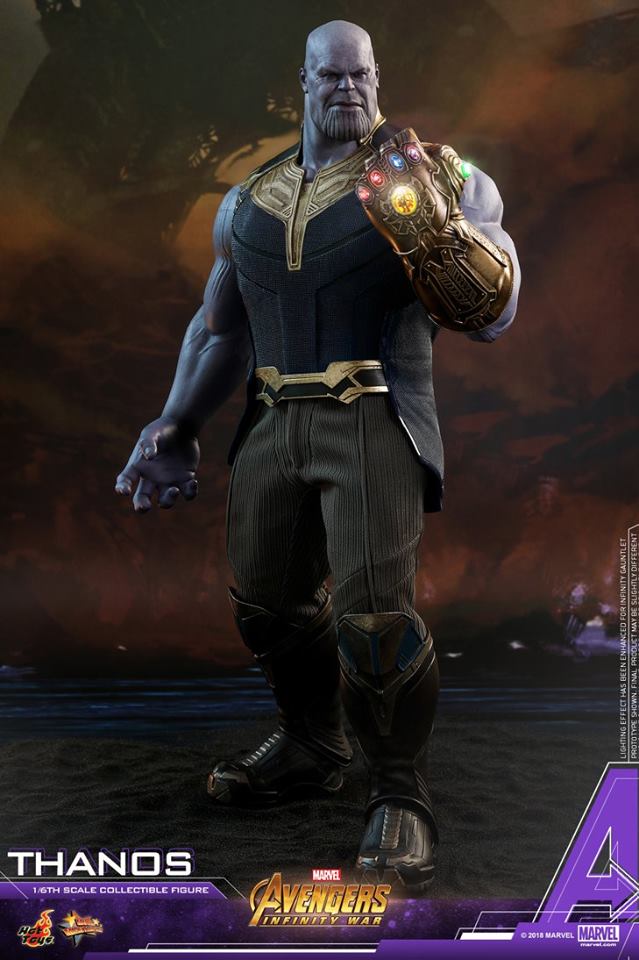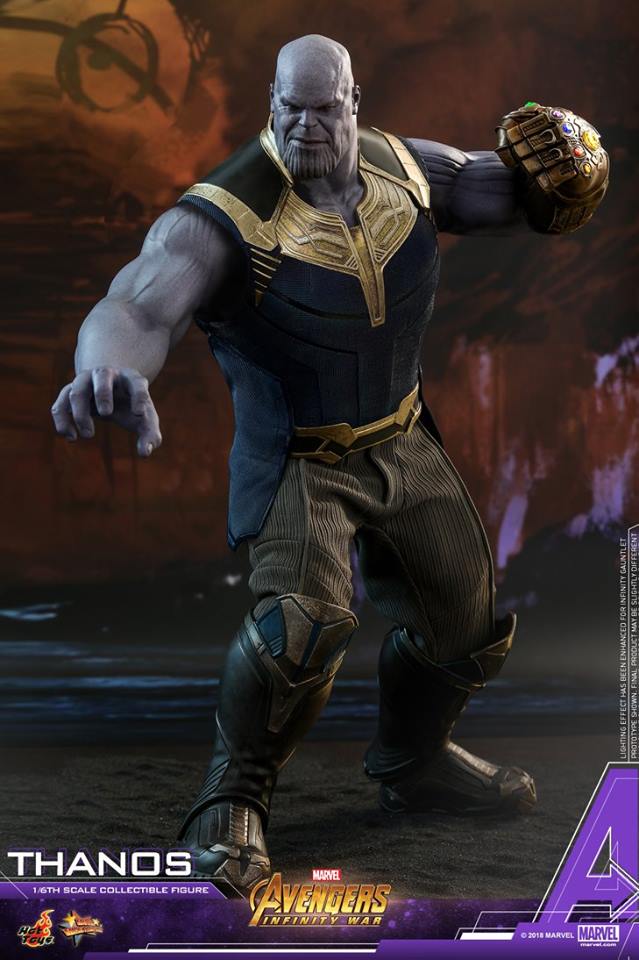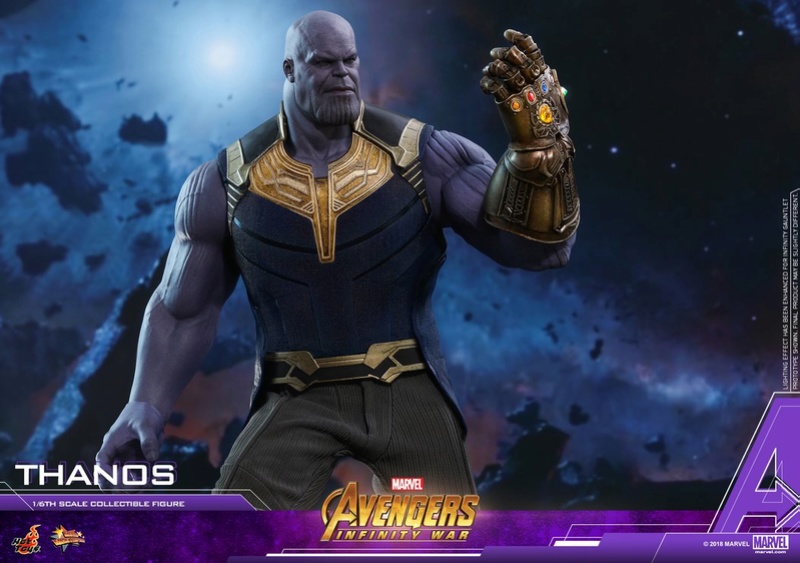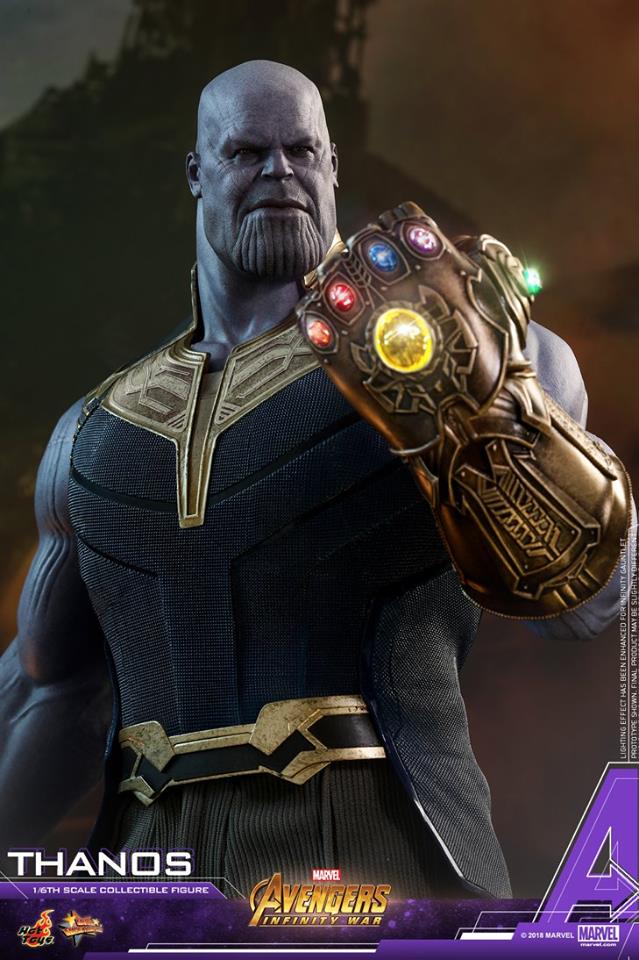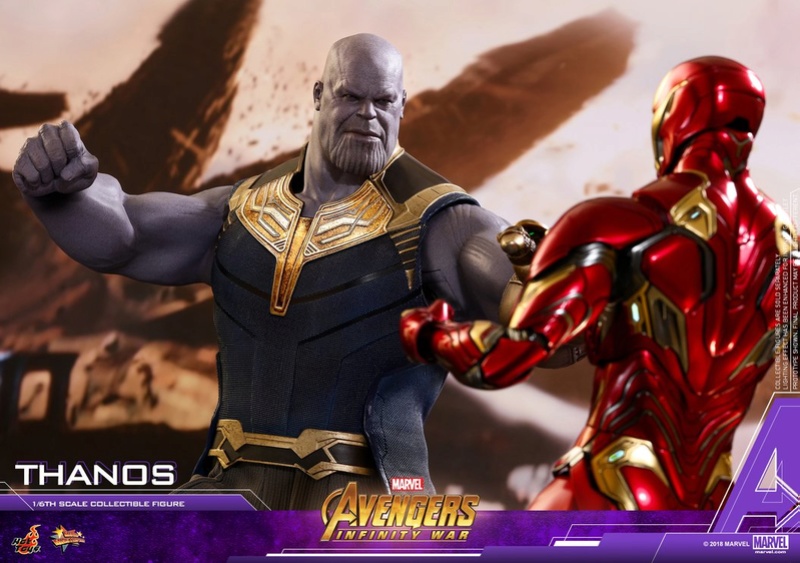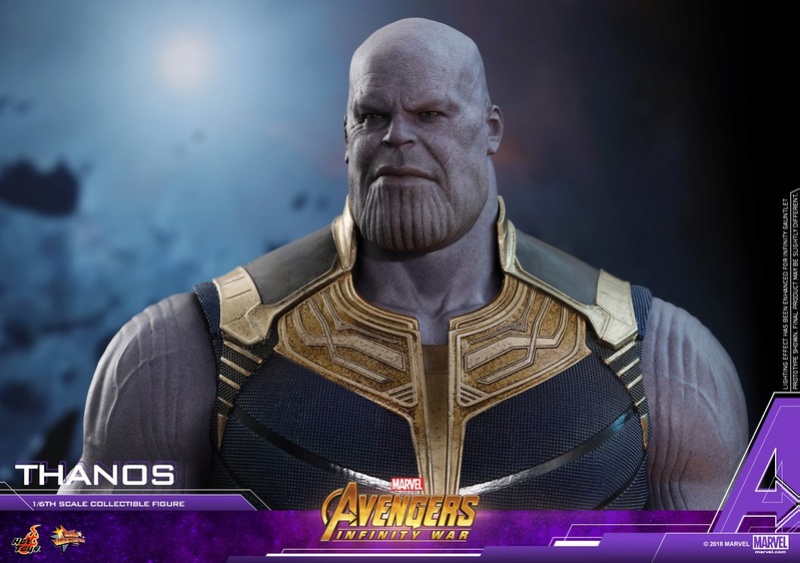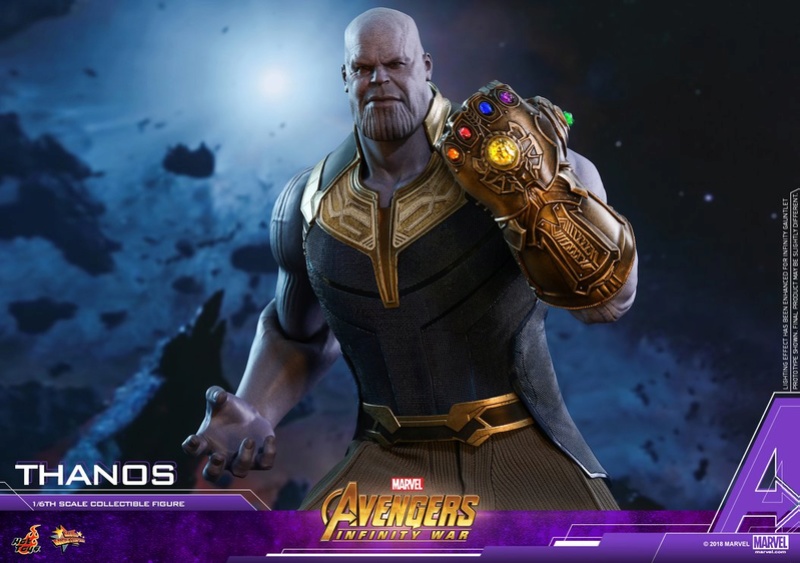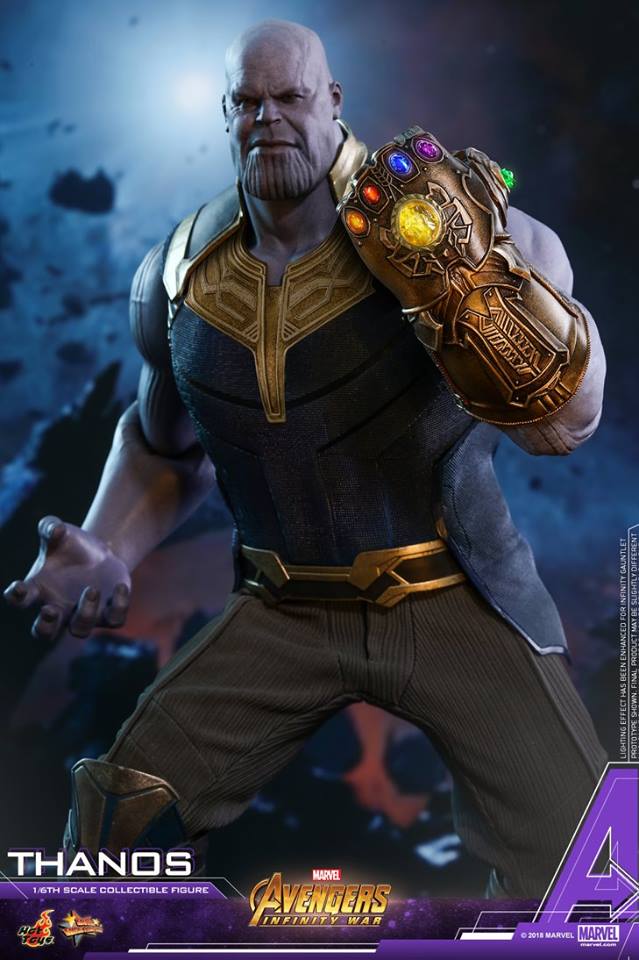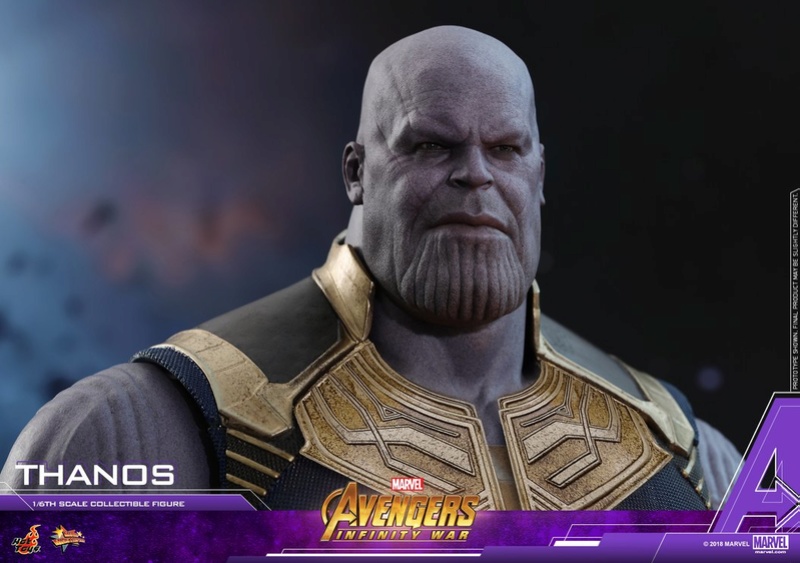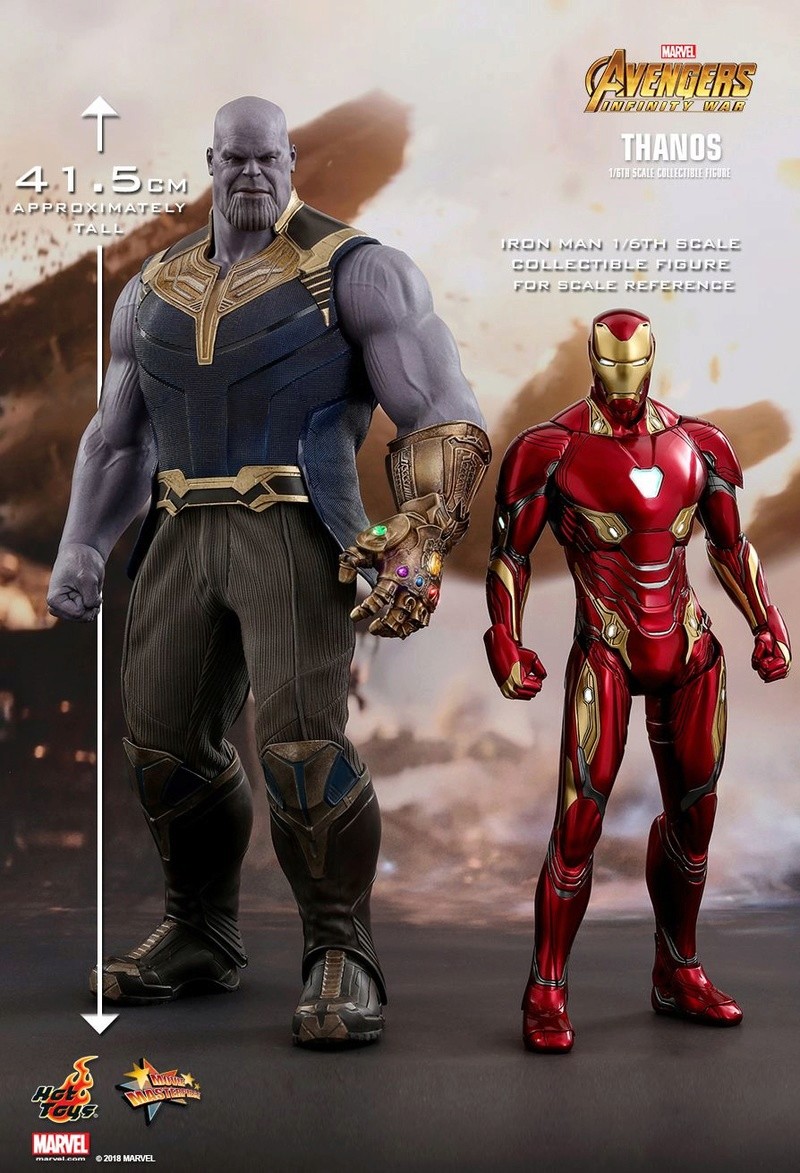 #newproduct
#hottoys
#avengers
#thanos
#male
#film