Here is my custom/kitbash attempt at Aurra Sing, a bounty hunter who had a cameo in The Phantom Menace during the pod-race scene. I wasn't able to do everything I would have liked with her (like the elongated fingers), but I still think she turned out sort of cool. I had originally wanted to use a much skinnier body (The TBLeague S18A - Pale), but all my attempts to white the body were a massive failure. Ended up scavenging a body from one of my two Lady Death figures (I was a bit bummed about that, but it is what it is). The Lady Death body is, as many know, a much bustier and muscular body than is appropriate for this character -- particularly considering that the lovely lady who played the role in the film was a tall, lanky runway model. I used a combination of parts to make this figure, and ended up making several. I had originally purchased a blank, bald female head sculpt off eBay to use for the head, but honestly, it just didn't seem right for this character. Aurra has a rather elongated skull, and I just couldn't make it look right -- even after adding modeling clay to her noggin. (I might revisit that at some point). I ended up sticking with the Hasbro head sculpt, even though the head sculpt is slightly more grey than the body used, I think it actually works fairly well. Ultimately, this figure is going in my Jabba the Hutt display.
Anyway...
Parts breakdown:
Head - Hasbro Aurra Sing (had to modify it to get it to fit on the TBLeague)
Body - Lady Death Version 1
Vest - Hasbro Aurra Sing
Hands - Lady Death Version 2
Laser Pistols - Hasbro Aurra Sing (not removable at this point thanks to the restraining straps on the holsters)
Rifle - modified Luke Skywalker Episode IV (Hot Toys)
rifle scope -- HT Last Jedi Luke Skywalker "lightning rod"
rifle scope mount -- piece of the Hasbro Aurra Sing rifle
rifle sling -- Hasbro Aurra Sing rifle sling
holsters and belts -- custom made using ultra-thin, double layered Kangaroo skin
Boots - brown "Black Widow" knock-offs from eBay
Orange body Suit -- modified from a full body suit. Big shout out to Blackpool for helping me acquire this. Went a little crazy with the scissors trying to cut off the sleeves, and caught a bit around the torso -- I call it "battle damage"
Belt pouches on the rifle sling and on the belts -- HT Deadpool 2 belt pouches
Lightsaber -- I honestly can't remember who's it's supposed to be, but it is an HT item gotten off eBay.
wrist wraps and bicep wrap -- cut from the Hasbro Aurra Sing bodysuit
As always, comments and criticism welcome.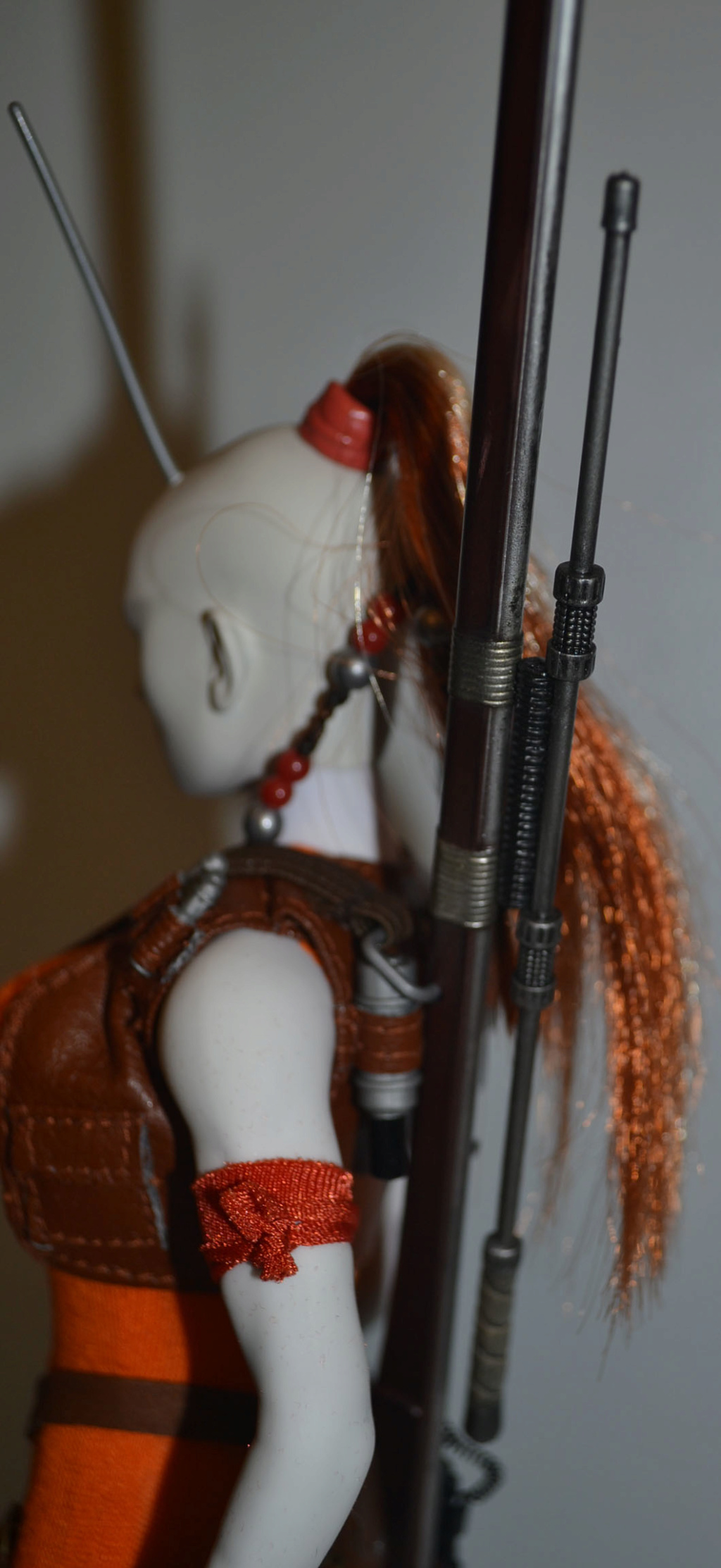 #Custom
#Kitbash
#AurraSing
#StarWars
#EpisodeI
#female
#alien
#bountyhunter