Damtoys
officially launched the "The Godfather" (The Godfather) movie protagonist and Marlon Brando's Godfather Vidor Corleone 1/6 action figure. "The Godfather" is directed by the famous director Francis Coppola and won the 45th Oscar. Best Film, Best Actor, Best Adapted Screenplay Award, 2007 was selected by the American Film Association as the "second 100-year-old film in the world" classic film. The classic image of Victor Corleone has been transformed from
DAMTOYS
into a 1/6 scale collection of dolls. The head sculptures, costumes, and costumes have fully demonstrated the latest production technology and restored the movie role. Abundant accessories and highly movable body (more than 30 movable joints) allow players to show him as in the movie. Fans, stay tuned, new products are on sale!
Product details
Product number: DMS032
Product name: "The Godfather" 1972 Edition-1/6 -Vito Corleone/Vito Corleone-Formal Edition Action Figure Product Size: 1/6 Scale (Height 32cm)
Release Date: To be confirmed Barcode: 6970569620503
The 1/6 scale Vito Corleone collection doll features:
Vito Corleone exquisite head sculpture x1
DAM movable body (with more than 30 joints) x1
Four-piece suit x1
Bow tie x1
Socks x2
Rose x1
Fattening underwear x1
Hand x7
Leather shoes x2
Cat x1
Movable seat x1
Coffee table x1
XO wine glass, wine bottle x1
Desk phone x1
Candlestick x1
Carpet floor x1
DAMTOYS
– The Godfather 1972 – 1/6 Vito Corleone (Formal version) Collectible Figure
Damtoys
is proud to announce The Godfather Vito Corleone 1/6 Collectible Figure, the movie protagonist as portrayed by Marlon Brando. The Godfather is a classic movie – directed by the famous Francis Coppola; winner of the 45th Oscars for Best Picture, Best Actor and Best Adapted Screenplay; ranked no. 2 by the American Film Institute in 100 Years… 100 Movies 2017.
Damtoys
has transformed Vito Corleone's classic image into a 1/6 scale Collectible Figure. The head sculpt and costume fully demonstrate the latest production technology and faithfully recreate the character's likeness. With the rich accessories and highly poseable body (more than 30 points of articulation), collectors can pose him as in the movie.
Fans of The Godfather, Stay Tuned! Pre-order is Open for New Product!
Product Details
Product Code: DMS032
Product Name: The Godfather 1972 – 1/6 Vito Corleone (Formal version) Collectible Figure
Product size: 1/6 scale (height 32cm)
Release date:
Barcode: 6970569620503
1/6 scale Vito Corleone Collectible Figure features:
Vito Corleone exquisite head sculpt x1
DAM poseable body (more than 30 joints) x1
Four-piece suit x1
Bow tie x1
Socks x2
Rose x1
Fattening underwear x1
Hand x7
Leather shoes x2
Cat x1
Adjustable seat x1
Coffee table x1
XO wine glass, wine bottle x1
Desk phone x1
Candlestick x1
Carpet base x1
Creators
Producer: Frank Feng
Director: Niuyuan
Marketing: Niuyuan
Head Sculpted: Yun Chung
Head Painted: TC. Lee
Product Designer & Supervisor: Niuyuan
Costume Fabrication: 213B Studio
3D & Accessories: 213B Studio
Accessories Paint: 213B Studio
Package Design: Clint Lin
Photographer: Niuyuan
Editor of Photography: Niuyuan
Special Thanks :Big Tree, J. Chow, DN.Wong, Rui Fang, Hu, YX.Ho
The 213B Studio Design & Development Team
Manufactured by:
Damtoys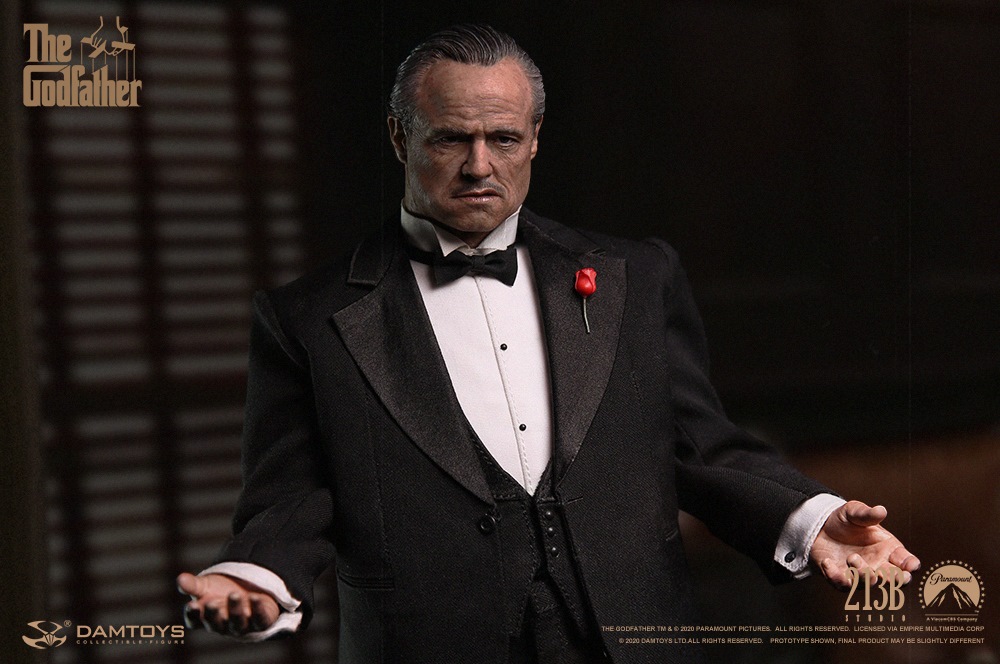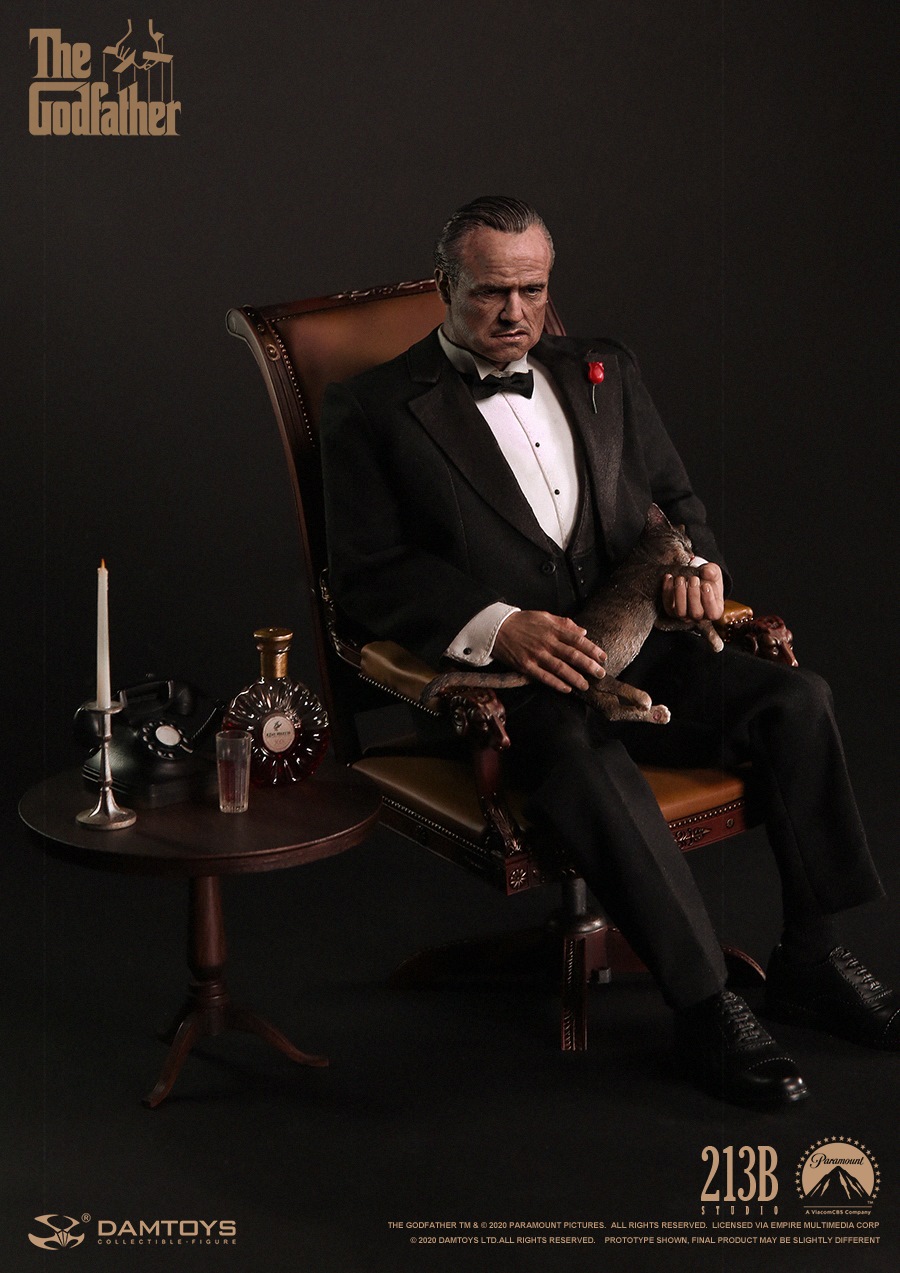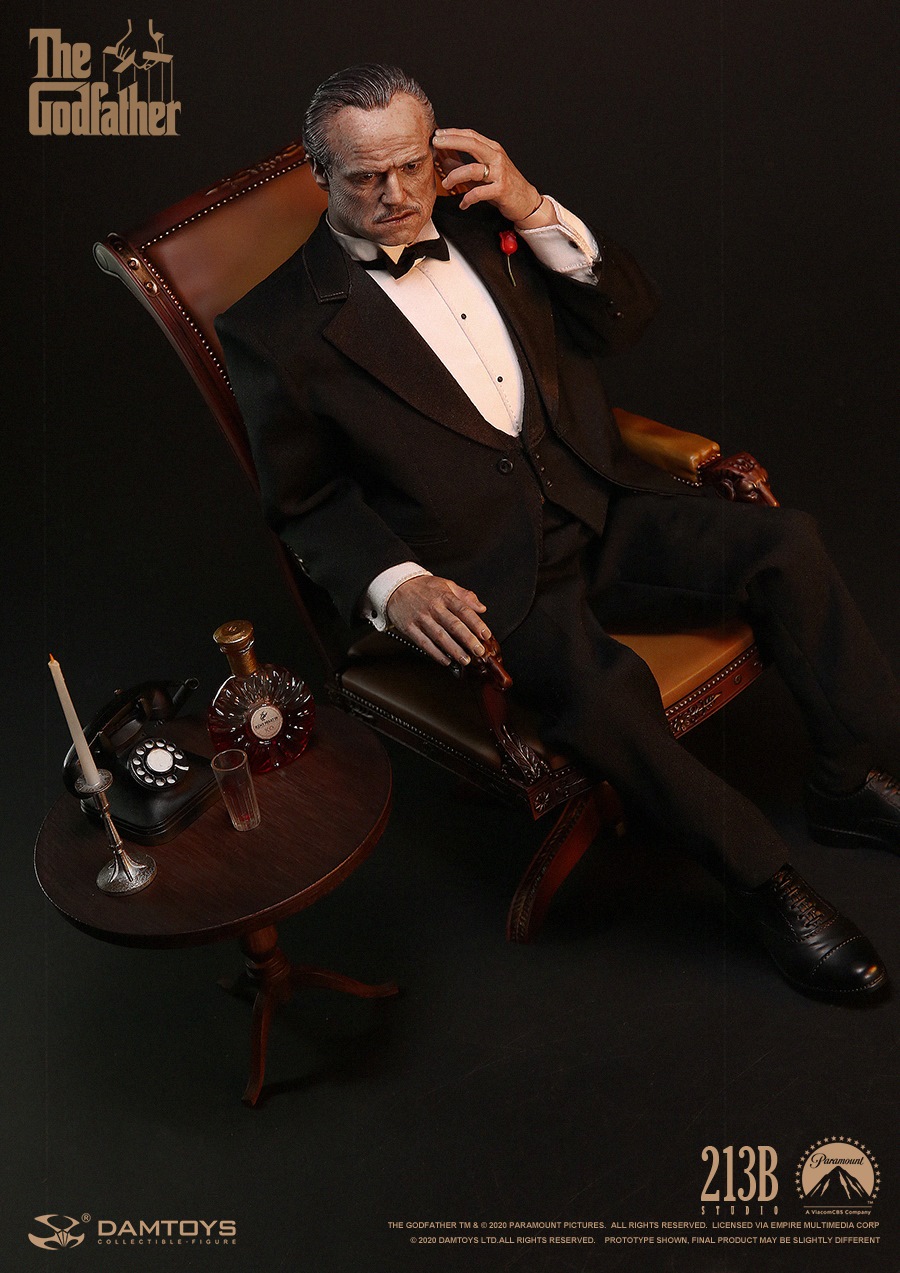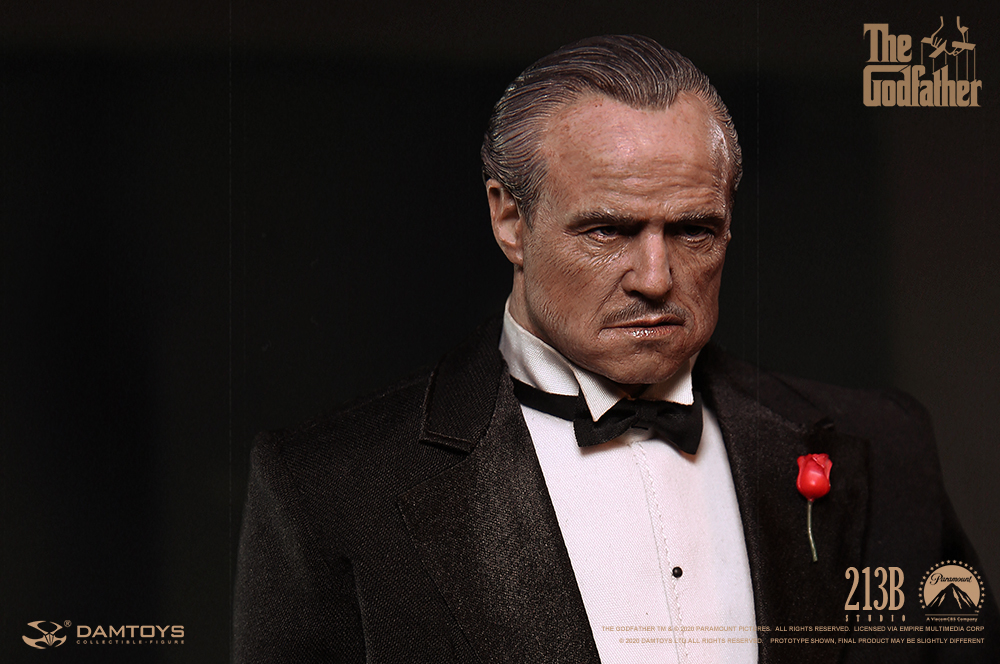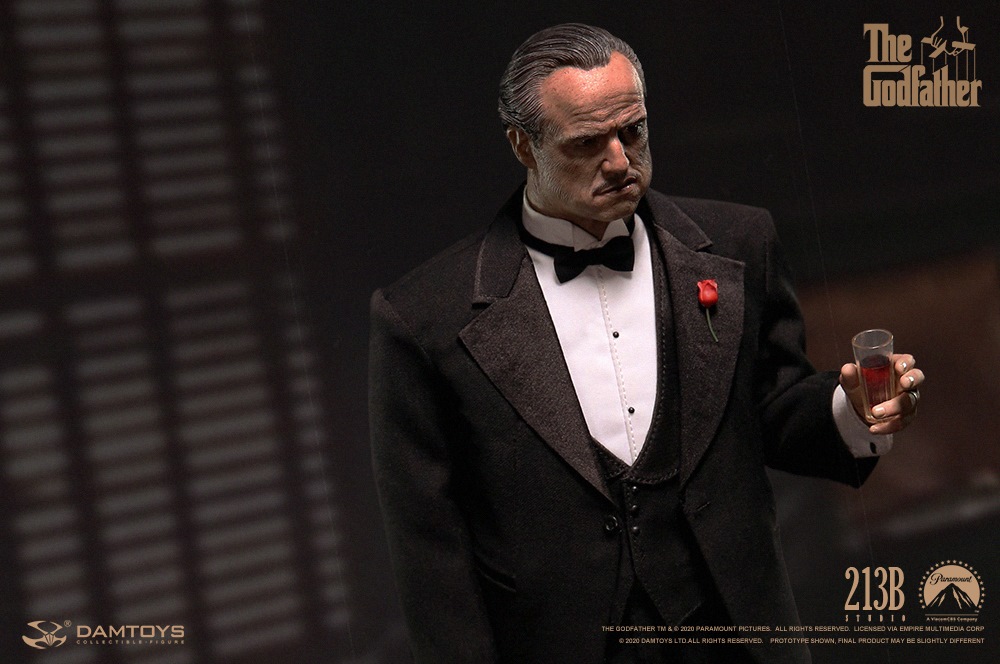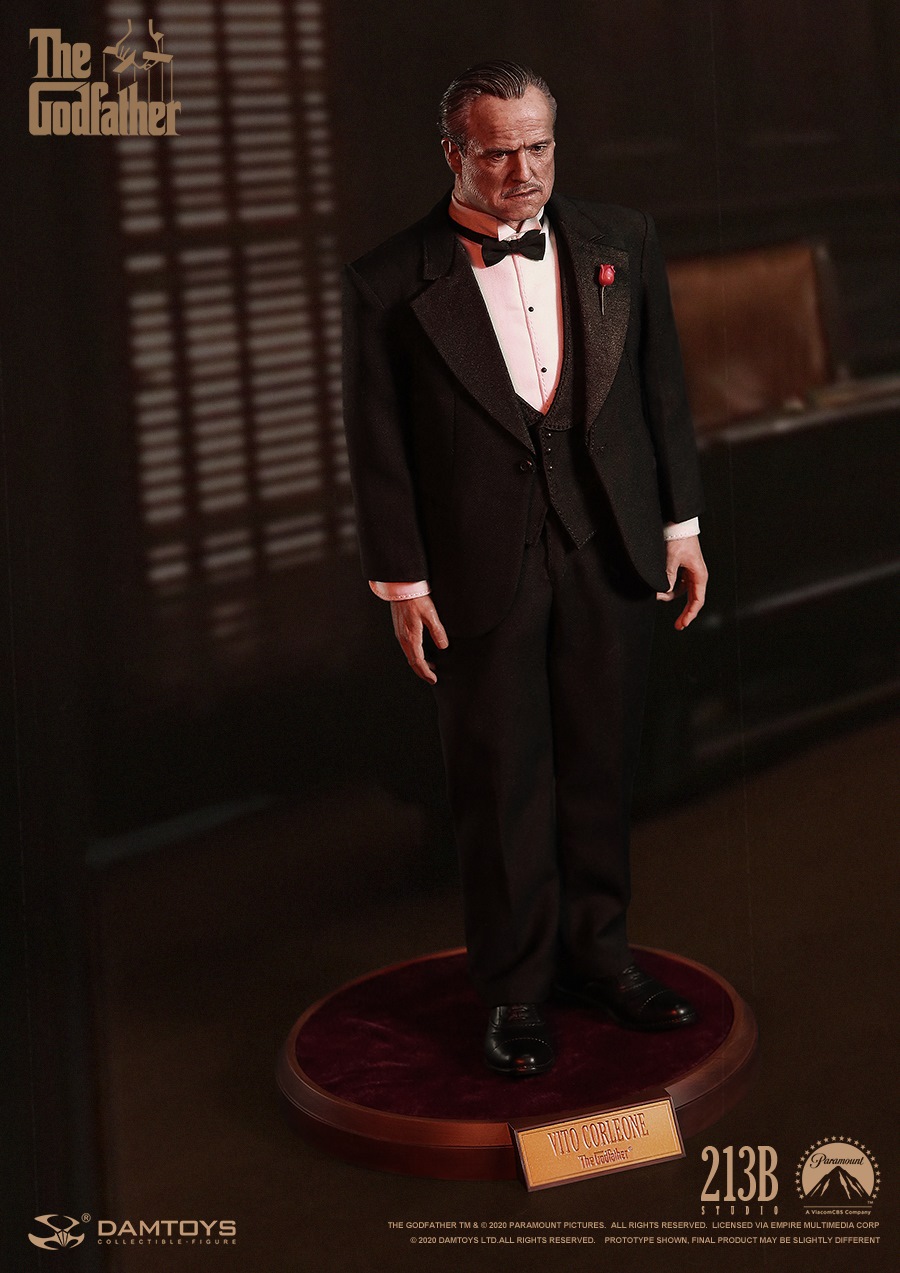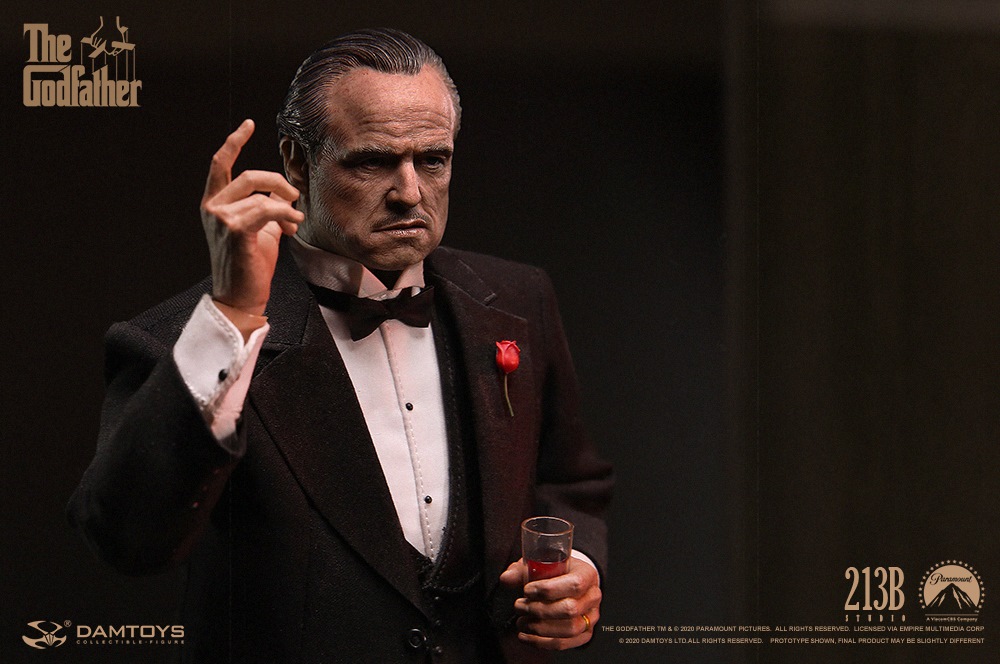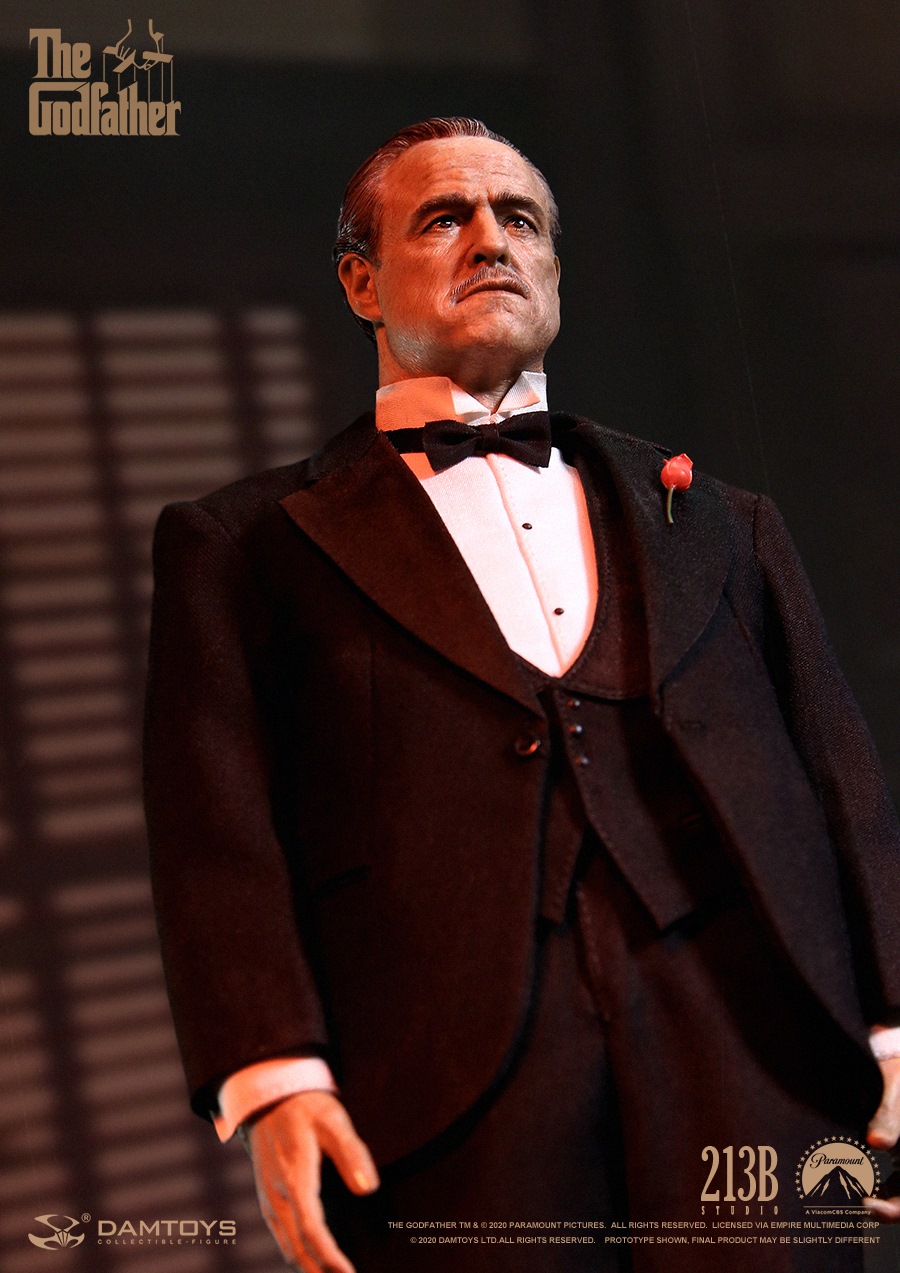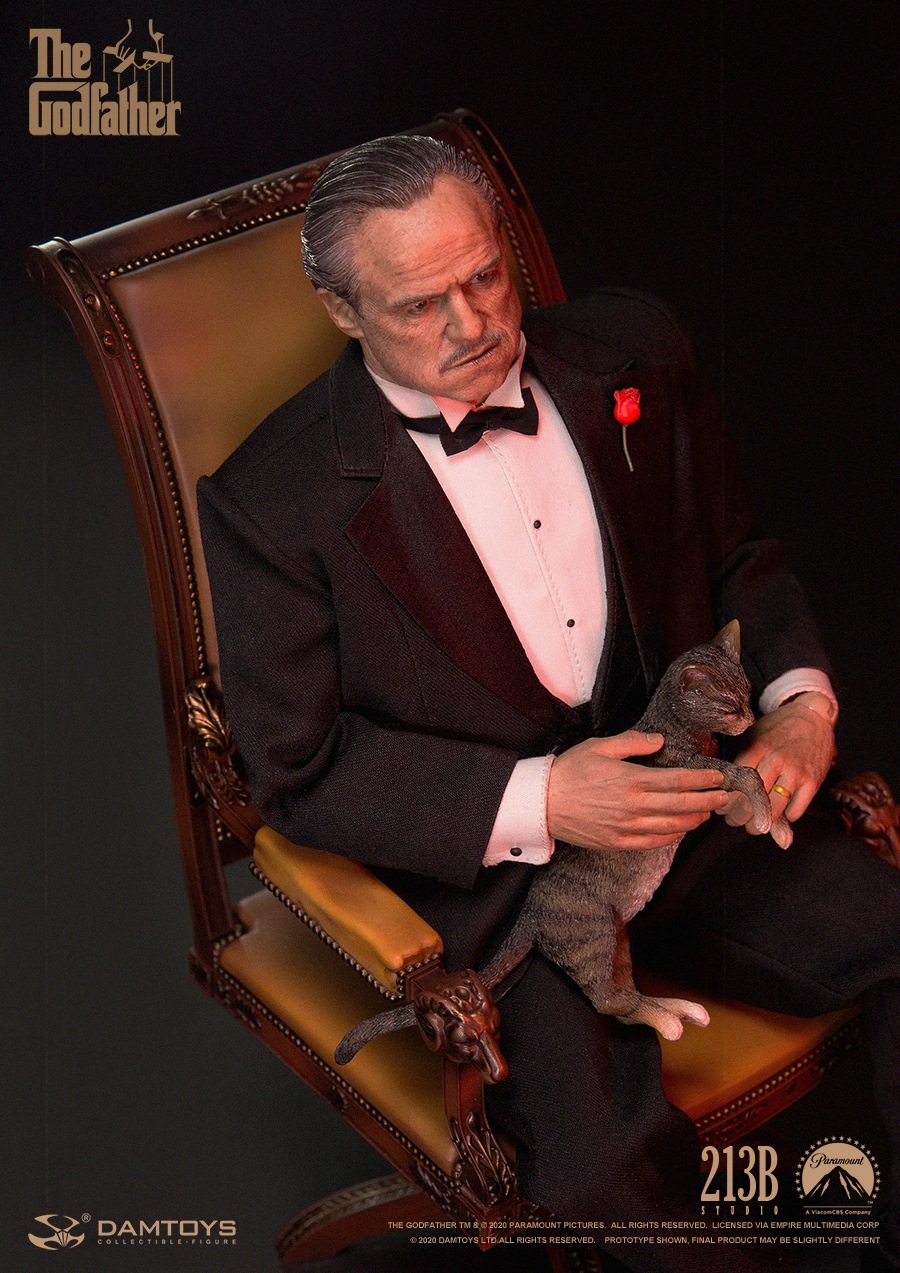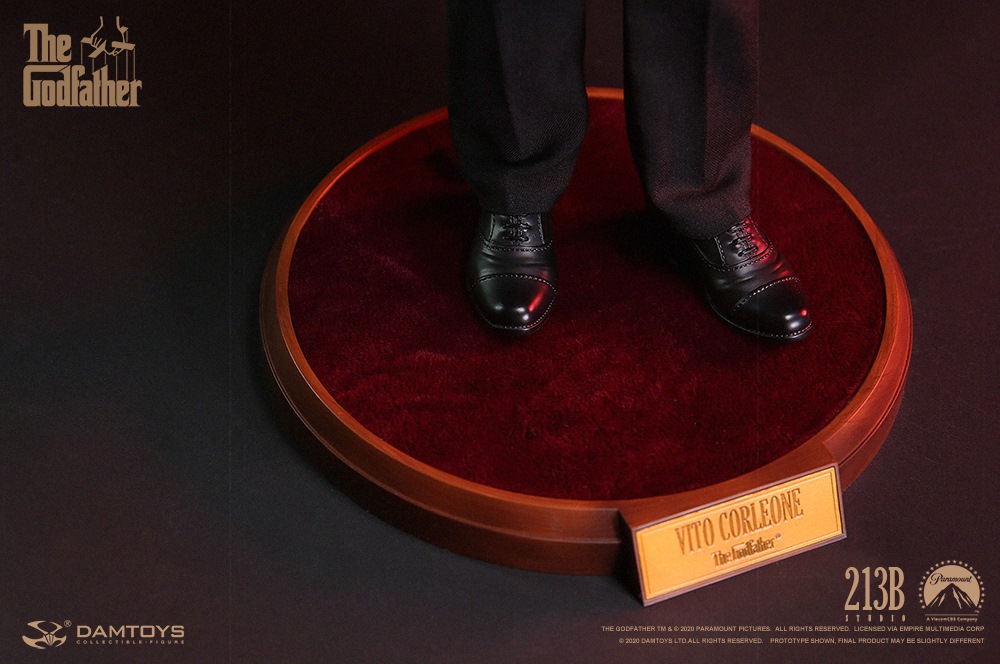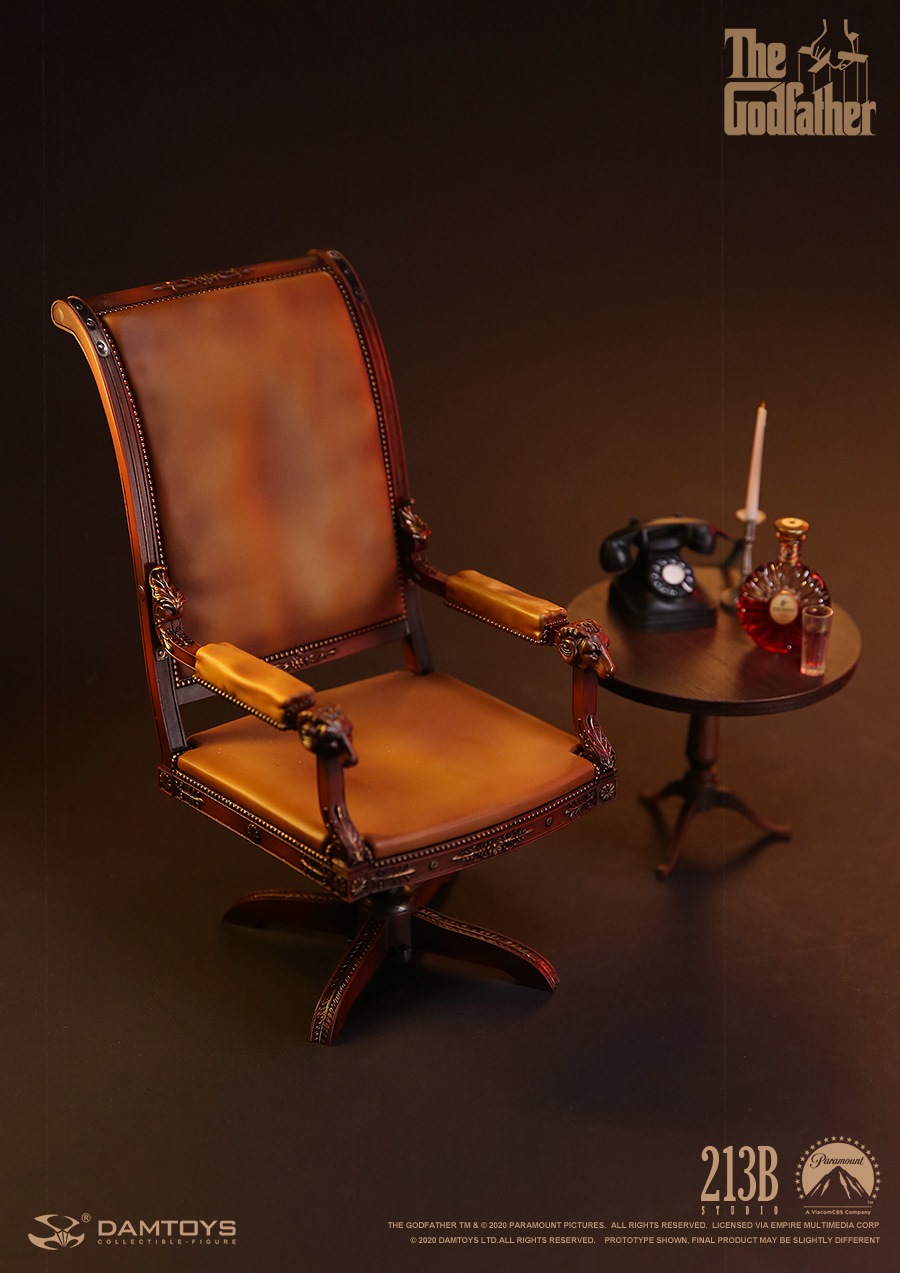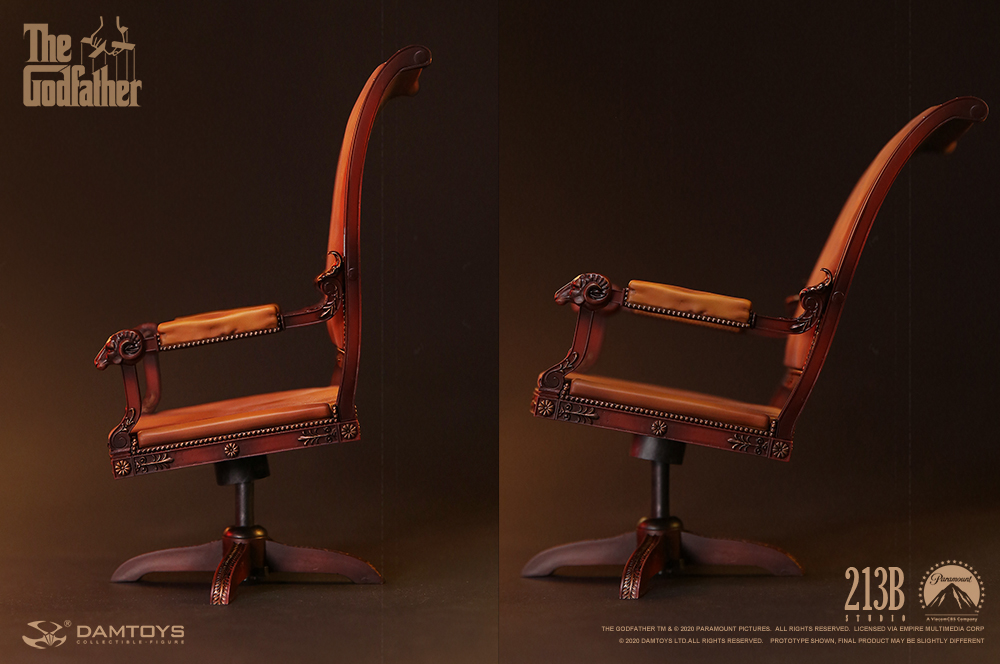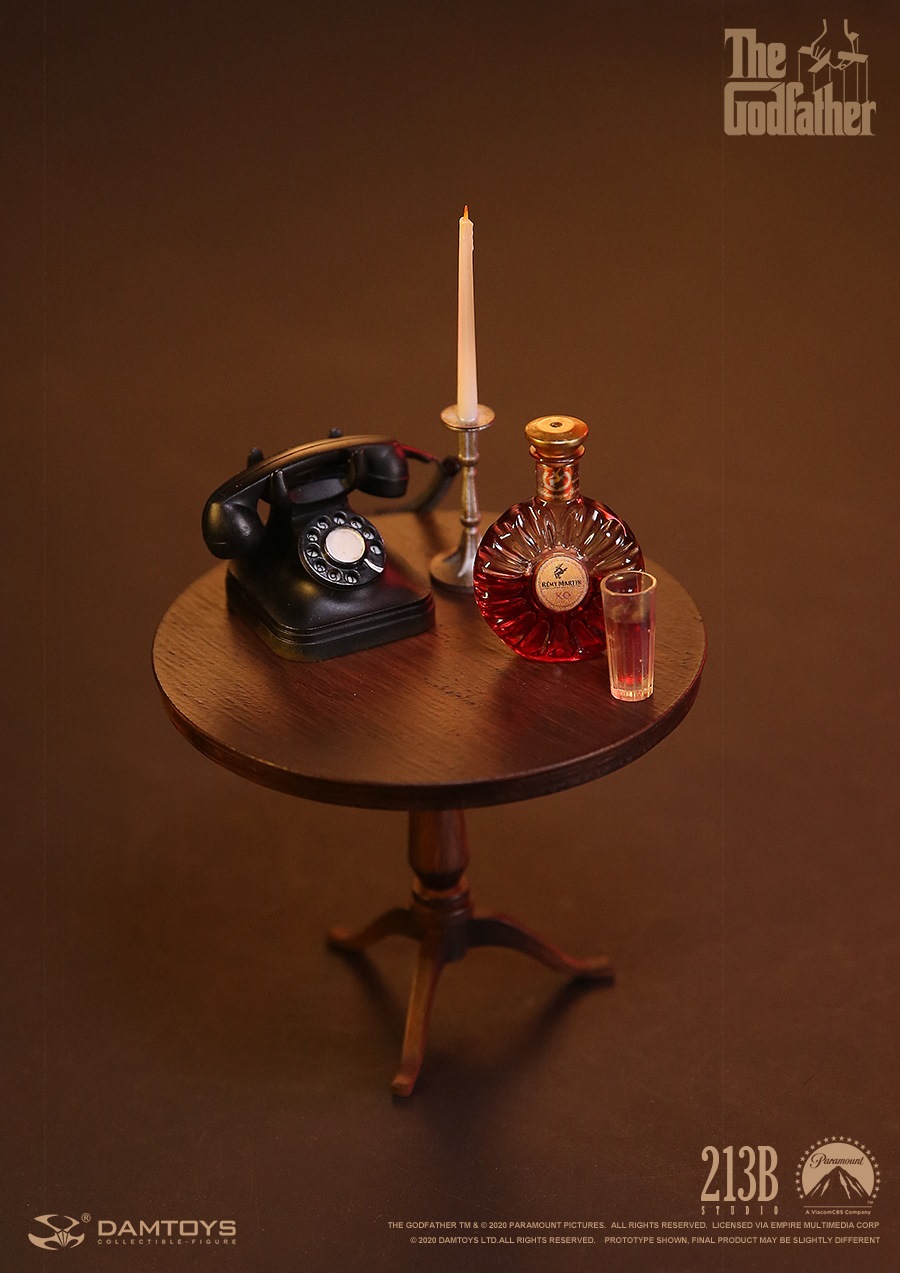 #newproduct
#DAMToys
#TheGodfather
#VitoCorleone
#FormalEdition
#male
#movie