The 1/6th scale The Dark Furyan Collectible Figure specially features:
1. Authentic and detailed likeness of the character in the desert
2. Newly developed head sculpt with movie-accurate facial expression with detailed skin texture
3. Newly designed figure with over 30 points of articulations which naturally portray muscular body in the movie
4. Approximately 33cm tall
5. Eight (
pieces of interchangeable hands including:
One (1) pair of fists
One (1) pair of machetes holding hands
One (1) pair of knives holding hands
One (1) pair of relaxed hands
c
Costume:
1. One (1) specially tailored suit with bronze and gold colored feature-patterned armor plates.
2. One (1) brown-colored leather-like back shield holder and body strap
3. One (1) waistband with belt
4. One (1) pair of brown colored leather-like pants
5. One (1) pair of brown colored leather-like boots
6. One (1) pair of kneepads
7. One (1) pair of bracers
8. One (1) upper arm armor
9. One (1) shoulder armor
10. One (1) pair of goggles
*All materials are fabrics with special processing technology, not artificial leather
Weapons:
1. One (1) machete with beast-bone-like handle
2. One (1) pair of belt knives with beast-teeth-like handle and sheaths
3. One (1) throwing knife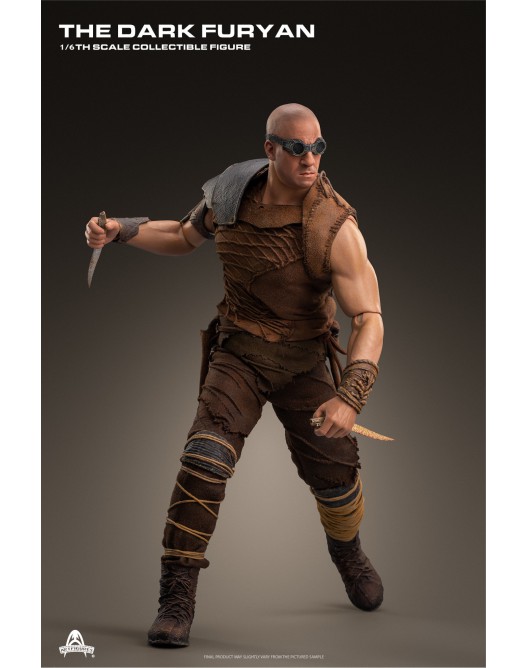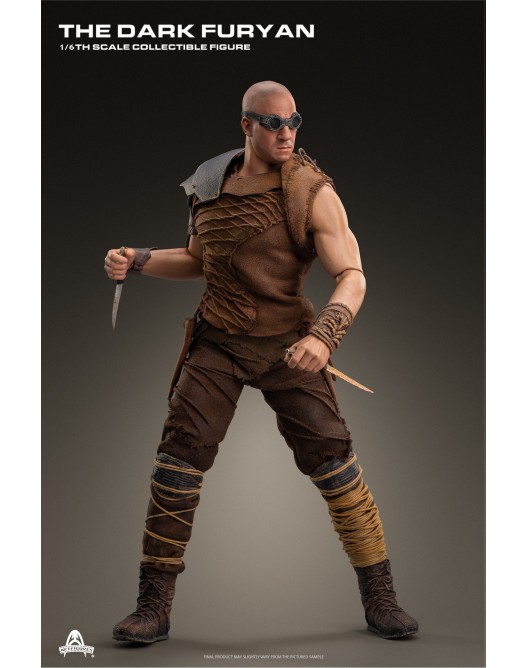 #newproduct
#ArtFigure
#DarkFuryan
#male
#movie-based
#Sci-Fi