BBICN Shanghai flagship Taobao shop "You'll soon find out that some wizarding families are better than others, Potter. You don't wanna go making friends with the wrong sort."
Voldemort wasn't the only one determined to make Harry Potter's life miserable. At Hogwarts Harry's main rival was Draco Malfoy, an egotistical and arrogant member of Slytherin House, jealous of Harry's notoriety.
This 1 / 6th scale collectible figure of Draco as a teenager has 30 points of articulation and features an authentic portrait of Tom Felton as Draco from "Harry Potter and the Half-Blood Prince." He has the Dark Mark tattoo on his left arm.
He comes equipped with his wand, including a magical flash effect as if he's just cast a dangerous spell. He also has a white ferret, his green apple, and his messenger owl.
The Deluxe version comes with two costume sets- his school uniform and his black suit. It also has extra accessories – The Monster Book of Monsters, his Prefect badge, and his Nimbus 2001 Broomstick.
The 1 / 6th scale Draco Malfoy Teenager (Deluxe version) collectible figure features:
-1 / 6th scale body, approximately 30 cm tall with 30 points of articulation with a tattoo on left arm.
-Fully realized authentic likeness of Tom Felton as Draco Malfoy in the movie "Harry Potter and the Half Blood Prince" with accurate facial expression and detailed skin texture.
-Each head sculpt is specially hand-painted.
PARTS
Interchangeable Six (6) hands including:
-(2) one pair of open hands
-(1) one right hand for holding his wand
-(1) one right hand for holding his broomstick
-(1) one left hand for holding the Monster book
-(1) one left fist hand
COSTUMES:
A. SCHOOL UNIFORM
-White shirt
-Striped tie
-School uniform trousers
-Slytherin knitted pattern sweater
-Slytherin Black wizard's robes
-Black socks
-Black shoes
B. SUIT
-Black shirt
-Black tie
-Black Trousers
-Black Suit Jacket
-Black shoes
ACCESSORIES
-Wand
-Green apple
-Ferret
-Eagle Owl
-Flash Effect
** Deluxe version Only with these 3 accessories ***
-Nimbus 2001 Broomstick (Deluxe version Only)
-Monster Book (Deluxe version Only)
-Prefect Badge (Deluxe version Only)
FIGURE STAND
RELEASE DATE: Q2, 2020
** PROTOTYPE SHOWN, FINAL PRODUCT MAY BE SLIGHTLY DIFFERENT
** PRODUCT DETAILS COULD BE SUBJECTED TO CHANGE WITHOUT FURTHER NOTICE
WIZARDING WORLD characters, names, and related indicia are (C) & TM Warner Bros. Entertainment Inc. WB SHIELD: (C) & TM WBEI. Publishing Rights (C) JKR. (S20)
(C) 2020 Star Ace Toys Limited. All Rights Reserved.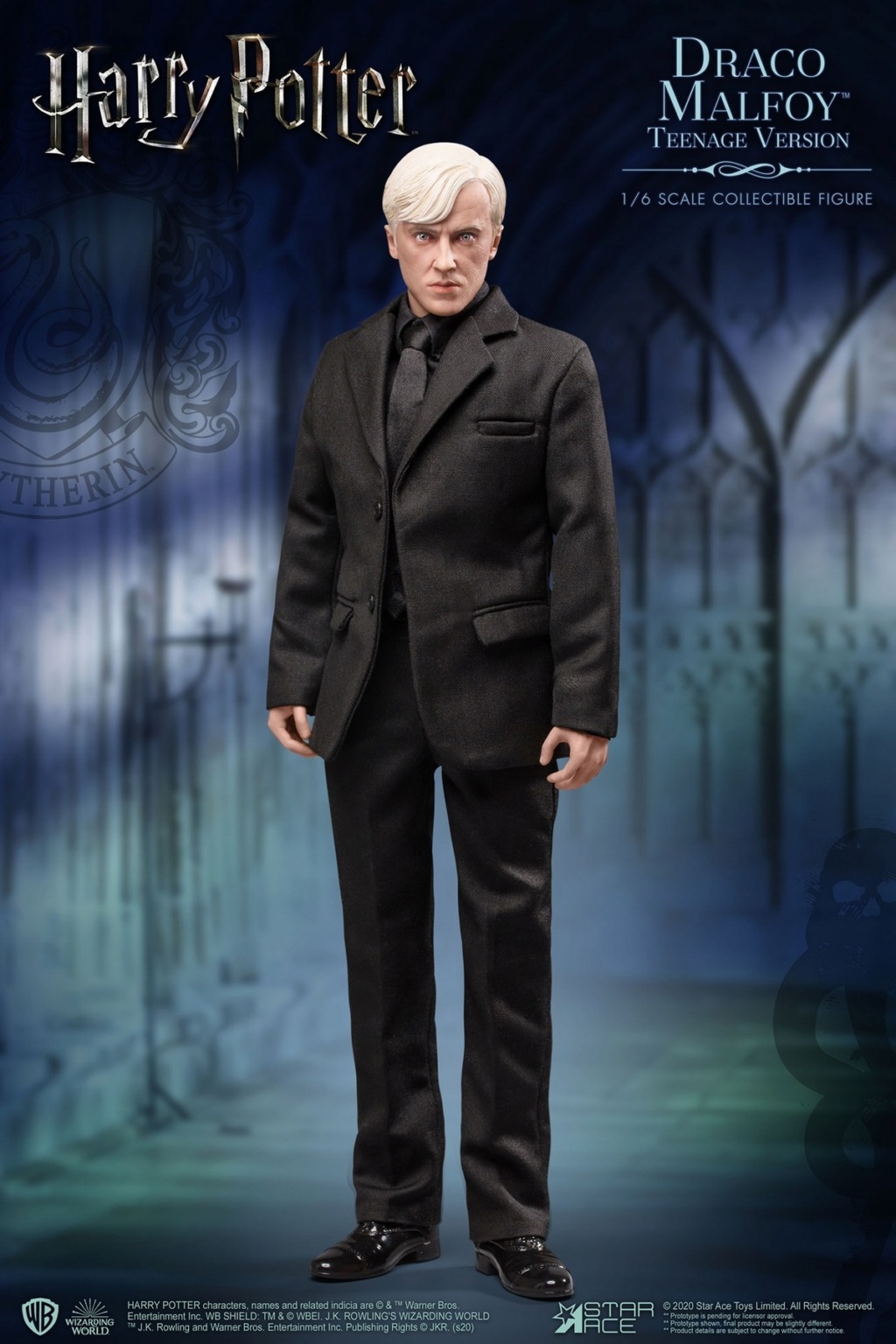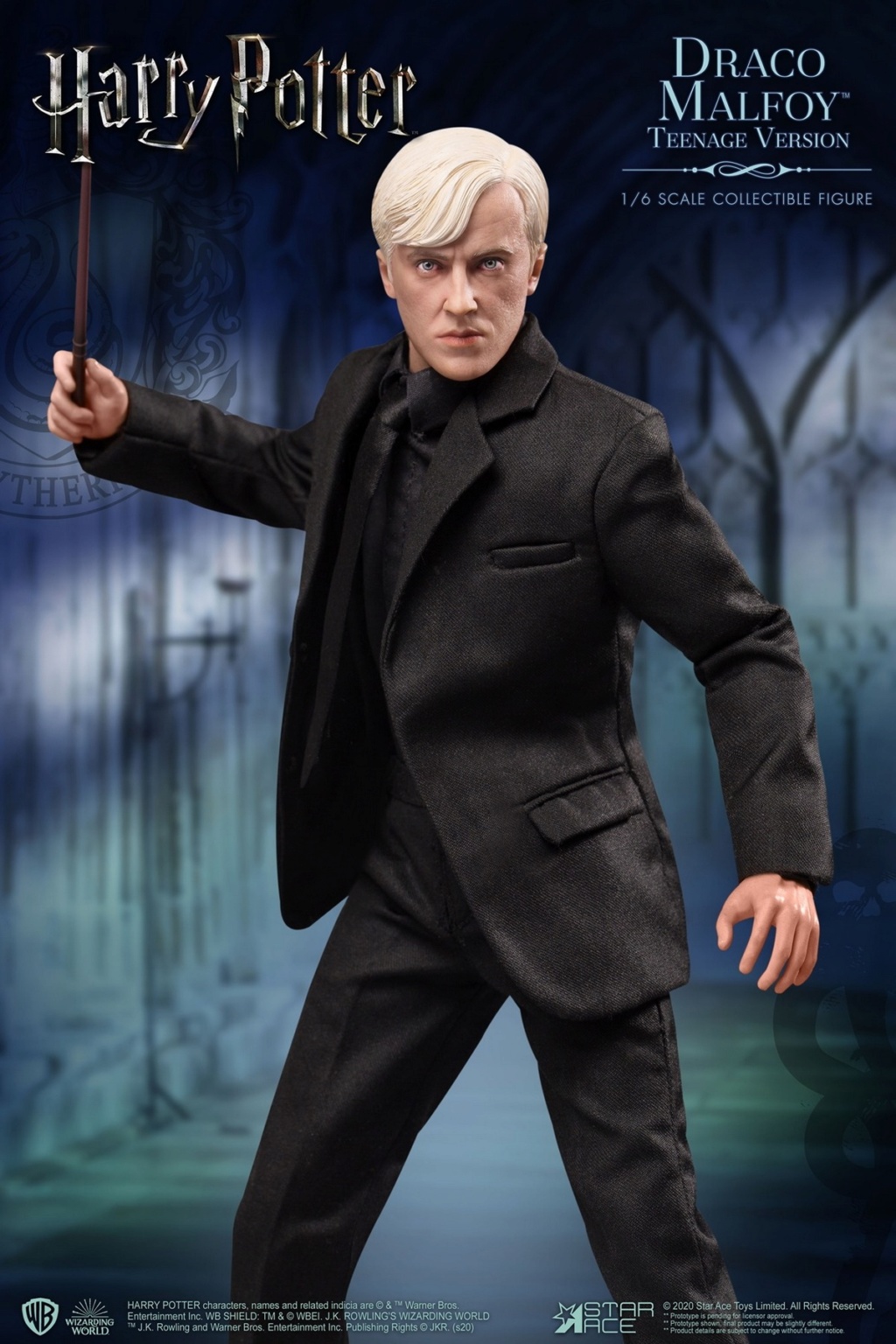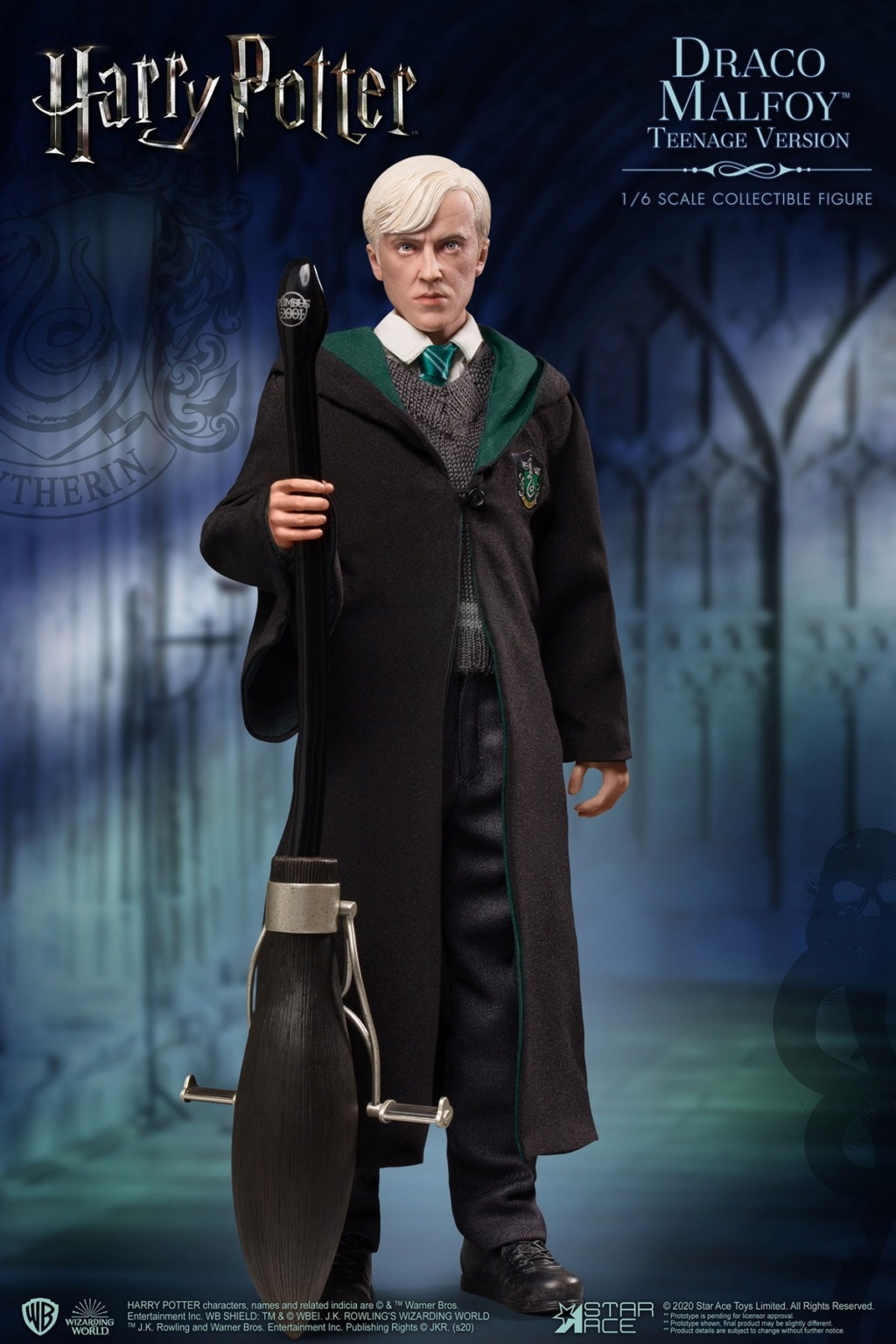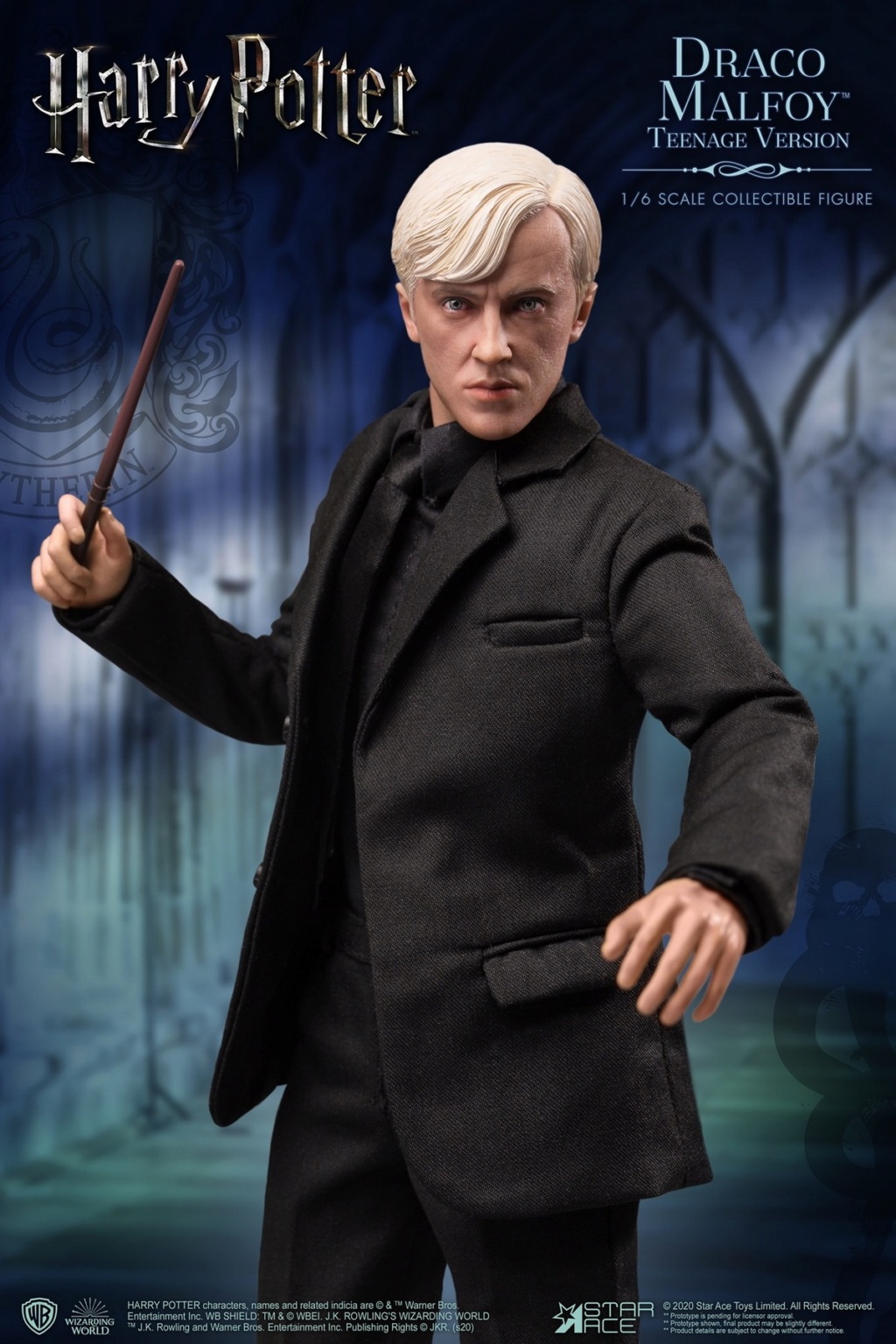 Suit Edition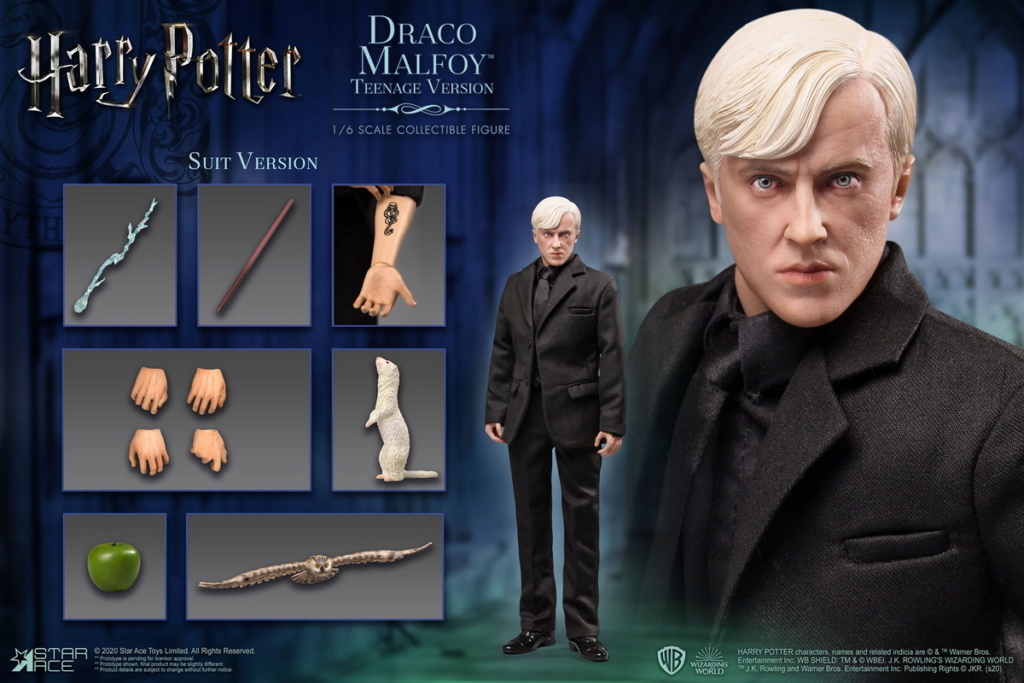 School Uniform
Deluxe Edition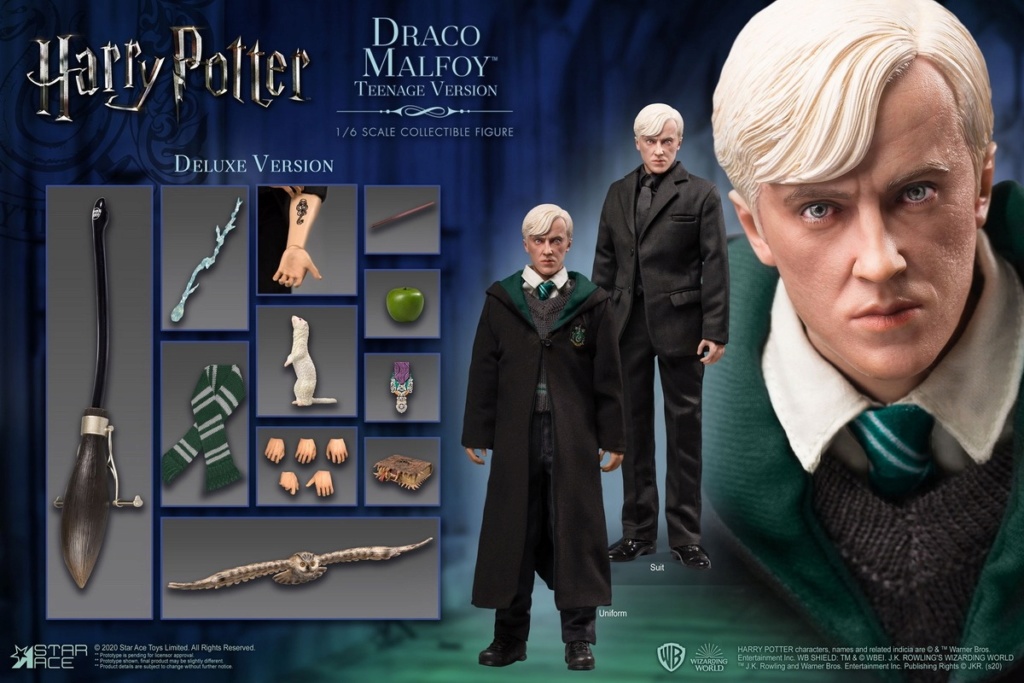 #newproduct
#StarAce
#HarryPotter
#teen
#DracoMalfoy
#male
#movie
#fantasy