Threezero perfectly reproduces the character of the seventh season of the HBO TV show "A Song of Ice and Fire: Game of Thrones": Tormund Giantsbane (Tormund Giantsbane) with superb craftsmanship.
"A Song of Ice and Fire: Game of Thrones"-1/6 scale Tormund Giant Buster action figure. Details:
Highly restore the roles in TV series.
TM & (C) 2020 Home Box Office, Inc.
*Delivery date: Estimated in the second quarter of 2021.
*Shipping charges are based on product weight/size and delivery area.
*All orders without payment will be cancelled after the pre-sale.
*All orders cannot be transferred to a third party.
*The picture is for reference only, and the product is subject to the final product.
※This product contains small parts that may be suffocating. It is only suitable for people over 15 years old.
SKU: 3Z0106
Describe about 12 inches (~31 cm) tall;
Dedicated action figure body;
Exquisite like real head sculpture;
Fine and cold-resistant, tailor-made clothing;
Faux fur savages coat;
Belt
trousers;
A pair of boots
Exchangeable hands:
A pair of relaxed hands;
A pair of fist hands;
A pair of hands for weapons;
Accessories:
Climbing rope
Sword and scabbard
Tomahawk
Dragon crystal axe
Dragon Crystal Dagger.
Materials used: ABS, PVC, POM (fabric used in clothing)
Packing size: ~ (W230 x H360 x D110) mm (1.3 kg)
Game of Thrones – 1/6 Tormund Giantsbane
The Tormund Giantsbane collectible figure features an authentically detailed likeness to the character's appearance in the Season 7 of the hit HBO television series Game of Thrones.
1/6th scale Game of Thrones Tormund Giantsbane collectible details:
Highly-accurate likeness to the character as portrayed in the television series.
TM & (C) 2020 Home Box Office, Inc.
* The estimated shipping date: 2nd Quarter 2021.
* Shipping rates depend on the product weight/size and shipping locations.
* All unpaid orders would be cancelled after the sale.
* Orders are not transferable to third parties.
* Final product may vary from prototype images
* THIS IS NOT A TOY, 15 YEARS+
CONTAINS SMALL PARTS, CHOKING HAZARD!
12" (~31cm) tall
Fully-articulated figure
Realistic head sculpt
Tailored clothing with finely detailed textures and weathering
Faux-fur Wildling coat
Belt
Pants
One pair of boots
Exchangeable hands:
One pair of relaxed hands
One pair of fists
One pair for holding weapons
Accessories:
Climbing rope
Sword with scabbard
Battle axe
Dragonglass Axe
Dragonglass dagger
Materials: ABS, PVC, POM (costume uses fabric)
Packaging size: ~ (W230 x H360 x D110)mm (1.3kg)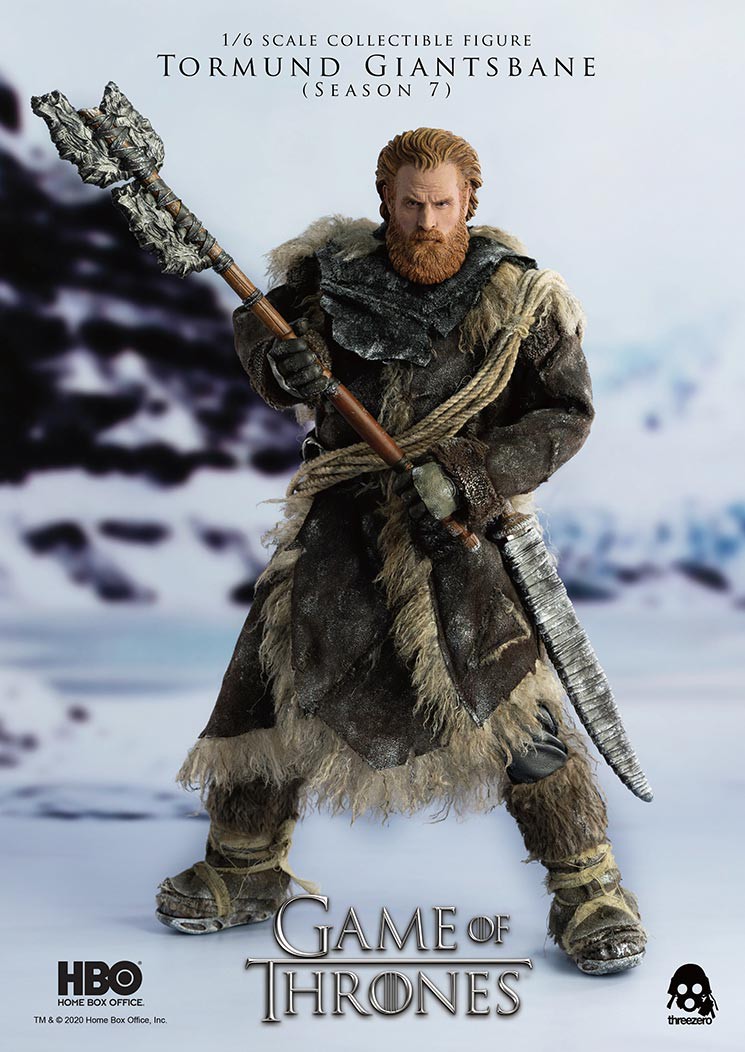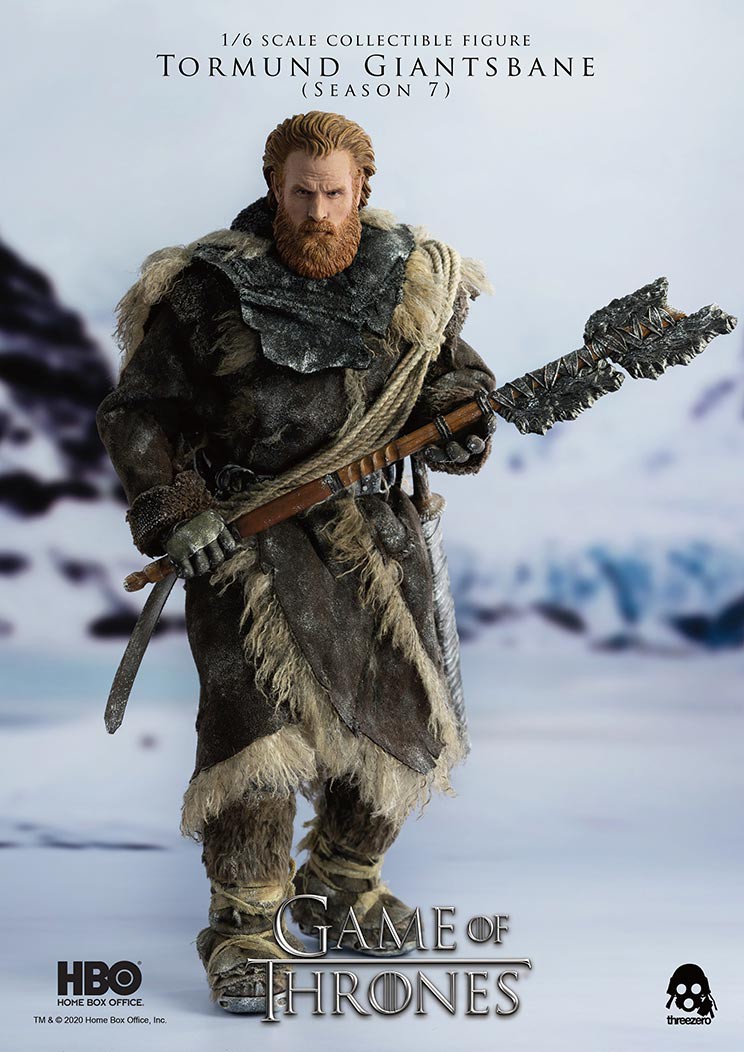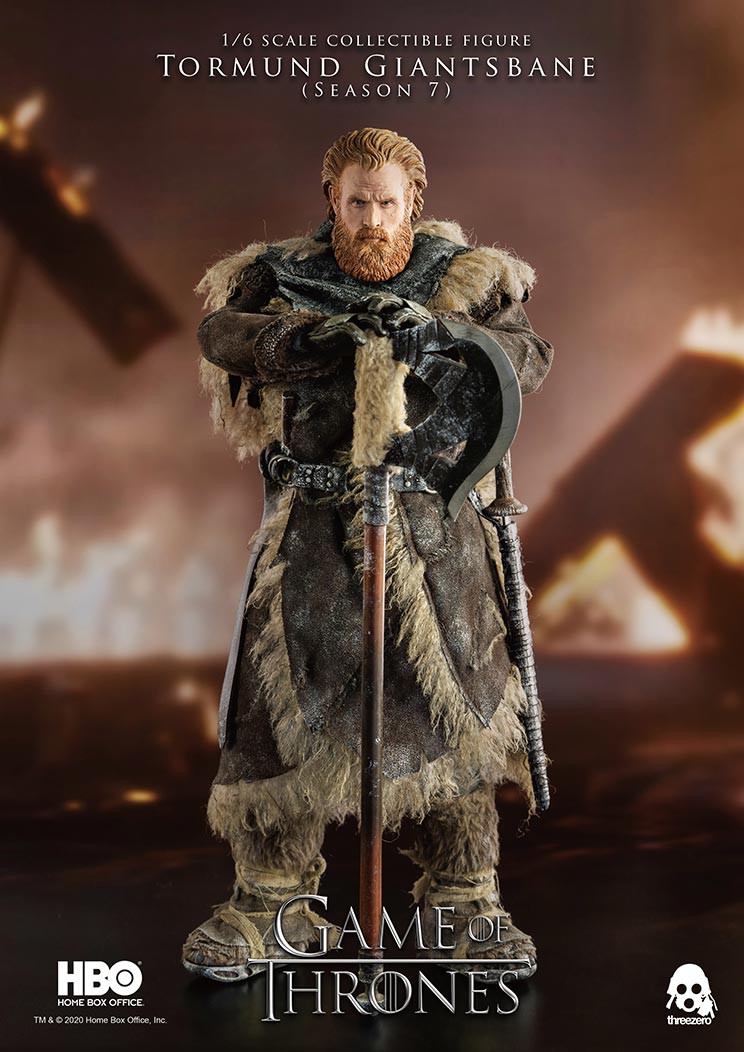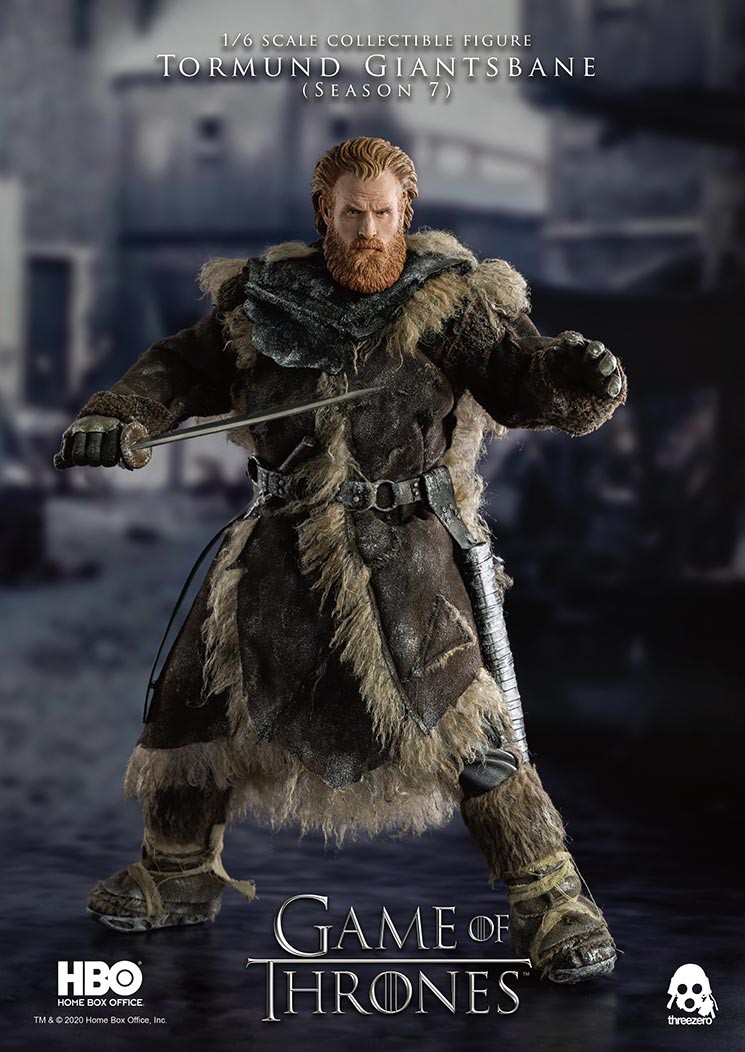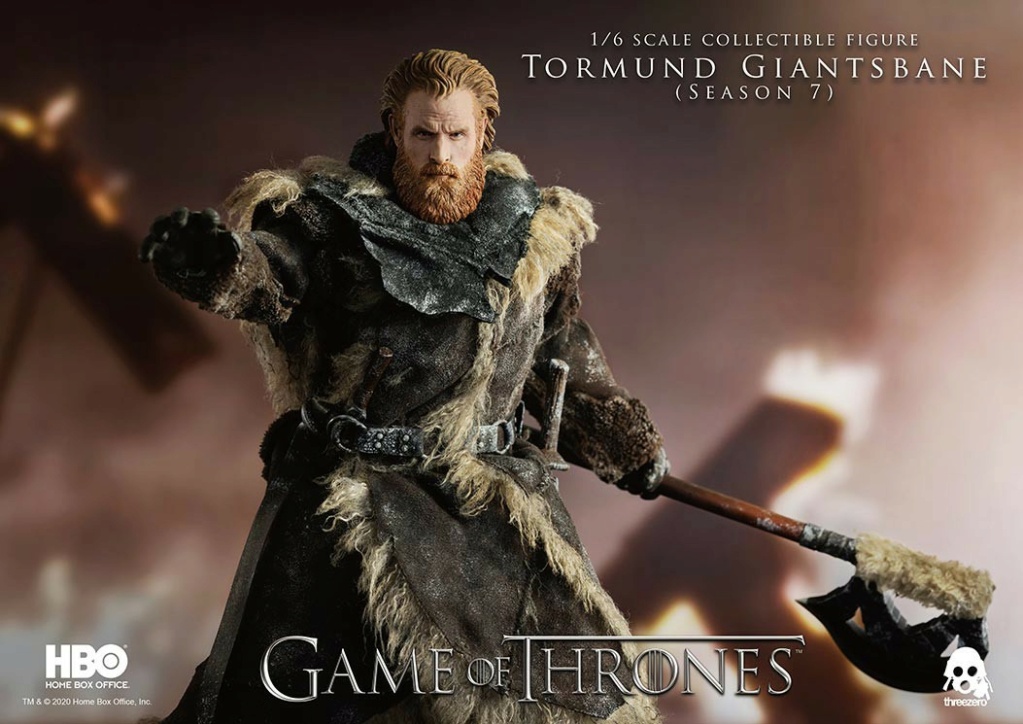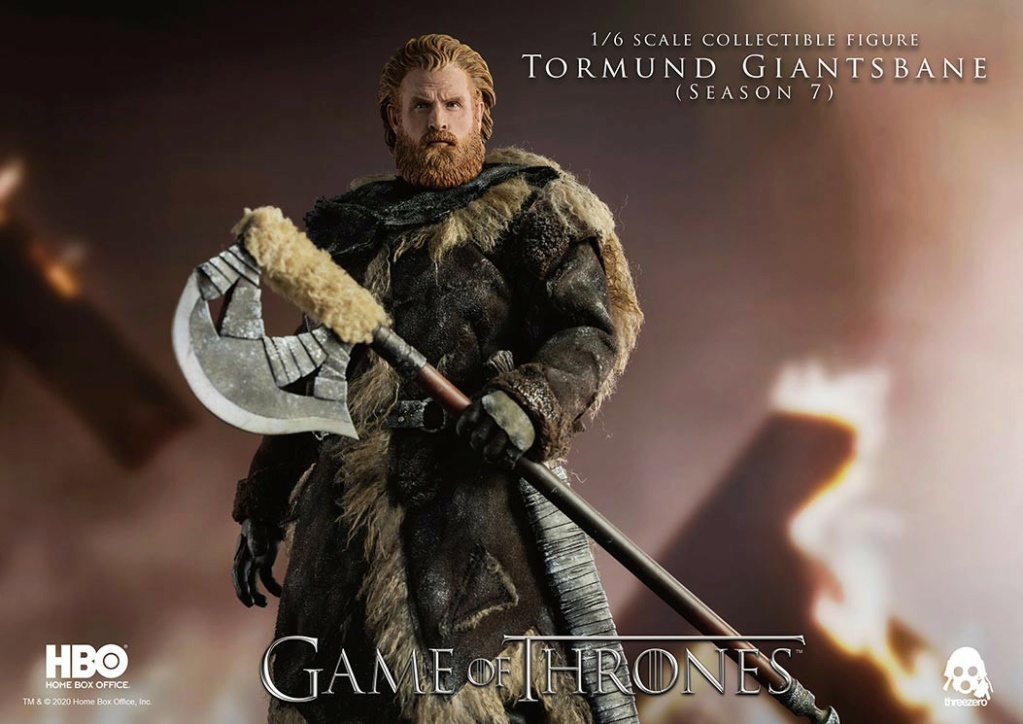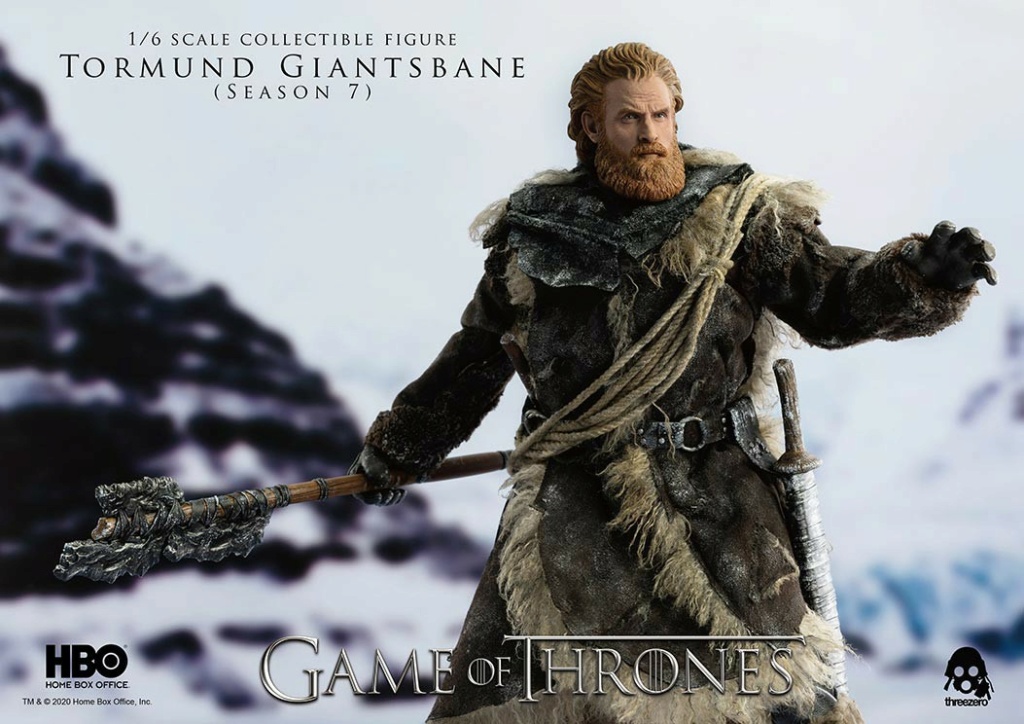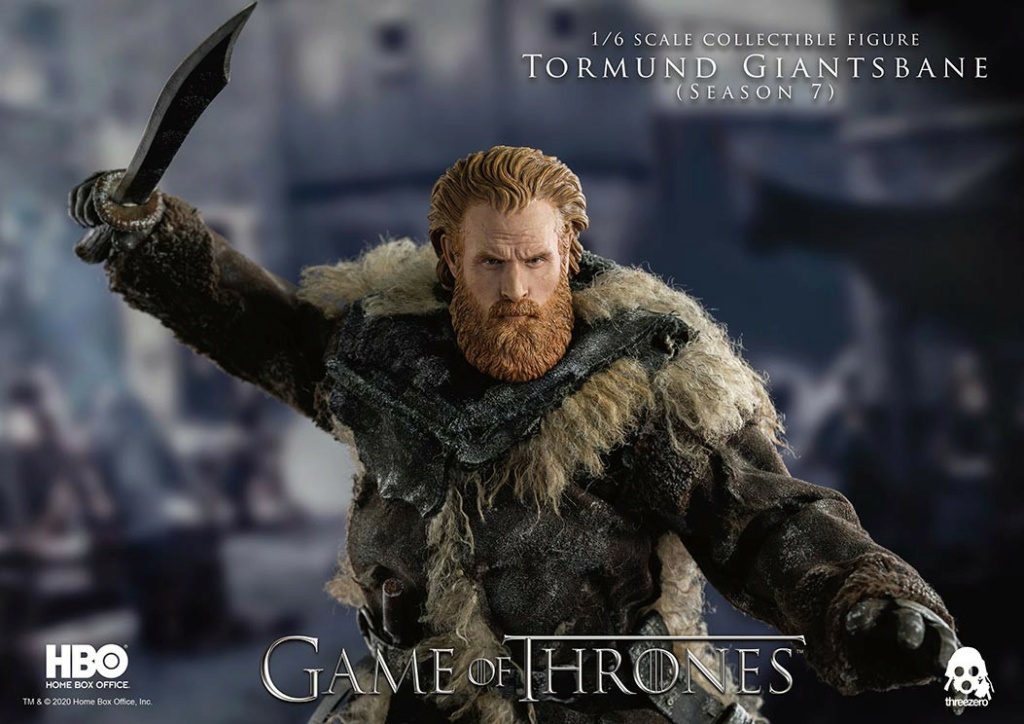 #newproduct
#Threezero
#GameofThrones
#Tormund
#GiantBuster
#male
#HBO
#Fantasy