This is not exactly brand new, but it is the first of the Replitronics/New Wave Toys sixth-scale versions of real world machinery that I have gotten. While most would probably prefer the more interactive features of their
arcade
-type games, to me the change machine (reproducing the Rowe BC-35 bill changers) seemed more worthwhile because of its applicability to more environments and real-world utility (as a USB charging station).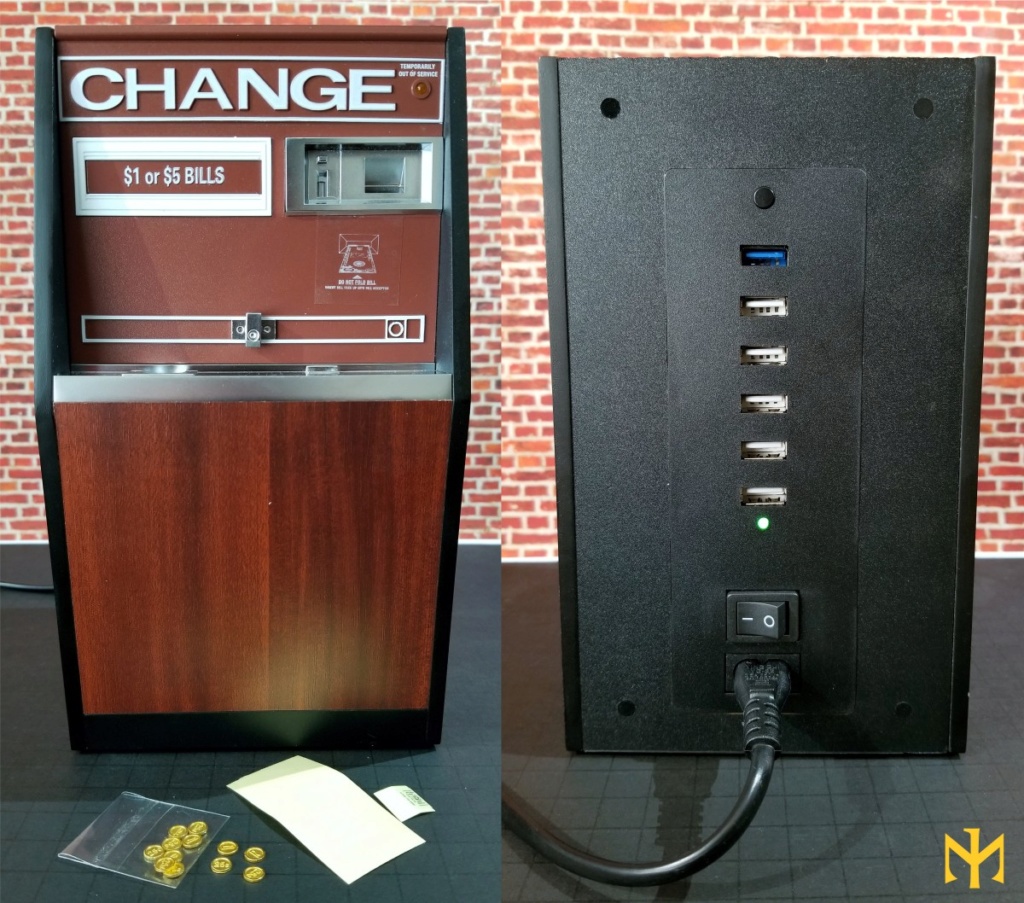 The machine comes in a cardboard box with the Replitronics logo, and is kept safe by a simple and collector-friendly white plastic foam assembly. There is a multi-language instruction/reference booklet, but the
arcade
flooring pad does not seem to be included with these (perhaps it was an exclusive available only for those who participated in the kickstart campaign or preordered). A 10-ft long power cable is provided to connect to an outlet and power the machine. The back of the machine features a port for the power plug, an on/off switch, power indicator light, 5 USB-A 2.0 ports, 1 Quick Charge USB-A 3.0 port, and a button to toggle the "temporarily out of service" light located on the front side.
Apart from the USB ports (several of which can be used to hook up other Replitronics sixth-scale game machines), the "temporarily out of service" light is the only electrical feature of the machine. The lock latch at the front can rotate but does not open anything, and the bill "acceptor" and coin slots are non-functional. Everything looks and works great, and the whole unit seems well-made and sturdy. The paint job is realistic, with silverish metal and faux wood panels. The only imperfection I have spotted is a very slight off-printing on the raised lettering reading "$1 or $5 BILLS."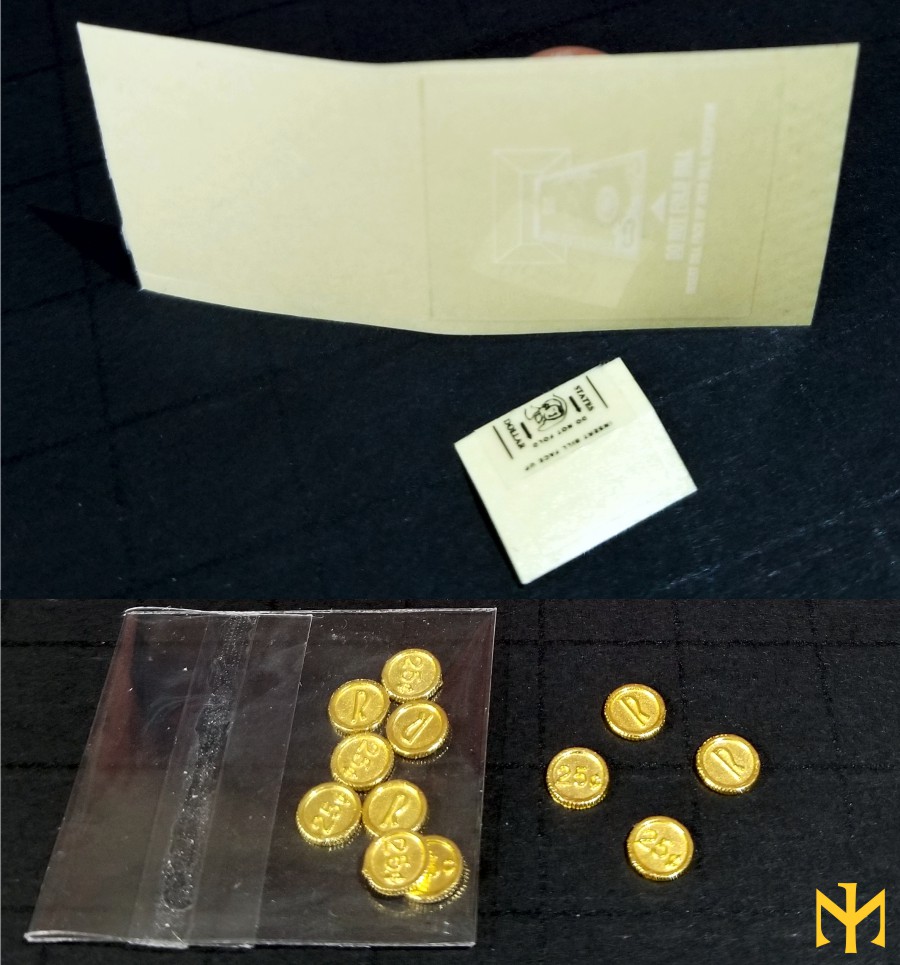 The machine comes with 12 tokens worth 25 cents each (the equivalent of change for $3) which are made of metal and colored gold (the two sides read 25 cents and R -- for Replitronics -- respectively). I understand that Replitronics' earlier game machines came with silverish coins representing quarters, and I would have preferred those myself, but if you are picking up both change machine and one or more of the game machines, you would be all set. There are also a couple of optional stickers that you could peel off and attach to the unit's surface. Each is provided in duplicate, in case you mess up or one sticker gets damaged. One sticker, with white printing on transparent background, is meant for the brown vertical space below the bill "acceptor" and cautions that bills should be fed into it unfolded and face up; the other, with black printing on transparent background, is meant for the space on the almost horizontal silverish "ledge" just below the bill "acceptor" and repeats the same information in a slightly different form. Whether or not you go for this added detail, the unit looks just as you would expect to find it in the real world -- well, I suppose you can get it to look more worn or dirty if you really wanted.
The machine is just over 4.5 in wide, 4 in deep, and 8 in tall, and appears to be accurate in size to its real world counterpart. It works well juxtaposed with sixth-scale figures and with the Replitronics game machines (you can see it among them in ReverendSpooky's thread
HERE
). Add some of those machines and the flooring (which doubles as a mouse pad), and you would have an
arcade
. Or customize some washers and driers and create a laundromat diorama! Or maybe a hallway with vending machines, if you're more ambitious.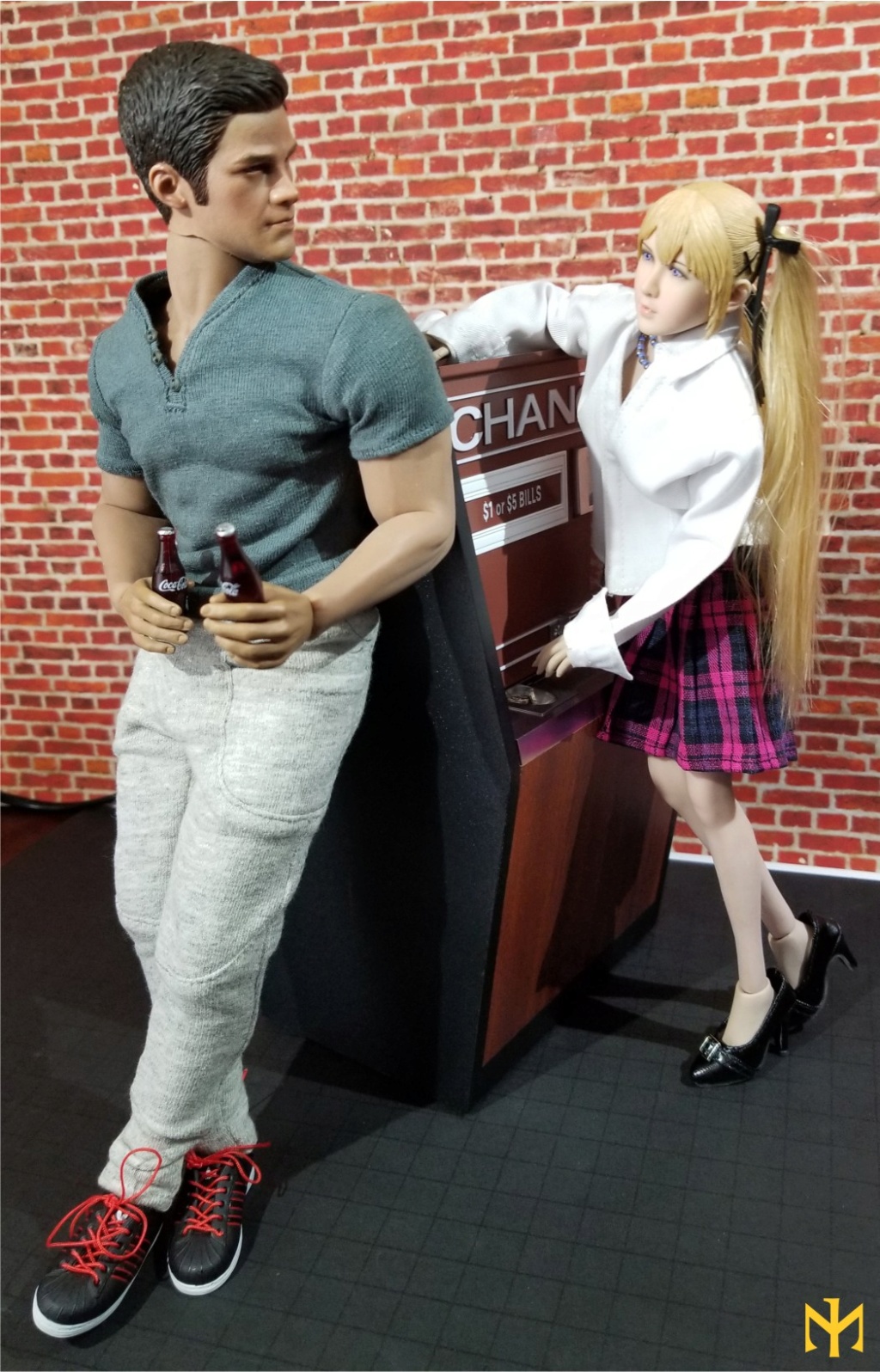 The machine retails for about $60, which is about half the price of the Replicade game machines. I got mine from Big Bad Toy Store (HERE).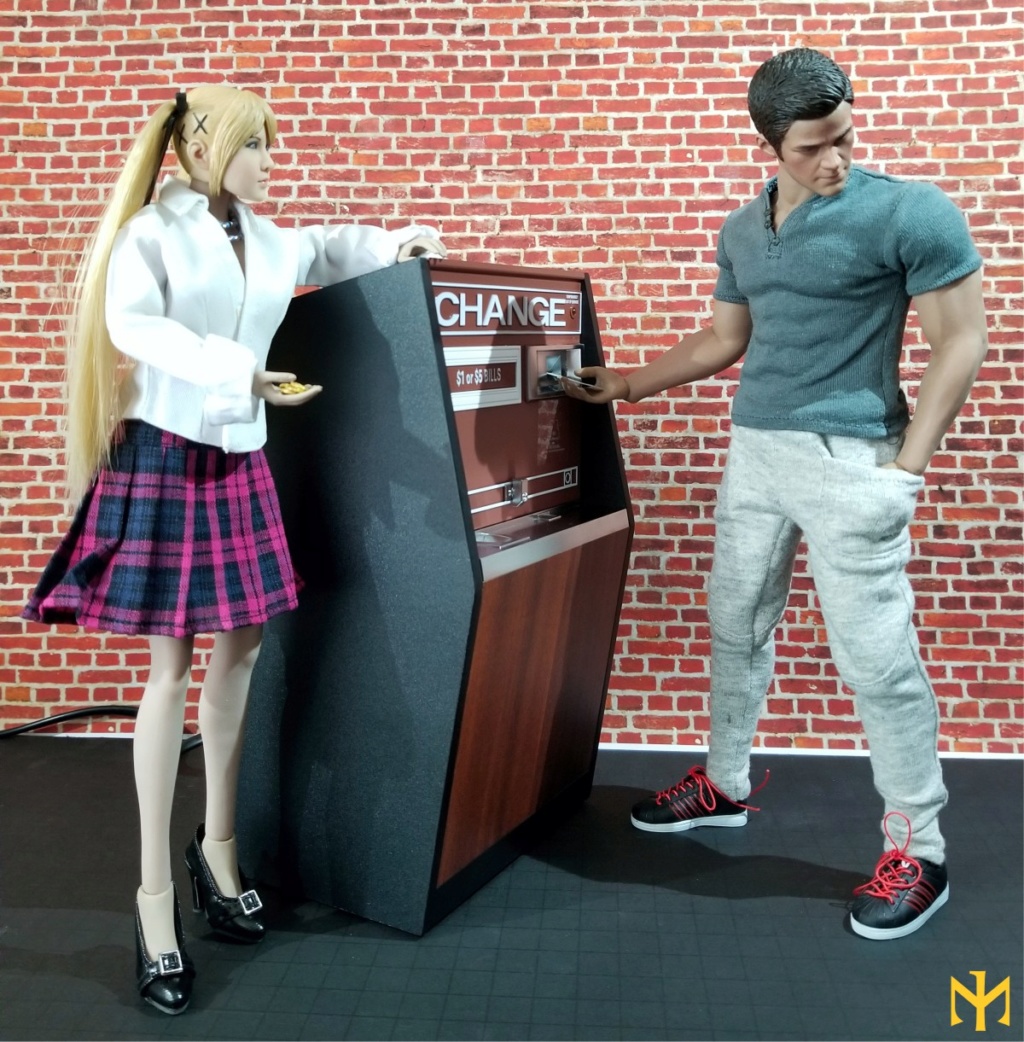 All in all, I'm very happy with this purchase. It is not the most exciting piece in itself, but it is realistic, functional (as a real-life USB charger), and useful (in both real life and sixth-scale environments), while not being horrendously pricey (a normal USB charger with six ports would be at about half or more of the price).
You must not unlearn what you have learned, so let's see how much you remember or can observe...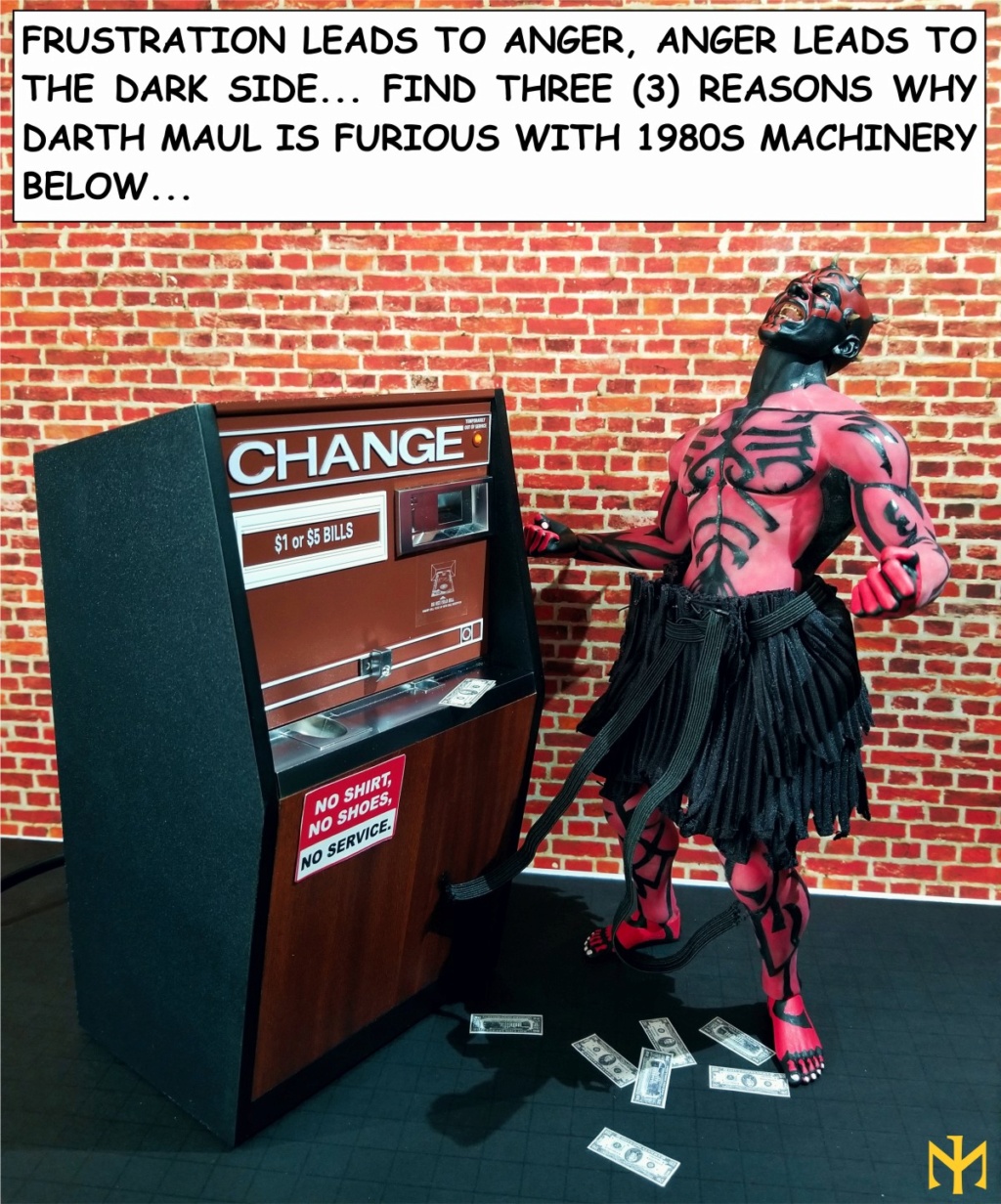 As always, what do you think?
#replitronics
#newwavetoys
#changemachine
#usb
#charger
#arcade