Search found 5 matches for classic
TB League steel bones are used to make bodybuilding body.
"The world of humanity is filled with people in need."
Sideshow presents the Wonder Woman Sixth Scale Figure, joining the league of DC Comics collectibles.
Inspired by the Amazon's iconic comic book appearance, the Wonder Woman Sixth Scale Figure features a seamless, articulated, muscular body type developed by TB League, as well as a fabric bodysuit in Wonder Woman's iconic red and blue colors with white stars. Over the suit She has a sculpted gold belt and gold breastplate, her signature armor. Her portrait has flowing black hair sculpted with motion details and also features her golden tiara with a red star set in the center.
The Wonder Woman Sixth Scale Figure also features a number of swap-out Amazonian accessories, allowing you to craft a display worthy of the gods. Diana of Themyscira has sculpted red and white boots with articulated ankle joints as well as three sets of hands including fists , open hands, and grip hands. The figure also comes with two versions of the golden Lasso of Truth- one sculpted, coiled version and one fabric version. Additionally, Wonder Woman includes her silver Bracelets of Submission, her aegis shield, and her sword With a wearable scabbard, giving you an entire pantheon of possible poses.
The Exclusive Edition of the Wonder Woman Sixth Scale Figure includes a spear accessory, giving you an additional display option in your wondrous arsenal of weaponry.
Great Hera! Add a warrior's strength to your DC Comics collection and bring home the Wonder Woman Sixth Scale Figure today.
Brand DC Comics
Manufacturer Sideshow Collectibles
Type Sixth Scale Figure
Artists
JPark (Sculpt)
Narae (Sculpt)
Wan Lee (Paint)
Namhoon Kim (Paint)
Mijin Namgung (Costume Fabrication)
Sideshow Collectibles Sixth Scale Design Team (Design)
The Wonder Woman Sixth Scale Figure features:
Seamless, muscular female body developed by Phicen
Comic-book inspired likeness of Wonder Woman with iconic golden tiara
Fabric bodysuit featuring the
classic
red and blue colors with white stars
One (1) pair of red and white articulated boots
Three (3) pairs of hands, including:
Left and Right fists
Left and Right open hands
Left and Right grip hands
One (1) pair of silver "Bracelets of Submission"
One (1) sculpted "Lasso of Truth" in coiled state
One (1) fabric "Lasso of Truth"
Sword with wearable scabbard
Shield
Spear
Sculpted Gold Belt
Sculpted Gold Breastplate
Materials
Product Size Height: 12" (304.8 mm) | *
Dimensional Weight 0.00 lbs (0 kg) [Intl. 0.00 lbs (0 kg)] *
* Size and weight are approximate values. Learn more
SKU 100189
UPC 747720243651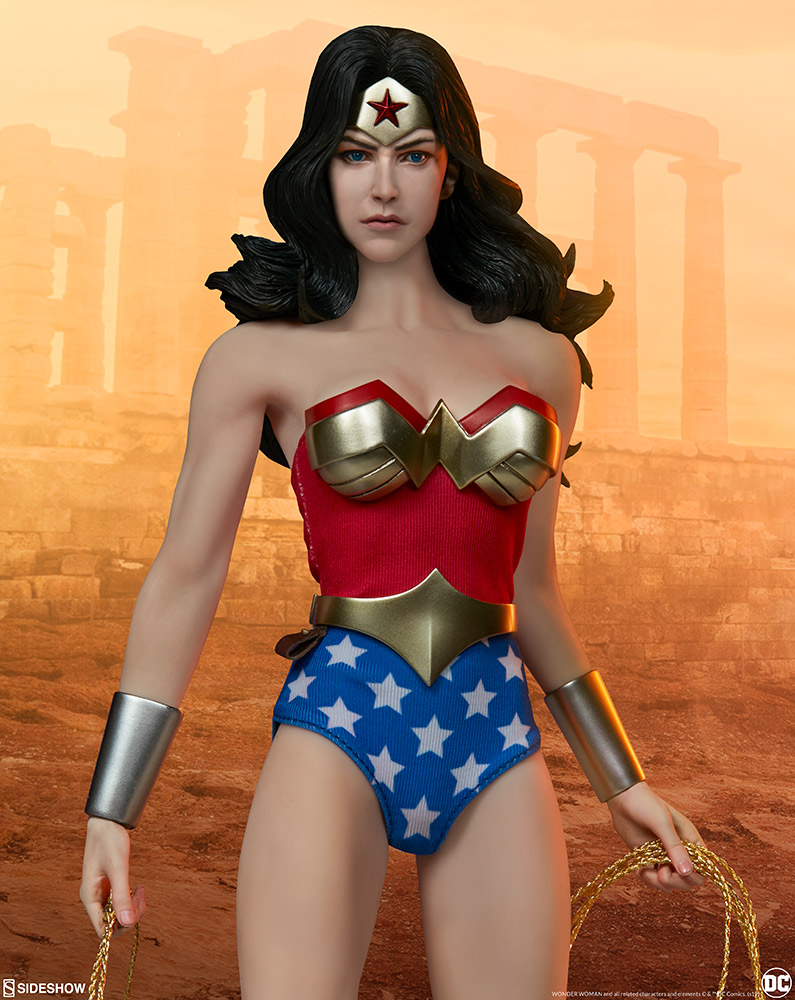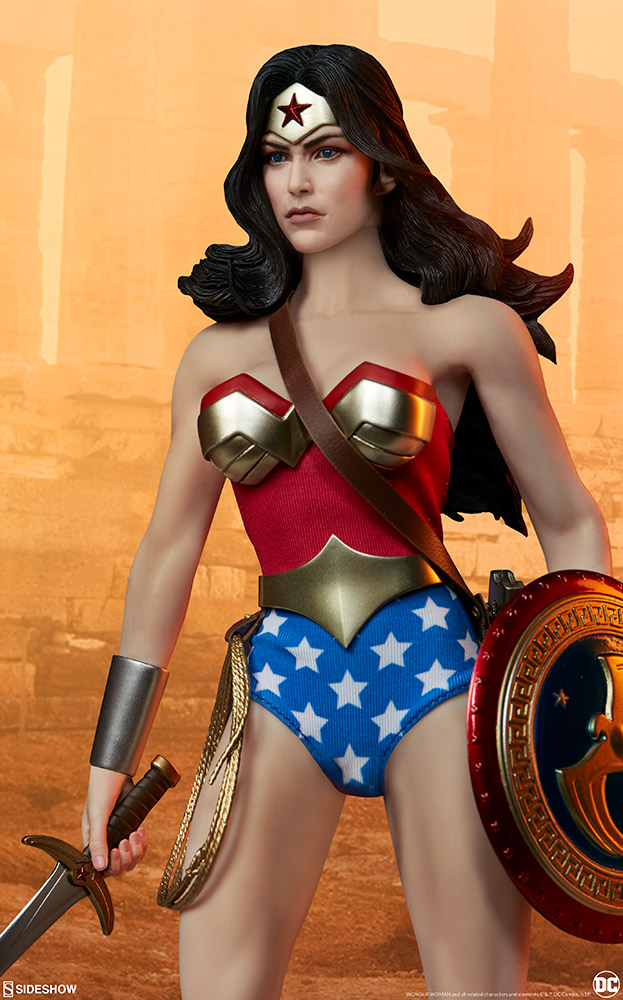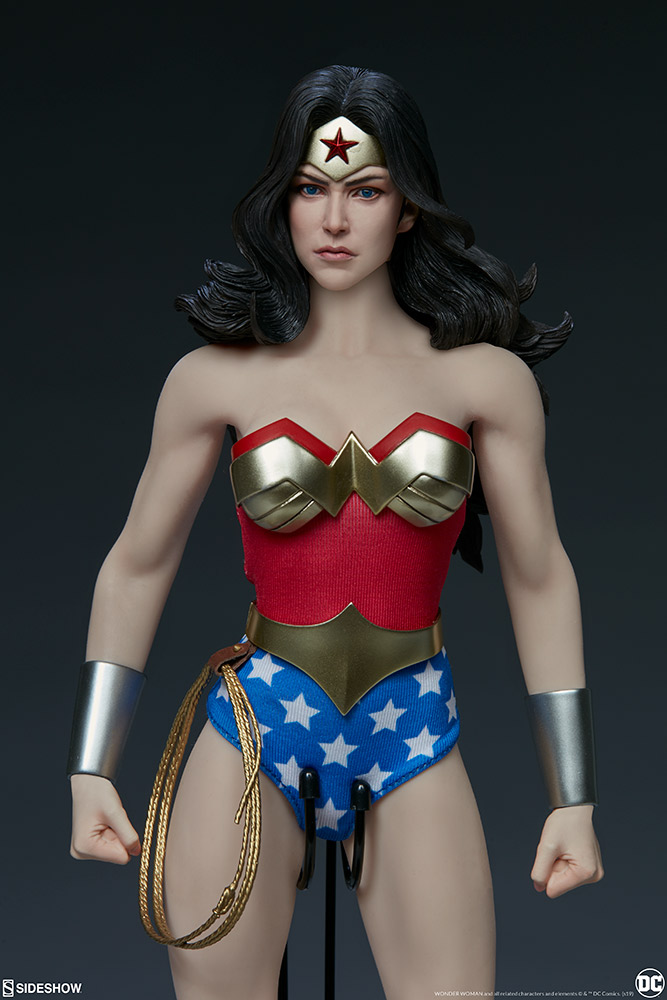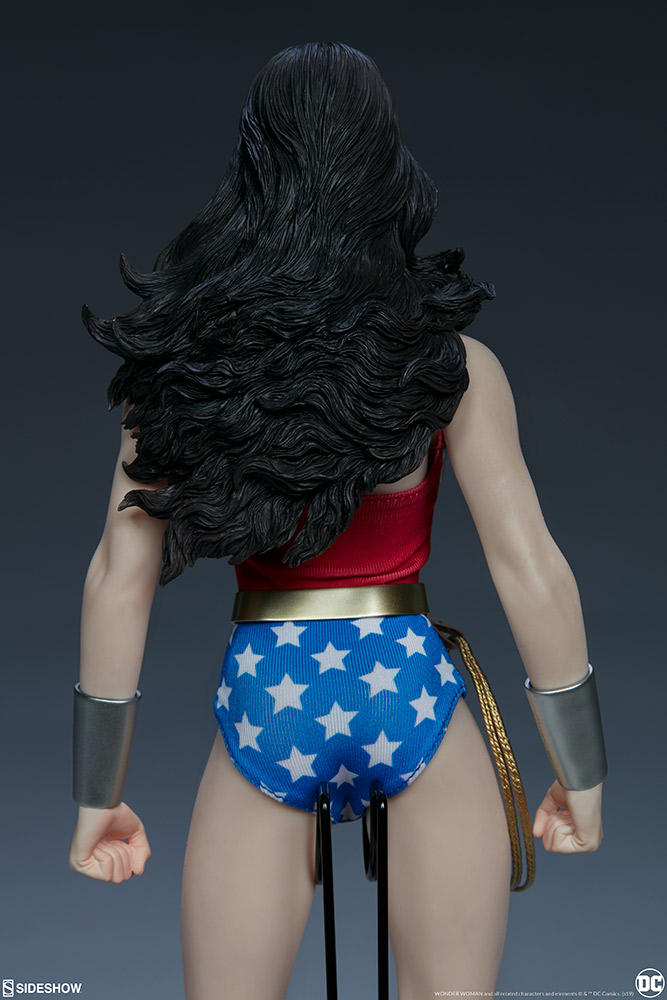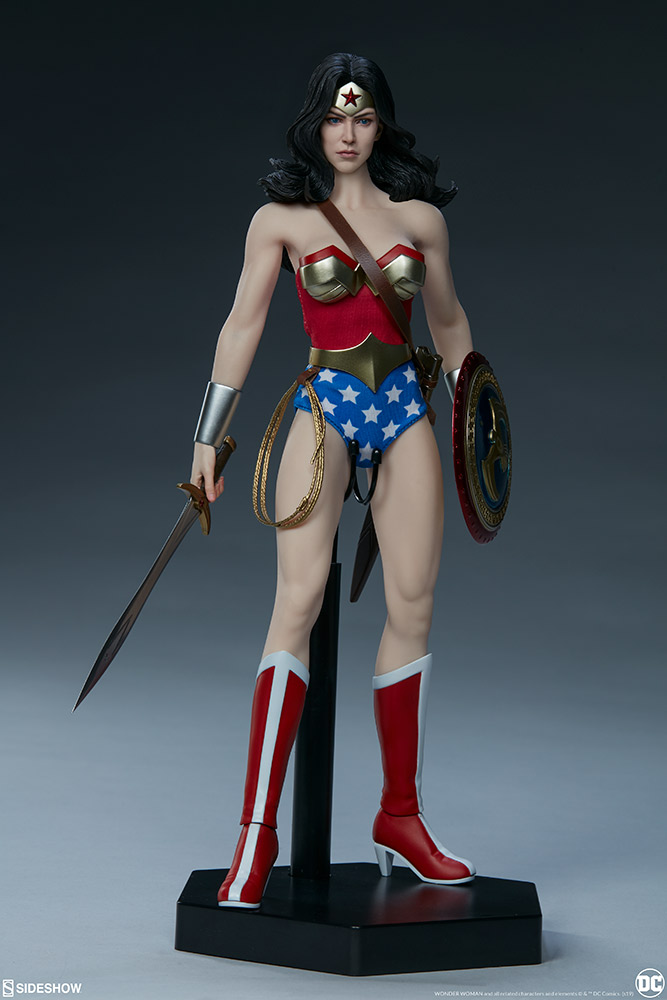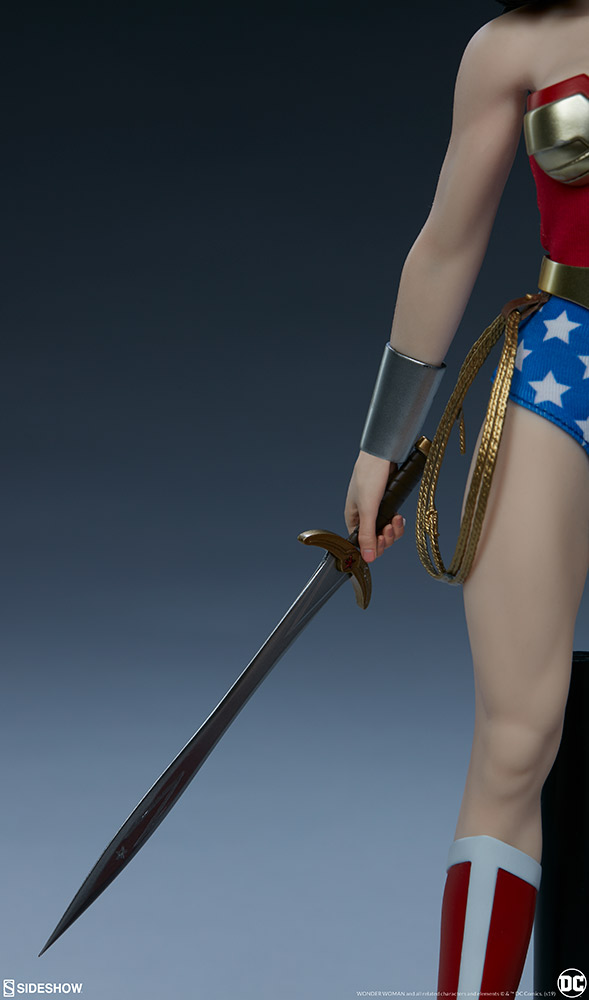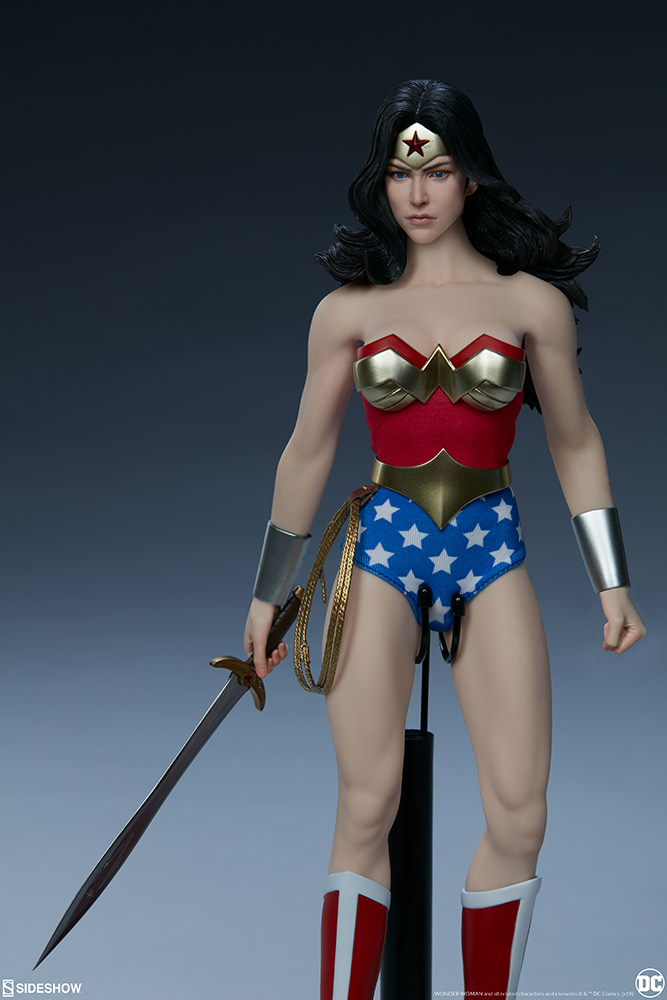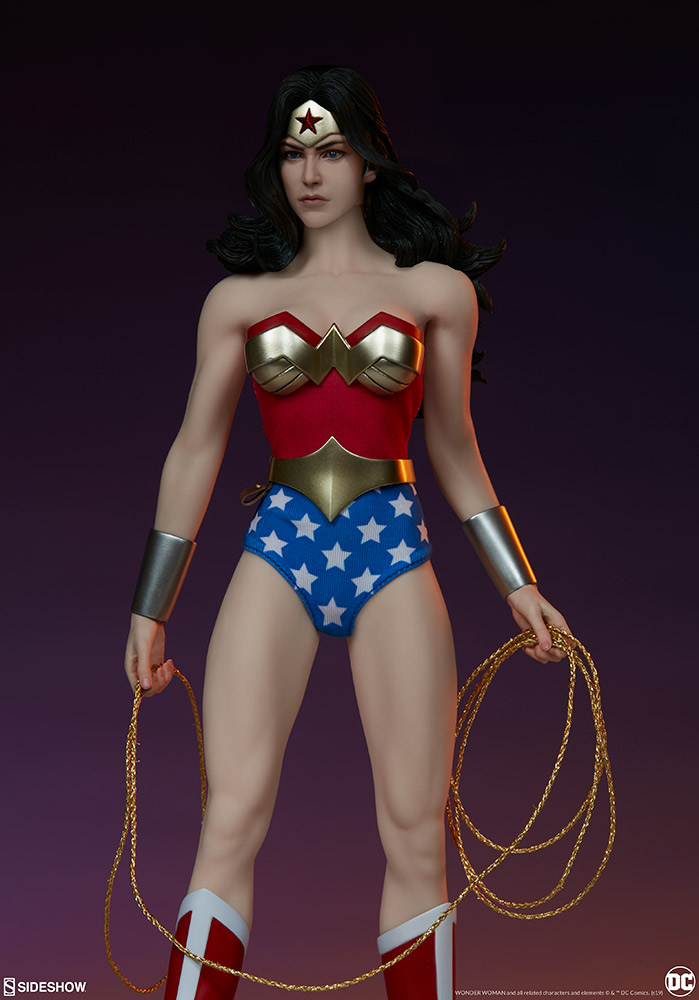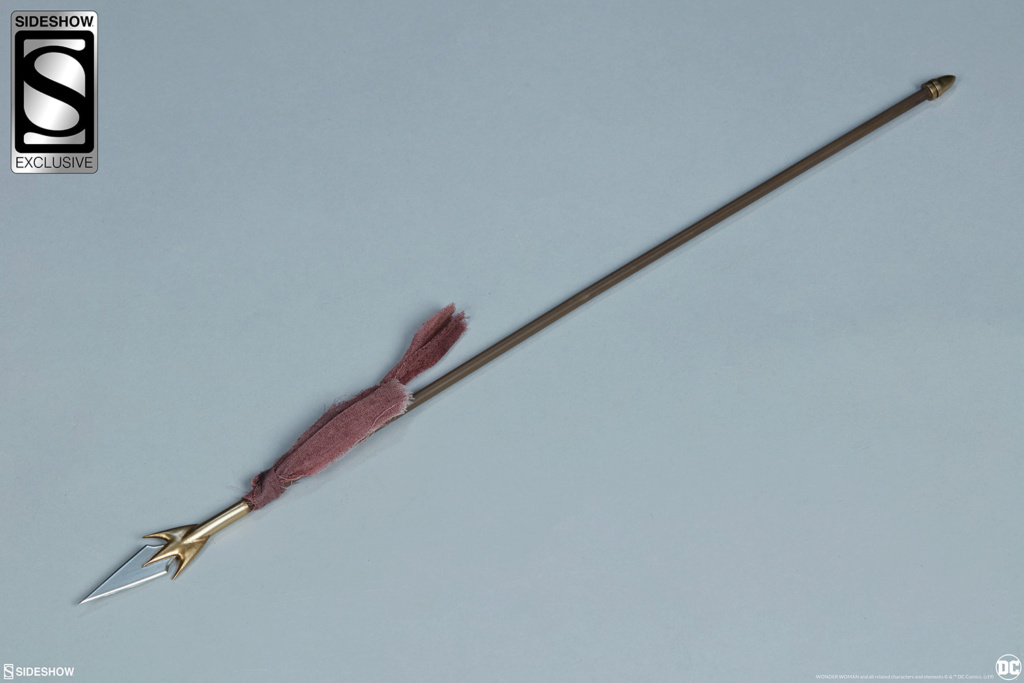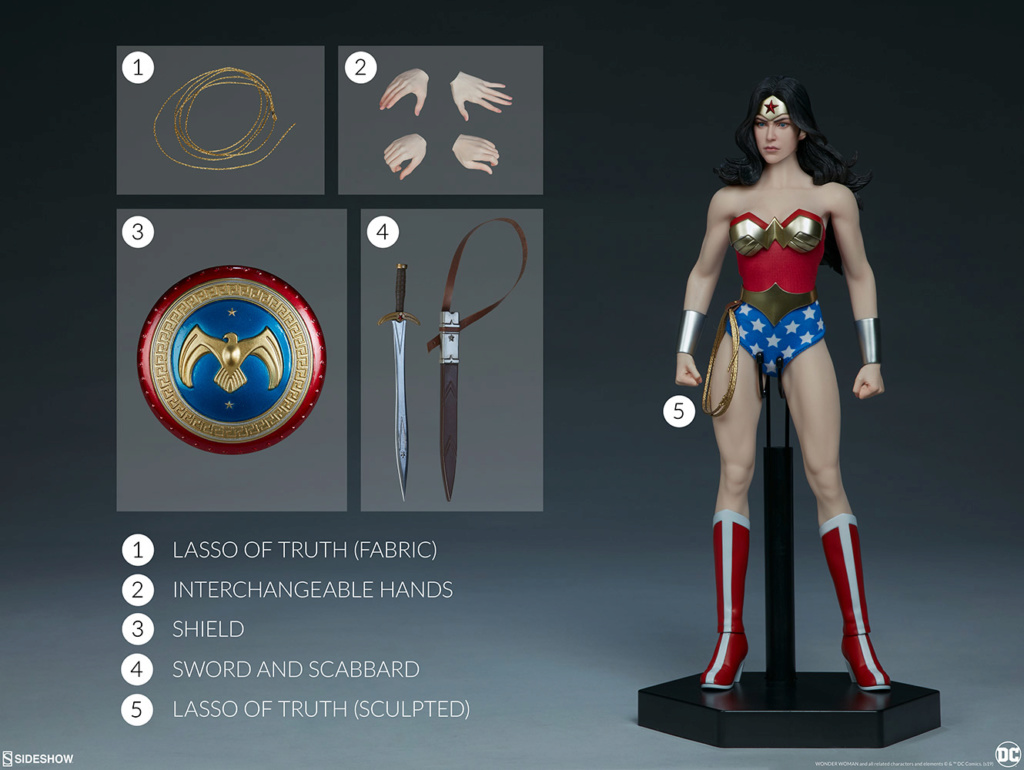 #newproduct
#Sideshow
#TBLeague
#Classic
#WonderWoman
#comicbook
#female
#DC
Introduction
It has been all Star Wars over the last week here, what with the Jabba Tatooine Skiff review (
HERE
) and the updated sixth-scale Sandtrooper (
HERE
).
To my delight, Hasbro has revisited "super" articulation in their "
classic
scale" (3.75") figures from their new
"Vintage Collection" (which was rebooted in 2018, after a hiatus since 2013). Among a large array of other figures, this year (2019) has seen the release of three imperial characters from
Rogue One
: Imperial Stormtrooper, a Death Star Gunner, and Imperial Assault Tank Commander.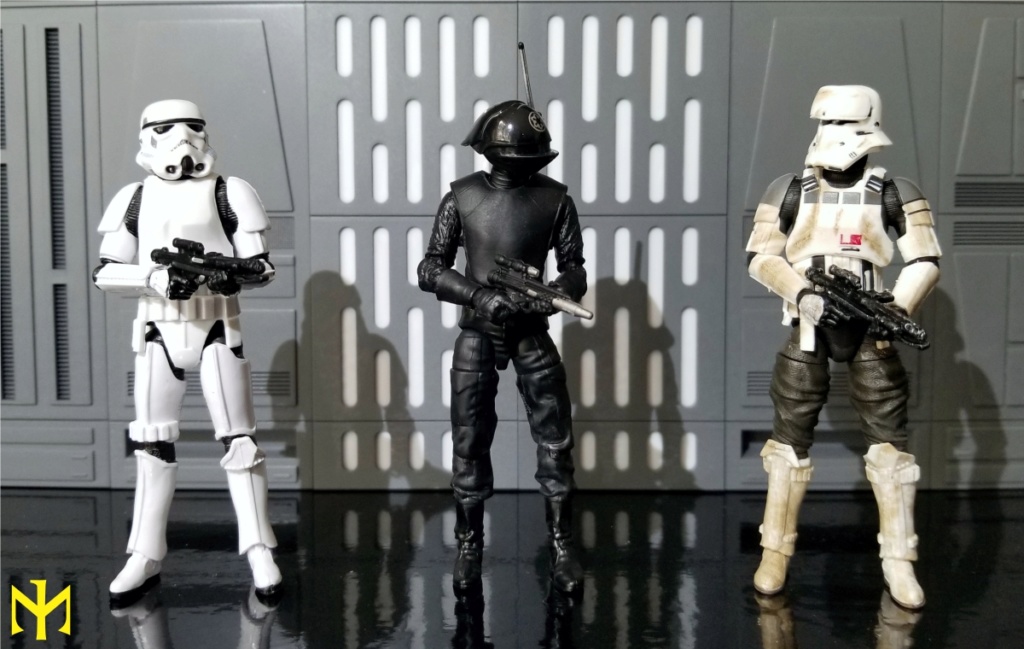 Packaging: 4/4 stars
Each figure comes packaged in a transparent plastic bubble on a
classic
-style card, complete with nice color photos of each character from the film and a blatantly nostalgia-exploiting "Kenner" label on it. For all of its obviousness, I do like and appreciate the packaging.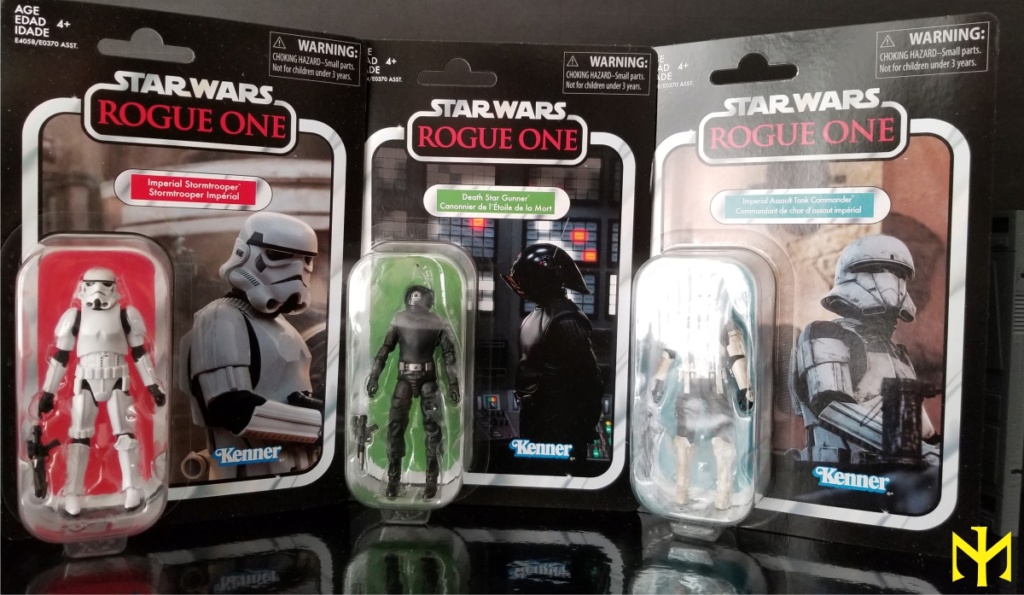 Sculpting: 4/4 stars Stormtrooper and Tank Commander; 3.5/4 stars Gunner
The sculpting appears to be excellent on all three characters, taking advantage of the apparent new techniques and possibilities developed over the period when the Vintage Collection was on hiatus. The Tank Commander and Stormtrooper are particularly well done; the proportions of the Gunner might be just a little bit off, with the helmet probably just a bit undersized, while its antenna looks far too thick, but would probably have been impossible to supply otherwise. Nevertheless, this figure features the same excellent complexity of detail as the other two, with the natural folds of the jumpsuit, the ribbed segments of the top, and the (possibly too subtle) patterning on the armor.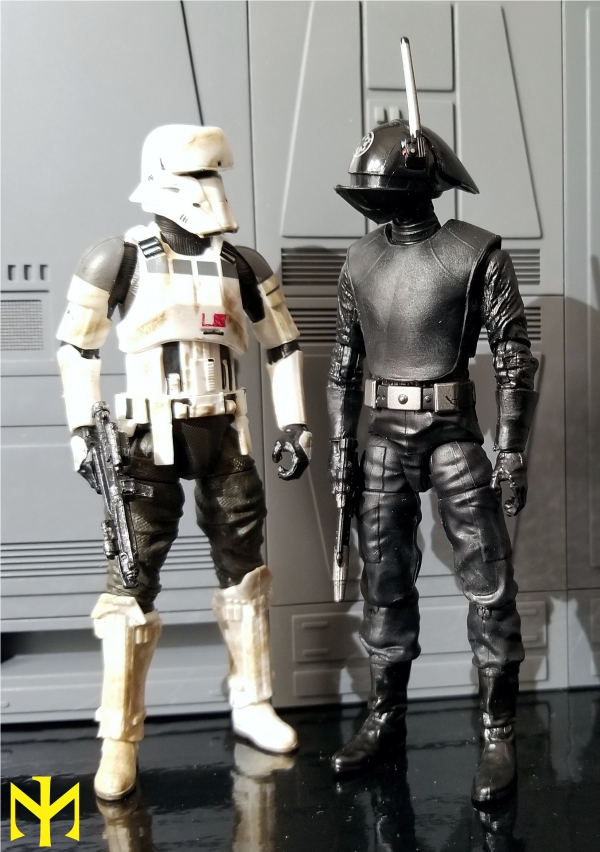 Paint: 3.5/4 stars Stormtrooper and Gunner; 2.5 stars Tank Commander
Overall, the paint work is really impressive, given the small size of the figures (just 3.75"). The Stormtrooper is actually surprisingly well-painted, though I realize I might have gotten lucky, and someone else might get a misaligned paint application; here the imperfections on mine are limited to a few specs of white (or exposed underlying paint at the joints?) on the black body suit below the armor. On the Gunner one can find just a little bit of silverish paint bleed on the belt, but again, given the size of the thing, this is still a very good quality application; the imperial "cog" crest on the helmet's forehead is applied flawlessly. When it comes to paint, the Tank Commander is the most complex and arguably most poorly executed figure of the three. Both the movie character and the figure are given a lot of weathering and dirt, perhaps inexplicably much. But it just does not translate as well on a figure this small, as opposed to what you might get in 1:1 or even 1:6 scale; this is most obvious on the helmet, where the weathering ought to have highlighted (or actually tarnished) the recessed lines, but does nothing of the sort, thereby reducing the likeness to the film appearance. On the other hand, the parts that should have received a precise and clean paint application on the Tank Commander are executed very well indeed.
Articulation: 4/4 stars
Each of the three figures features an excellent 16+ points of articulation (ball-jointed neck, shoulders, elbows, wrists, upper body, hips, knees, ankles, and swivel thighs. The joints are relatively well hidden and work very well, allowing for pretty much any pose one might want to recreate. The figures appear well-balanced and relatively easy to stand and pose. This is what action figures should be like when it comes to functionality, in any scale.
Accessories: 3/4 stars
Considering what we see the characters use on screen, the limited accessories we get (one blaster each) are adequate or more than adequate (we don't see the Gunners or Tank Commanders handle blasters -- I think). For what it is worth, each of the blasters features some nice painted detail (clean in the case of the Stormtrooper and Gunner, and very weathered in the case of the Tank Commander). That said, they are rather limited, although I suppose it would have been too much to ask to get a control panel background or cannon station with the Gunner, or an Assault Tank with the Tank Commander (though the tank is available separately!). I do not recall if regular Stomtroopers are seen with long blaster rivals or other alternative weaponry in
Rogue One
. Some of Hasbro's older figures (including Gunners/Englineers and Stormtroopers/Spacetroopers) had featured removable helmets, and their recent Han Solo in Stormtrooper disguise figure showed they could now make even the removable Stormtrooper helmet look as nicely sculpted, proportioned, and painted as the non-removable version we get here. (By removable helmet, here I mean one that fits over a separate sculpted head.) This might have been a relatively easy and sensible additional detail to which we are not treated. Hence the good but less than optimal rating in this category.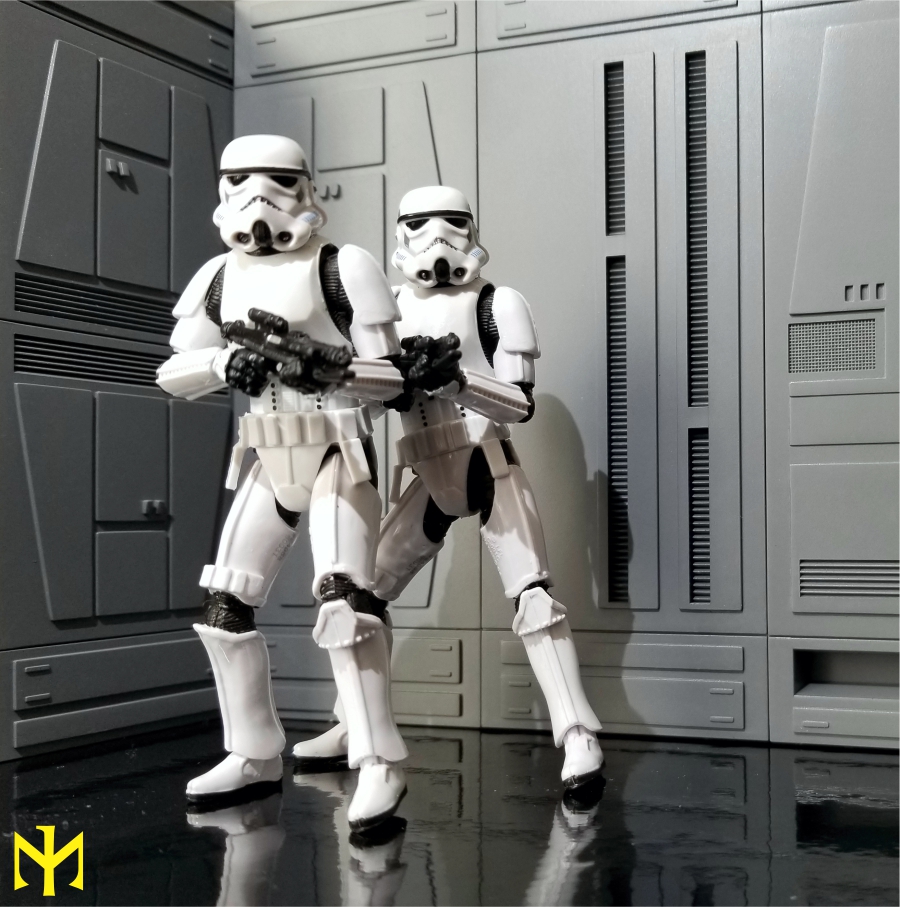 Outfit: 4/4 stars
Since everything is sculpted, this is about general appearance. As I noted above about the Gunner, the clothing elements are nicely sculpted and include plenty of detail, like ribbing on the Gunner's top and the tiny segmented (ribbed) surface of the Stormtrooper's black body suit. It should be noted, again, that these figures are based on the unit types' appearance in
Rogue One
. Thus, the Stormtrooper sports a rectangular side button on his abdominal armor, and has a little indent running along the top of the protruding section on his upper back. The Gunner's top does not feature the imperial "cog" emblem on the sides of his upper arms at the shoulders, which were there on both the ribbed top and on the underlying jumpsuit in the Original Trilogy. While I don't think these changes from the Original Trilogy look were advisable, those were questionable choices on the part of the filmmakers, not Hasbro, and the figures are accurate to their stated source,
Rogue One
.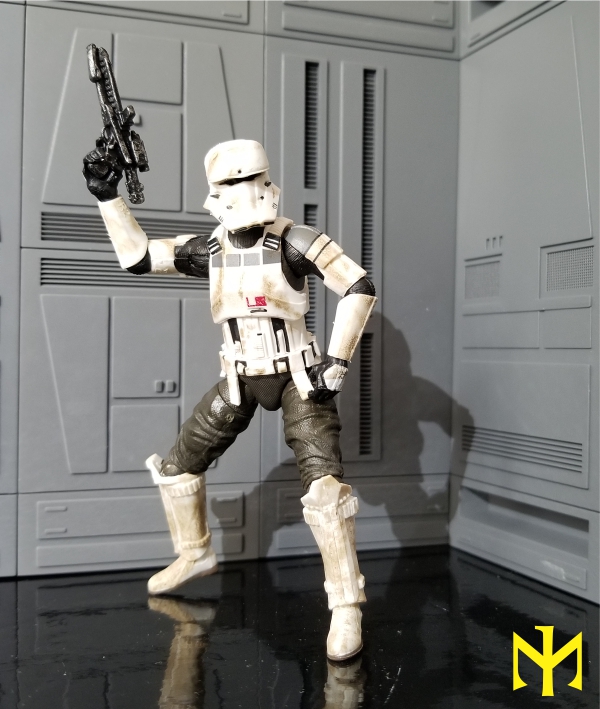 Fun Factor: 4/4 stars
With their good proportions, faithful detail, and excellent articulation, the new imperial figures from Hasbro lend themselves to plenty of fun display options; and we should not forget that although they are bound to appeal to collectors, these
are
actually toys for children. With Hasbro seeming to produce more sets and vehicles (in this instance, most pertinently, the Assault Tank), there should be additional possibilities for playing with or displaying the figures.
Value: 3/4 stars
While the figures are awesome for adult collectors, they are also supposed to be mass-produced toys for children. That is where the cost of about $15 (USD) per figure is not exactly cheap, although the product quality in appearance and articulation has improved over preceding versions (if any) in every way, and product costs in action figures have been rising across the board. It is a rather tolerable price compared to the larger-scale figures we might look to (e.g., those in 1:12 scale).
Overall: 3.6/4 stars
For action figures in the 3.75" line, these little guys are almost perfect and I think better than any previous iterations. I had previously showcased a simple kitbash to produce a perfect or near perfect Stormtrooper in this scale (using the Rogue One under-articulated figure's fine helmet and the older Vintage Collection's Spacetrooper body,
HERE
), but you no longer need to do that to get an even more perfect Stormtrooper: you can simply pick up the new Vintage Collection
Rogue One
version. Similarly, despite the unfortunate design changes (as to imperial emblem at the shoulders) in
Rogue One
, this is the best articulated Gunner we have gotten.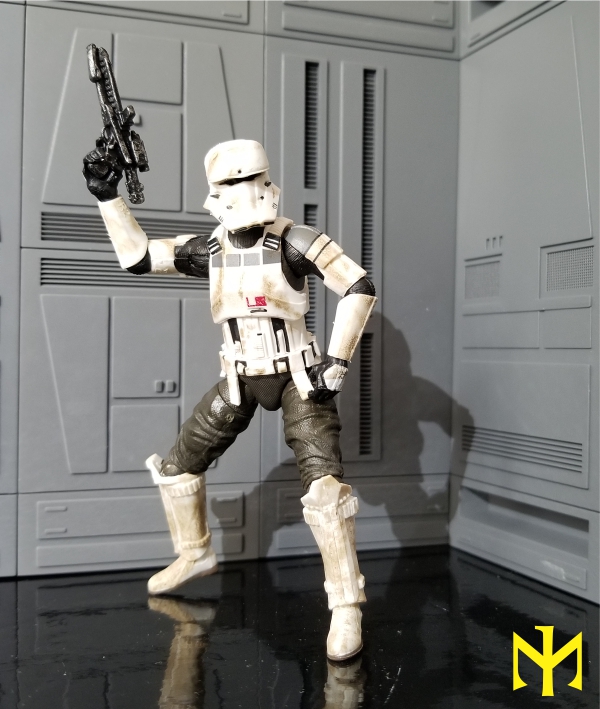 Things to watch out for
Since these are technically intended for children, they are relatively safe and cause little concern. The blasters are small enough to lose or misplace easily, so keep an eye out for that. I imagine that, if carelessly stored, the antenna on the Gunner's helmet might end up bending in an unfortunate manner.
Where to Buy
Some of these are already widely available in the States, while others (the Stormtrooper) appear to be at the pre-order stage at most places. You can look on eBay or Amazon or here (for example) :
Big Bad Toy Store for $15-16
Entertainment Earth for $14 (Stormtrooper)
Atomic Universe for $14.25 (Stormtrooper)
Hope this was helpful. What do you think?
#starwars
#classic
#vintagecollection
#hasbro
#galacticempire
#stormtrooper
#deathstar
#gunner
#assaulttank
#commander
On March 25th Executive Replicas posted an interesting teaser. In collaboration with TBLeague comes a machine Maria from Metropolis. Taken from a German website: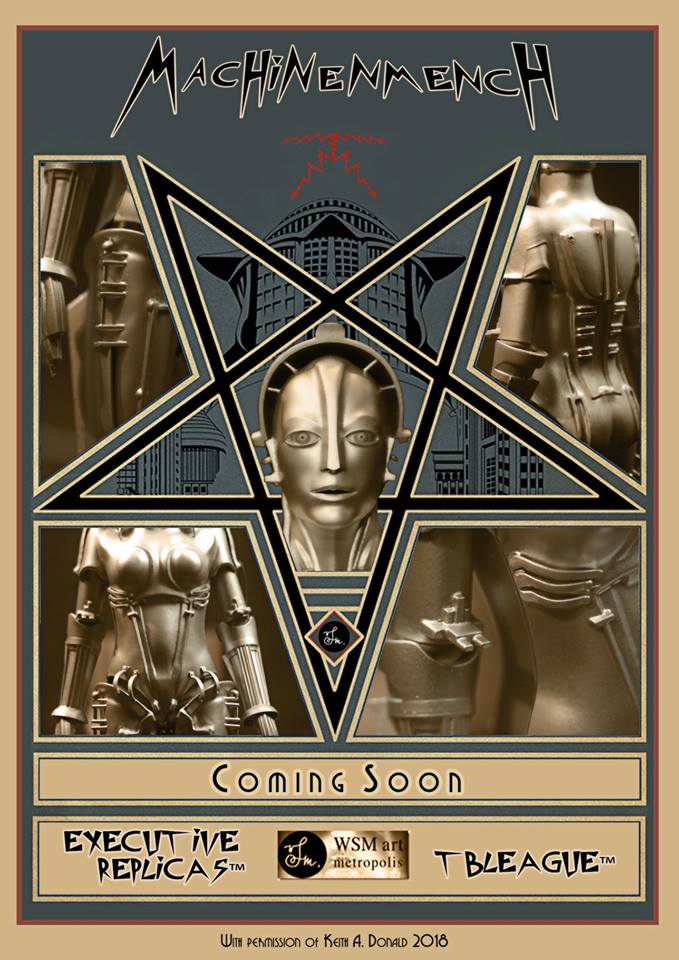 #teaser
#ExecutiveReplicas
#TBLeague
#Maria
#Metropolis
#Female
#Robot
#Sci-Fi
#Classic
#silentmovie
Search found 5 matches for classic