As someone with a modicum of understanding films and with a decent grasp on the relevant history and literature, I did not enjoy the movie
Troy
. And that is an understatement. Despite all the acting talent and detailed costuming, etc., there is so only so much you are going to get out of not only butchering Homer in the first place, but also failing to deliver anything decent in the end. But enough about that. Pangaea produced two very nicely detailed sets based on this film, Greek General (Achilles) and Trojan General (
Hector
) -- I reviewed the latter HERE. The head sculpts are not quite at the apex of sixth-scale detail (of course they are from a few years ago), and the hair in particular suffers from thick stranding and bland coloring. But they are still pretty good and that made me think of possible improvements. In the case of
Hector
(Eric Bana), the head sculpt was designed with a removable hair piece so that it would fit well inside the tight helmet. The hair piece was made from fairly hard plastic, included the pair of rather stuck-out ears, and did not fit very well over the armor. This head was a natural for conversion to actual hair.
First I covered the magnet atop the head with a thin layer of Kneadatite that I painted in a flesh-like color. When this cured/dried, I followed my usual Morezmore-based technique of gluing on tufts of hair around the head starting from the bottom by the neckline (you can see the method in more detail
HERE
). I picked a relatively curly/wavy dark brown to match the on-screen appearance. After finishing and leaving it overnight, I removed any loose strands, gave it a rinse and then applied a solution of water and shampoo+conditioner to get something like the desired style; the hair tie in the back is a bent piece of flat wire (I might add a few of the other optional hair bling pieces down the road). I also did a little bit of grooming and some touch ups on the paint job with acrylics and color pencils to improve the likeness a little more. I think it turned out ok.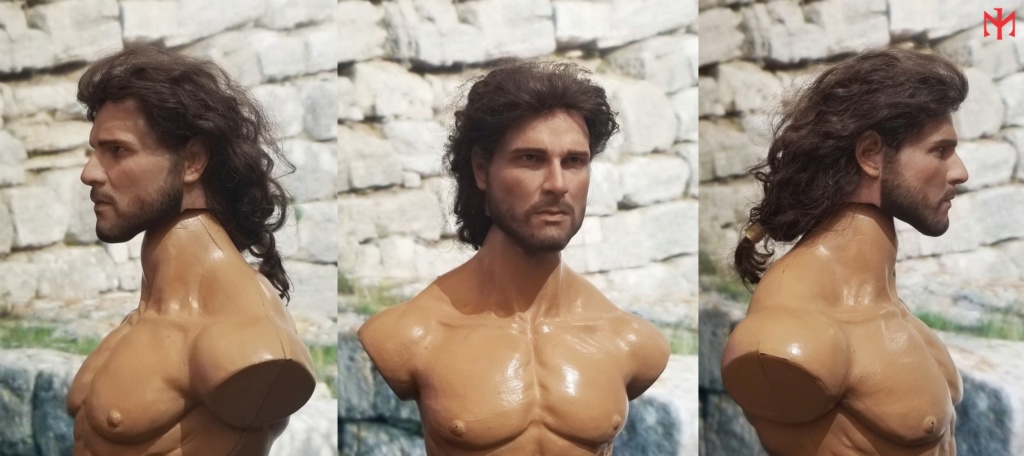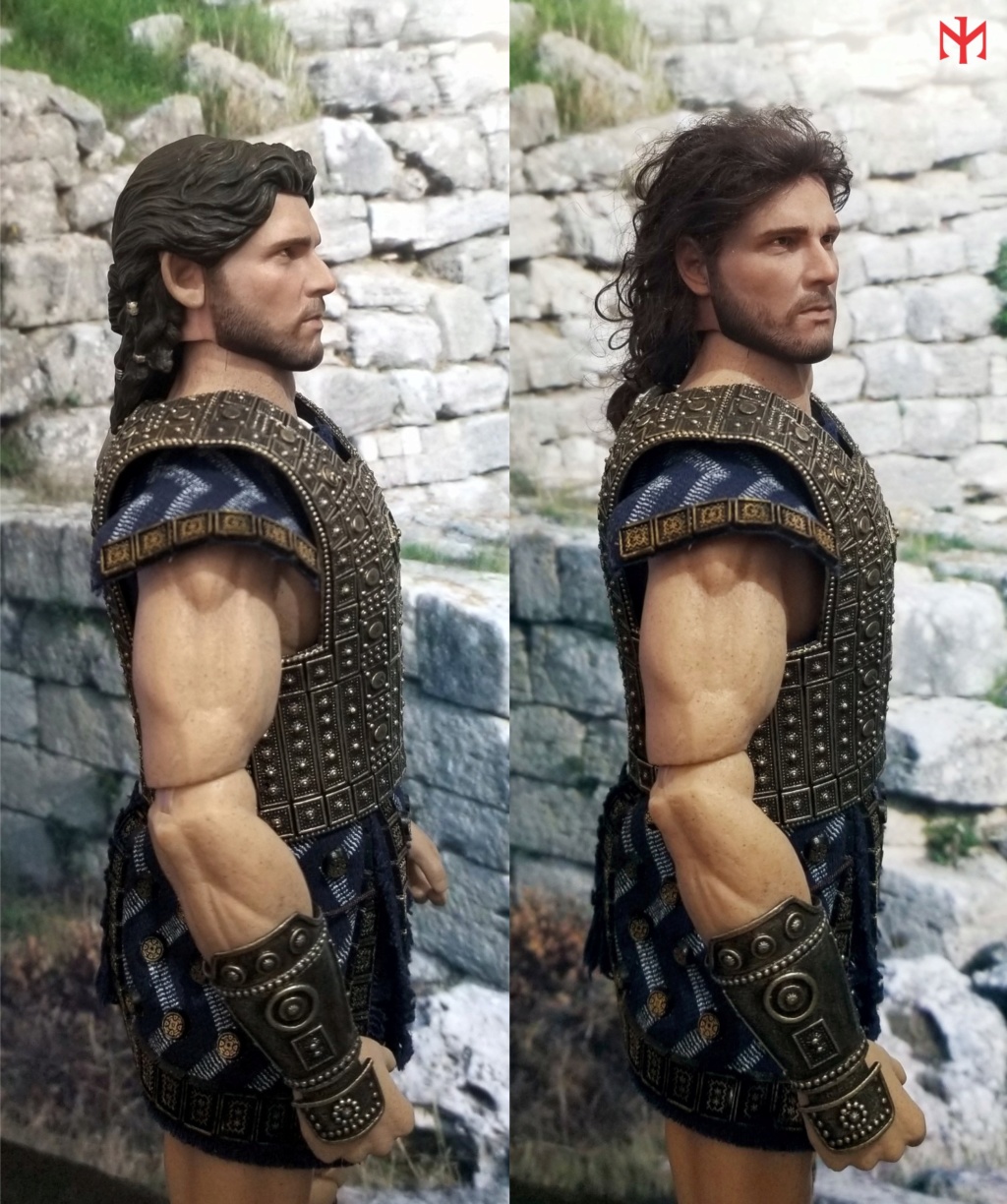 original set (left); modified set (right)
What do you think?
Other head conversions:
https://onesixthfigures.forumotion.com/t2006-converting-jason-momoa-ht-aquaman-head
https://onesixthfigures.forumotion.com/t2126-converting-arnold-schwarzenegger-kp-conan-head
https://onesixthfigures.forumotion.com/t2335-converting-sebastian-stan-ht-bucky-barnes-head
https://onesixthfigures.forumotion.com/t2471-converting-bernard-hill-asmus-king-theoden-head
#custom
#kitbash
#hair
#ericbana
#hector
#troy
#pangaea
#trojangeneral
#male
#film
#ancient