I will freely admit that I know precious little about modern weaponry, and all this is perhaps already well-known to many of you, but here it is all the same. I don't specialize in modern military, though I have bought some military sets and plenty of their parts, uniforms, etc, for various 1/6 uses. Apart from this, customizing a real world weapon to achieve a more film-accurate one for my Sideshow Dengar got me to pick up a 4D Gun Model
MG42
model kits (see the
Dengar gun thread
and below). To improve on my first custom I picked up another two (the model kits are quite affordable), then grabbed a couple of different models -- one of those a M134 minigun for my T-800 terminator.
The three model kits I am showcasing here are M42, M134, and M1 Super 90. Other models made by 4D include AK47, DSR1, M16A4, M82A1, QBZ-95, M14EBR, ARX-160, HK416, MG62, MSR, FN SCAR, SL8 (some of them misspelled on the promotional images, e.g., AK74 and M14BER or MI4BER).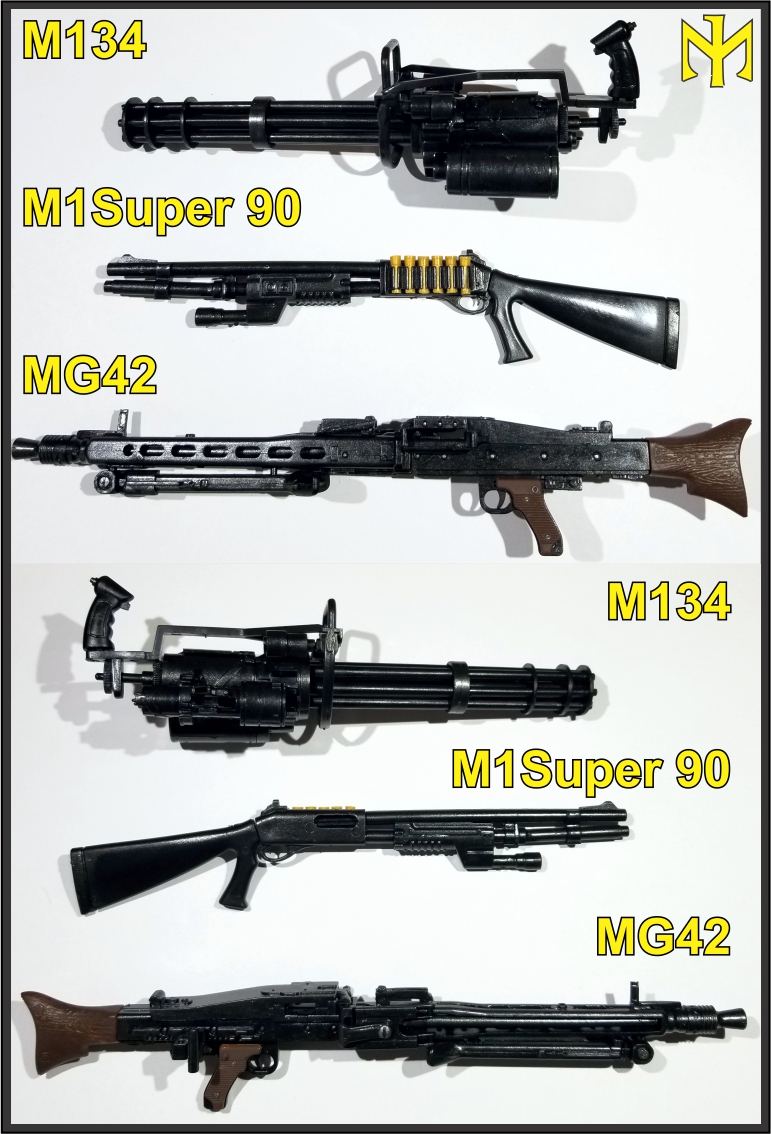 The model kits come unpainted, most pieces molded in black plastic, some (representing wood) orange, with some bits and pieces of sprue yet to be cleaned up. I have painted them with Vallejo acrylics, mostly using combinations of gunmetal grey and oily steel for the metal parts and various browns for the wood. Each model kit comes with a basic instruction sheet, which is of variable usefulness, especially for the more complex pieces, such as M134 (the smallness of the images is not very helpful, especially for someone not very knowledgeable about guns). Here is the relevant example: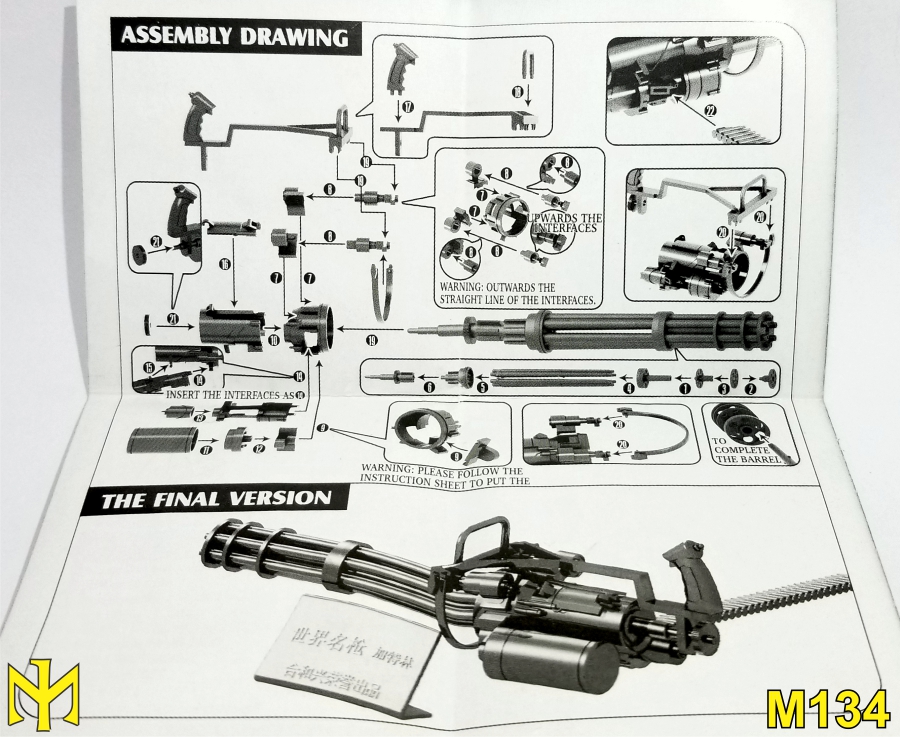 The choice of accessories varies, but the munition is made of soft golden-orange rubber (as can be seen in the photos below). The main downside is that this material would be difficult to paint in a more realistic manner. M1 Super 90 has a little basic display stand, allowing you to stand it on its handle. Each of the assembled models has movable parts, as many as four of them on the M42.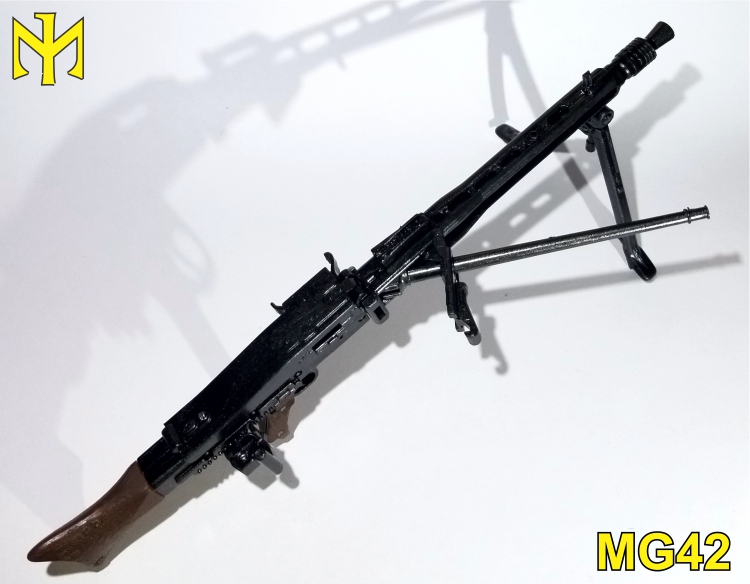 Overall, the models appear to be of good (though not infinitely fine) detail, size, and proportion. Here are a few photos with a random basic military kitbash (I pulled it together in a couple of minutes, it is not intended to represent any particular unit).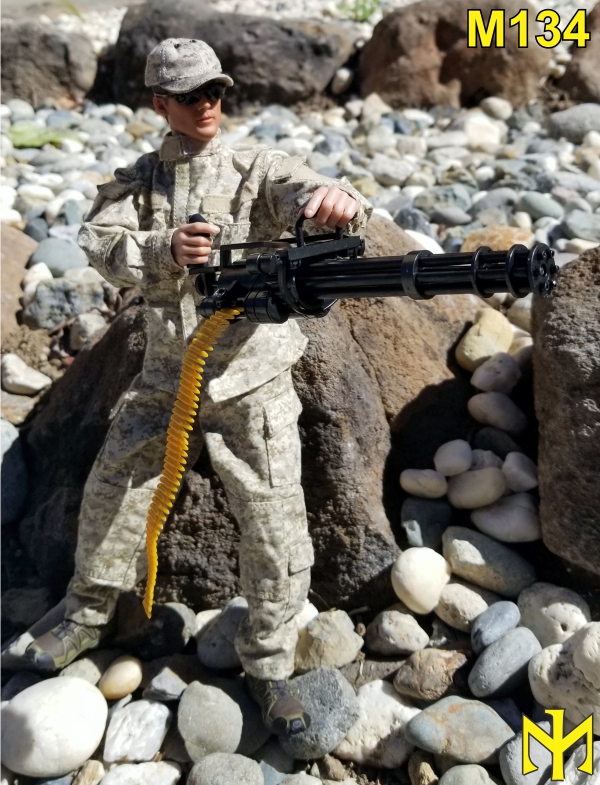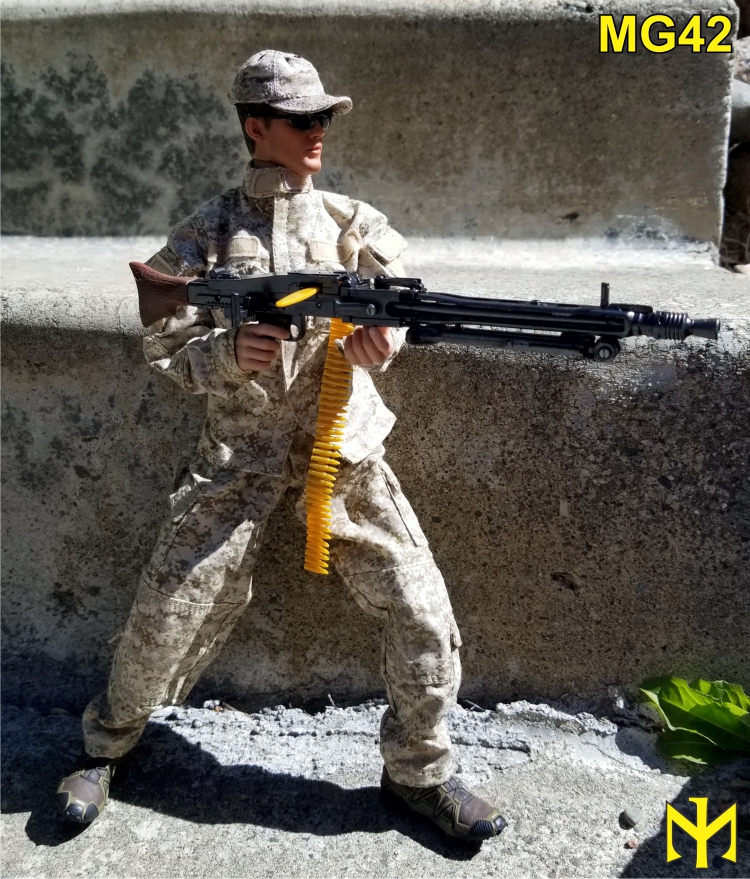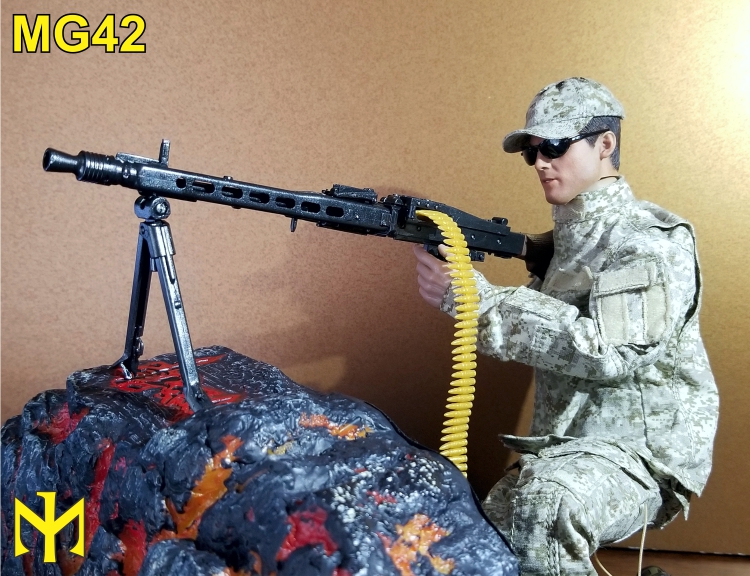 I got mine on eBay, where these sets are available from different sellers (mine was toyparadise2017_9), listed slightly inconsistently.
Overall, I think they provide a reasonably viable and affordable option for 1/6 weapons needs.
What do you think?
#gun
#m1super90
#mg42
#m134
#model