Since there is some interest in non-seamless
ripped
male bodies in 1:6 scale, here is a brief review of the World Box AT027 body that I received some time ago.
It comes in the traditional simple cardboard box and synthetic trey packaging, which keeps everything comfortably safe and sound. Nothing flashy here, but certainly adequate.
The AT027 body represents a fairly
ripped
type, more so than their earlier versions along these lines, but also not quite as extreme as what we see in modern body building. The body stands about 13 inches (33 cm) in height if you add a head sculpt (not included). The sculpting is excellent, with lots of medium and minor details representing muscles and veins, and even hairs. The only real problem is the continued tendency for these World Box bodies to have an extra long neck.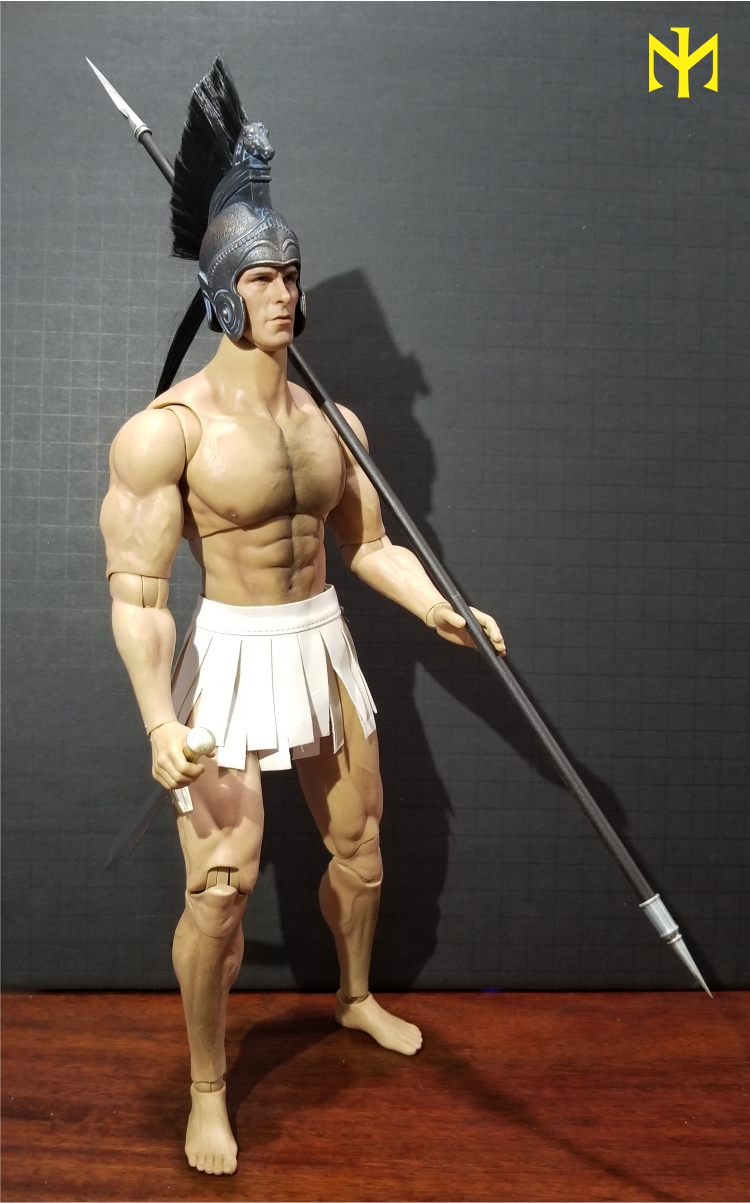 Unlike so many base bodies on the market, and unlike some of World Box's more recent installments (which capitalize on articulation but compromise appearance), the body is painted in a somewhat blurry, subtle manner, most notably the areas where one would expect most body hair (chest, abdomen, lower legs, but for some reason not the forearms) and also the nipples.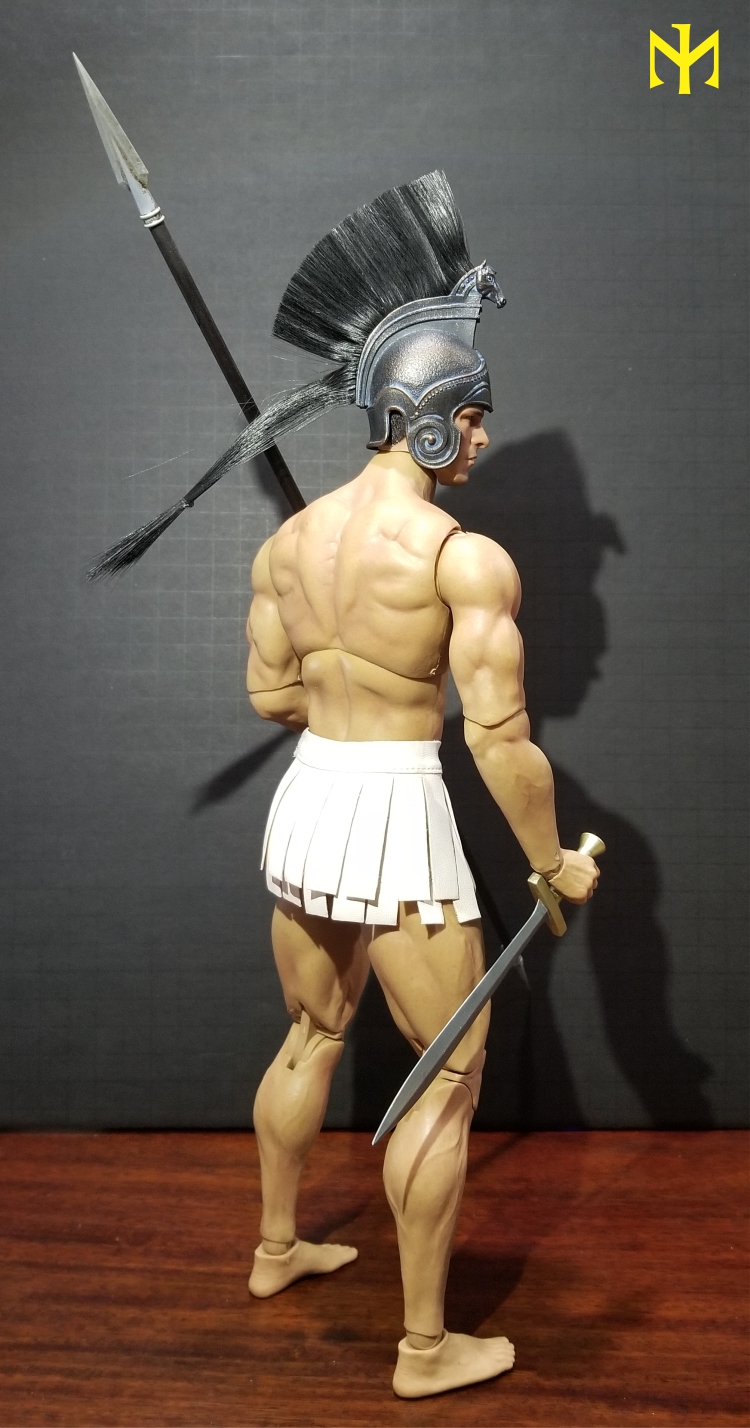 AT027's articulation is good without being perfect, at least in theory. The ankles, double-jointed knees, wrists work great; there is very little ab crunch (though you can articulate between the chest and the abdomen) but the upper torso can rotate around the waist; the upper legs can come out from the hips almost at 90 degrees, allowing for sitting and kneeling positions. The shoulders include some attempt at more extensive articulation, but it is not very effective; the elbows are single jointed, though they do allow for a 90 degree bend; neck articulation is non-existent except for rotating and tilting the head atop it.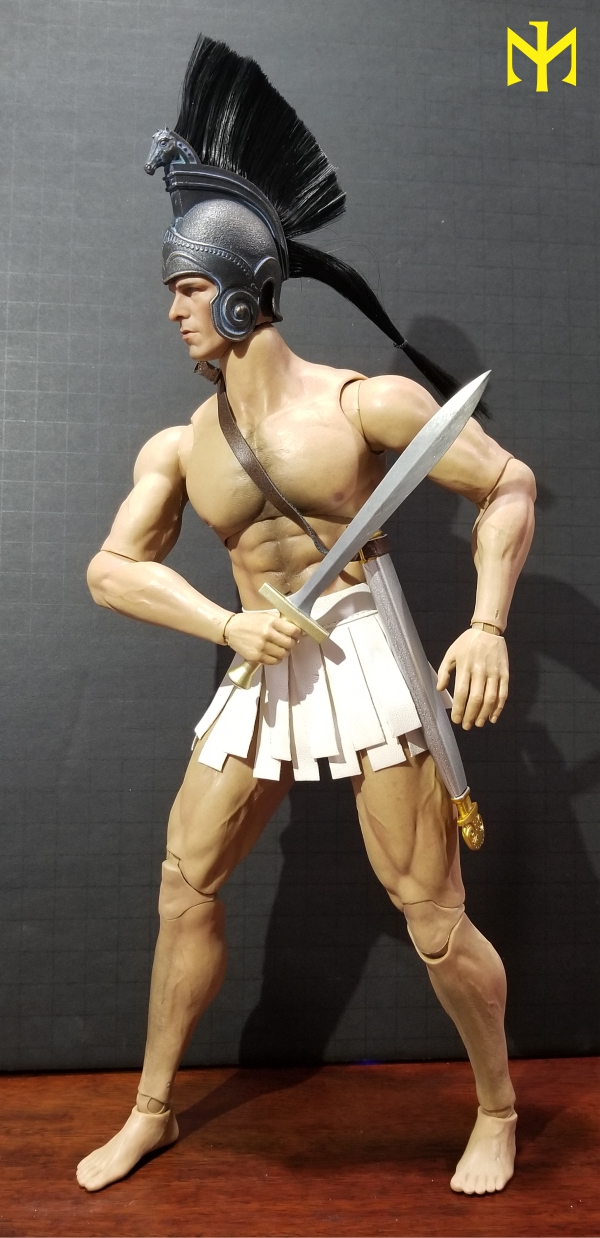 I don't know if this problem is limited to my purchase or systemic, but I noticed that while some of the joints were very tight, most were unusually loose. This is even more of an annoyance than usual, because World Box bodies are hefty and heavy, with a higher center of gravity, and require more care and precautions to pose them standing; with the fairly loose ankles (more specifically the fit between the foot and the ankle peg), these challenges become more challenging.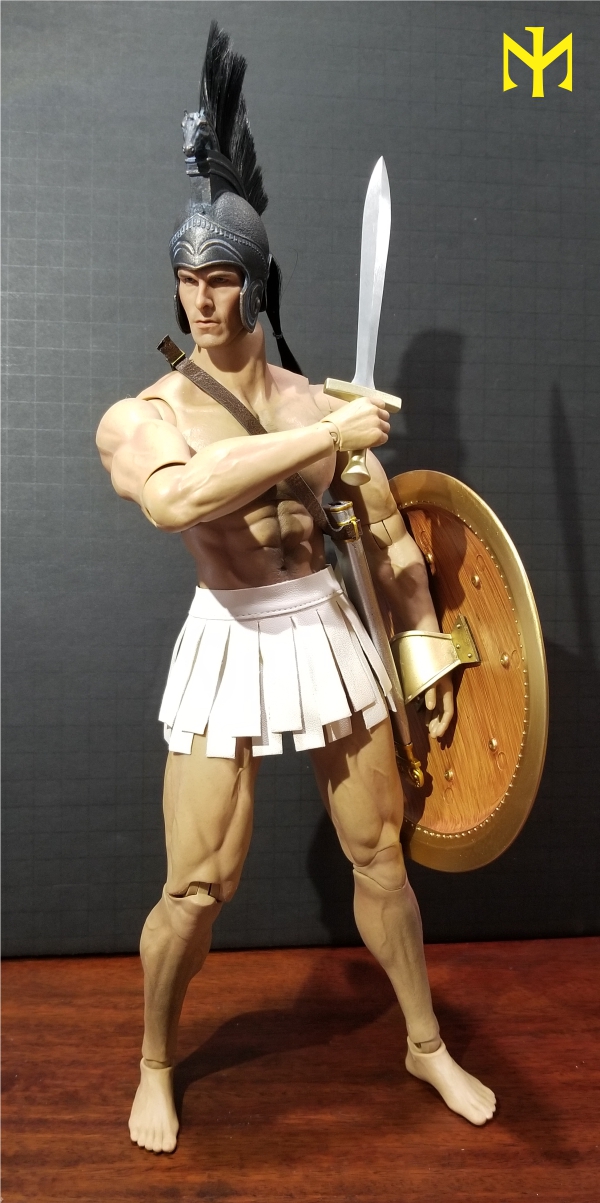 As a base body, AT027 does not come with a plethora of accessories, apart from some alternate parts, namely three slightly different neck connectors and four interchangeable sets of hands: relaxed hands, fists, knife grip hands, trigger hands. These are nicely sculpted and fit easily enough onto the wrist pegs. The feet are also removable.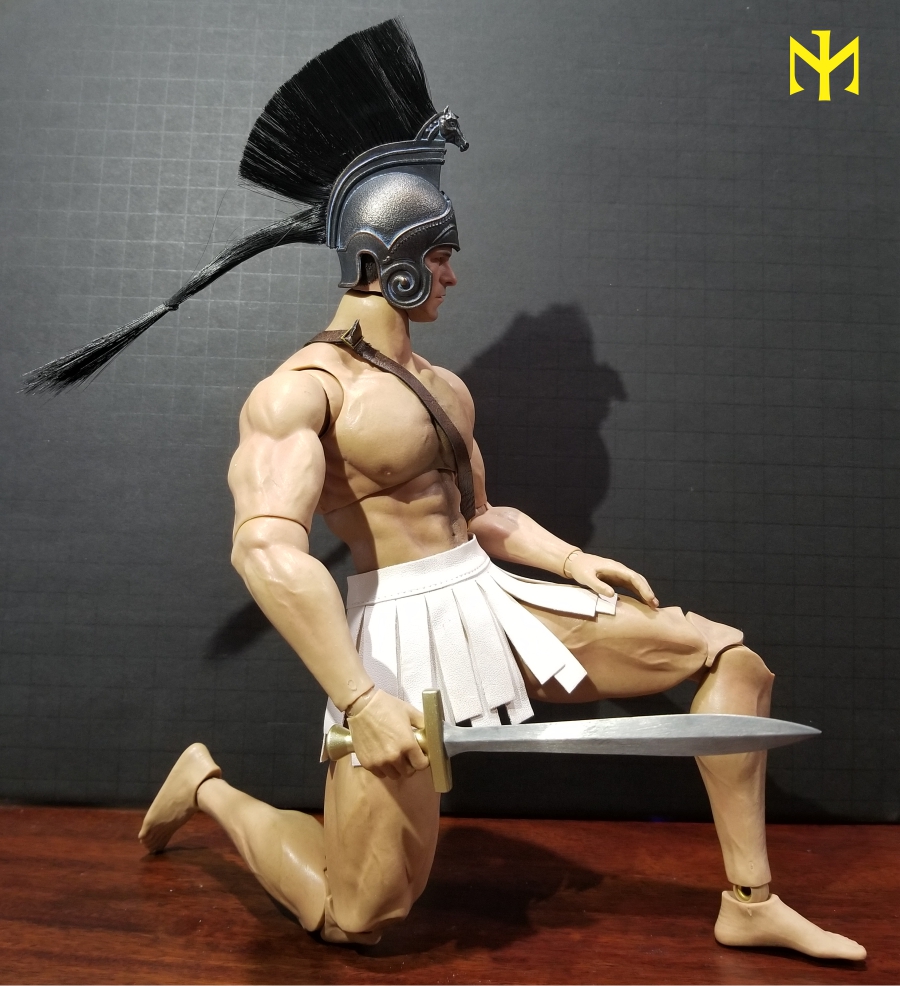 The figure does not come with any clothing, which is not altogether surprising for base bodies. What I chose for the photos was designed to show off as much of the body as possible while keeping things clean (the body is anatomically correct or complete).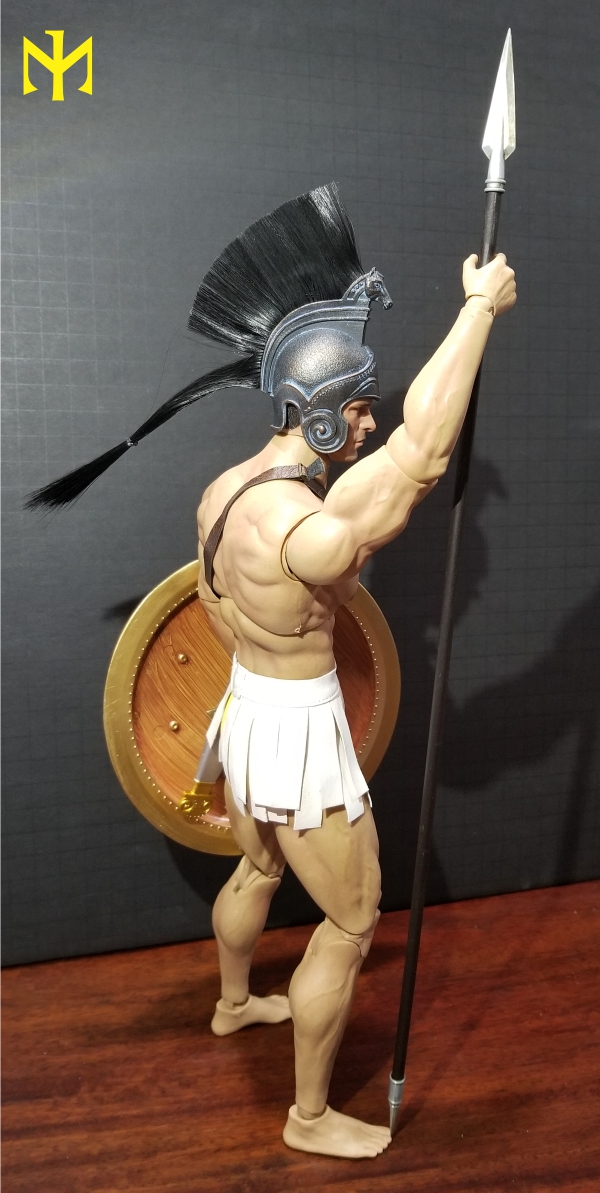 The loose joints and the figure's tendency to lose balance due to its heft can be an ongoing concern when handling, posing, and photographing the product. Otherwise, its good articulation and appearance make it a nice option for kitbashers and customizers. AT027 sells for nearly $60 (US). Its durability and realism go some way to justifying this prices, as does the overall rise in the prices of pretty much everything sixth-scale (especially higher-end sixth-scale) these days. But if the loose joints issue is widespread or universal, the quality of the product would be compromised and the price would be far more difficult to justify.
Overall, AT027 represents a fine addition to the line-up of World Box bodies. They have fallen into two categories: bodies that strive to convey a realistic look (via sculpting, details, completeness, un-ideal characteristics, etc), and bodies that attempt to improve the articulation at the expense of the appearance (and are therefore best covered up completely). This dichotomy or conflict epitomizes the choices any company producing sixth-scale bodies has to make. AT027 belongs in the former category, where the look is more important than articulation, although some elements would seem to contradict this, for example the very distracting double-jointed knees: they work very well but are quite hideous. Perhaps I have been resorting to seamless bodies too long...
If you are looking to get yourself a World Box AT027 body, you can check in all the usual places, including eBay, or some of the stores listed below (among others).
Big Bad Toy Store $60
Cotswold Collectibles $58
Monkey Depot $58
Timewalker Toys $58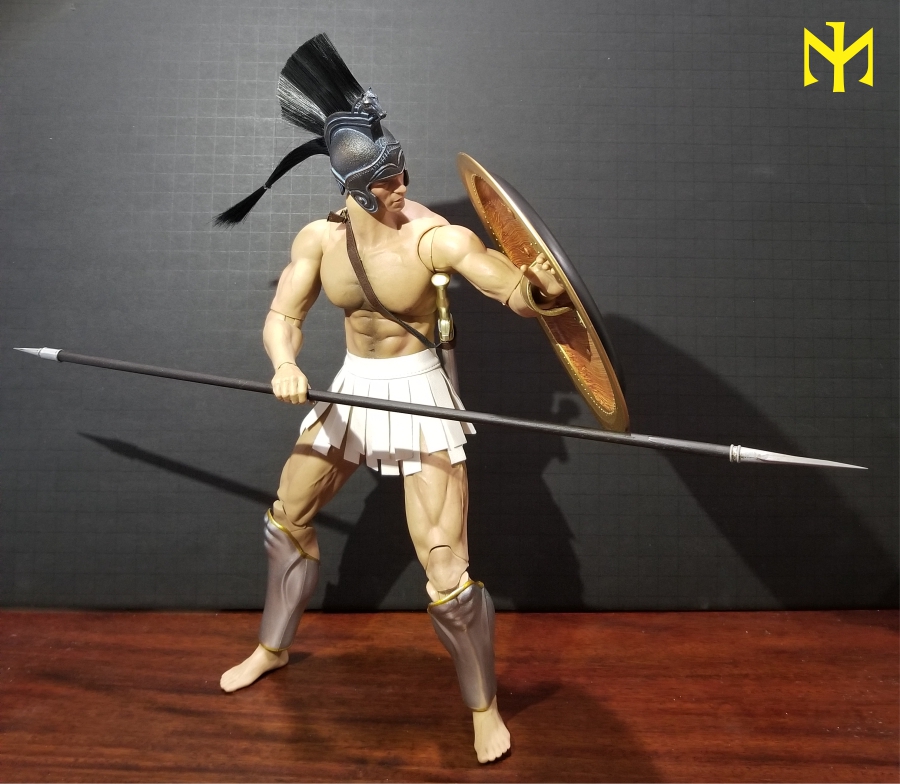 Hope this was useful. What do you think?
#productreview
#worldbox
#at027
#male
#muscular
#ripped
#body