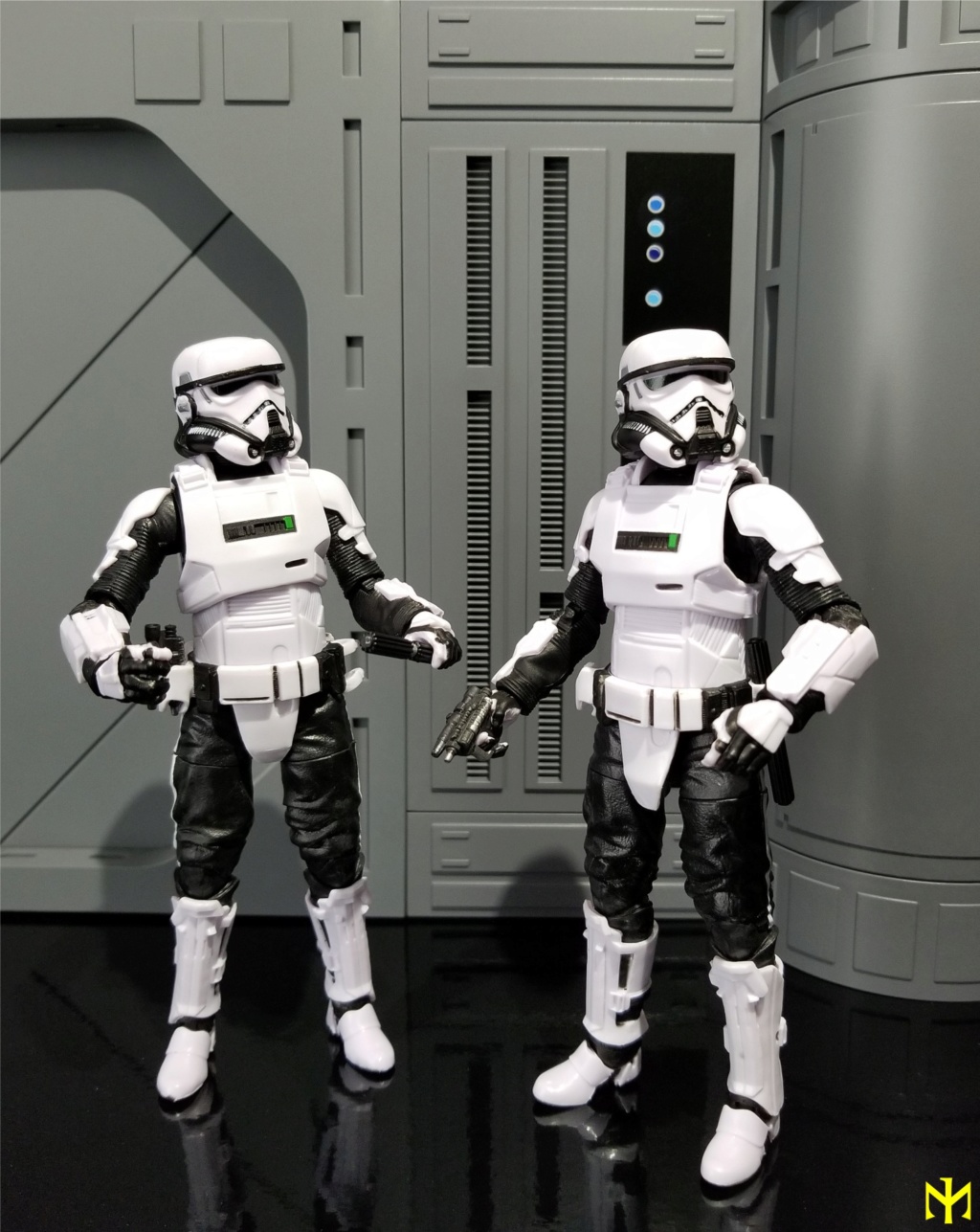 Introduction
I usually review 1:6 scale figures, and this is only my second 1:12 scale review. The previous one was of the "Death Squad Commander" (i.e., imperial naval guard) from the Original Trilogy, and you can find it on Michael Crawford's action figure review site HERE. I intended to post this review a few days ago, but most of the photos I took ended up becoming the SpaceCops photo story you can find
HERE
. Since you can find a ton of images there, I am keeping the illustration for this review very minimal.
The Imperial Patrol Trooper made his appearance in
Solo: A Star Wars Story
, one of three or four new imperial trooper types (depending on how you count). While I am usually reluctant to embrace additions/changes to what I consider canon (i.e., the Original Trilogy), despite his minor appearance, the Patrol Trooper more or less won me over, so I got a couple of the six-inch figures when they came out. In the grand tradition of Star Wars costume design, the trooper is essentially a hybrid between the looks of a standard Stormtrooper and Scout Trooper (AKA Biker Scout), with the overall effect also somewhat reminiscent of some of the Clone Trooper and
Rogue One
additional designs.
Packaging - 3.5/4 stars
I got rid of the boxes as soon as I opened them, so I am showing you the image used on Amazon. These are the standard boxes employed for 6-inch figures in the Black Series (except for the 40th Anniversary cardback versions). Once you open the box, everything is safe and collector friendly without any annoying tape, ties, or rubber bands. Nothing terribly innovative or exciting (they weren't going for that), but perfectly good.
Sculpting - 4/4 stars
Since everything you get with this product is sculpted, this category covers the entire look of the figure and its accessories. The sculpt appears to be both accurate and nicely detailed. The smooth texture of the armor contrasts with the ribbed long-sleeved top underneath it, as well as the texture of the leather pants. The tiny details on the armor and outfit are sculpted in attentive and precise detail, and the joints are reasonably unobtrusive in appearance.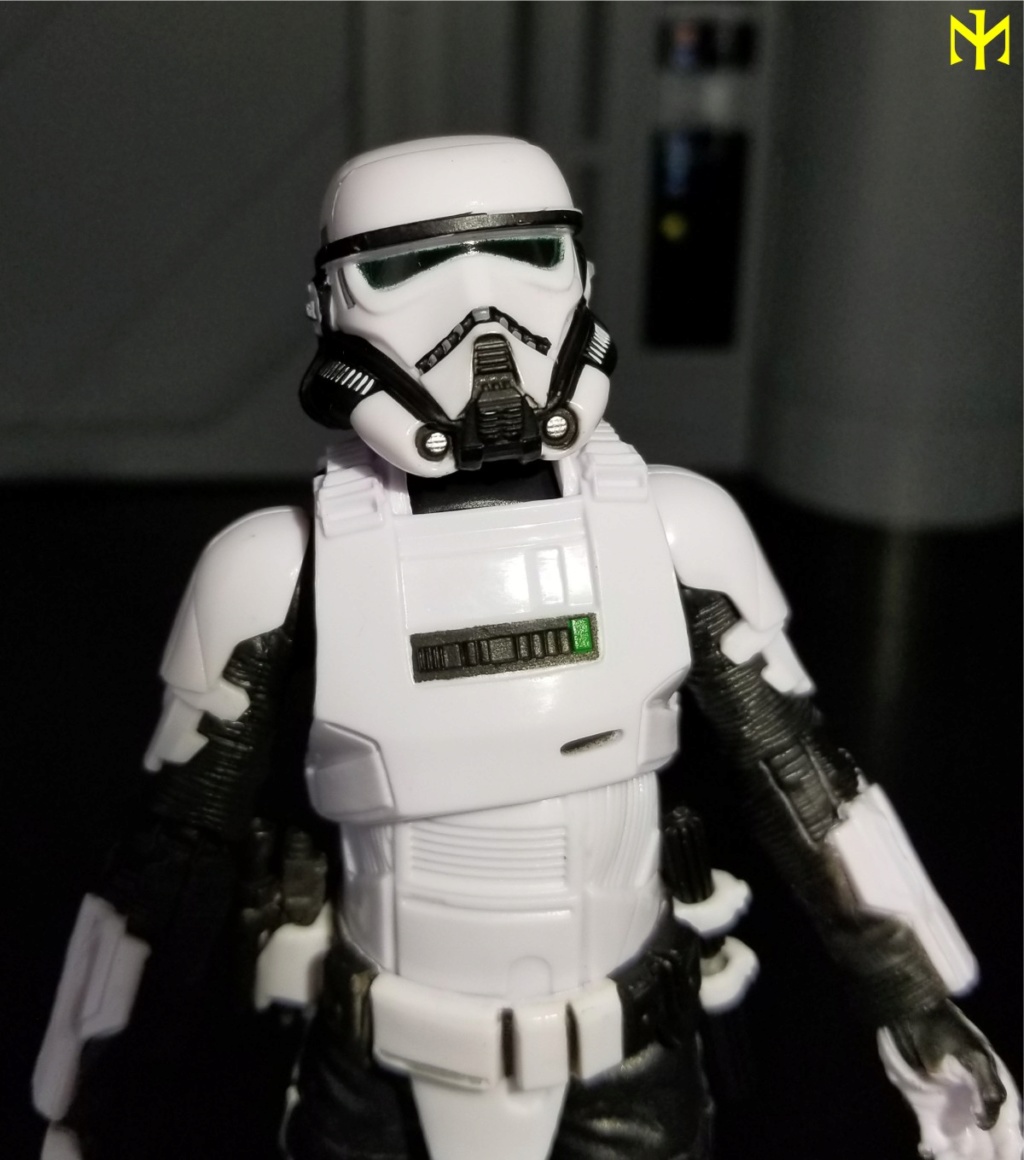 Paint - 2/4 stars
The paint quality of Hasbro's 6-inch Star Wars Black Series figures has varied from product to product, and here it falls short of where it should be. In contrast to the clean and precise sculpt, the paint job is quite sloppy, at least on the two figures I got (I have seen other in-hand images where at least some of these issues were not present). Take for example the black brow rim on the helmet in the photo above: on both of my figures it looks completely painted on one side and half painted (lower half) on the other. Or consider the trapezoidal parts on the back of the helmet and the recessed panels on the back of the armor in the photo below, where the paint application was applied out of alignment. Yes, I realize these are tiny 1:12 scale figures, but Hasbro should and could do better, as they have demonstrated on occasion before. Again, this does not appear to be consistent from figure to figure, and if you are browsing in a store and have a choice, look carefully at what you pick up.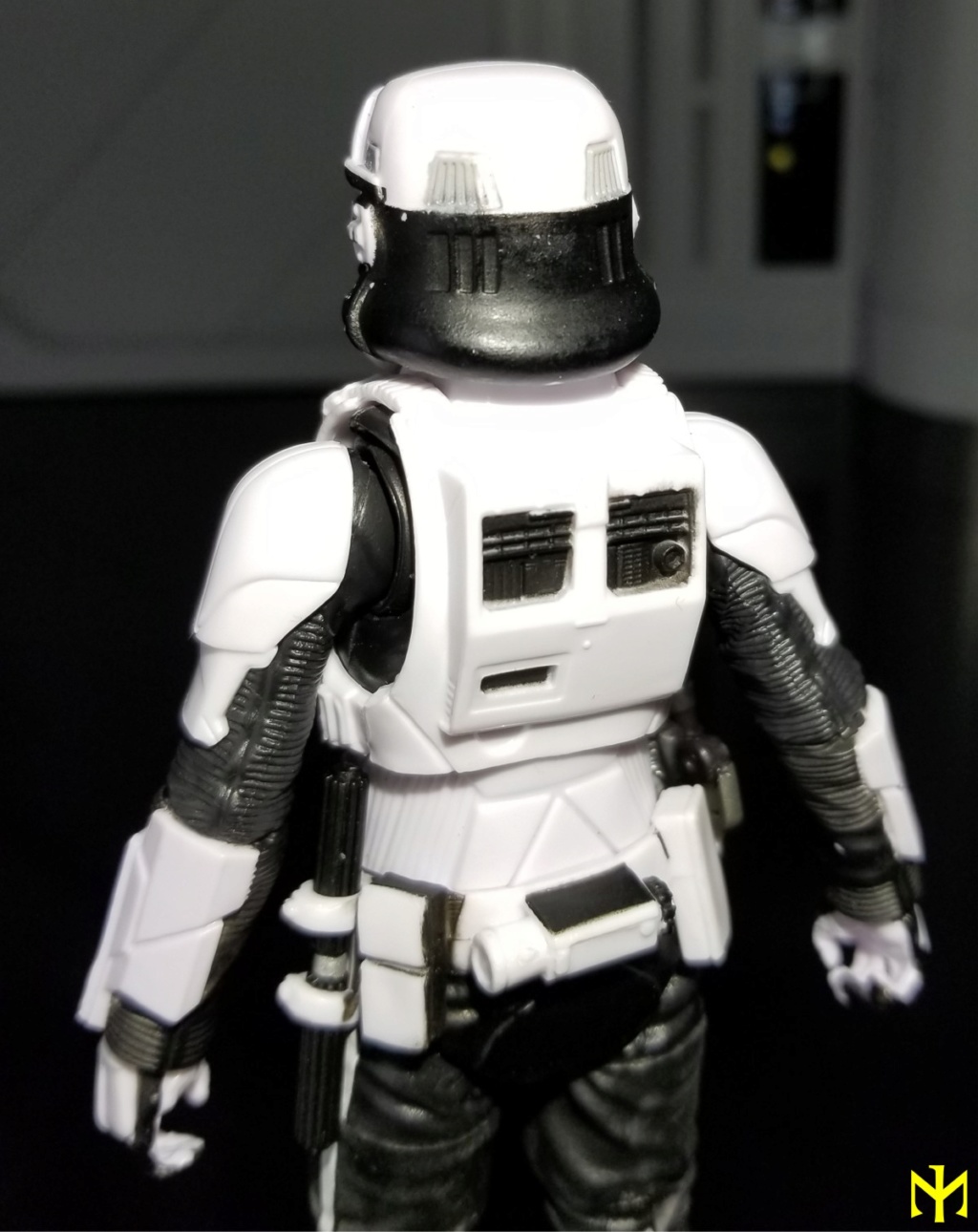 Articulation - 3.5/4 stars
Overall, the articulation of Hasbro's 6-inch Patrol Trooper is very good, although some of the joints (especially elbows and upper knees) were disturbingly stiff and I worried about breaking them as I tried to bend them; a hairdryer might come handy if you have the same experience. The elbows are single-jointed but allow reasonably good articulation, while the knees are double-jointed. In theory the head, torso, and ankles have good articulation, too, but there the armor design does impede it somewhat, without rendering it useless. While the upper torso can swivel/rotate and lean, the lower torso appears to be a single piece under the belt and groin protector. With some encouragement and care you can get good articulation at the shoulders, and the lower arms and upper and lower legs can rotate around their axis independently. The hands can rotate at the wrist better than they can bend, again due to the design of the armor/outfit. Due to the overall good articulation, you can get and maintain wide stances.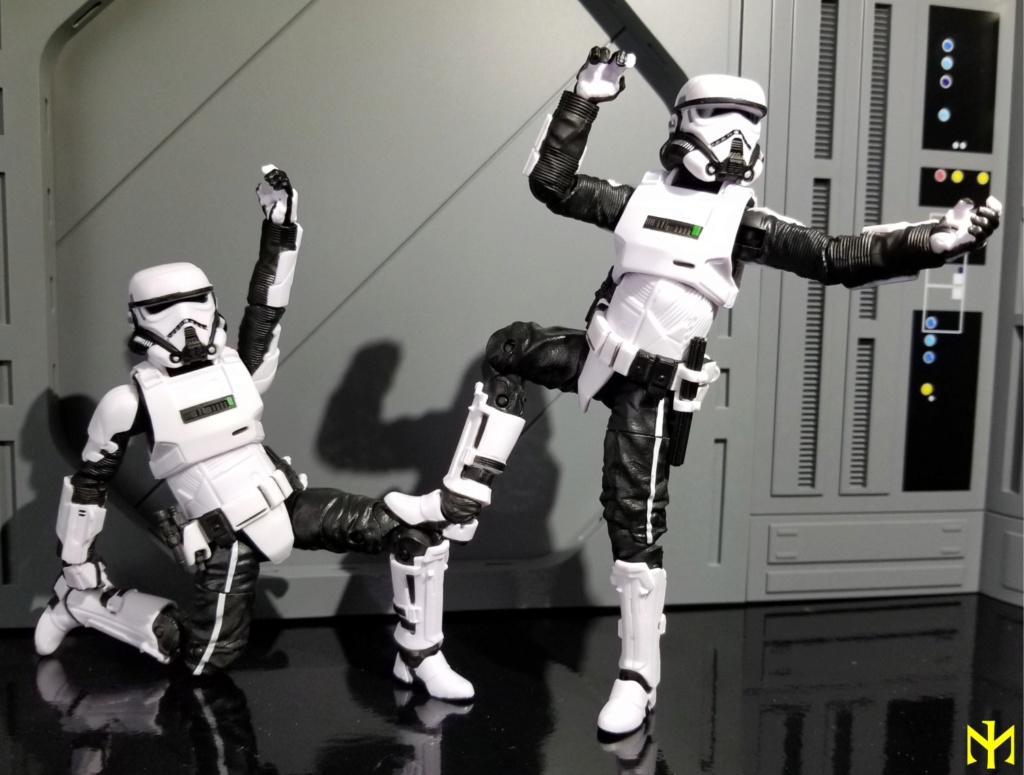 Accessories - 3/4 stars
Most Hasbro Black Series figures come with few accessories (usually one); the Patrol Trooper comes with two: a small blaster pistol reminiscent of the ones Scout Troopers (Biker Scouts) used in
Return of the Jedi
, and a Star Wars version of a policeman's baton or night stick. Both accessories fit well into their respective holsters (pistol on the right, night stick on the left); when it comes to holding them in the hands, the pistol only fits well into the right hand. The tiny accessories are perfectly sculpted and painted reasonably well (whether on purpose or by accident, the paint work does give them a slightly worn look). Although all this is pretty good, I can't help but think there was a missed opportunity here: an ultimate addition would have been the Patrol Trooper's ride, and while it would have required a bigger box, it was not impossibly large; there is also a precedent: Hasbro's Scout Troopers came with Speeder Bikes even in this scale.
Outfit - n/a
Since everything is sculpted and painted, see under
Sculpting
and
Paint
above.
Fun Factor - 4/4 stars
Are these the most entertaining sixth-scale figures out there? Probably not. But with a couple of accessories, good articulation, and a ton of other Hasbro figures from the Star Wars universe to "interact" with, the fun potential is very good.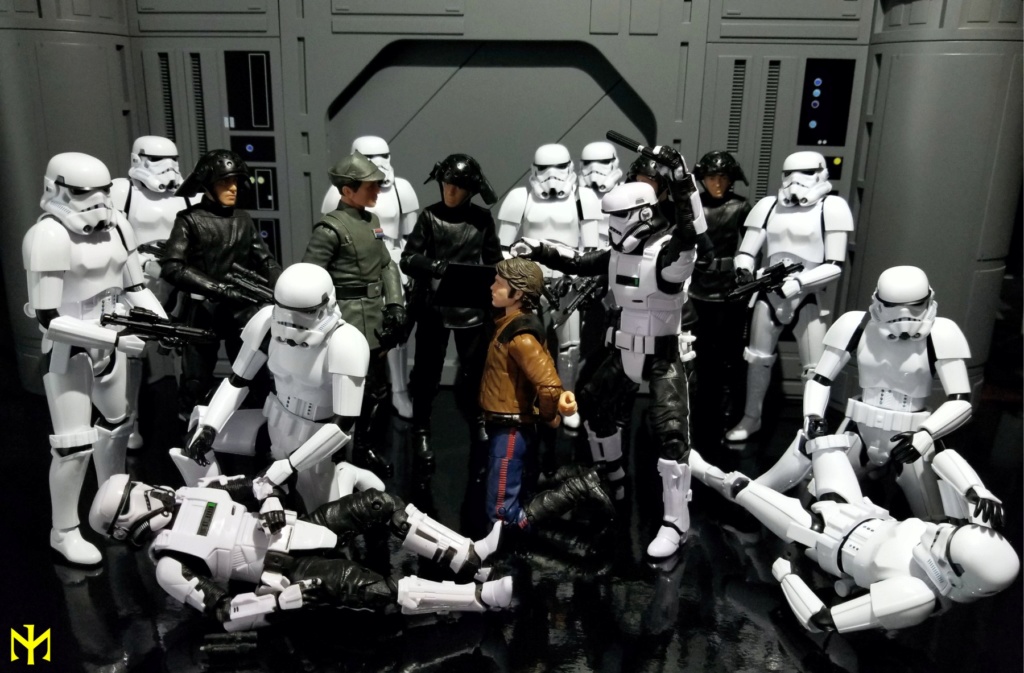 Value - 3/4 stars
At about $25 each (depending on where you shop, they actually retail for anywhere between $22 and $34 for the most part), these are not exactly cheap, but also not too unreasonably expensive -- especially if you take into account the rising prices for such toys and collectibles and the presumably hefty cut exacted by Lucasfilm. Moreover, at least the Original Trilogy products in this line have gradually seen a supply-and-demand effect where they have become somewhat scarce and therefore retained or increased their value. To what extent this is equally true for this product, I cannot tell.
Things to watch out for
Not much. You can use hot water or an air dryer to loosen any overly stiff joints, and keep young children and pets away from the small accessories lest they be devoured.
Overall - 3.5/5 stars
Without being perfect, Hasbro's Black Series six-inch Patrol Trooper is a very good action figure. The articulation could have been a little better, or the accessories even more extensive, but the only real disappointment here was the variably good (or poor) paint job. You might get lucky and avoid that problem altogether.
Where to Buy
Apart from searching on eBay or Amazon or in mass market retailers like Target and Walmart, you can try
Big Bad Toy Store $25
For more photos, check out the
SpaceCops photo story
.
Hope this has been helpful. As always, I am curious to see what you think, based on owning the product or your impressions from reviews, photos, etc.