Most of us who enjoyed
Rogue One
found Krennic to be an interesting enough antagonist, especially considering that he was disposable, unlike Tarkin and Vader, who had to survive the film. If that translates to hoping for a sixth-scale figure of him, I suspect I am not alone in being disappointed that neither of the high-end companies (Sideshow and Hot Toys) that produce Star Wars figures in this scale seems to have any intention of making a Krennic figure. That void is partly filled by Disney's elite series Director Orson Krennic premium action figure.
I am not very familiar with this line, although I have their very diminutive Leia. While there has been concern over the scale of Disney's figures, that does not seem to be an issue in Krennic's case. The Krennic premium action figure stands about 11.75" (almost 30 cm), which is about right for actor Ben Mendelsohn's real-lige 5'11" height translated into sixth scale.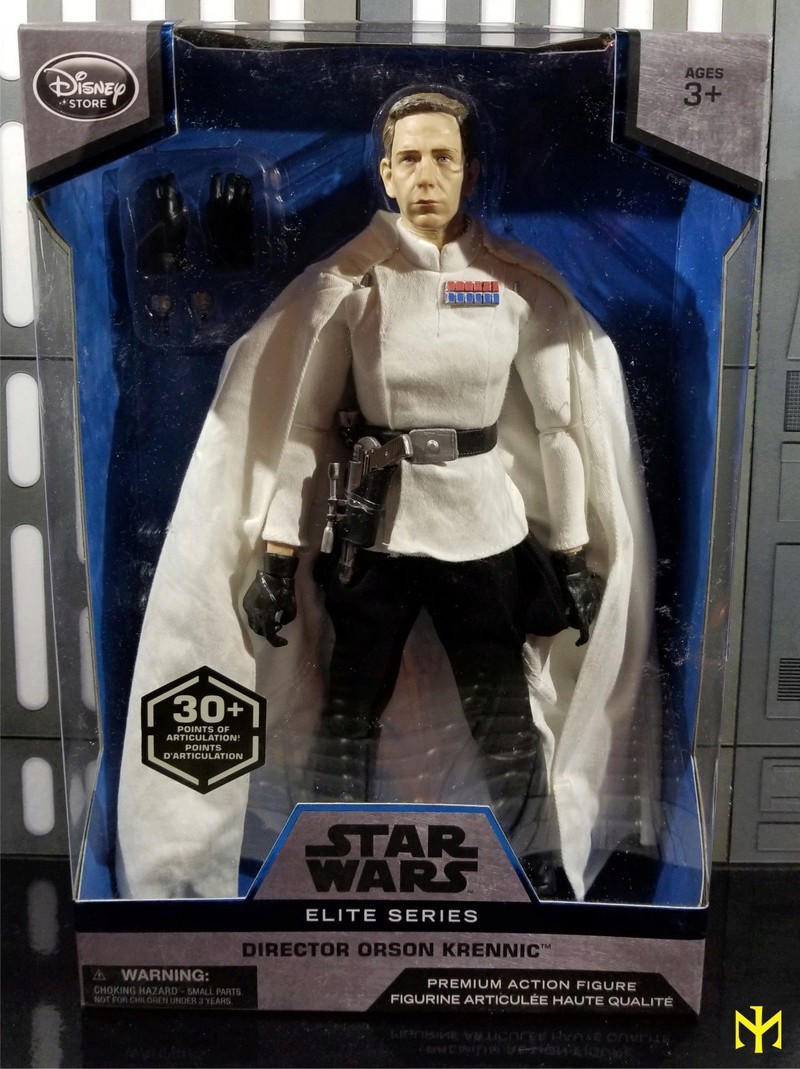 The figure comes in a clear-plastic and cardboard box. It is secured to the inner cardboard shell with a single twisty tie and is overall fairly collector-friendly.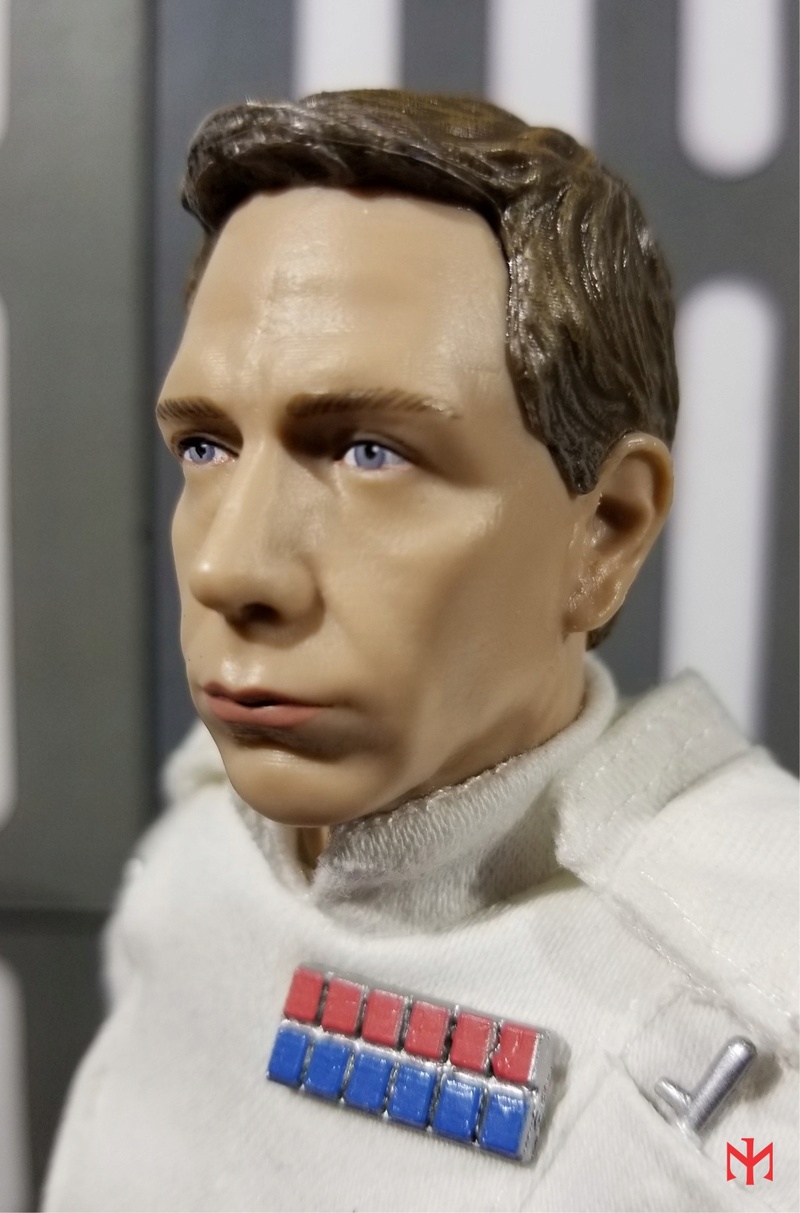 The head sculpt and paint are quite good, considering. Yes, the skin tone is consistent, the eyes feature the dreaded doll dot, and the hair is a tad too brown (though greyish brown). Despite some sculpting and texturing, the skin is a bit too smooth for Krennic's characteristic weathered look. In fact, I am reminded of an
Are You Being Served
episode, where it was pointed out that the mannequin based on Mrs Slocombe looked younger, because the store owner refused to shell out the extra money to sculpt all the wrinkles. That said, this figure retails for 10 times less than it would have, had it been produced by Sideshow or Hot Toys. For that very reasonable price, you get a very recognizable likeness of Ben Mendelsohn as Krennic, and that in itself is quite impressive. The quality of the sculpt and paint of other sculpted elements (badge, belt, gloves, boots, holster, grenades (?), gun) are also not Hot Toys quality, but still pretty good, especially if you want a slightly worn/weathered look.
The figure comes wearing Krennic's characteristic uniform from the film: white officer's tunic with rank badge and cylinders, black officer's trousers, black gloves, belt, and boots, as well as a billowing white cape. Everything except the tunic, pants, and cape is made of molded plastic.
This is all quite screen-accurate. That said, one might say the pants flare out just a little too much, and the cut of the cape is not quite right at the shoulders, which is probably my least favorite thing about this product.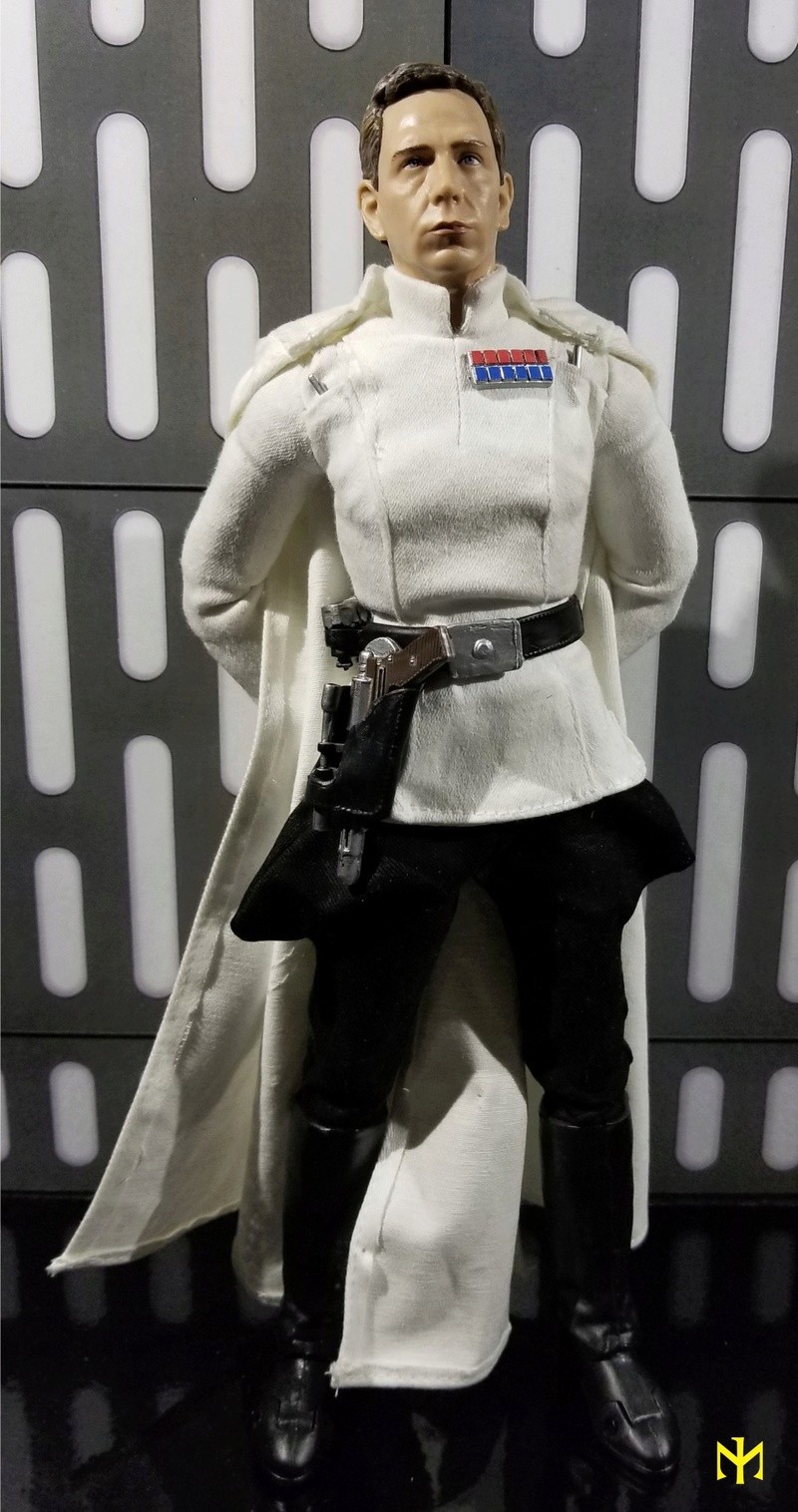 It is sometimes difficult to keep the voluminous cape under control in a reasonably realistic manner. Part of the problem may be the choice of a relatively thick denim-like material for the cape. I suppose if you wanted to customize you could easily remove it and replace it with something of your choice.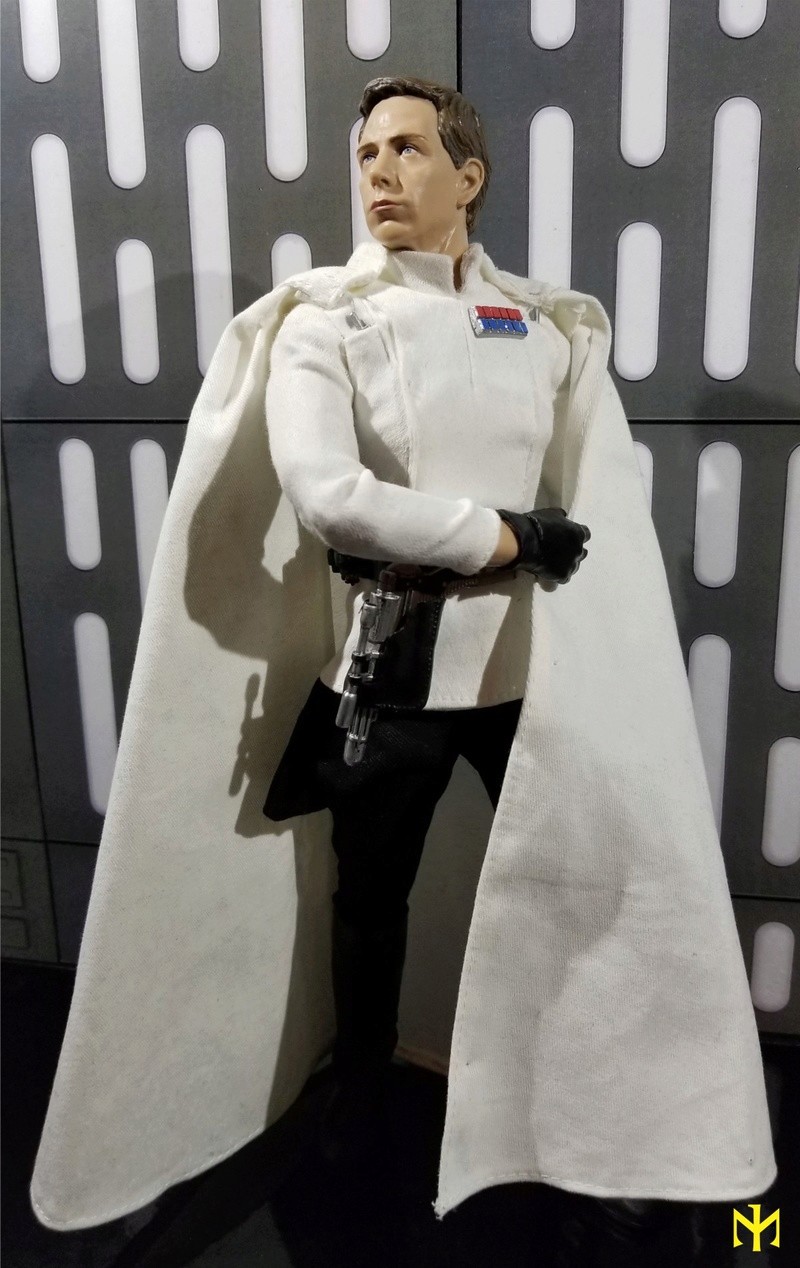 The molded plastic parts of the outfit are quite functional. The belt, for example, can be unbuckled and removed; the holster holds the gun very well; the gloved hands come in two parts (hand and cuff) allowing for improved articulation; the boots are also made of two pieces (shoe and lower leg, with the shoe part given toe articulation to boot -- all puns intended). Although getting the right look requires some futzing, this is all pretty well done and allows good articulation.
Speaking of articulation, there is plenty of it: double jointed knees and elbows, decent ab crunch , ankles, and thighs. The figure can take reasonably natural poses and stand well on its own (there is no base provided anyway). One minor disappointment is the single-piece head and neck, precluding articulation at the base of the skull; moreover, the head and neck are sculpted in such a way, that Krennic seems to be looking slightly up most of the time; trying to position the head so that he would look down can result in popping it off at the base of the neck.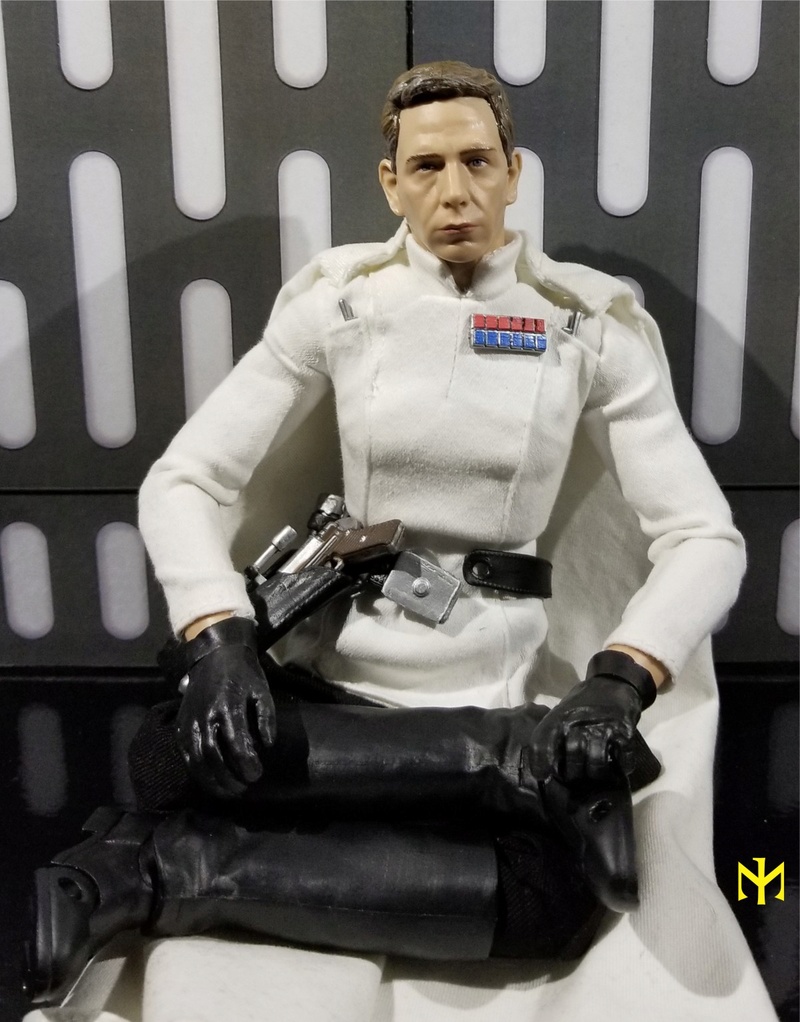 The figure comes with the following accessories (counting what is not permanently part of the outfit). A spare pair of gloved hands (relaxed hands, to supplement the trigger hands that come on the figure), a weathered gun, three grenades (?) that can fit onto the right side of the belt (one of them comes installed in place); the belt itself is easily removable (although I do not see why one would want to do that unless placing the outfit on a different body). Both pairs of gloved hands have their own separate molded plastic cuffs; since I don't expect them to be sculpted differently, I thought that to be a bit curious.
Here are some shots of Disney's Krennic alongside a few Hot Toys characters from
Rogue One
and
A New Hope
. Remember that Death Troopers are unusually tall.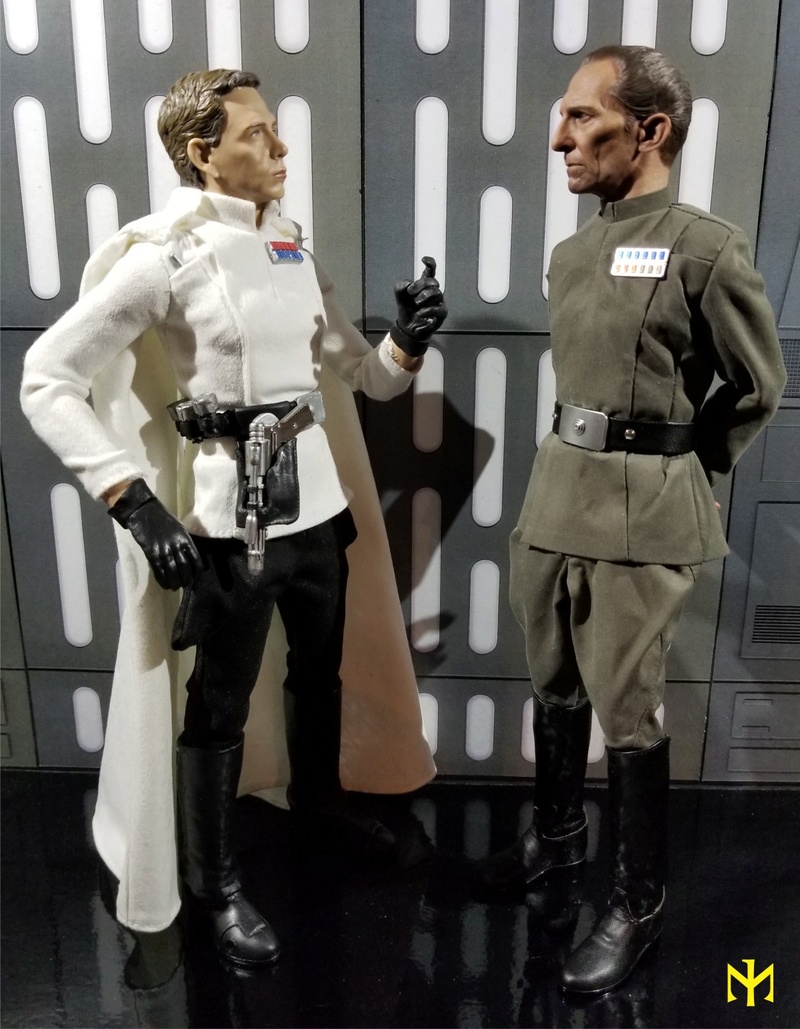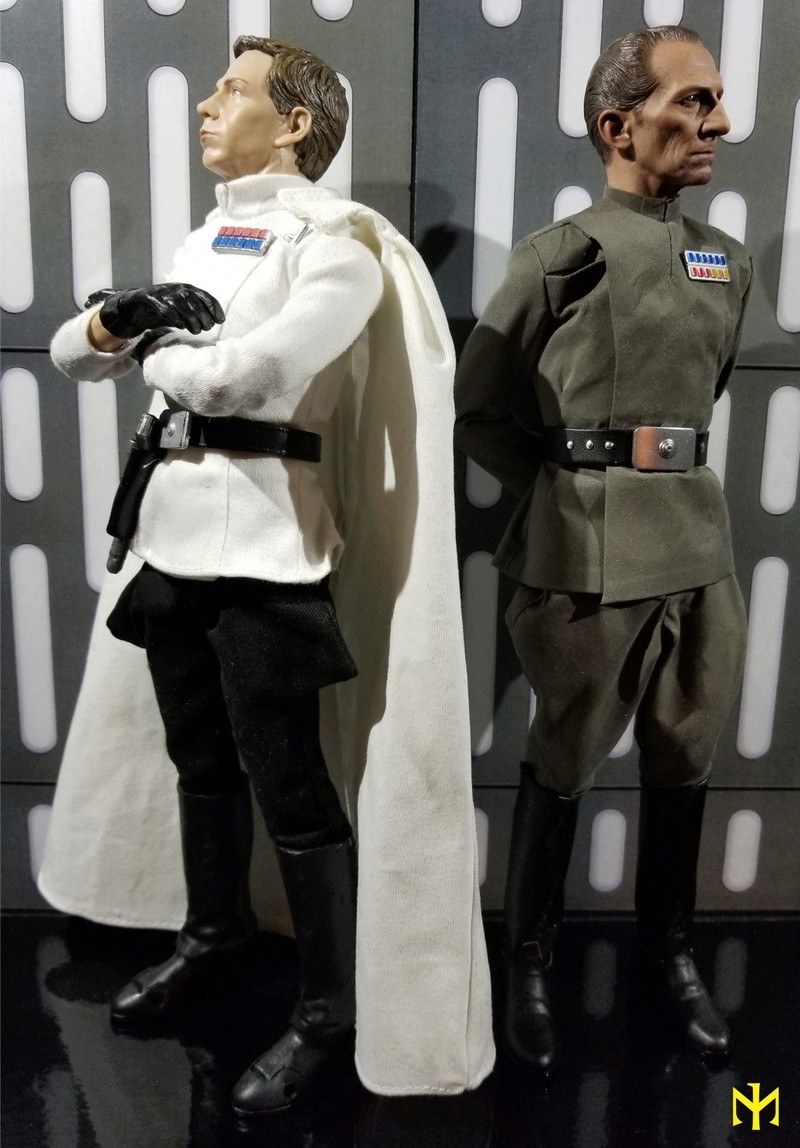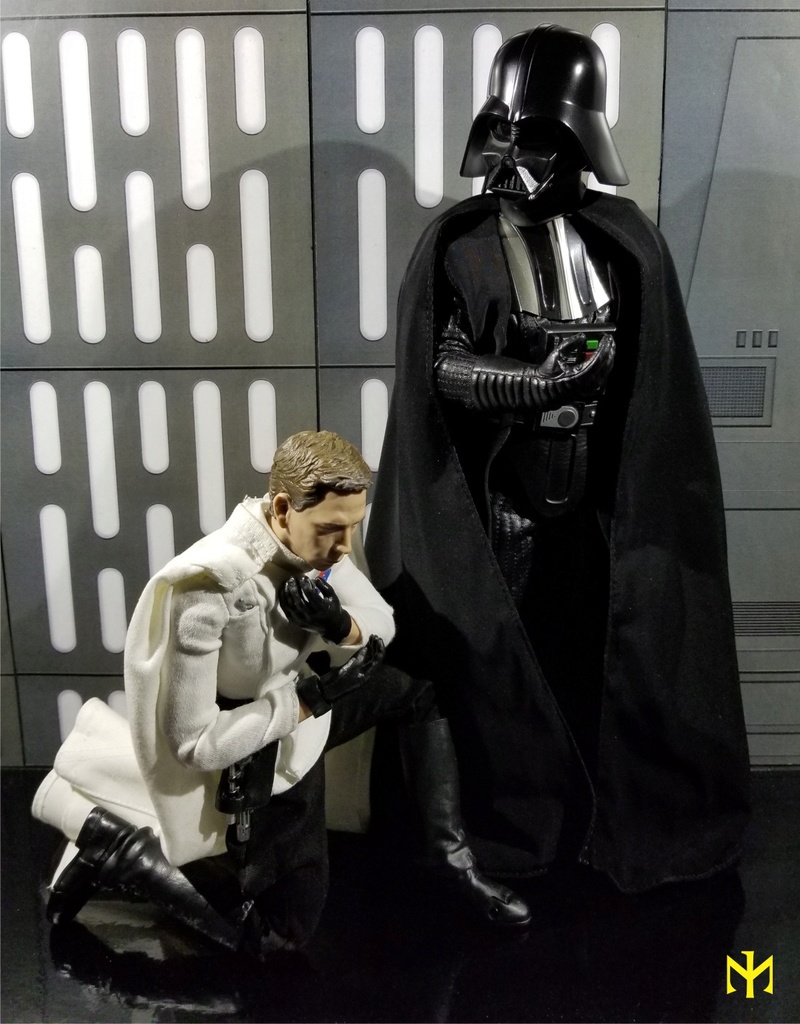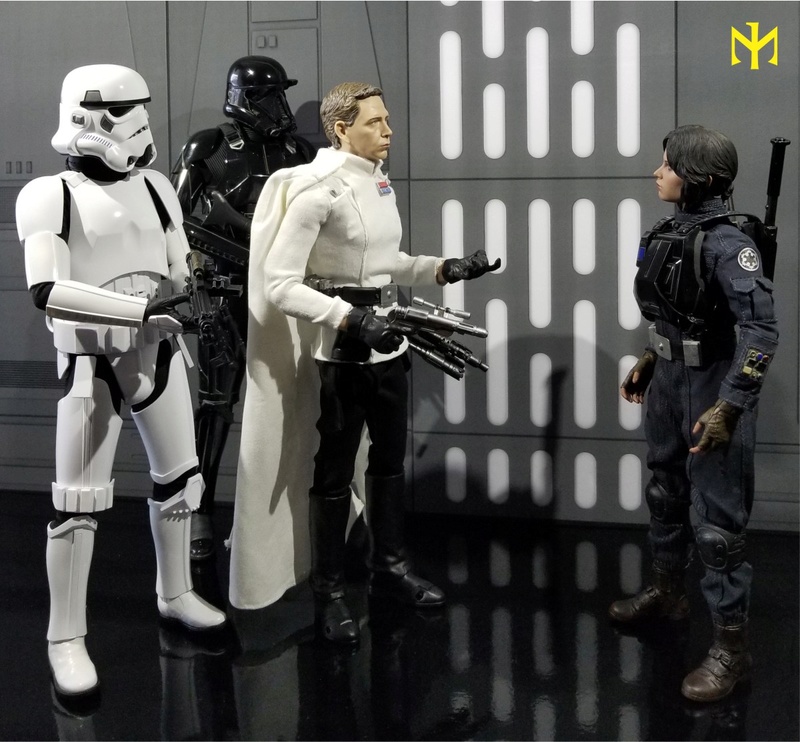 This Krennic figure was a Disney Store exclusive, but is available in plenty of other places. It retails for around $20 USD (and often a little below that), which is what makes it an even more attractive and impressive product. That is, as pointed out above, ten times less than what it would cost if it were produced by a high-end company; it is also as much as (or less than) the all-plastic 6 inch Black Series Krennic by Hasbro, which is far inferior in every way. If you do want to pick one up, there are plenty of options on amazon and eBay.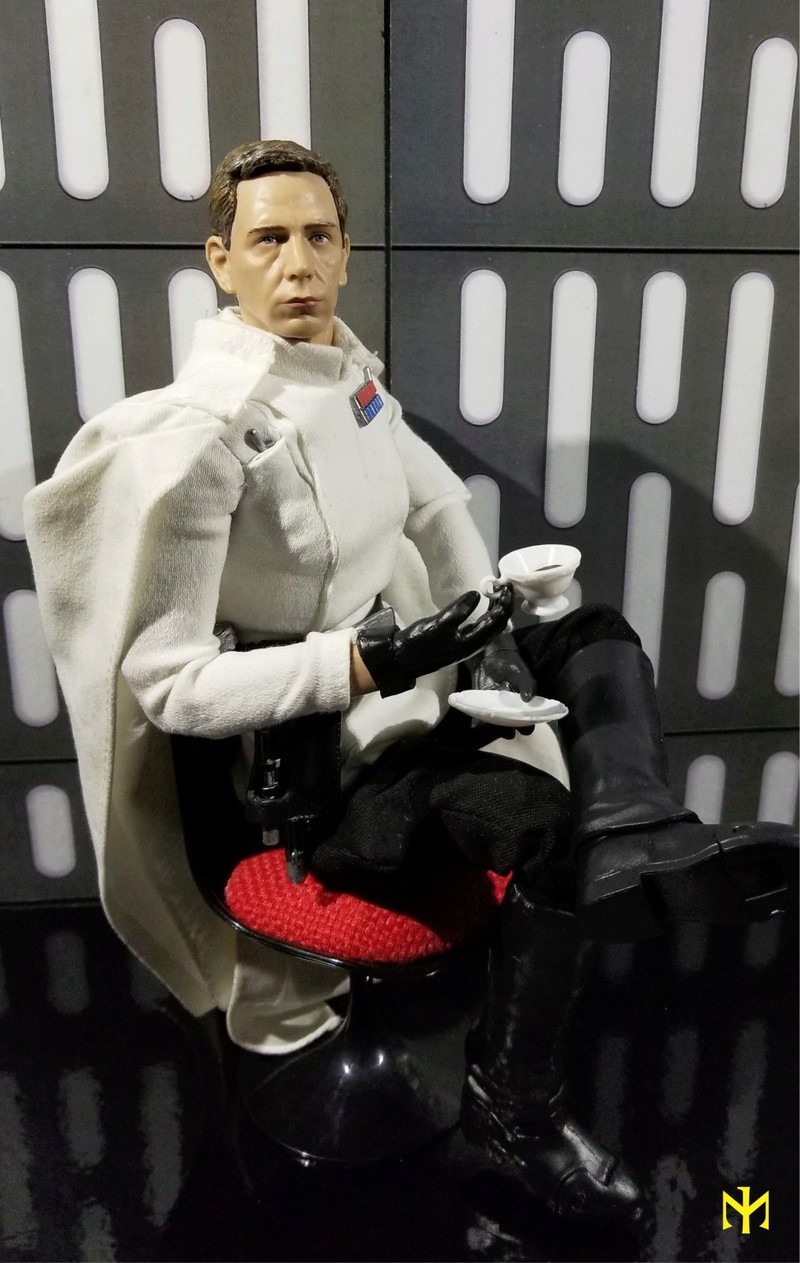 Overall, and especially considering the price, this seems like a very nice product. Customizers may improve on it with a repaint, or kitbashing security-bureau officers who wore a very similar outfit (except that their white was a bit more cream-colored).
What do you think?
#productreview
#starwars
#rogueone
#disney
#male
#film