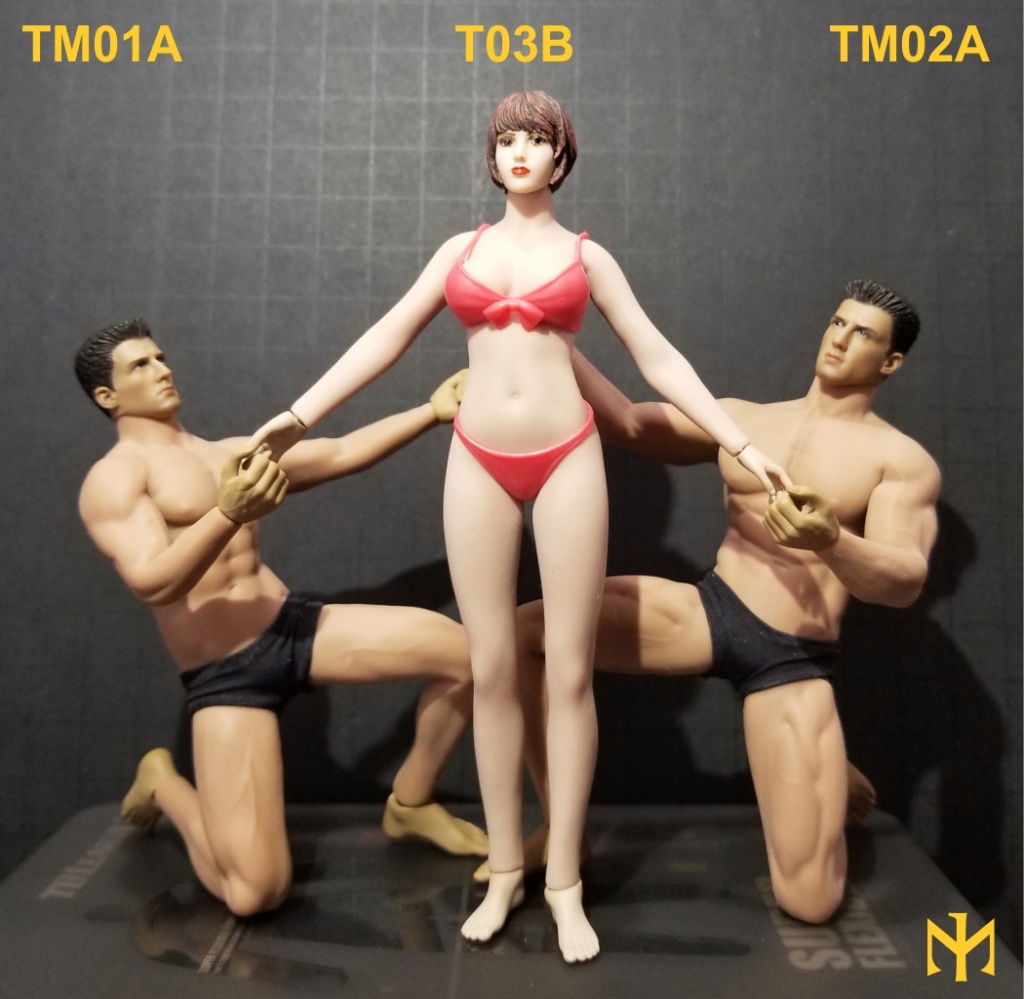 IntroductionTBLeague
(formerly Phicen) has recently released its second 1/12 scale female seamless body (that is not part of a boxed set per se), and made it available in pale (T03A) and suntan (T03B) versions. The present review is focused on T03B, with a partial comparison to the previously released T01B. I've already reviewed the male figures
HERE
.
Packaging - 4/4 stars
Something I really liked about
TBLeague
's 1/12 figure packaging is how compact it was, in relatively small and sturdy plastic boxes with foam sheets to secure everything inside. This is still the case, except that the box is significantly larger than those that came with their previous 1/12 bodies. This is due mostly to the inclusion of additional items, most notably the base/stand, although I wonder whether a more compact package might not have been attainable. Still, the box and its several layers of foam keep everything snug and collector friendly. The instruction/warning sheet ("introduction") is located all the way at the bottom, beneath the last layer of foam.
Sculpting - 4/4 stars
T03B (and its paler counterpart T03A) stands just over 5.5 in (14 cm) tall, which is a little bit shorter than its predecessor T01B, which was about 5.75 in (15 cm) tall. T03B sports a more curvaceous body type and generally looks even better proportioned than its predecessor. The sculpting is very good and precise, something remarkably given the scale and silicone material. The same is true for the head sculpt, which looks much better than the rather bland and anime sculpt that came with T01B -- or it would, if had been professionally painted, but more on that below.
Paint - 1/4 stars
The silicone body and the harder plastic hands and feet, as well as the head sculpt, are given an even female suntan color. This is very good in itself, and as usual notably lighter than the male suntan (compare T03B to TM01A and TM02A). If there is any special coloring on the nipples and "secret woman parts," it is so subtle that I'm not sure I can really tell it is there. But what really hurts this category is the unpainted head sculpt. If they are going to include a head sculpt (and reflect that in the pricing), they ought to paint it, as they have done beautifully before for their boxed sets (I'm using one of them for the T01B body, but even the bland anime head that came with was given a nicely executed precise paint job). Paint a 1/6-scale head well is challenge enough, but doing that to a 1/12-head is almost a cruel joke. I can't claim to have done very well with it, but it gets the job done and is reversible (I didn't seal the acrylics and can easily scrape them off and start again). There are a couple of silver linings -- the basic color of the harder plastic head (and hair pieces) matches the body and the hands and feet, so you do not have to worry about matching the skin tone; and the hair pieces come off, allowing you to paint them thoroughly, and to expose the face completely so that you could paint it more easily (in relative terms).
Articulation - 3/4 stars
Like its predecessor and its male counterparts, T03B is remarkably well articulated for its size, but less well articulated than its 1/6-scale counterparts. That is not surprising in itself, but it can be disappointing, especially in relation to the apparent inability to achieve normal inwards motion with the lower arms. The instruction sheet claims otherwise, and you can get part way there by adjusting the arms from the shoulders, but it is not quite as effective. This is an issue with all
TBLeague
1/12-scale bodies. Part of the answer may be provided by the diagram included in the "introduction" (instructions/warning) sheet, which shows that the body's active joints (in fact it makes me wonder whether there is a full stainless steel skeleton in there). You can see it in the photo under the "Things to watch out for" category.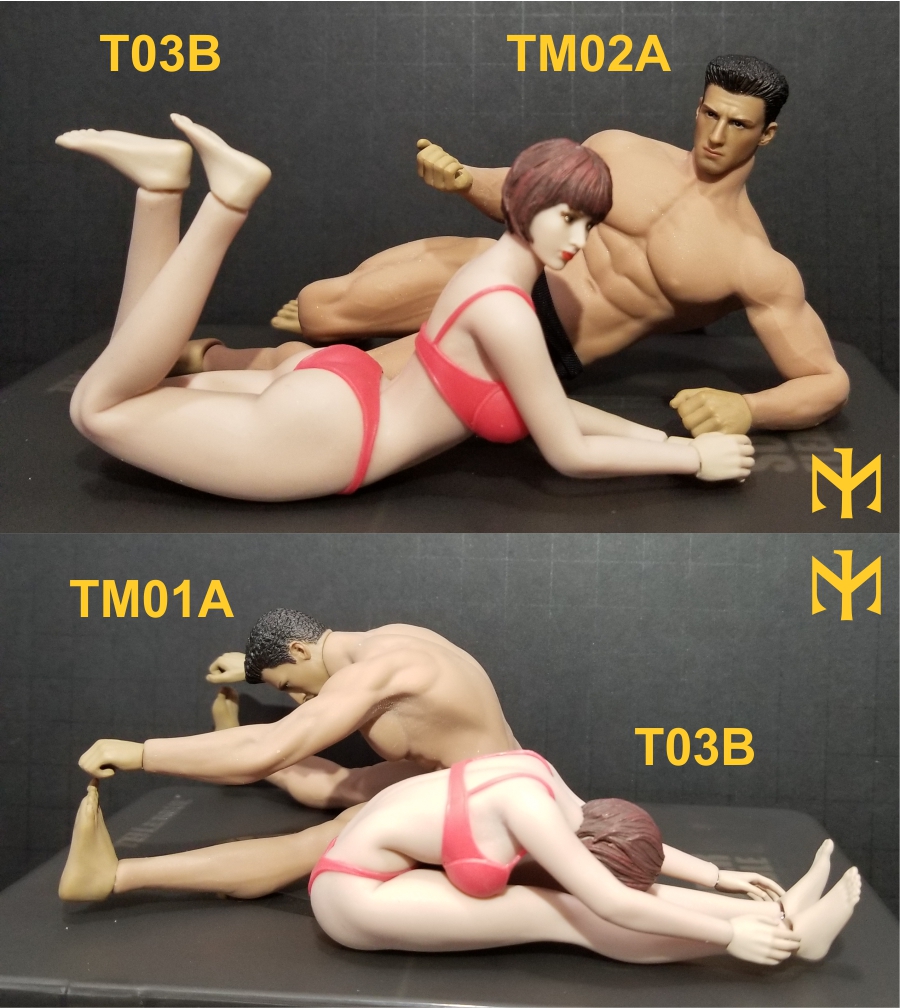 Accessories - 3/4 stars
T03B comes with pairs of relaxed hands and flat feet attached, plus knife grip and pistol grip hands, as well as heel feet for swapping. Why there isn't a pair of first I don't know. There is also a stand, which constitutes a fine but pretty plain metal (?) circular base to which you can attach an adjustable bendable segmented rod with an adjustable clamp at the end. It is nice, but you can usually get the figure to stand on its own without too much trouble.
Outfit - 3/4 stars
This is a basic body and the inclusion of any outfit should be considered an option, a bonus of sorts. And so it is, but perhaps because of the greater scarcity of 1/12-scale garments that might fit,
TBLeague
has included at least some minimal clothing for all its 1/12-scale bodies so far. This is no exception, but whereas earlier sets included clothing made of cloth, T03B comes with clothing made of soft, stretchy plastic. This includes a two-piece bathing suit (red in this set, yellow with the pale T03A set), with matching wrist and ankle bands (which would help hide the joints between the seamless body and the removable hands and feet, but generally look a little silly). I'm not sure I'm loving this choice, but the pieces definitely look better cut and tailored than the cloth garments that came with T01B.
Fun Factor - 3/4 stars
With another female and two male seamless bodies in this scale already out there, the new release by
TBLeague
has natural playmates for your shelf or scene. The unpainted head sculpt and slightly restricted articulation (lower arms) are annoyances, but this is still a good figure that lends itself to customization -- you might have plans to use another head anyway. Finding clothing (especially clothing that will fit well) in this scale would be a bigger challenge than in 1/6 scale, and to some extent the same may be true for accessories and diorama pieces.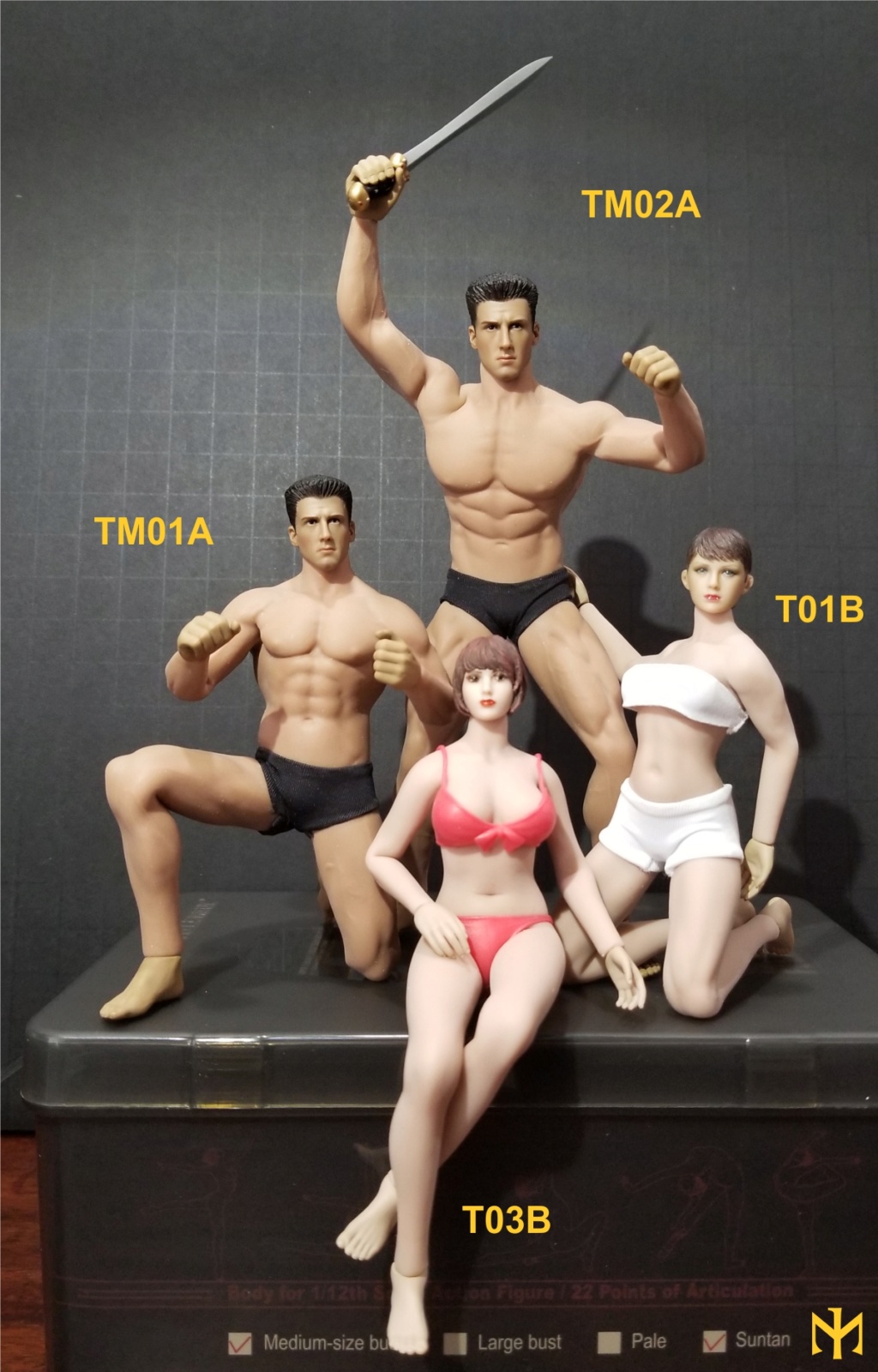 Value - 2/4 stars
Retailing at about $40 (USD), this is not a cheap base body, but then again it is seamless, very poseable, and has at least basic clothing (even if made of stretchy plastic), as well as a stand. Yet, we paid the same price for its predecessors, and although they did not come with a stand, they had finely painted head sculpts (whether we liked them or not) and actual cloth for the items of clothing. I don't know about you, but I would have preferred that over the stand.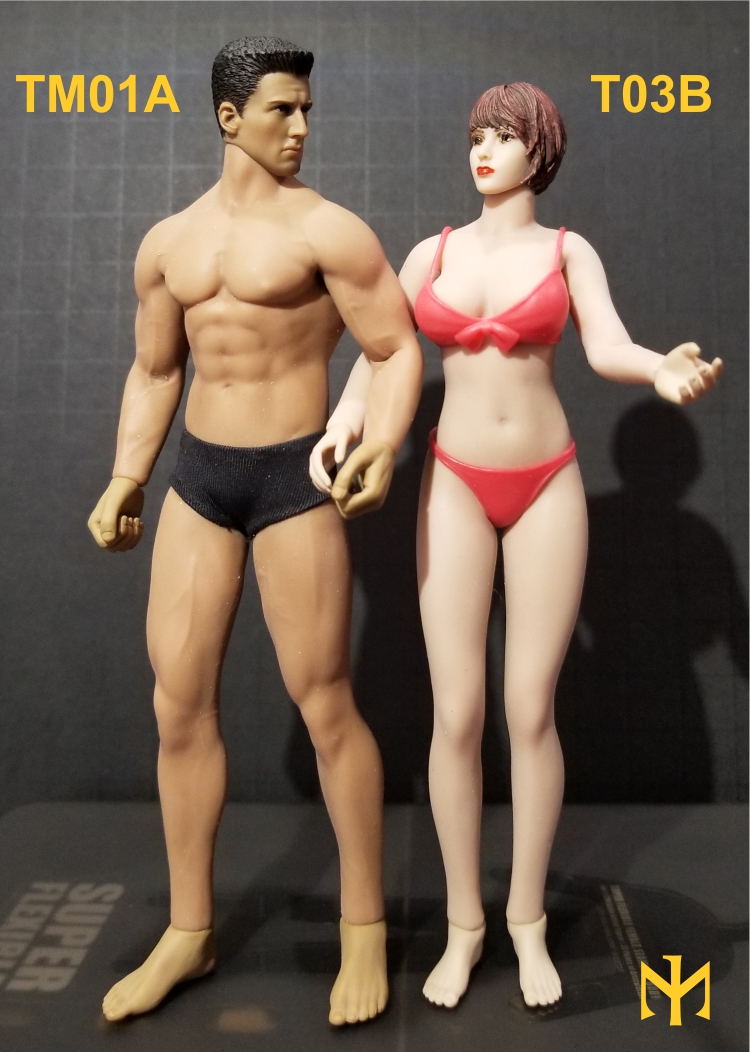 Things to watch out for
Not a whole lot. Do heat up the hands and feet before swapping, and take care to not overstretch or twist the thinner parts of the stretchy plastic outfit. It might not snap very easily, but it might stretch out of shape and look off if you overdo it. I would also be careful when trying to achieve inward motion for the lower arms -- avoid forcing it, lest something snaps. Do check out the "introduction" (instruction/warning) leaflet at the very bottom of the box under all the foam layers.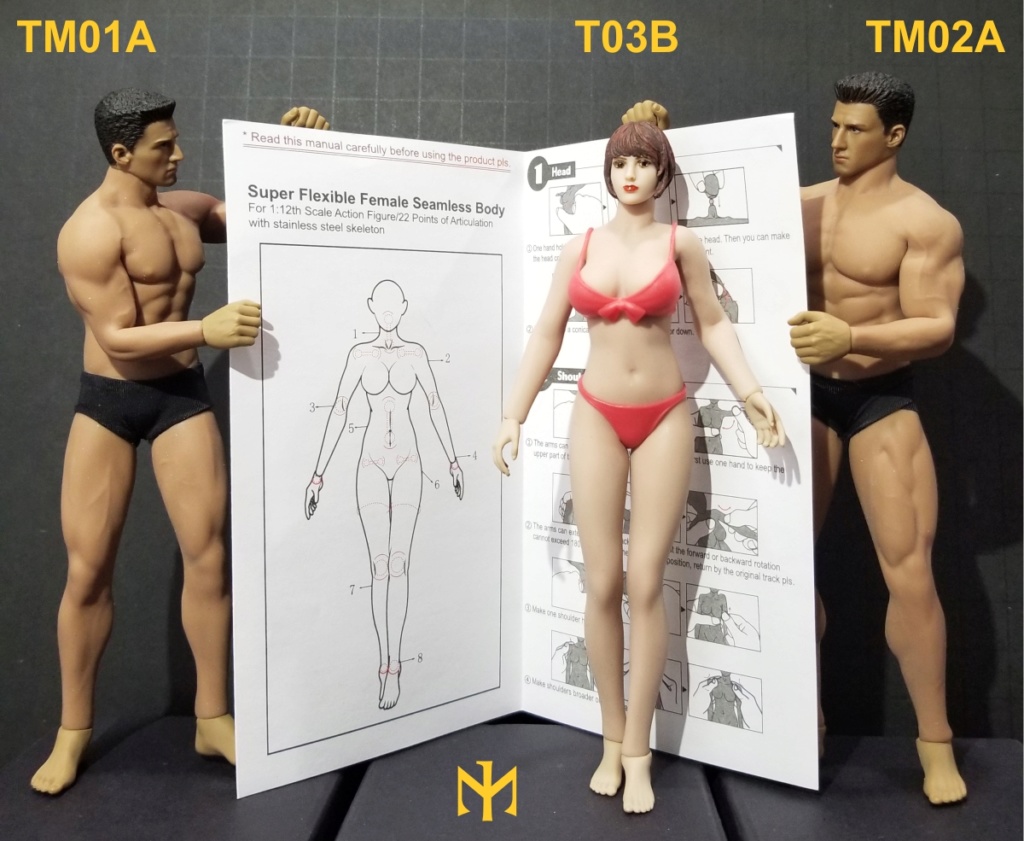 Overall - 3/4 starsTBLeague
has produced another well articulated and attractive product in this small scale. It is not perfect and not as good as its 1/6-scale counterparts, but it is likely to take care of your seamless needs in 1/12 scale just fine -- for female figures anyway (these are more complete than the male sets). My only real disappointments here are the unpainted head sculpt (which is otherwise very nice) and the continued limited articulation of the lower arms.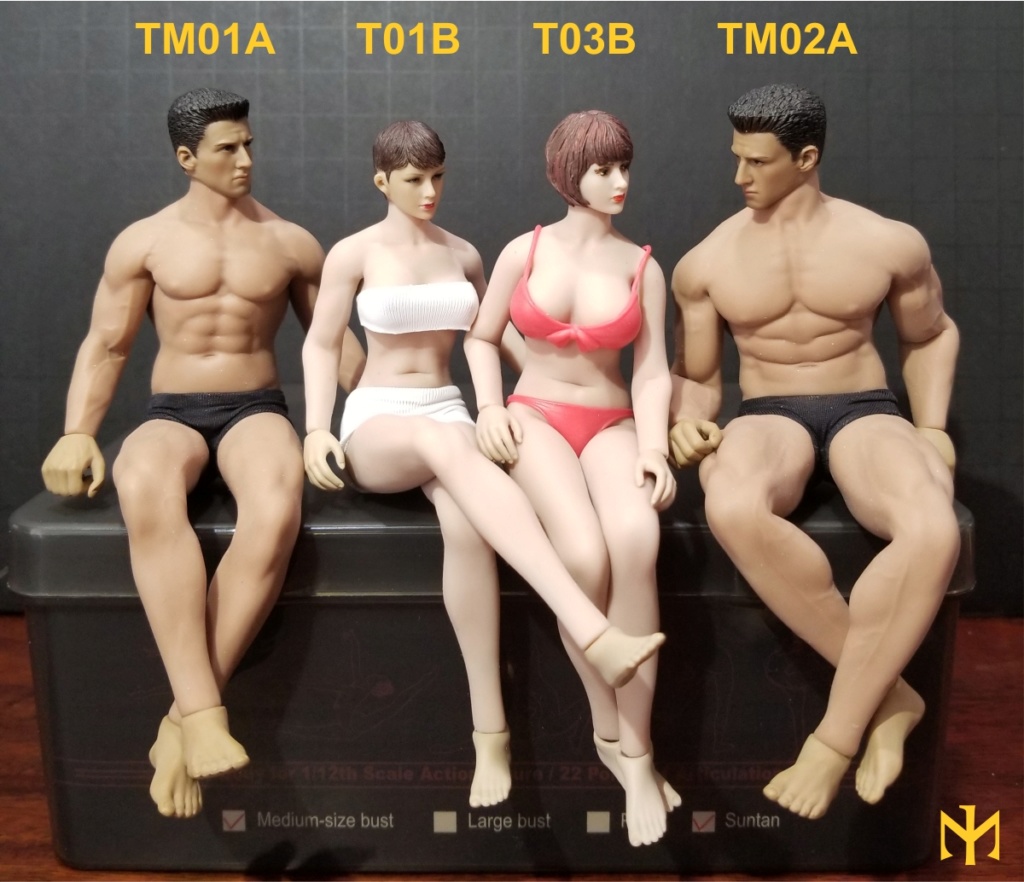 Where to buy?
(NOTE: some of these are currently on Pre-Order)
Big Bad Toy Store for $40 (pale version HERE)
Cotswold Collectibles for $45 (pale version HERE)
Monkey Depot for $45
Timewalker Toys for $44 (pale version HERE)
I hope this has been helpful. What do you think?
#female
#seamless
#body
#twelfth
#scale
#tbleague
#phicen