NSFW? -- while we enforce Forumotion's anti-pornographic policy, this thread is about the color modification of realistic-looking seamless bodies, and some images, even if censored, may still be considered questionable in certain settings. We ask contributors to this topic to edit their images and content to be in conformance with host and forum policy, with a view toward eliminating objectionable content.NOTE: For the successful oil pastel technique for painting some or all of the rubbery surface of seamless bodies check out the posts starting with and following upon Post 16 below.NOTE: For the successful but reversible oil-based ink technique for painting details like body hair or tattoos check out Posts 162 and 174 and 210 below.NOTE: For the successful Uni Pin Fine Line pigment ink technique for painting details like body hair or tattoos check out Post 192 below.NOTE: For the successful RIT synthetic dye treatment for the entire rubbery surface of seamless bodies check out THIS thread.NOTE: For the successful Markal Pro-Line XT paint marker technique for painting smaller areas and details check out Post 252 below.NOTE: For the successful Gundam Real Touch Marker technique for painting small or larger areas check out Posts 369-370 and 377 below.
The initial post below discusses the fairly limited applicability of acrylic paint or markers on seamless bodies. For more successful methods, see the posts referenced in the notes above.
We have discussed the possibility of painting seamless bodies time and again. Most of this discussion was centered on the silicone Phicen/TBLeague bodies, but upon discovering that Jiaou bodies were indeed made from a different material (TPE), I thought I should check if a simpler solution might work here.
As you might recall, one of my Jiaou bodies ("brown") broke out into splotches of more intensive color after treatment with water, soap, and benzoyl peroxide to remove a stain (see
HERE
). So I decided to experiment on the body, which was otherwise ruined for me. I painted parts of the arms and legs with Vallejo burnt umber acrylic paint and in Molotow signal black marker, and also tried some simple tattoos in both. It worked, sorta.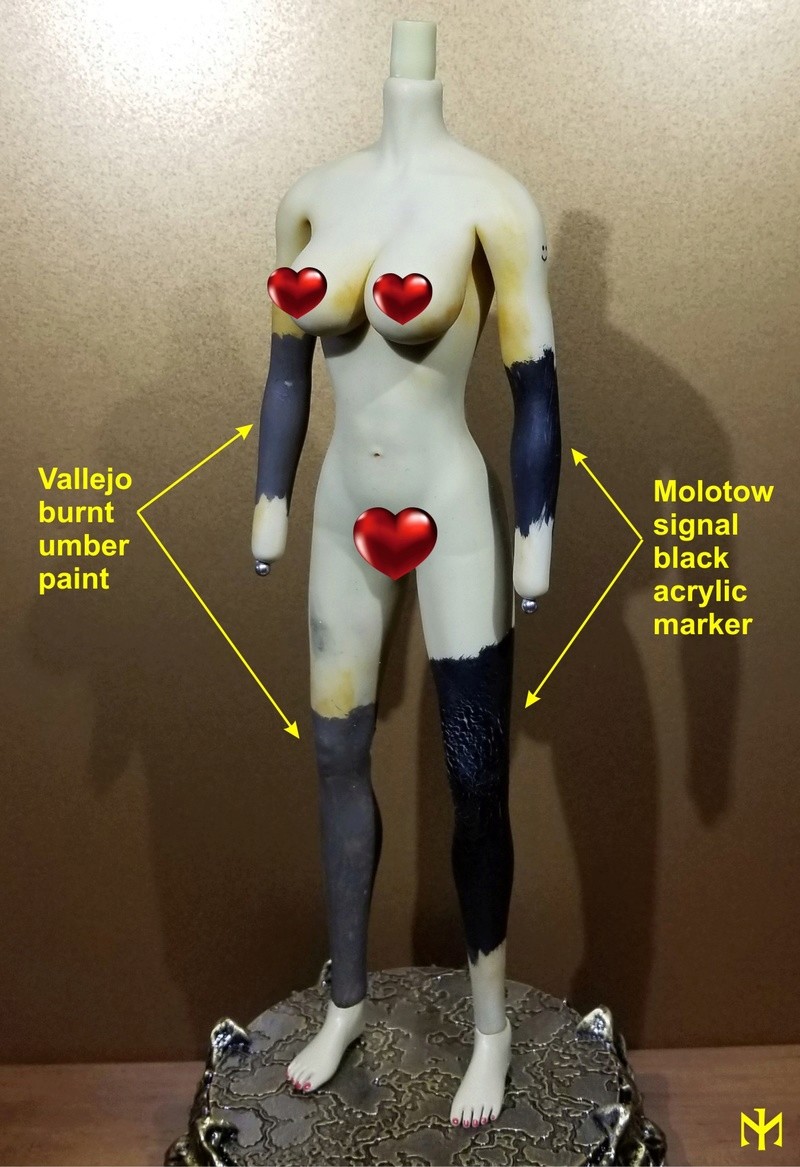 As expected, the elbow and knee joints were most problematic. On a conventional jointed body, paint application in these areas would rub off from the friction between the surfaces of the two parts of the body. Here it would crack and flake, for a slightly different reason -- the stretching of the material under it. Dabbing the paint on stretched or unstretched material and applying new layers did not help. Although for the most part the paint did not fall off, it cracked, and the cracks became more apparent as the material stretched under them (whether on the outside or inside of the elbows and knees). This problem was common to both applications, but more obvious with the Molotow marker.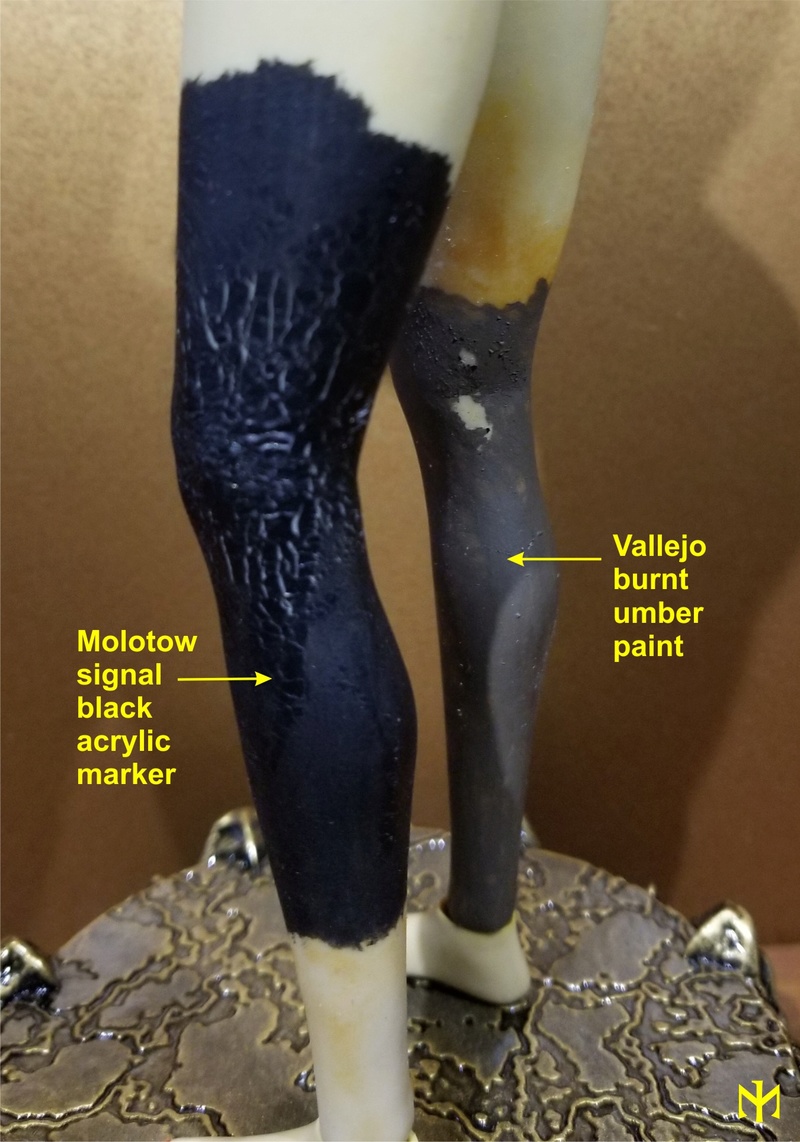 On the elbows I used the same paint applications, but this time tried to apply only a thin painted on layer of color, and only once. The result, while certainly not perfect, seems better to me, with smaller and less apparent cracks in the paint. Here the Molotow marker seems to work better than the regular acrylic paint.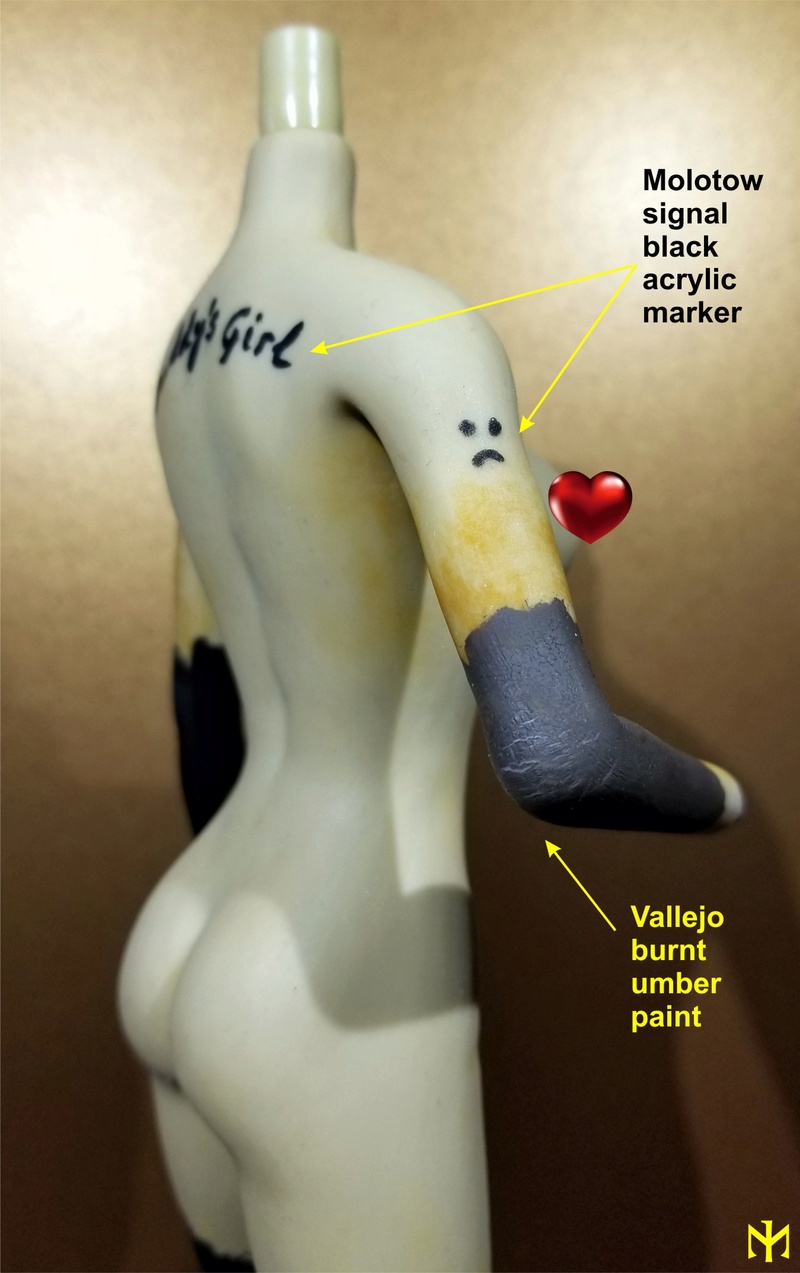 For smaller details like tattoos, both the regular acrylic paint and the Molotow marker worked well. The regular paint was easier to clean up (while fresh) than the Molotow marker, in case you made a mistake. After the tattoos dried, I tried to rub them off, and they hardly even smudged.
So there you have it. The simple painting of the TPE surface with acrylics is not an unqualified success, but still an advantage for the Jiaou bodies, should someone need to customize them with painted-on details or a wholesale change in color. Remember, acrylics are elastic, but not as elastic as the underlying TPE. The good news here is that they do cure/dry on it, even though you have to watch out how you apply them in areas of considerable stretching (like the elbows and knees) and be willing to put up with a degree of imperfection or cracking in the most bent/stretched poses.
EDIT: I would not think of using acrylics to cover any significant amount of surface on a seamless body, whether silicone (TBLeague) or TPE (Jiaou); see the notes pointing to more successful techniques above.
Hope this has been useful, and you share your opinions, advice, and experiences.
#painting
#seamless
#body
#tutorial