Update: Part II in Post 9 below; Part III in Post 14 below; Part IV in Post 18 below; Part V in Post 30 below; Part VI in Post 36 below; Part VII in Post 43 below; Part VIII in Post 50 below; Part IX in Post 51 below; Part X in Post 62 below; Part XI in Post 65 below; Part XII in Post 78 below; Part XIII in Post 86 below; Part XIV in Post 92 below; Part XV in Post 100 below; Part XVI in Post 109 below; Part XVII in Post 122 below; Part XVIII in Post 125 below; Part XIX in Post 136; Part XX in Post 144 below; Part XXI in Post 148; Part XXII in Post 156
.
Part I: Some Shirts and Shorts

Since the subject keeps coming up and their size and texture present a specific set of little challenges, I thought I can start a clothing thread for TBLeague/Phicen or similar seamless bodies. In line with the question I was recently trying to answer in another thread, I start with a few products specifically advertised to fit the male bodies, but not produced by TBLeague itself.
XRF has produced four sets of vaguely military basic outfits for larger (M34-M35) TBLeague male seamless bodies. Be advised that the actual product differs to some extent from the promotional images, but is of decent quality and works. In fact, it works also on smaller bodies like M30 and M33 (as shown below), although you might want to futz with it so it is not too obvious it is a bit too large for them. In the photos below, M30 and M35 are wearing XRF XM01A (shirt, pants, boots), M33 is wearing XRF XM02B (shirt, pants, boots), and M34 is wearing ACE tiger stripe pants from eBay seller green-tiger (there is also a khaki version, among others) and boots from an older CM Toys set.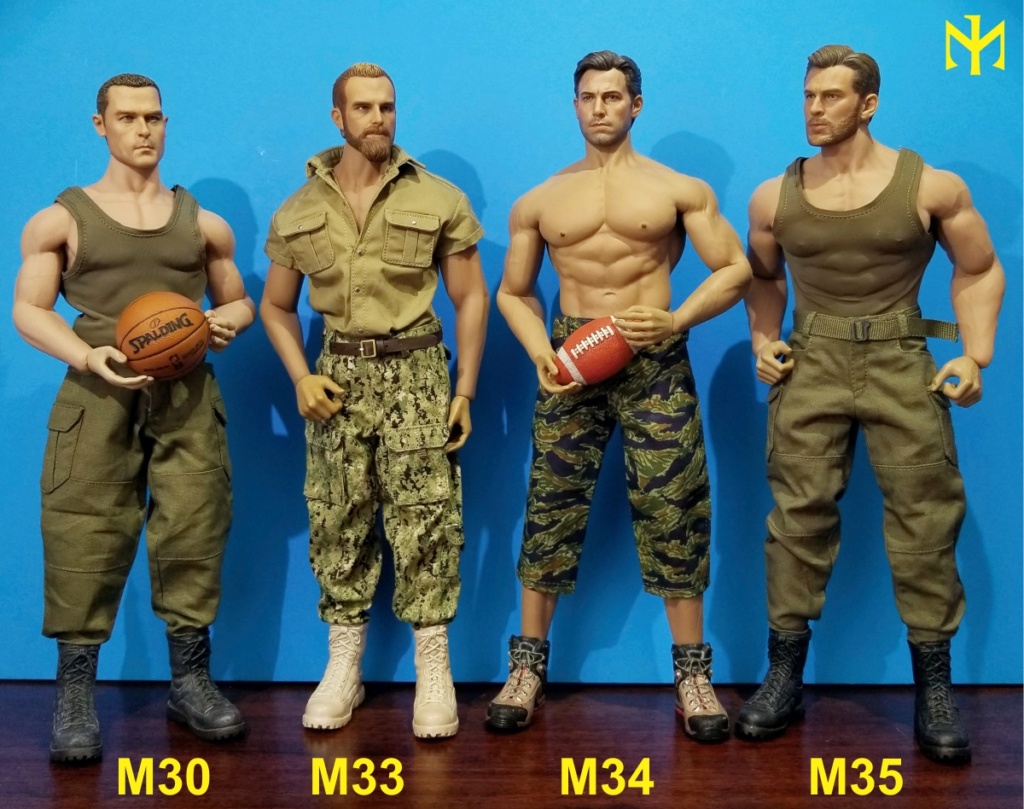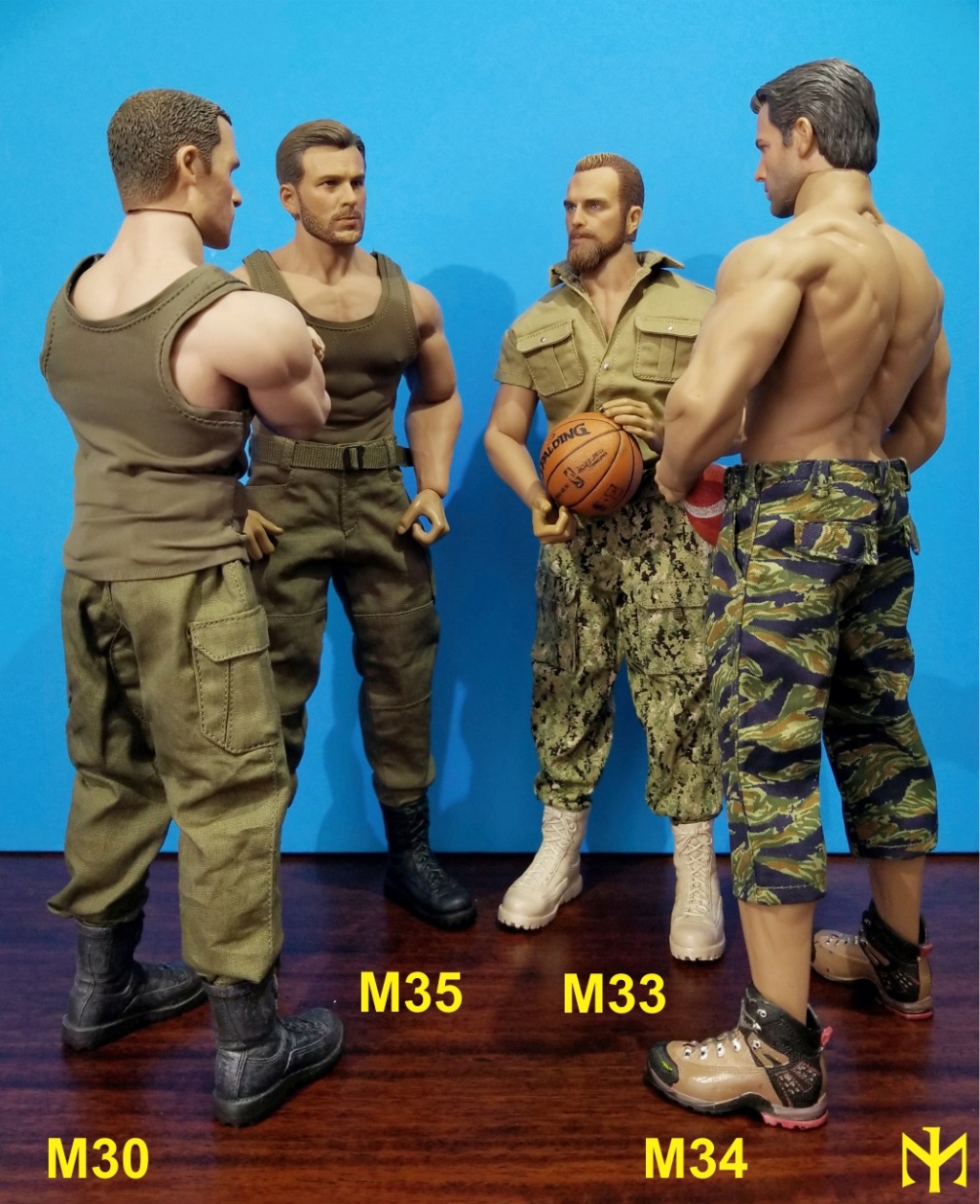 Then a package with a bunch of other clothing advertised to fit TBLeague seamless male bodies showed up, from eBay seller worldgoco. These include all the clothing in the photo below.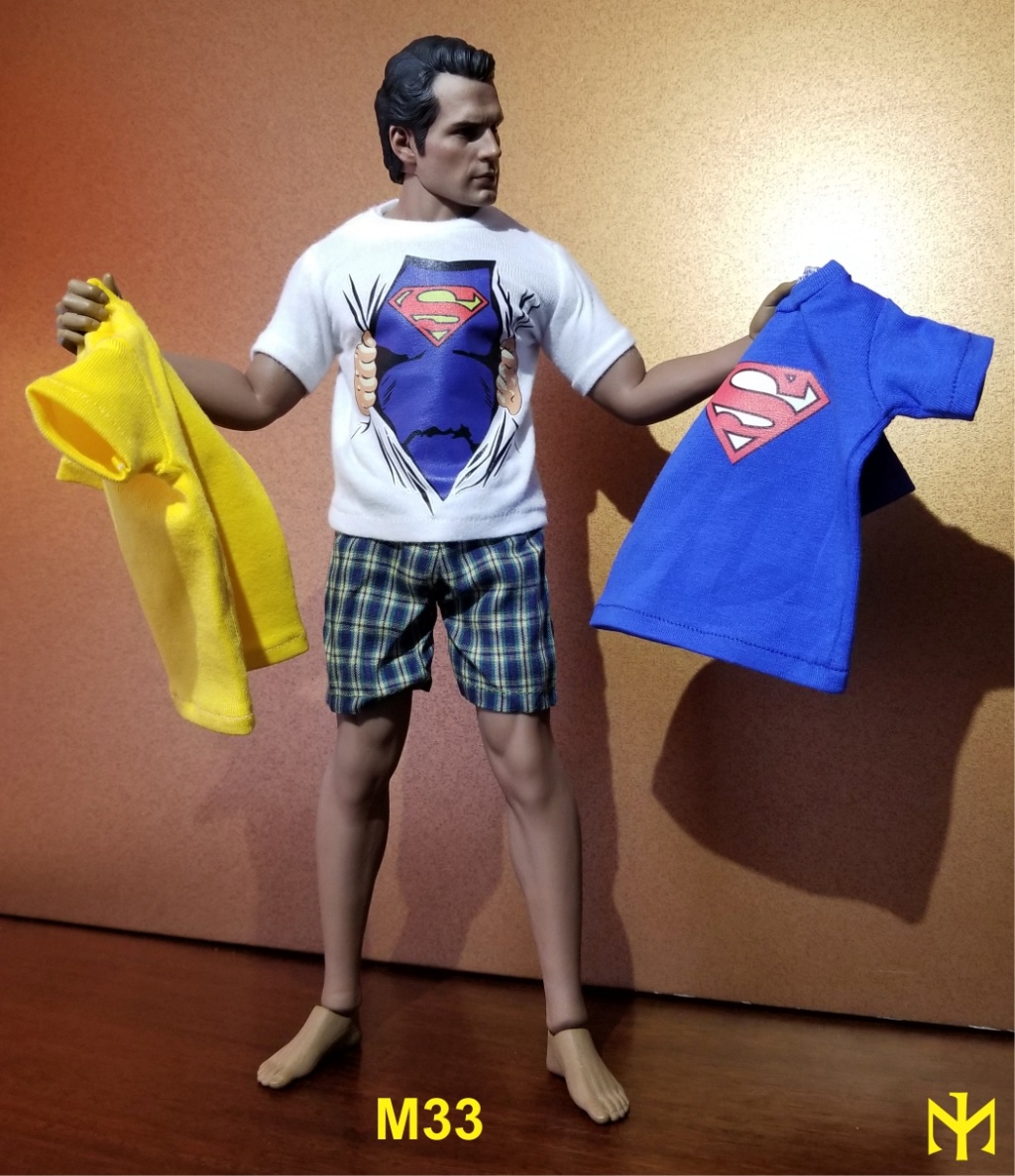 More of their "printed" t-shirts (which may be the work of Moe Toys) can be seen in the Super Gym photo story
HERE
and below (on M33).
Hope this is of some help, although it is obviously one small set of ideas for clothing these bodies.
#clothing
#male
#tbleague
#phicen
#kitbash